What's Sound Effect?
A sound effect, also called an audio effect, is an artificially made or enhanced sound. Or, it can be a sound process used to emphasize artistic or other content of games, songs, movies, TV shows, live performances, animation videos, and other media.
Video Game Sound Effects
Since the introduction of sample playback, the principles related to modern video game sounds effects are essentially the same as those of motion pictures. In general, a game project needs 2 jobs to complete; one is that sounds must be recorded or chosen from a library and the other is that a sound engine must be programmed so that those sounds can be included in the game's interactive environment.
In earlier video game systems and PCs, sound effects were typically generated by sound synthesis. Yet in modern systems, with the increase in playback quality and storage capacity, the sampled sound is used. Besides, modern systems frequently make use of positional audio with hardware acceleration. They also take advantage of real-time audio post-processing that can be tied to 3D graphics development.
Many different calculations can be made based on the game's internal state, which permits many things like the doppler effect, realistic sound dampening, and echoes. Historically, the required number of sounds was reduced due to the simplicity of game environments. Therefore, only 1 or 2 people were directly responsible for the sound recording and design.
However, with the growth of the video game business and the increase in computer sound reproduction quality. The number of sound designers for video games has also grown.
Moreover, some pieces of music use sound effects that are created by a musical instrument or other methods.
Video Game Sound Effects Download
Sound effects can bring a completely different life into your games and make your users' experience unique. Next, let's see where to get video games sound effects.
The following lists several websites where you can download sound effects for video games.
Cool Video Game Sound Effects on Mixkit
First of all, you are able to reach royalty free video game sound effects on mixkit.co. there are 76 free sound effects for video games including retro video game sound effects, arcade game sounds, sports game sounds, etc. They are all free to download and ready to use under the Mixkit License.
Besides the video game sound effects downloads, Mixkit also includes these types of sound effects:
Transition
Nature: including thunder sound effects.
Technology
Funny
Notification
Animals
Transport
Human
Warfare
Instrument
Others: including win sound effects, coin sound effects…
In addition to sound effects, Mixkit also provides music, videos, icons, as well as templates (for Adobe Premiere Pro, Adobe After Effects, Final Cut Pro, and DaVinci Resolve).
Video Game Sound Effects Mp3 Free Download from Pixabay
Those free video game sound effects can be used in commercial environments and no attribution is required. Generally, they are in MP3 file format for downloading. Pixabay offers not only a video game sound effects library but also the following categories.
In addition to sound effects, you can also find photos, illustrations, vectors, GIFs, videos, music, and so on on this website.
Best Video Game Sound Effects on Envatoelements
Lastly, let's see one more video game sound effects collection website – elements.envato.com, which gathers many royalty-free video game sound effects that you can apply to your next project, including but not limited to extra life, laser, phasers, space sounds, and video game coin sound effect.
The popular and trending sound effects on envatoelements are:
Whoosh
Transition
Pop
Glitch
Wind
Voice clips
How to Make a Sound Effect in a Video Game?
Thus, how to make video game sound effects? Generally speaking, you need a video maker like MiniTool MovieMaker, a professional and easy-to-use video-creating and editing program, which can help you quickly add the sound effects you downloaded into your video game clips.
MiniTool MovieMakerClick to Download100%Clean & Safe
Download, install, and launch MiniTool MovieMaker on your Windows computer.
In its main interface, under the Media tab, click Import Media Files to upload your game video and sound effect.
Drag and drop the uploaded game video and audio effect to the timeline on corresponding tracks.
Drag the playhead on the video track to where you'd like the sound effect to begin. You can view the time point in the upper Player section.
Move or shrink the sound effect on the audio track to make it begin at the time point.
Set up the endpoint using the same way.
You can fade in/out the sound effect or change its volume in the upper-right Music Property section when the sound file is selected on the track.
You can further do other edits to your video game clip like muting its original sound, adding effect (graphic), texts, motion, or elements (stickers) to it.
Finally, click Export to save your video game with sound effects.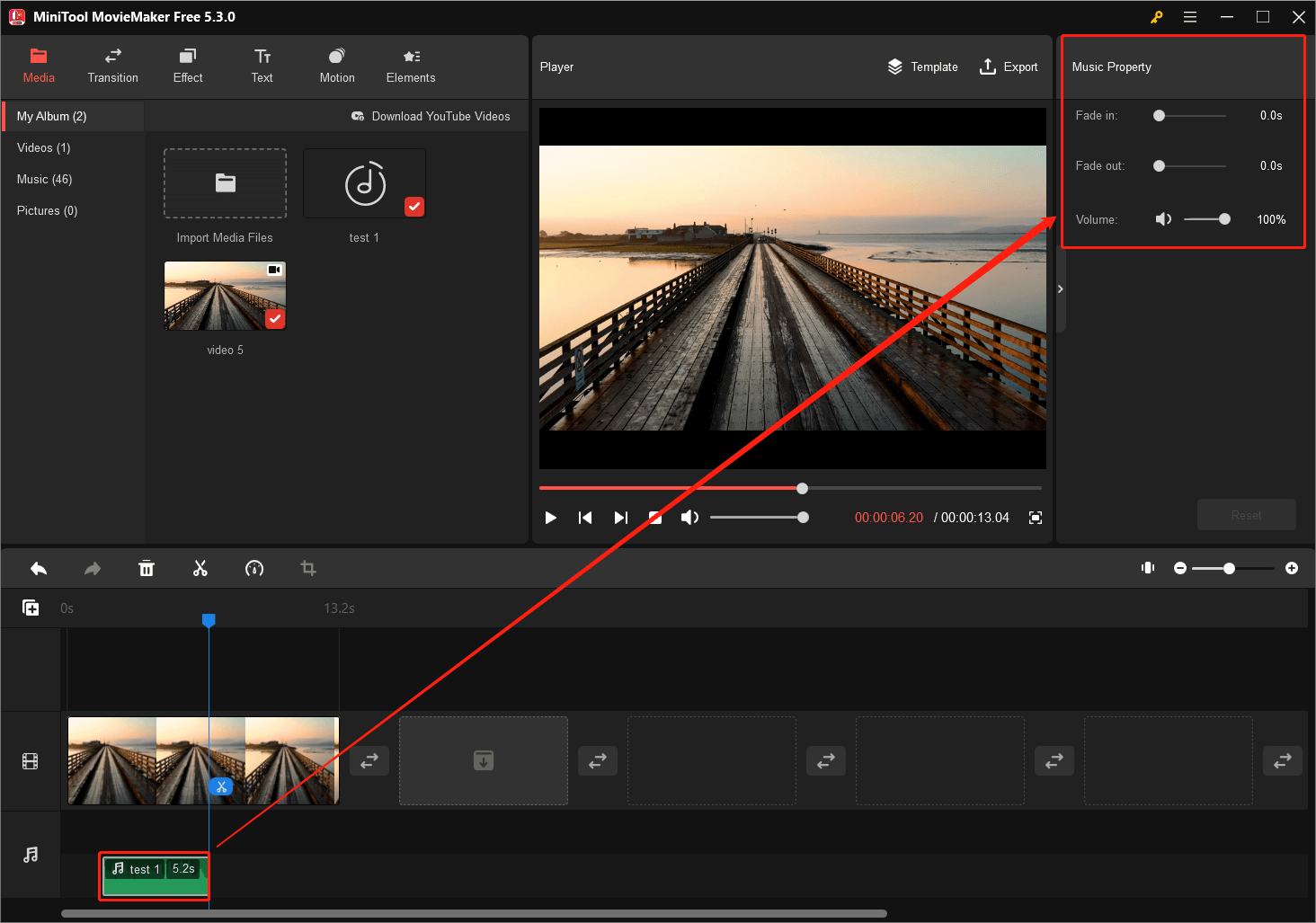 Related article