This post provided by
MiniTool official web page
mainly collects the most popular effects for music videos. It explains the functions and features of those chosen effects. Besides, this article also teaches you how to add effects to a music video.
Among the popular videos online, one type of them is music videos, also called musically videos, which is a kind of videos mainly recording a singer singing his songs. At different times, the styles of music videos are unlike. Adding visual effects to music videos is a good method to optimize them and make them more attractive.
This article will show you the top 5 effects for music videos nowadays.
#1 Glow and Neon Scribbles
If you want to create a quirky environment or add fun to your music video, you can use the glow scribbles, which can be added by drawing each squiggle or shape in your video editing app.
Usually, those effects are done in bright, neon colors to stand out. The contrast between the live-action style of the music video and those bright lines and shapes creates a dynamic and wonderful visual effect. Also, glow effects will give you a cool, 80s atmosphere.
#2 Fire Musically Video Effects
If you want to offer a hot feeling in your video, you can take advantage of the versatile fire effects. They can be applied in romantic music videos to express heat or in fast-paced action music videos to show wild feelings.
Besides the above visual influence, the fire effects' cracking sound can be a perfect contrast to the quiet scene. Also, they can be a good choice for a dramatic or explosive feeling.
Moreover, fire effects can be a good transition between the two scenes. When the flames engulf the entire screen, the next scene appears.
#3 Water Music Video Effects
Water effects can assist convey much emotion and feeling. They are very suitable for dark music clips. Water effects are in various types including but not limited to slow drips, pouring water, and chaotic bubbles.
Using water effects in your music videos can make them more fluid and show the pace changes throughout many scenes. Usually, blurred or splattered drops refer to a slow pace while pouring water or splashing effects means a fast pace.
Especially for music videos, water effects add a lot of texture that makes the video looks more visually interesting.
#4 Glass Effects for Music Videos
Next, another kind of famous effect for musical videos is glass effects that make things more edgy and dramatic, especially the glass-shattering effects. In that style of video, you feel like someone breaks your display and the shards rain down right in front of you.
In addition to the texture feeling the same as water effects, glass effects also create an atmosphere of evoking danger. Furthermore, they can also be used as transitions in a music video.
#5 Music Video Light Effects
The most common light effects in the musical video are lens flares, which are a classic way to create a sense of reality. Lens flares are a result of bright light scattering in a lens system of a camera. Yet, if you are seeking music video effects, you are recommended to add them while editing the video.
Lens flare effects not only ground your video clip in realism but also add a dreamy atmosphere to it. those effects are a staple for people who are looking for a way to make their footage pop.
How to Make Video Effects on Musically?
Nowadays, it is much easier and cheaper to create a music video with eye-catching effects like seamless transitions and stunning high-tech elements. For preparation, you need to download and install music video effects software on your computer and then follow the steps similar to the below ones (taking MiniTool MovieMaker for example).
MiniTool MovieMakerClick to Download100%Clean & Safe
Launch the video editor and upload your music video to its platform.
Add the video to the timeline track.
Find your favorite music video effects and add them to the target video.
Export the music video.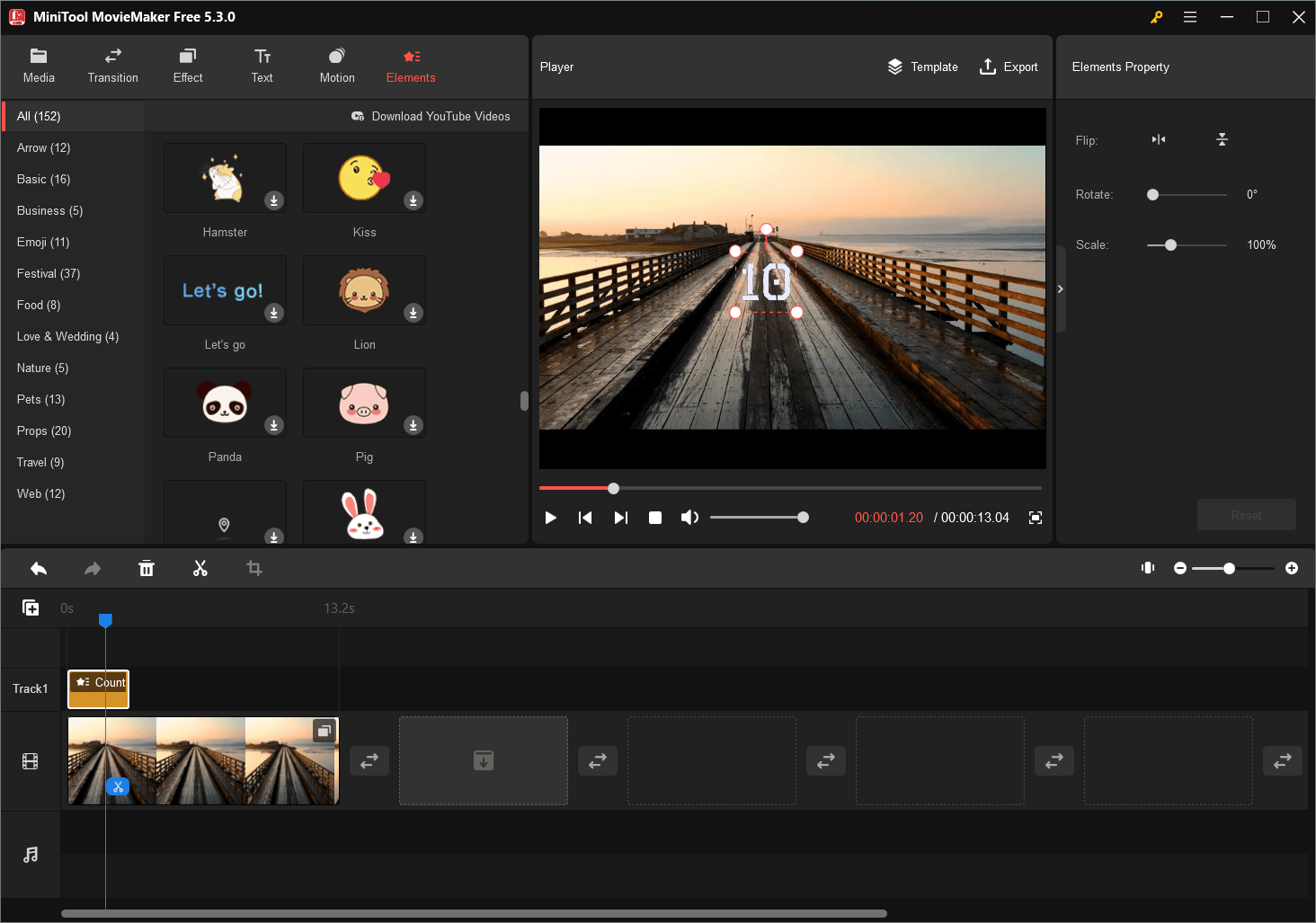 You may also like: