This article provided by
moviemaker.minitool.com
mainly answers the question: can you put a filter on Snapchat video calls? It also involves related knowledge about this topic. To get the answer and learn more details, continue reading!
Snapchat is a multimedia instant messaging app. It is well-known for its interesting and creative animated filters that you can use in your videos and photos. However, some users may ask: can you use a filter on Snapchat video calls? Let's discuss the answer!
Can You Use Filters on Snapchat Video Calls?
Can you video call on Snapchat with filters? The answer is yes. Of course, you can add Snapchat filters to its live video chat – video calls. Just with a few taps on your mobile phone like Android, you are able to use the various filters when you are chatting with your friends online.
How to Add a Filter to a Snapchat Video Call?
Then, how to use filter on Snapchat video calls? Just follow the below guide!
How to Enable Snapchat Filters on Video Calls?
On Snapchat, you can call one of your contacts via live video. Or, you can group chat with multiple friends (maximum 15). The more exciting thing is that you can take advantage of Snapchat video filters while video-calling your pals.
However, the Snapchat video call filters feature is disabled by default. To make use of it, you have to turn it on first.
Step 1. Open the Snapchat app on your cellphone and log in to your Snapchat account.
Step 2. Scroll down on the Camera screen to reach your profile.
Step 3. Then, tap on the Settings icon (gear).
Step 4. Select the Manage option under the ADDITIONAL SERVICES section.
Step 5. Turn the slider on for the filters feature.
The way to enable that function on iPhone is similar to the above steps.
How to Use Snapchat Video Filters on Its Video Calls?
After successfully enabling Snapchat video filters for video calls, you can now rely on them to make your call more interesting by transforming your face or background.
Step 1. Start a video chat with a friend or a group of people. Swipe right from the Camera screen to open your contacts, tap on the target friend(s), and hit on the video recorder icon to send a video call invitation.
Step 2. When your friend(s) receive your call, you will see many filters right below your face icon. How to get more filters on Snapchat video calls? Just scroll right to see all the available filters.
Step 3. Choose a preferred filter and tap on it to apply it to your video call. Then, both you and your friend will see the change. Some filters that you haven't used may take a few seconds to load. Just show your patience.
You can change your Snapchat video call filter anytime you like. Just tap on the new filter and it will replace the current filter. It is a good way to keep your chat funny by changing the filters from time to time.
However, if you would like to make use of two or more filters simultaneously while chatting, you need to first apply the first filter. Then, tap and hold the first filter, swipe through the other filters using another finger, and tap on the second filter you want to try.
Tips:
You can't combine two filters that both have text in the center, such as the time and the speed filters.
How to Add a Filter to a Video on Snapchat?
If you are bored with Snapchat's built-in filters and want something new, you can rely on a professional and reliable video editing program to help you filter your Snapchat videos with more wonderful effects like MiniTool MovieMaker.
MiniTool MovieMakerClick to Download100%Clean & Safe
For preparation, you need to first download the Snapchat video that you want to use a new filter on to your local computer. Also, you need to download and install MiniTool MovieMaker on your PC. Then, refer to the below instructions to decorate the Snapchat video.
Launch MiniTool MovieMaker and go to its main window.
Click the Important Media Files option under the Media tab in the upper left to upload your Snapchat video.
Drag and drop the uploaded video to the below timeline.
Move to the Effect tab, pick up a favorite filter, and click the + icon on it to add it to the video. If you only see a download icon (downward arrow), it means that the filter is still online. Then, you need to click the icon to download it to your local address before you can add it.
Click on the video on the timeline and you can do more settings to it to change its visual effect. You can change its contrast, saturation, and brightness, and even add a 3D LUT effect to it.
Finally, export the edited Snapchat video to save the changes.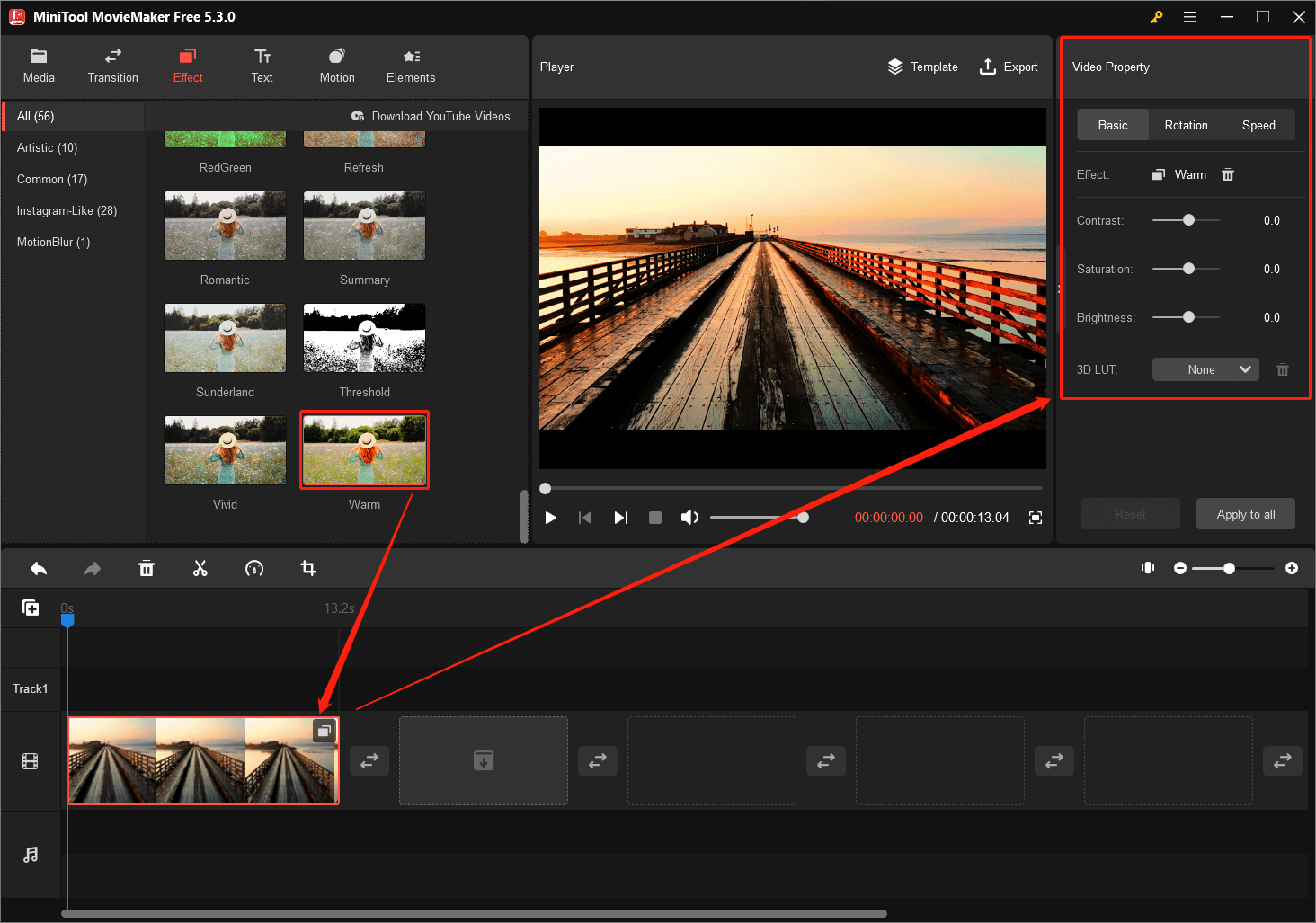 Related FAQ
Can you take a filter off a saved Snapchat video/photo?
Yes, you can.
How to remove Snapchat filter from videos/pictures?
On Snapchat, tap the gallery icon at the bottom left or swipe up on the screen.
Open the snap you want to delete filters from.
Hit the three dots in the top right and select Edit Snap.
Find the empty filter among the available filters to replace the current filter.
Tap Done and choose Save Changes.
How to record video with Snapchat filters?
With the Snapchat filter feature turned on:
Tap and hold the circular button on the camera screen to record a video. You can record up to 10 seconds of video with Snapchat.
Then, swipe left or right over your video to find a filter for your recording. If it asks for accessing your location, you need to allow it to use geofilters in your area.
How to add filters to a video on Snapchat?
how to do video filters on Snapchat? To add Snapchat filter to existing video and reframe your video or photo Snap with a filter/overlay, just open the video/picture and swipe right or left to choose a filter to add.
Also read: