Whether you want to watch the best YouTube travel vloggers' videos or desire to start a travel vlog by yourself, we got you covered. In the following content, we will introduce you to some of the best travel vloggers on YouTube, killer travel vlog ideas that can inspire you, and a complete guide on how to create a good travel vlog(include editing with MiniTool MovieMaker).
MiniTool MovieMakerClick to Download100%Clean & Safe
Best Travel Vloggers on YouTube to Follow
Before we step into the process of creating the travel vlog, we can watch some of the best travel vloggers' videos on YouTube to lead us on the right path.
The following are some of the best YouTube travel vloggers to follow.
FunForLouis
Louis Cole is a travel enthusiast who spends his life doing his non-stop adventures around the globe. His channel covers plenty of creative content and fun adventure travel experiences in daily vlog updates. You can see him taking in everything from underwater tropical sea life to the scene outside the White House.
The Bucket List Family

The Gee family started when they sold everything and left home to travel around the world. The Bucket List Family travel vlog documents their many adventures and travels across the world. Their videos will certainly make you question whether settling down is the best way to approach family life.
Mark Wiens
Mark is one of the top food tourism influencers on YouTube. He combines his passion for travel and mouth-watering food to create additive travel vlogs. If you love to travel and like eating different kinds of food when traveling around the world, you will love Mark Wein and his awesome travel food channel.
Sailing La Vagabonde

Sailing La Vagabonde is run by Australian couple Riley Whitelum and Elayna Carausu. They dreamed of circumnavigating the globe in a sailboat with no previous sailing experience when they started. They inspire others to live an alternative lifestyle and hope to raise ocean awareness. Now they have a baby in tow, so there's a new and exciting dimension to their travels.
Hey Nadine
Nadine Sykora is the brilliant person behind Hey Nadine. In the last ten years, she has visited more than 50 countries. You can expect to see travel vlogs with packing tutorials and motivational videos that are both entertaining as well as informative to inspire you.
Fearless and Far
Mike Corey is the man behind this adventure travel vlog channel. Just like the channel name, he journeys to weird and wonderful destinations, which wonderfully encourages people to face their fears to travel the world.
Killer Travel Vlog Ideas to Get Started
As we can see, the popular travel vloggers' vlogs are great learning material for promoting your travel vlog skills. And in this part, I will share the killer travel vlog ideas or tips to get you inspired by those best travel vloggers.
#1. Figure out and choose your niche.
To start your travel vlog on the right track, you have to define your niche. You need to have a clear vision of what your videos will be about and create content around a certain niche. Look at your travel style and interests. Or there are generally formats of vlogs you can follow- entertaining, informational, and educational.
#2. Use the right and consistent tone.
The essential thing to making an engaging travel vlog is to engage and interact with your viewers. Use the right tone and be friendly and casual. When you record yourself, act like you are talking with a friend. People respect enthusiasm and passion.
#3. Record the highlights of your trip.
Avoid taking everything into your travel vlog. Make sure to just include the highlights of your trip in the meaningful travel vlog. It can help you save a lot of time and your camera battery anyway.
#4. Keep your video clips concise.
People's attention spans are short, avoid taking too much of the same scene in your vlog. Extremely long video lengths can spoil your video and make viewers lose interest. You can refer to Social Media Video Length Best Practices [Ultimate Guide] to get optional video lengths for different platforms.
#5. Shoot the vlog from your perspective.
A god travel vlog holds your personality and perspective. It gives the personal touch that a travel video cannot deliver. The travel vlogs focus on your temperament. Make a fantastic experience for your viewers by including first-person point-of-view shots in your adventure.
#6. Select gears and vlog editing software wisely.
Like the action camera, tripod, mic phone, storage equipment, battery backup, and post-production software, you need to take them into consideration and make the whole process go smoothly. It is frustrating when you find you cannot capture the satisfying shots due to equipment.
How to Make a Perfect Travel Vlog?
After you watch the YouTube travel vloggers' videos and get inspired by the travel vlog ideas, can't wait to start your first travel? Well, to make a travel vlog, you may need to go through the steps of planning, shooting, editing, and so on. In this part, we will break things down into different stages. Let's go through the procedure now.
1. Plan the Travel Vlog
Maybe some people believe that planning is an optional step when it comes to creating travel vlogs since the activity of traveling itself is unpredictable. But if you want the latter process to go smoothly and avoid much uncertainty, planning is indispensable.
Here is something you can take into your planning outline:
Ideation for a travel vlog starts with deciding on the location and figuring out what highlight you want to present. Showcase its culture or tell a particularly interesting story about the place you want to bring to light.
To make your travel vlog colorful, you may need to gather some information about the place through YouTube videos, blogs, or anecdotes.
After you have the idea and basic research, you can create a rough outline of the flow of your vlog. In the outline, you can ask yourself questions like how to start your vlog? What is the hook? How does the story flow and how does it end?
Set up the equipment. When you come up with the story of the travel vlog, you need to figure out the equipment, like a camera with different lenses, a gimbal to take moving shots, a microphone to record audio, and preferably a drone to get cinematic aerial footage.
2. Shoot the Travel Vlog
After the planning stage, it's time to film your travel vlog! Just shoot the videos and make your viewers feel like they are traveling with you. To generate that emotion, you need to make sure you know what elements of the place you want to capture in your footage.
Keep the list from the planning stage and ensure you get everything you need. You can shoot as much footage as you want. After all, you can edit the footage later. The best thing is that you have enough footage for the final cut. It must be terrible when you come back after the trip to edit your video only to realize you missed out on good shots!
3. Edit the Travel Vlog
If you prepare well in the planning stage and shoot according to the list we shared above, the editing process will go smoothly. While editing the footage, in addition to having great clips, you need to pay attention to the sequence of your shots, the speed of the video, and the choice of music, transitions, or text.
An amazing editor like MiniTool MovieMaker makes all these much easier because it comes with most of these features inbuilt, which allows you to access and use them in just a few clicks. It is very helpful to do travel vlogging for beginners.
This travel vlog editor is not only powerful enough to meet your needs for editing your vlog but also easy enough to use so that even a beginner can edit the travel vlog with great ease.
With it, you can do some simple edits like splitting, trimming, merging, and make advanced edits including reversing, color correction, zooming, etc. How to make travel vlogs interesting? Well, it provides lots of animated stickers, filters, motion effects, transitions, animated text, and free background music that you can use in the vlogs.
Let's take a look at how to edit your travel vlog with MiniTool MovieMaker:
Step 1. Download and install the free MiniTool MovieMaker.
MiniTool MovieMakerClick to Download100%Clean & Safe
After installing, launch the program and close the popup window to enter the main interface.
Step 2. Import your travel vlog footage.
Click Import Media Files and add the clips to the Media library. Drag and drop the files to the timeline.
Step 3. Edit your travel vlog video clips.
Trim and split: Move the playhead to the target place and click the scissor icon to split the video. Then delete the unwanted part. To trim the video, target the video clip, move its start or endpoint to trim the video.
Add video transitions and effects: Click Transition or Effect, find the desired one, and hover the mouse over it to preview. Drag and drop the transition between two clips, or directly drag an effect to the clip.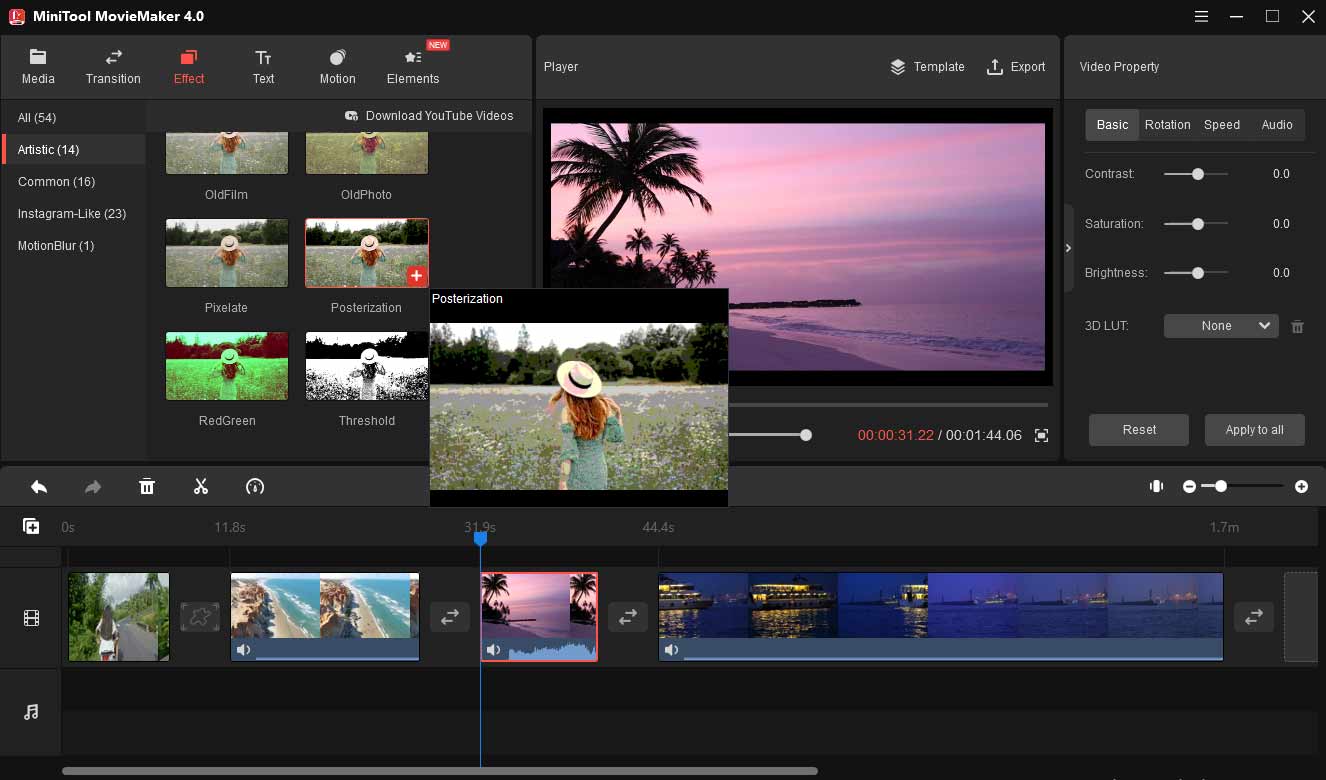 Change video speed: Target the video on the timeline that you want to speed up or slow down. Click the Speed icon, choose Slow/Fast, and select a speed option.
Add texts: Go to Text, find a suitable title/captions/credits, then drag the text from the text library to the timeline, or click + to put the text track in the right place. Enter and edit your text in the Text Editor.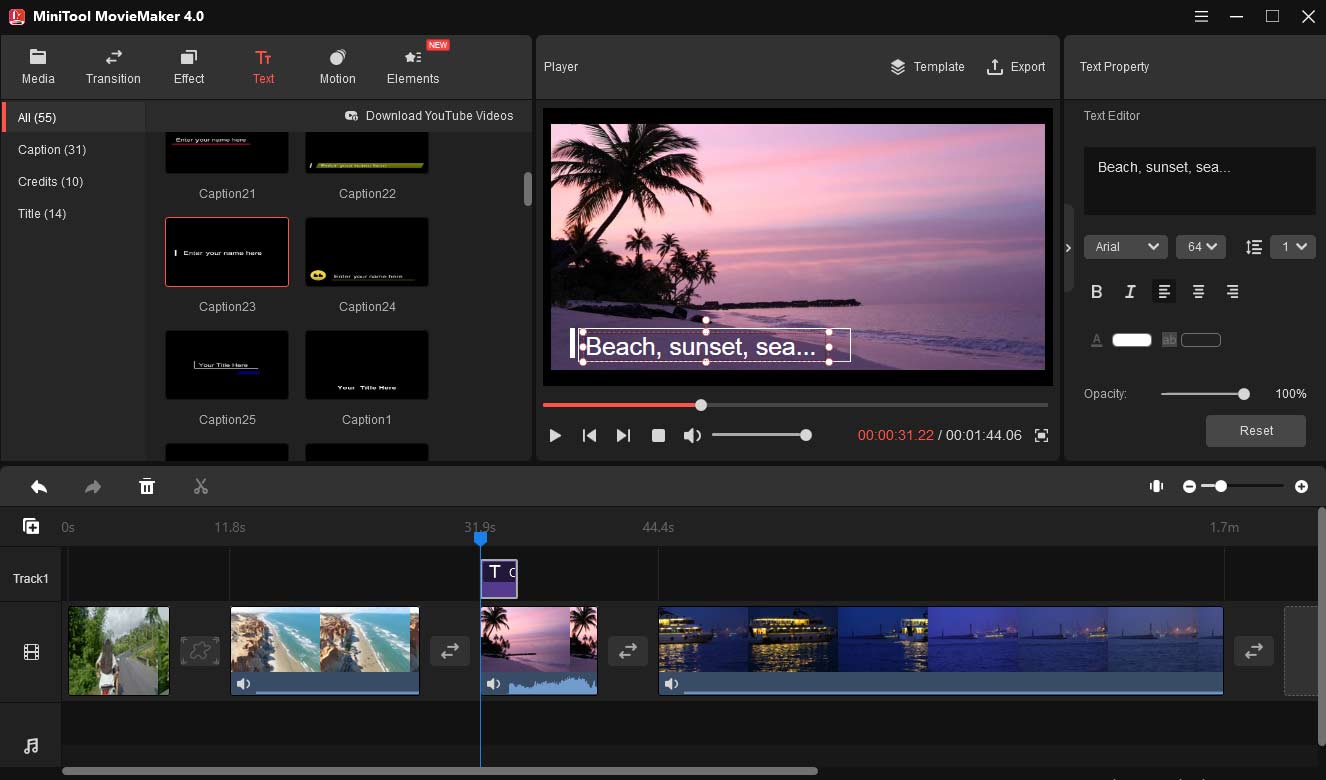 Add stickers: Click Elements, download the sticker you want, and click +. Then change the sticker at any angle and size.
Add background music: Import the audio track and add it to the timeline. Or use the built-in soundtracks in the media library.
Step 4. Export and save the video.
After finishing editing, click Export. In the Export window, enter the file name, change the video format, choose a destination folder, and adjust the video resolution if needed. After that, export the video.
MiniToolMovieMaker is an easy-to-use travel vlog editing software for Windows. It helps me to make great travel vlogs with ease.Click to Tweet
4. Publish and Promote the Travel Vlog
After you complete the editing process, it's time to upload it to YouTube or anywhere else of your choosing, optimize and promote it so you can share your travel vlog with others.
 In addition to YouTube, here are some other free platforms you can host your travel vlog: Facebook, Instagram, Flickr, Vimeo, and DailyMotion.
Sharing your travel vlog on social media platforms is also a highly effective way to amplify the reach of your vlogs. Some ideal social media channels to use for travel vlog promotion are Facebook, Instagram, Pinterest, and Twitter.
Conclusion
In this post, we shared some of the best YouTube travel vloggers, travel vlog ideas, and a guide on how to make a travel vlog. Have you ever tried to become a travel vlogger? You can share your idea in the comments section below!
If you have any questions or encounter any problems while using MiniTool MovieMaker, please contact us via [email protected].