Whether you're making simple social media videos or advanced movies, people all over the world need to use video editing programs. Today, we will talk about two popular video editing software: Shotcut and DaVinci Resolve.
Shotcut vs DaVinci Resolve: which one suits you better? If you're reading this comparison, you might be interested in choosing between Shotcut or DaVinci Resolve. Or, choose one between their alternatives. The following is all about Shotcut vs DaVinci Resolve.
What Is Shotcut
Shotcut is an open-source and free cross-platform video editor for making changes to video, audio, and image. It's compatible with Windows, macOS, FreeBSD, and Linux. So, no matter which platform you are on, you can use the software to create professional-looking videos.
Shotcut has many powerful features that make your video editing a breeze with a simple and modern user interface. Based on FFmpeg, Shotcut supports a variety of file formats for import and export. You can drag and drop videos onto this program and start working with audio and video files.
Shotcut has a complete range of graphic filters, so you can add any kind of filter and visual effect you like. You can give your video a cinematic look by adding a widescreen filter. You can also give your photos a cinematic look by adding a highlight filter. It is one of the reasons why professionals use Shotcut.
Amazingly, you can record audio directly on its timeline to use as a voiceover in your video. In a word, with a wide range of standard and advanced video editing options, Shotcut is a powerful video editing software that can help businesses of any size grow.
What Is DaVinci Resolve
Originally designed as an advanced color correction application, Davinci Resolve now is a non-linear and cross-platform video editor available on macOS, Windows, and Linux devices to take your video editing and visual effects to the next level.
DaVinci Resolve integrates many features into one convenient program to help you create DVD-quality videos, which combines color grading, color correction, visual effects, audio post-production, and video editing together. You can import photos as well as video and music clips from your hard drive and edit them on its built-in timeline.
Moreover, Davinci Resolve has another efficient feature suitable for group work called remote collaboration. With its cloud-based workflows, multiple users worldwide can work on the same project at the same time. Anyway, whether you need basic video editing or advanced video editing, DaVinci Resolve can be easily implemented.
Shotcut vs DaVinci Resolve
Both Shotcut and DaVinci Resolve are professional video editing programs. However, what is the difference between Shotcut and DaVinci Resolve on earth?  Is DaVinci Resolve better than Shotcut? Which one should you choose? Don't worry! we will make a comparison between them in detail.
Shotcut vs DaVinci Resolve – System Requirements
DaVinci Resolve vs Shotcut: Do they differ in system requirements? Let's first have a look at their minimum system requirements.
Minimum system requirements of Shotcut:
Operating system: 64-bit Windows 7 – 11, Apple macOS 10.14 – 12, or 64-bit Linux with at least glibc 2.27.
CPU: x86-64 Intel or AMD; at least one 2 GHz core for SD, 4 cores for HD, and 8 cores for 4K.
GPU: OpenGL 2.0+, or DirectX 9 or 11 drivers on Windows.
RAM: At least 4 GB for SD, 8 GB for HD, and 16 GB for 4K.
Minimum system requirements of DaVinci Resolve:
For Windows users:16 GB of system memory or 32GB for Fusion, integrated GPU or discrete GPU with at least 2 GB of VRAM, and GPU which supports OpenCL 1.2 or CUDA 11.
For Mac users: 8 GB of system memory or 16 GB when using Fusion, integrated GPU or discrete GPU with at least 2 GB of VRAM, and GPU supporting Metal or OpenCL 1.2.
For Linux users: 32 GB of system memory, discrete GPU with at least 2 GB of VRAM, GPU which supports OpenCL 1.2 or CUDA 11.
Shotcut vs DaVinci Resolve – User Interface
When you choose a video editor, the user interface is also a key factor to consider based on your video editing level and needs. So, we will dive into the main difference between Shotcut and DaVinci Resolve's user interface.
Shotcut has a fairly typical user interface. It has sections for media input, a timeline for arranging and editing media, video preview, etc. You can customize it by enabling and disabling specific options in the view navigation option.
Whereas, DaVinci Resolve comes with a more complex interface that offers rich features. These are also called workspaces. Davinci Resolve gives you specific workspaces for specific tasks, including Media, Cut, Edit, Fusion, Color, Fairlight, and Deliver. You can also customize the interface and make your own tools.
Shotcut vs DaVinci Resolve – Price
DaVinci Resolve vs Shotcut: which video editor is more cost-effective? As for Shotcut, it's a completely free video editing software. Therefore, it's friendly for insufficient budget users.
On the contrary, DaVinci Resolve offers a free version so that you can download it for free. Besides that, there is a one-time fee of $295 for the Studio edition. DaVinci Resolve Studio supports more video editing features than its free version, such as stereoscopic 3D tools, advanced HDR grading, GPU acceleration, high-resolution 3D audio, and much more.
Shotcut vs DaVinci Resolve – Editing Features
Video editing features are one of the most essential factors in choosing video editing software. We all know that both Shotcut and DaVinci Resolve provides rich video editing features, but there are still differences in some specific features. Now, we will compare their main features.
Shotcut supports a multi-track timeline with thumbnails and waveforms for editing files easily. And you can drag and drop files to Shotcut from the file manager. It allows you to create, play, edit, save, load, and export MLT XML projects. It also has unlimited undo and redo for playlist edits, including history view. Moreover, it supports 3D resolution, text overlay, separating audio from video clips, and more. 
Similar to Shotcut, DaVinci Resolve also supports multiple formats, drag and drop feature, text overlay, HD resolution, and more. In addition, it offers many other unique features, like audio capture, splitting/merging clips, VST Plugins, multi-user collaboration, 3D video editing, motion tracking, adding transitions and animations, brand overlay, etc.
Shotcut vs DaVinci Resolve – Effects
Then, let's take a quick look at how they differ in their effects, including transition effects, video effects, and audio effects.
Transition effects: You will find 24 effects on Shotcut. To add and view all transition effects, you can drag and drop one video clip to another in the timeline. It also features two audio transition effects, including cross-fade and mix. On the other hand, DaVinci Resolve has 63 transition effects until now, and it provides the cross-fade audio transition effect with three levels: +3, -3, and 0.
Video effects: Shotcut offers over 90 video effects and filters, each of which can be used for further video enhancement. However, DaVinci Resolve provides users with 12 simple video effects and 80 professional Resolve FX filters.
Audio effects: There are 27 audio effects on Shotcut, including delay, pitch, mute, and more. DaVinci Resolve also comes with almost the same number of audio effects as Shotcut. And this software supports 24 audio effects in total.
Best Shotcut and DaVinci Resolve Alternatives
Despite being awesome video editing tools, DaVinci Resolve and Shotcut may not suit your needs. You can use the curated list below to compare DaVinci Resolve and Shotcut alternatives for your business or social media.
1. PowerDirector
Compatibility: Windows, Android, and iOS
PowerDirector is a video editing program developed by CyberLink capable of handling simple video editing tasks and more complex features. It comes with an intuitive and easy-to-use interface, making it a nice alternative to Shotcut and DaVinci Resolve and a great choice for both beginners and professionals.
With PowerDirector, you can drag media files directly onto its program, or even from File Explorer onto the timeline. Then, choose from nearly 7,000 templates to make a video intro quickly. It also supports AI-powered motion tracking and AI audio tools to remove background noise very effectively.
Main features of PowerDirector:
Full feature timeline editor
3D Video Editing
AI-powered motion tracking
AI audio tools
Royalty-free stock library
Video intro templates and intro designer
Chroma key/Green screen
Editing tools for picture-in-picture
……
2. MiniTool MovieMaker
Compatibility: Windows
The next alternative to DaVinci Resolve and Shotcut on this list is MiniTool MovieMaker. As an easy-to-use and feature-rich video editor, it doesn't involve any watermarks, bundles, or ads. If you're new to video editing, MiniTool MovieMaker is the best choice for you.
MiniTool MovieMakerClick to Download100%Clean & Safe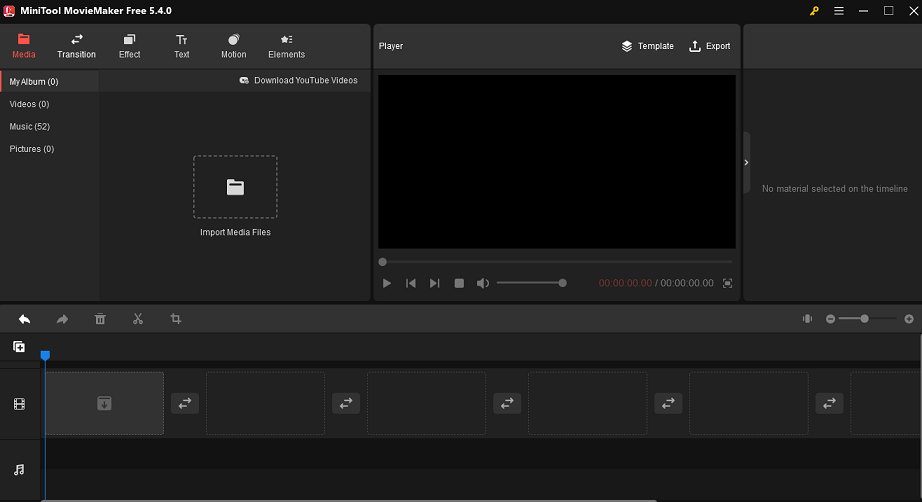 You can create a video by starting from scratch or using pre-made video templates with several clicks. Of course, you need to import your media files to this program first. Remember that most commonly used formats are supported. Then, you're able to adjust the video duration, split, crop, trim the video, add transitions, filters, subtitles, background music to the video, etc. Download to know more features of it!
MiniTool MovieMaker's key feature:
Easy-to-use and user-friendly
Support multiple video formats
Generate videos quickly with video templates
Change the video length and speed
Split/trim/crop/rotate/flip/reverse the video
Add transitions, filters, stickers, text, and motion effects to the video
Offer a library of free music to add background music to the video
Apply 3D LUTs to the video
Free, no bundle, no ads, watermark-free
Change video quality, bitrate, frame rate, and resolution
……
MiniTool MovieMaker is one of the best alternatives to Shotcut and DaVinci Resolve. Get started with this tool to make your eye-catching videos now.Click to Tweet
3. Final Cut Pro
Compatibility: Mac
Final Cut Pro is an excellent alternative to DaVinci Resolve and Shotcut for Mac users. It's powered by Apple, so you know it's sleekly designed and will run smoothly. It is an overall video editing program that has been around for years and offers almost all the features you need to create high-quality videos.
With its precise and intuitive interface, you can easily arrange and edit video clips. Trimming and splitting can be done on its timeline. The latest version of Final Cut Pro supports for motion tracking, voice isolation, iPhone 13 Cinematic video mode editing, and more. In addition, Final Cut Pro enables you to do more advanced video editing features, like color correction, 3D titles, VR headset playback, etc.
Key features of Final Cut Pro:
Magnetic and trackless timeline
Unlimited video tracks
Color correction or grading
Support 360-degree VR content
Voice isolation
Auto reframe
Multi-cam editing
Multiple animation templates
……
4. Adobe Premiere Pro
Compatibility: Windows and Mac
If you're working with a team, another Shotcut and DaVinci Resolve alternative worth considering is Adobe Premiere Pro. With its innovative video editing and stable workflow, Adobe Premiere Pro has become one of the best video editing programs on the market. It will help users take their videos to the next level.
Adobe Premiere Pro has an attractive and flexible interface with a four-panel layout, including source preview, project preview, project assets, and timeline tracks. Moreover, text can be generated automatically thanks to its Create Transcript feature. And it can reframe your footage into the aspect ratio of your choice intelligently.
Also read: 11 Best Blender Alternatives [Windows/Online/iOS].
Key features of Adobe Premiere Pro:
Auto reframe
Copy and paste audio effects
Support working with other Adobe Creative Cloud products
io integration
360-degree VR video editing
Multi-camera angle editing
Generate text automatically
……
5. Lightworks
Compatibility: Linux and Windows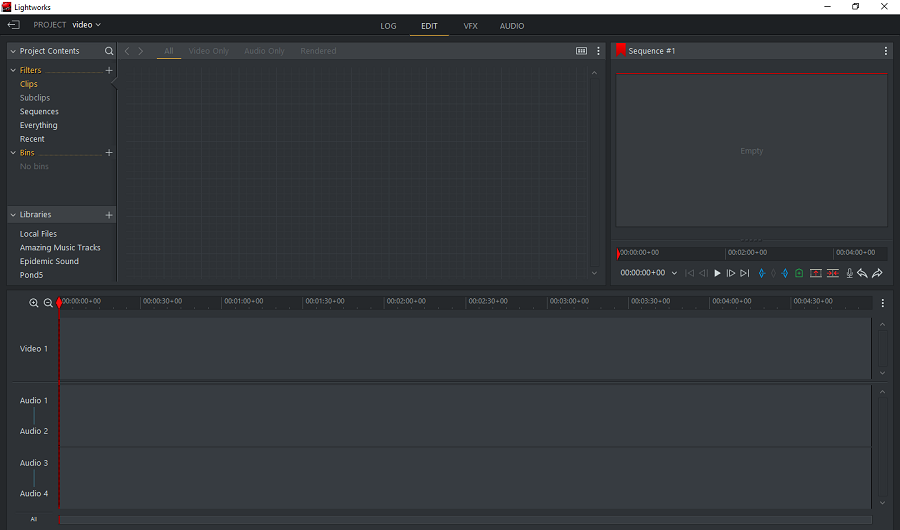 Another nice Shotcut and DaVinci Resolve alternative is Lightworks. It's a free video editor with a variety of features that are designed for editing audio and video content for Linux and Windows users.
Lightworks has a simple and intuitive user interface. You'll also find tons of tutorial videos covering everything you need to know, and a user community to help you get answers to every question. The tool allows you to manipulate video files, add soundtracks, and apply and create your own graphic effects.
Main features of Lightworks:
Support for LUTs
Support a wide range of file formats
3D video editing
Additional plugins and libraries
Chroma key/Green screen
Color grading and blending
……
Bottom Line
Shotcut vs DaVinci Resolve: which video editing software is a better choice? We have compared their difference in system requirements, user interface, price, editing features, and effects. You can choose the one you preferred. Or, you can try its alternatives, like MiniTool MovieMaker.
If you have any questions or suggestions while using MiniTool MovieMaker, please leave a comment to us or contact us via [email protected].