Which is the best royalty free classical music? Where to download classical music for free? Here lists the top 10 best royalty free classical music and 5 free music download sites. If you want to add your favorite classical music to a video, try MiniTool software.
Is Classical Music Royalty Free
Basically, all classical music is royalty free. The protection expires 70 years after the composer's death. At that point, it becomes part of the public domain. Therefore, the musical compositions of Mozart, Beethoven and Chopin are free to copy, distribute, adapt, or perform in public.
Top 10 Best Royalty Free Classical Music
Top 10 Best Royalty Free Classical Music
Symphony No. 5
Prelude, Op. 28, No. 15
Symphony No. 41
Piano Sonata No. 14, Op. 27, No. 2
The Four Seasons
Hungarian Dances
Étude in C-sharp minor, Op. 2, No. 1
Suite No. 1, Op. 46 – IV. In the Hall of the Mountain King
Nocturne Op. 9, No. 2
Double Violin Concerto
1. Symphony No. 5
Symphony No. 5 in C minor of Ludwig van Beethoven, was written between 1804 and 1808, which is widely considered one of the cornerstones of western music. It is one of the best-known compositions in classical music and one of the most frequently played symphonies.
2. Prelude, Op. 28, No. 15
Prelude Op. 28, No. 15, known as the "Raindrop" prelude, is one of the 24 Chopin preludes written by Polish composer Frédéric Chopin in 1839. It lasts between 5 and 7 minutes and is the longest of the preludes. The notes repeat like the pitter-patter of raindrops.
You might be interested in: Add Music to PowerPoint
3. Symphony No. 41
Wolfgang Amadeus Mozart completed Symphony No. 41 in C major 551 on August 10, 1788. The work is nicknamed Jupiter Symphony. This is the longest and last symphony he composed and is regarded by many critics as one of the greatest symphonies in classical music.
4. Piano Sonata No. 14, Op. 27, No. 2
Piano Sonata No. 14, Op. 27, No. 2, popularly known as the Moonlight Sonata, is a piano sonata by Ludwig van Beethoven and it was completed in 1802. This piece is one of Beethoven's most popular compositions for the piano.
5. The Four Seasons
No classical music list could be complete without Vivaldi. The Four Seasons is a group of four violin concertos composed by the Italian composer Antonio Vivaldi. Each violin concerto represents a season of the year.
6. Hungarian Dances
Hungarian Dances by Johannes Brahms, completed in 1879, are a set of 21 lively dance tunes based mostly on Hungarian themes. They vary from about a minute to five minutes in length. Everyone who loves classical music should have a piece by Brahms in their music collections.
Related article: Top 10 Free Music Ringtones Review & Download
7. Étude in C-sharp minor, Op. 2, No. 1
Étude in C-sharp minor, Op. 2, No. 1, is an étude for piano, written by Russian composer Alexander Scriabin in 1887. The melody is poignant and heartfelt, which shows many characteristics of Russian Gypsy music.
8. Suite No. 1, Op. 46 – IV. In the Hall of the Mountain King
In the Hall of the Mountain King is a piece of orchestral music composed by Edvard Grieg in 1875, which is used as incidental music for Peer Gynt. It was originally part of Opus 23 but was later extracted as the final piece of Peer Gynt, Suite No. 1, Op. 46.
9. Nocturne Op. 9, No. 2
Nocturnes, Op. 9 are a set of three nocturnes composed by Frédéric Chopin between 1830 and 1832 and are dedicated to Madame Marie Pleyel. The second nocturne of the work is regarded as Chopin's most famous piece, which has been used on countless productions and adverts.
10. Double Violin Concerto
Also known as Double Violin Concerto, Concerto for Two Violins in C minor, BWV 1062 is one of the most famous works by Johann Sebastian Bach and considered among the best examples of the work of the late Baroque period.
How Can I Legally Download Classical Music for Free
If you're looking for a site to download classical music for free, here's a list of the top 5 best places with the best classical music. Whether you're looking for classical music of Beethoven, Mozart, Chopin, Bach or other composers, you'll find it all on these sites.
1. Free Music Archive
Free Music Archive is a perfect destination for musicians and filmmakers who are seeking for royalty free music. It is filled with various songs from thousands of independent music makers. Here you can find a variety of styles of music, including blues, classical, country, folk and so on.
2. Free Stock Music
Free Stock Music is an excellent site built especially for music lovers. It offers hundreds of free tracks in a range of genres and the majority of the royalty free music on this website is released under Creative Commons Licenses.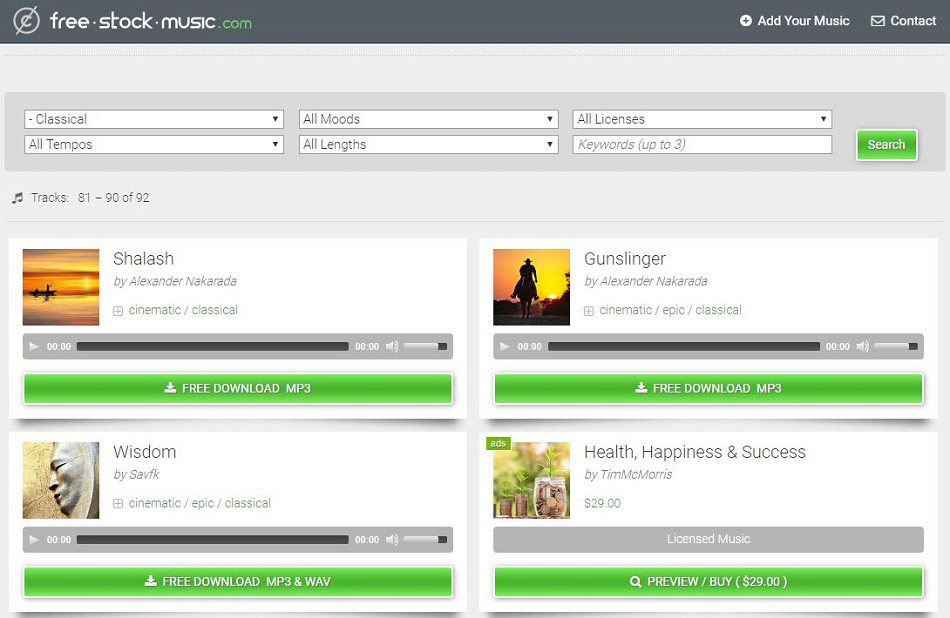 3. Classic Cat
Classic Cat is the best place to find free classical music downloads because it has 6,000 free classical music lists. Classic Cat provides search by composers, performers, instruments, and genres, and it shows a list of the top 150 popular classical works.
4. Last.fm
Last.fm is one of the best free music sites to download classical music. It provides 20 pages of free classical music download. Annoyingly, you cannot search for keywords or browse subcategories, but can only scroll through all pages to find the content to download.
5. Musopen
Musopen is an extremely popular free music download site that provides thousands of free classical music and a large number of free sheet music. You can browse by composers, performers, musical instruments, time periods or other filters. But a free account can only download five songs per day.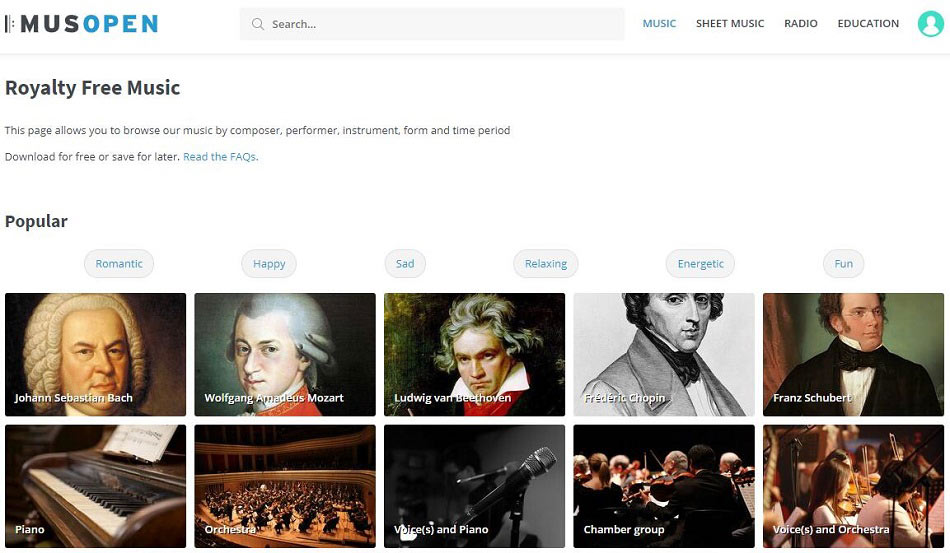 How to Add Royalty Free Classical Music into Videos
Are there any royalty free classical music you like in the above list? If you want to make a music video or just want to add classical music to your video to make your video more charming, then here recommend you a free yet professional video editor – MiniTool MovieMaker.
It is a 100% free video maker with a simple and intuitive interface, which lets you add your favorite classical music to a video at ease, regardless of your video production skill level. Besides, you can use this tool to merge several music clips into one.
MiniTool MovieMakerClick to Download100%Clean & Safe
Steps on how to add royalty free classical music into a video
Step 1. Open MiniTool MovieMaker
Free download, install and launch this freeware on your PC.
Tap on the blue Full-Feature Mode to enter the main interface or simply click the X icon to shut down the pop-up window.
Step 2. Add & edit your video
Click the Import Media Files button to import your video and then click the + icon to add your video onto the timeline or simply drag and drop it.
Then you can split the video into several clips, trim the video to delete unwanted parts, add effects to the video, add text to the video, correct video color, etc.
Press OK to apply all changes.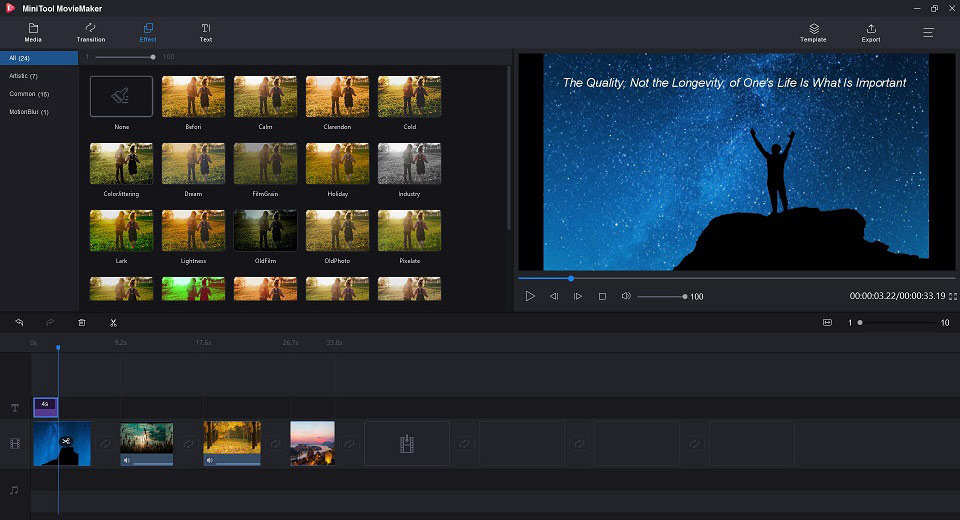 Step 3. Import & edit the classical music file
Click Music > Import Media Files to add your classical music and then add it to the audio track on the timeline.
Double-click on the audio clip to open its editing window, and after that, you can change the music volume and fade music.
Press OK to save all editing.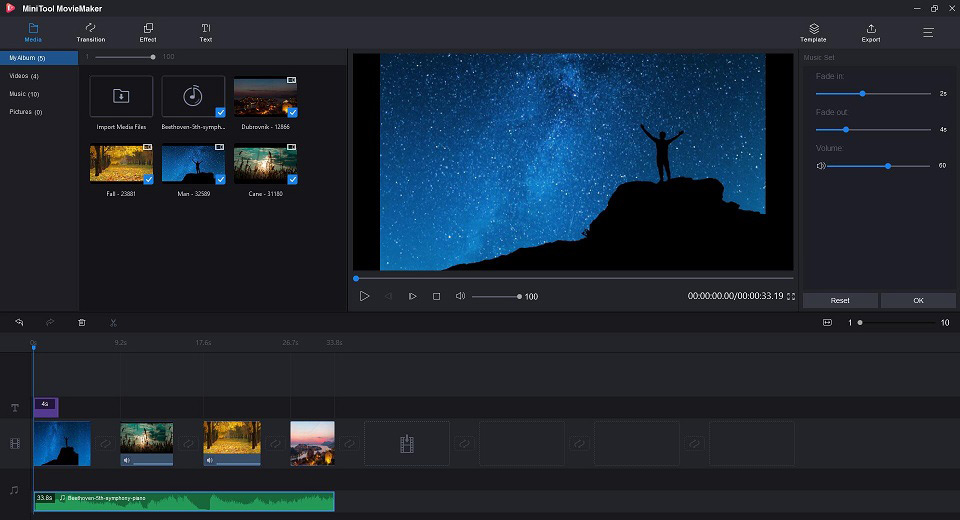 Step 4. Export the music video
Click Export on the top right to open the export window. Then choose an output format, give a name, specify a destination folder, choose a suitable resolution for this new video.
Tap on the Export button again.
Features
Easily make GIFs, cartoons or videos with cool movie templates.
Numerous popular transitions and effects.
Quickly split, trim and combine GIF & video & audio clips.
Add text (titles, captions, and credits) into a video.
Extract audio from most popular video formats.
Change video resolution to reduce file size.
Support various conversions between commonly used file formats, like WebM to GIF.
Awesome! I added my favorite classical music to a video using MiniTool MovieMaker. It is much easier than I thought.Click to Tweet
Copyrighted Music vs. Royalty Free Music vs. Non Copyrighted Music
People often mistakenly confuse royalty-free music for non-copyrighted music. Below, we will discuss the differences between copyrighted music, royalty-free music, and non copyrighted music.
Copyrighted music – It's important to know that copyrighted music essentially means two things: the music itself (lyrics, chords and other musical elements) and a song's master recording. Copyright protection lasts for the life of the author plus an additional 70 years. Once the copyright protection period ends, the song will enter the public domain, which means anyone can use it for free.
Royalty free music – Royalty free music is a specific type of stock music or production music, which can be used unlimitedly in any applications and works. However, royalty free music does not mean that the music is free. You may need to spend a one-time license fee, and then you can use the music as you like.
Non copyrighted music – Non copyrighted music includes public domain music and music protected by free licenses. Public domain music refers to any song whose publishing or recording rights are open to the public, while the latter means that songwriters allow others to overwrite, sample, copy, and distribute their songs with some limitations.
You might be interested in: Top 6 Best Free Music Visualizers of 2020
Bottom Line
Did you find your favorite royalty free classical music in this list? If yes, why not download it with these useful classical music download sites?
Of course, if you have any other charming royalty free classical music or free music download sites to recommend, please let us know via [email protected] or share them in the comments section below.
Royalty Free Classical Music FAQ
? Is Mozart royalty free?
The copyright term of music is the same as that of books, paintings, and other literary and artistic works: the author's life span plus 70 years. Therefore, all music works of Mozart are in the public domain, and you can use them freely.
? How long before music is public domain?
The copyright of music does not last forever. In most countries, copyright in music, films, books, and other literary and artistic works comes to an end 70 years after the author's death, and these copyrighted works will enter the public domain.
? What is the most famous classical music?
Symphony No. 5
Prelude, Op. 28, No. 15
Piano Sonata No. 14, Op. 27, No. 2
Nocturne Op. 9, No. 2
Étude in C-sharp minor, Op. 2, No. 1
Suite No. 1, Op. 46 – IV. In the Hall of the Mountain King
? How can I legally download classical music for free?
Free Music Archive
Free Stock Music
Classic Cat
Last.fm
Musopen
Free Music Public Domain
Orangefreesounds