Are you looking for an enchanting ringtone for your mobile phone? Then you're in the right place. Here list the top 10 free music ringtones and introduce 5 places to download them. If you want to make a ringtone by yourself, MiniTool software can help you.
Top 10 Free Music Ringtones of 2020
Let's have a look at the top 10 best music ringtones.
1. Despacito – On January 12, 2017, Universal Music Latin released Despacito and its music video. Then it instantly became one of the most successful Spanish tracks in pop music history.
2. Faded – Released on December 3, 2015, Faded is a hit song by Norwegian record producer and DJ Alan Walker. It is extremely catchy and simple.
3. I Hate U, I Love U – I Hate U, I Love U, released on February 17, 2016, is a song sung by American singer and rapper Gnash. This song ranked 10th on the Billboard Hot 100.
4. Hey Jude – Hey Jude is a song by the British rock band The Beatles, released in August 1968 as a non-album single, which became the highest-selling single in many countries in 1968.
5. You Really Got Me – You Really Got Me is a song written by Ray Davies for English rock band the Kinks, which originally performed in a more blues-oriented style.
6. Someone Like You – Someone Like You is a song sung by British singer and songwriter Adele. As of 2018, it is the most downloaded single in British history.
7. Count on Me – Count on Me is a song by American singer and songwriter Bruno Mars. It is a folk and tropical record that lyrically details the importance of friendship and conveys a positive message.
8. If I Die Young – Released on June 8, 2010, If I Die Young is a song written by Kimberly Perry and recorded by American country music trio The Band Perry.
9. Talking to the Moon – Talking to the Moon is a song from the first studio album of American singer and songwriter Bruno Mars. Critics praised the song for its slow pace and lyrics.
10. My Love – Released on October 31, 2000, My Love is a song by the Irish boy band Westlife. It debuted at number one on the UK Singles Chart, giving the band their seventh UK number one.
Where to Get Free Music Ringtones
# ZEDGE
ZEDGE is one of the best destinations to download the best ringtones for your smartphone. It not only provides free music ringtones, notifications and alerts, but also enables you to create new ringtones and even convert songs to ringtones.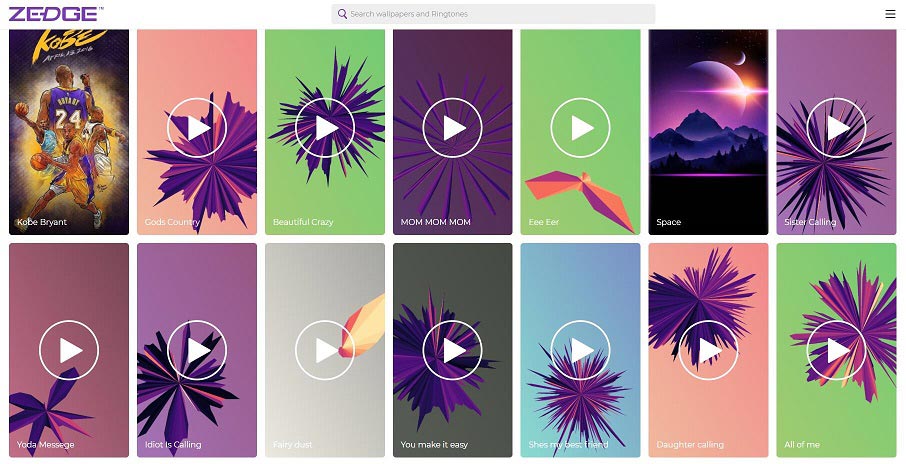 # Tones7
Tones7 offers more than 25 ringtone categories, including countless free ringtones. MP3 and M4R can be downloaded here, which means they can work on iPhone, iPad, Android and other devices. Each download page lets you listen to the ringtone and see its details.
# Mobile 9
Mobile 9 is more than just a simple ringtone application. This application allows you to fully customize your phone. This application provides various ringtone options, wallpapers, mobile themes, fonts and a collection of sticker packs.
Also read: Spotify Sleep Timer: How to Set a Sleep Timer on Spotify App
# Audiko
Audiko is both a ringtone app and a ringtone maker. It offers unlimited free music ringtones and alert tones and allows you to cut, trim, and combine any part of a song to create ringtones. You can also share ringtones with friends and activate free wallpapers from the exclusive galleries.
# MP3 Cutter and Ringtone Maker
This is a versatile audio/MP3 cutter app that gives you more freedom in choosing ringtones. You set any free music ringtones as the default or custom contact ringtone within the app. What's more, the application supports trimming audio files in MP3, WAV, AAC, AMR, FLAC and other formats.
Bottom Line
So many wonderful yet free music ringtones have been listed above, why not download them with these ringtone websites or apps? If you have any questions or suggestions about it, please let us know via [email protected] or share them in the comments section below.