Many people watch television shows before going to bed. The problem is many television shows are exciting and when you get into the plot they can be overstimulating and leave you awake.
Those oddly satisfying videos are pretty popular on social media these days and get a lot of views. It calms your mind and makes you feel good since real life is chaos by contrast.
What are the most satisfying videos on the internet? Where to find these oddly satisfying videos? How to make oddly satisfying videos by yourself? This post will offer you all the answers to these questions. (You can edit the video footage with a free and handy video maker - MiniTool MovieMaker.) 
What Are the Most Satisfying Videos Types?
As we search for the most satisfying videos, we can find different oddly satisfying videos types on the internet. So, we compiled some of the most common types of oddly satisfying videos, and let's find why they are so gratifying to watch. You can find the specific types of those videos to watch.
Arts and Crafts Videos
Arts and crafts video is the first type of the most satisfying videos on our list. They usually involve materials like colored papers, cardboard, and other objects to design cards, miniatures, and other decorative stuff. These videos involve skillfully using simple objects to make beautiful crafts that you can often replicate at home.
In addition to touching your aesthetic sense, arts and crafts videos make you feel good as you see a task that is completed with ease, and the outcome is often pretty promising. Our mirror neurons help us feel the same sensory stimulation the person creating the craft feels, making the video satisfying to watch.
Recommended YouTube channels: 5-Minute Crafts (76.8M subscribers), Wow Art (3.95M subscribers), Mukta Art & Craft (1.47M subscribers)
Crushing and Shredding Videos
This type of video is also one of the most oddly satisfying videos. Crushing videos usually involve heavy machinery crushing the objects. On the other hand, shredding videos include shredding objects using giant shredders.
These videos fulfill our human preference to complete tasks, and all without the aid of task management software. We like the objects being made the same way we like them being shredded to their original shape, size, or material. Therefore, such videos give our eyes pleasure and sensory stimulation.
Recommended YouTube channels: Gojzer (4.17M subscribers), Cool EV (82.4K subscribers), Hydraulic Press Channel (3.18M subscribers)
Painting Videos
Painting videos are also among the most satisfying videos for sleep, which include using paper or drawing and painting software to make a masterpiece. Some of these videos often show the mixing of different colors and using unexpected ways to accomplish a piece of art.
These videos are so popular as they please our artistic side. We all love beauty, colors, and creativity, and these videos hit all these three chords to make us feel pleased and satisfied.
Recommended YouTube channels: SurajFineArts - Abstract ART (3.22M subscribers), Correa Art (332K subscribers), Daria Callie (824K subscribers), Lena Danya (838K subscribers)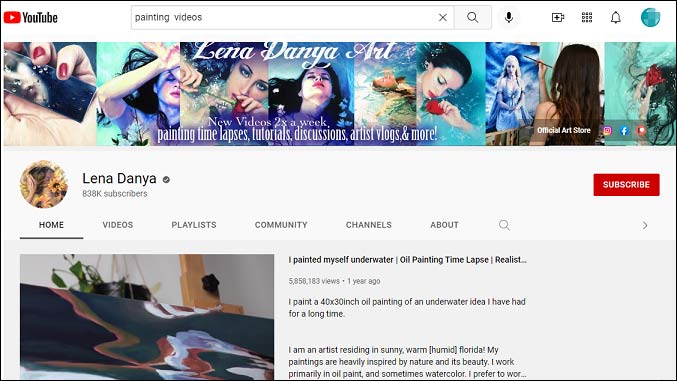 Cleaning and Washing Videos
Cleaning and washing videos are also among the most oddly satisfying videos to watch. These videos usually include washing dirty surfaces especially those of cars, carpets, and lawns. And it's not just limited to pressure washing.
These videos are eye-pleasing as it is human nature to like cleanliness, and watching such videos can fulfill that urge. They leave a pleasing effect on the viewer and help you feel relaxed.
Recommended YouTube channels: Partridge Exterior Cleaning (96.9K subscribers), Flawless Cleaning Services(12.3K subscribers), WD Detailing (343K subscribers)
Also read: The 4 Best White Noise Apps That Help for Relaxing and Sleeping
Mukbang Videos
Mukbang videos are also one of the most satisfying videos ever. These videos often include a host who eats a large amount of food in front of the camera while interacting with the audience. You can also hear some satisfying sounds of eating, drinking, biting, chewing, and more in these videos.
Watching these videos may give us a sense of satisfaction and alleviate the feelings of loneliness associated with eating alone. The satisfying sound of eating food can create a tingling and pleasant sensation that results in feelings of calmness and relaxation.
Recommend YouTube channels: Aejeong (2.69M subscribers), Hamzy (9.69M subscribers), Zach Choi ASMR(13.9M subscribers)
Antique Restoration Videos
These videos include restoring old antique pieces, furniture, and tools. You can also see renewal through painting, cutting, scraping, and modifying antiques to make them look new, modern, and ready to use.
These videos are a treat to watch since they supply pleasure to our aesthetic sense and make you feel great seeing a useless old object being restored into something useful.
Recommended YouTube channels: MrRescue (758K subscribers), Restoration (1.16M subscribers), Rescue & Restore (1.96M subscribers)
Gardening Videos
Gardening videos are also one of the most satisfying videos to watch. They usually include various ideas to plant new seeds and show them growing into plants in time lapses. The content creators use simple ways to help plants grow and offer various indoor and outdoor decorating ideas for these plants.
These videos are eye-pleasing and can be a great source of relieving stress. Seeing seeds planted, watered, and growing up helps us feel relaxed. Moreover, the unique and easy gardening ideas make them practical and satisfying at the same time.
Recommended YouTube channels: The Gardening Channel With James Prigioni (977K subscribers), Boxlaps (598K subscribers), Green Timelapse (175K subscribers)
Perfect Fit Videos
Perfect fit videos usually involve showing objects getting fit into each other perfectly. You may see a car parking perfectly, inserting boxes, or any other structure fitting inside the other in this kind of video. Making seamless metal and wood joints is an example of such videos.
This kind of video attracts us because they naturally fulfill our need to put things in order and pattern. This gives us a weird sense of satisfaction and pleasure and makes these videos satisfying.
Recommended YouTube channels: Machine Miracle (3.25K subscribers), Clip'wreck (142K subscribers)
Metal and Woodworking Videos
Metalwork videos include using metals to make objects, jewelry, and other tools we use every day. They will show us how to mold the metal into new metallic objects. In contrast, the woodworking videos involve miniatures to larger structures built by carving the wood, cutting, and polishing it.
These videos help us feel a sense of control as both metal and wood are challenging to harness and need a lot of effort to mold and carve. When done, the sense of achievement helps you feel more control over natural resources.
Recommended YouTube channels: Quantum Tech HD (11M subscribers), WOOD GIRL (109K subscribers), Andy Phillip (1.39M subscribers)
How to Make Oddly Satisfying Videos?
After watching these oddly satisfying videos on YouTube and getting some satisfying video ideas, you can make these videos on your own and upload them to YouTube. Based on your interest, you can choose different themes for your video.
Let's go through the process of creating the most satisfying videos by ourselves.
1. Specify the Video Type.
Before you start to make the video, it's important to specify the type of video you want to create. Different video types have different requirements. Based on your preference, for example, you can make gardening videos if you like gardening, you can create painting videos if you excel in painting.
2. Collect Video Footage or Record the Video.
When you are ready to record, you set up your equipment including microphones, lighting, and cameras. Different types of videos you choose have different requirements for equipment.
It is optimal to remove the background noise if you shoot the video containing noise that may bother the viewers. When you are shooting or recording, you may also need to pay attention to the lighting of the image.
3. Edit the Video Footage.
After you finish the recording, here comes the important phase of video making – the video post-production stage or video editing stage. In this stage, organizing, cutting, coloring, and editing the footage captured are involved.
During editing, you can change the video length, adjust the sequence of your shots, the speed of the video, and the choice of music, transitions, or text. You can also add satisfying music tracks to your recordings. If you need a free video editor for Windows PC, MiniTool MovieMaker is definitely worth a try. We will introduce this handy tool in the next part.
4. Publish and Share the Video.
After you finish your masterpiece, it is time to publish the video on different platforms to let other viewers binge-watch! As for video sharing platforms, YouTube is one of the most popular ones you can upload to. Here are some other platforms you can share your videos: Facebook, Instagram, TikTok, and Vimeo.
Make an Oddly Satisfying Video with the Best Video Editor – MiniTool MovieMaker
Here we will recommend a handy video editor like MiniTool MovieMaker to make all the editing procedures much easier because it comes with most of these features inbuilt. It comes with many useful features that make it a great video editor. One of them is the ease of use, which makes it very possible for anyone to use it, no matter their level of video editing skills.
With it, you can make edits to your video like splitting, trimming, merging, reversing, rotating, etc. To make your video more attractive, it has a variety of beautiful transitions, filters, animated texts, and stickers. To elevate the whole look of the video, you can apply color correction to the video with 3D LUT effects.
Now, let's take a closer look at how to make an oddly satisfying video with MiniTool MovieMaker.
Step 1. Download and install the MiniTool MovieMaker.
Click the button to download it and install it on your PC. After installing, launch the program and close the popup window to enter the main interface.
Step 2. Import your video files.
Click the Import Media Files to open the folder that contains your video clips. Select the target files and click Open to upload them to the media library. Then drag and drop them to the timeline.
Step 3. Make the video edits.
Adjust sequence of videos: Drag and drop the video clips to change the position on the timeline. Click Zoom to Fit Timeline to make the clips suit the timeline.
Apply video transitions and effects: Click Transition or Effect, find the desired one, and hover the mouse over it to preview. Drag and drop the transition between two clips, or directly drag an effect to the clip.
Add animated stickers: Go to Elements. Click the download button to get the online source of elements. Or right-click on an element and then select Download All to get all the elements. Locate the place where you want to add elements on the timeline and select the desired element. Click the + button or drag the desired element to the track above the target clip.
Add background music: Go to the Media tab and select Music. Click the + button or drag the desired built-in soundtracks to the video.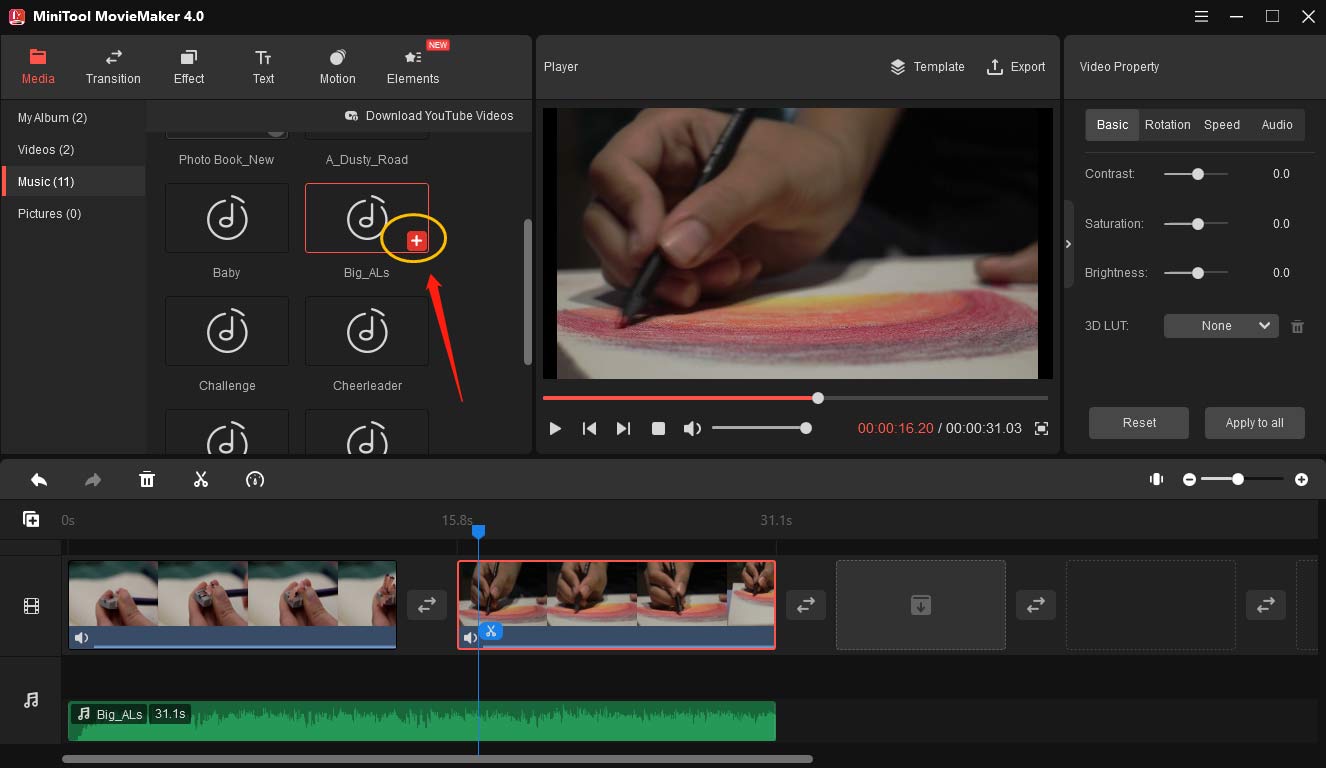 Step 4. Export the video.
After finishing editing, click Export in the upper-right corner to open the export window. You can rename the video file, change the video format, and adjust the video resolution. Once you're done, tap on Export to save the final video.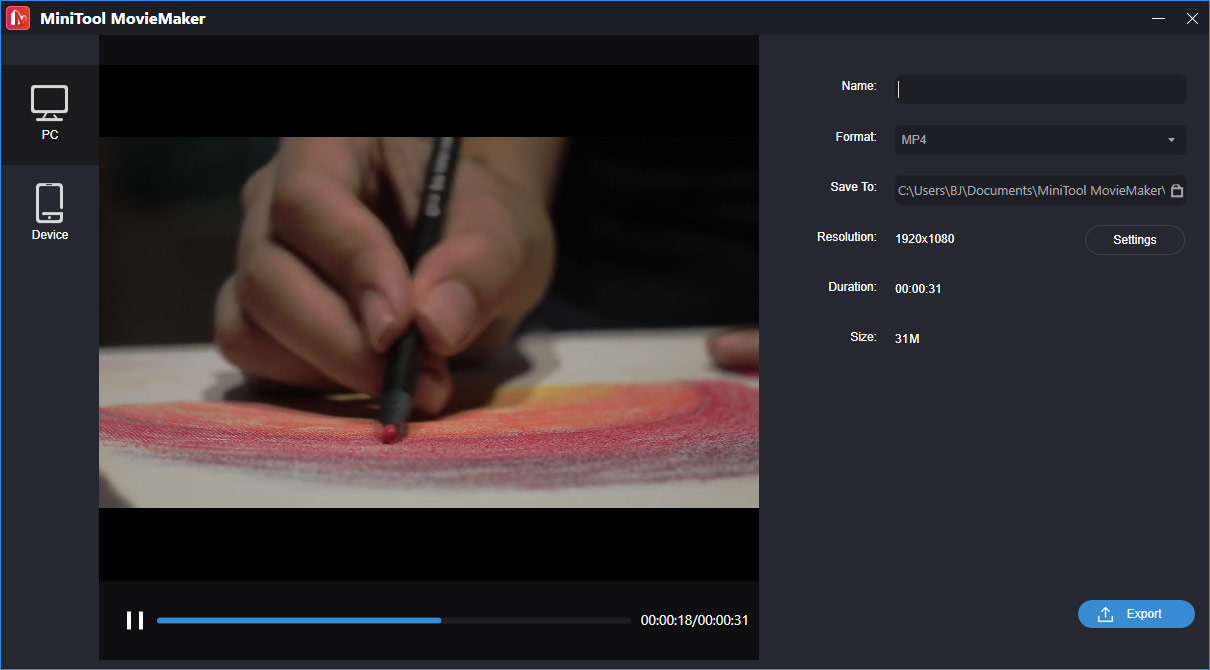 Conclusion
To sum up, this post introduced the common types of the most satisfying videos, some satisfying YouTube channels to watch these videos, and the method to make oddly satisfying videos. If encounter any problems while using MiniTool MovieMaker, please contact us via [email protected].