What is ASMR video? What is ASMR meaning? If you are a newcomer to it, this post will give you a full guide about ASMR videos: what is ASMR video, how to make and edit ASMR videos. Then if you want to become a creator of ASMR videos, you can try MiniTool MovieMaker to edit your ASMR videos.
What is ASMR video? If you've only heard about ASMR recently due to trending topics and viral memes related to the online community, you might be surprised to learn that YouTube ASMR videos first appeared a decade ago. Over the next ten years, more and more people come to know the phenomenon and be captivated by it.
Now, let's move on to learn more about ASMR videos.
What Is ASMR Video
Whether you are familiar with ASMR or not, you have probably already seen videos that are gaining millions of views on YouTube.
Generally, for many people, certain sounds, from soft squeaks to the sound of an egg breaking, can create a calming sensation that helps them calm down and fall asleep. So as the ASMR YouTube video viewers, they resort to ASMR videos to help them fall asleep, reduce anxiety, and even treat PTSD. Let's take a closer look at it.
Definition of ASMR Video
ASMR is an abbreviation of Autonomous Sensory Meridian Response. This term refers to the tingling or shivering in the back of the head caused by listening to pleasant sounds. For many people, the feeling of contentment is a great stress reliever. And many people play ASMR videos just because: it helps them relax or even fall asleep.
Over the last few years, many YouTube video creators, or ASMRtists (artists who specialize in ASMR), have emerged offering a wide variety of ASMR videos. In ASMR videos, you can enjoy the whispers of a soft voice into your ears and listen to the crisp sounds of tapping, eating, scratching, and crinkling all sorts of objects.
Related post: Relaxing YouTube Ocean Sounds for Sleep [How to Download]
Popular ASMR Triggers
Now, you can answer the question of what ASMR video is. Then, what is ASMR trigger? In short, an ASMR trigger is what causes the pleasurable and euphoric ASMR feeling, and the tingles to occur. It can be difficult to say what can trigger an ASMR exactly because it varies from person to person and can even change depending on the mood. Generally, ASMR triggers can be sorted out into the following categories:
Visual: This is broad range can trigger the ASMR. Like hand movements, watching someone concentrate, and paint mixing, they can cause a pleasant sensation without listening to the sound.
Sounds: Whispering or gentle soft talk, blowing, scratching, tapping, paper turning, typing, chewing and water drops can all be possible triggers of the ASMR. They can create a tingling and pleasant sensation that results in feelings of calmness and relaxation to the listener.
Tactile: Tactile stimuli like a hand touching a face are known to be ASMR triggers. Apart from touching a face, touching someone's hand or hair or other sensitive parts of the body can also trigger an ASMR response.
Personal attention: This kind of trigger means that the ASMRtists pay personal attention, maintain prolonged eye contact with the camera, and stroke the lens just like they are gently touching the viewer. This extra attention can provide the viewer with a sense of security and intimacy that can be relaxing.
You may also like: Get the Sound of Nature on YouTube from These 7 Channels!
How to Make an ASMR Video
Above all, good ASMR videos should be comforting. The main focus of your ASMR video is to relax the viewer or listener and create the so-called "head tingling". How to make a terrific ASMR video and get listeners or views as much as possible? Let's move on.
You may be interested: 4 Steps to Easily Make A YouTube Video with Pictures
What You Need to Make ASMR Video
Confused about the first step to making an ASMR video? To make your job easier, the following is a definitive guide that is all you need.
Preparation
Before filming, you need to focus on the content based on your own experience. Or you can research the videos made by the best ASMR makers and the content that is loved by the most people. That will give you insight and inspiration about what attracts viewers the most. You can also refer to the mentioned triggers above to find a suitable one.
While shooting
Start with the gears that you have on hand. For filming the ASMR video, you don't need so many professional tools. Any ordinary camera could work. But you need two good quality microphones and headphones to make sure good quality of sound deliverance to the audience.
You need to keep noise sources out of reach. Furthermore, there is no need to look for other professional acoustic recording studios to shoot videos; instead, a quiet room will suffice.
Editing videos
Once you complete shooting your ASMR video, you need to choose a video editor because you cannot stream it on YouTube directly. Good editing is vital in making good ASMR videos. MiniTool MovieMaker is a highly recommended video editing software to make your job easier. Let's take a closer look at the best video editor for ASMR.
Best Video Editor for ASMR Video
First of all, MiniTool MovieMaker is powerful, free, and easy to use. It allows everyone to edit videos with no video design experience required. Various editing roles like video splitter or trimer, video speed changer, audio editor, and much more can be played. You can edit your ASMR videos in just a few clicks. Moreover, MiniTool MovieMaker will make sure no video or audio quality loss will occur. Now, give it a shoot!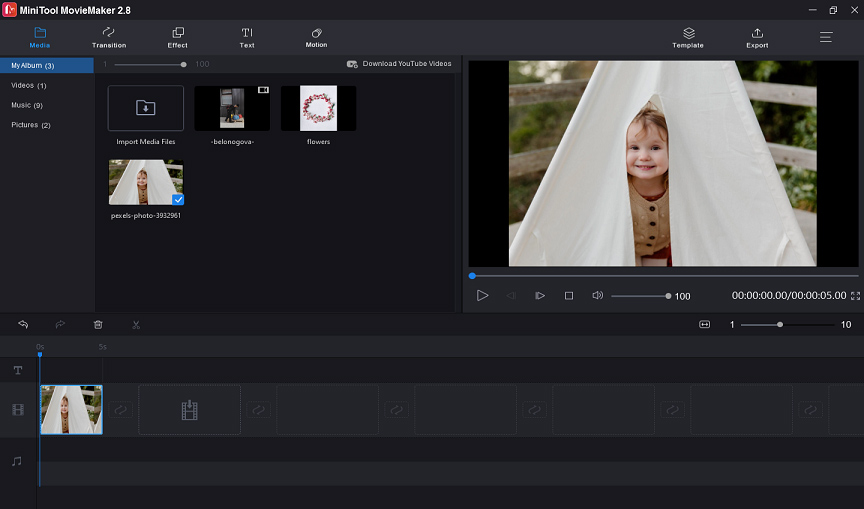 Here are the main features of MiniTool MovieMaker:
Free, no bundle, no ads, watermark-free.
Add titles, captions and end credits to decorate videos.
Use video templates to create videos easily and quickly.
Split and trim video clips.
Control video speed and reverse videos.
Rotate and flip videos.
Support many video transitions, filters, animated text.
Add music, and mute the background noise of the video.
Export video in many popular video formats.
Further reading: Top 8 Video Editors without Watermark for PC (2021)
Best ASMR Videos on YouTube
If you want to search for the best ASMR video or the top ASMRtists on YouTube, the following part will help you. You can find some of the best ASMR videos below to inspire you.
Gentle Whispering ASMR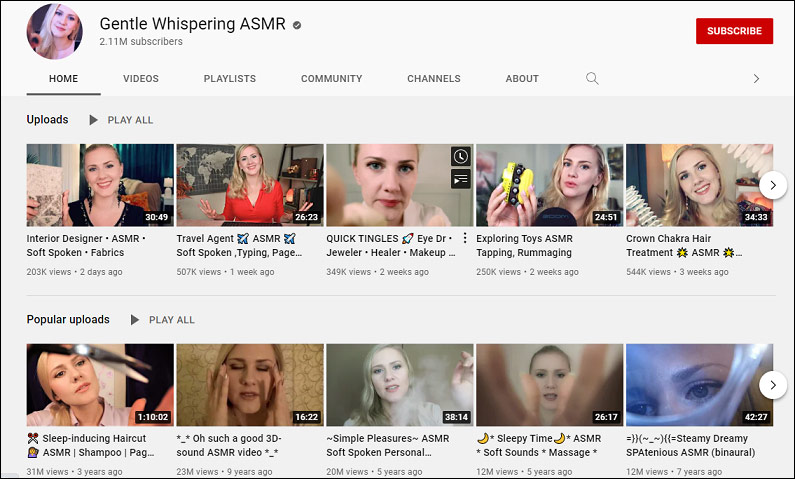 Maria Viktorovna, also named Gentle Whispering ASMR, is one of the most well-known and established ASMRtsits on YouTube. She started her first post in 2011. Now, she embraces over 2 million subscribers and more than 550 videos. Her style focuses on softly whispering (hence the channel's name) and talking, with a mix of role-playing videos, hand movements, and tapping with perfectly manicured nails.
ASMR Bakery
If you're interested in long-format, speaking-free ASMR videos, then the ASMR Bakery is excellent for you with a collection of more than 350 videos. Her styles focus on up-close triggers such as tapping, scratching, crinkling, and ear cleaning. She uses various materials, so her channel is a great place to discover your own triggers.
itsblitzzz
This channel is created by Julis. Her ASMR videos follow a similar and relaxing setup. The content is mainly about head and face massage, with a gentle touch and soft talking. If you are interested in this kind of ASNR video, you can be impressed and inspired a lot by her video.
Gibi ASMR
With more than 3 million subscribers, she is one of the top ASMRtists on YouTube. The content is an combination of gaming influences, cosplay, and original character development. That makes her videos much more engaging while still being enterally relaxing.
ASMRTheChew
Spirit Payton is the wonderful woman in front of the camera on ASMRTheChew. She took a different approach to ASMR by focusing on mouth sounds, including chewing, slurping, and crunching. Her videos are often the introduction of many viewers' ASMR journeys.
Also read: Want to Watch ASMR YouTube Videos? Here Are 11 Great Channels!
How to Download the ASMR YouTube Video
Sometimes you cannot access the Internet or you prefer to watch ASMR videos offline. In that case, you can try MiniTool uTube Downloader to download these ASMR videos. Once these videos are downloaded, you can watch YouTube offline at anytime and anywhere without opening YouTube.
It is the best ASMR YouTube video downloader as it is free, easy to use, highly customizable, no-ads, and doesn't include any bundled software.
With this app, you can not only convert the ASMR Videos to MP3, MP4, WAV, and WEBM, but also you can download YouTube playlist to MP3.
Let's see the detailed steps on how to download the ASMR YouTube video.
Step 1. Download and install MiniTool uTube Downloader. Then run it to get its main interface.
Step 2. Copy the desired ASMR YouTube Video URL. Paste it to the YouTube downloader, and click the Download button.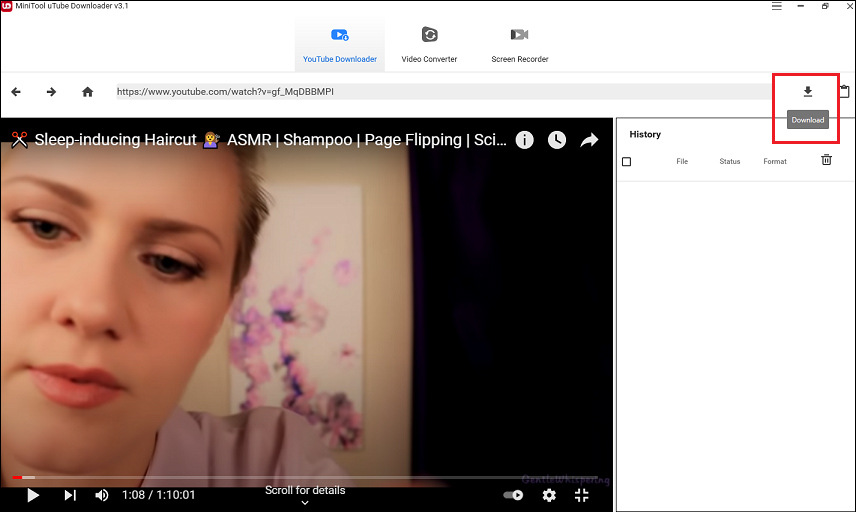 Step 3. Choose the output format like MP4 and click the Download button.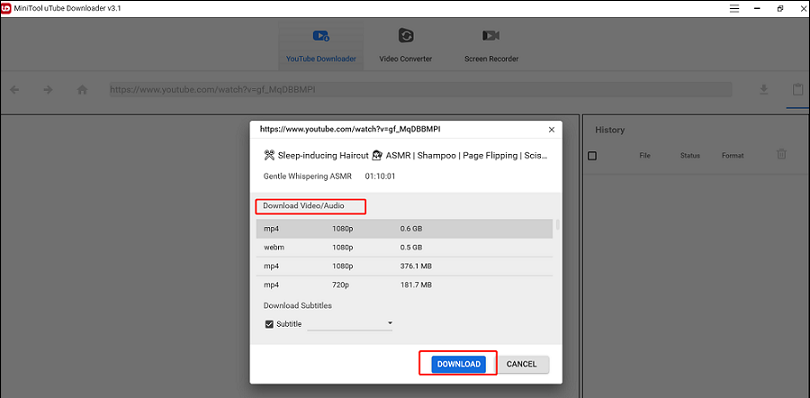 Step 4. Click the Navigate to file option to check the downloaded ASMR YouTube video.
How to Record an ASMR Video with MiniTool Video Converter
Apart from downloading ASMR videos for offline viewing, you can screen record relaxing ASMR videos. What is the best ASMR video screen recorder? MiniTool Video Converter is highly recommended here.
MiniTool Video Converter is a desktop ASMR video recorder for Windows. It allows you to record a portion of the screen and full screen. It can export recordings to MP4, WMV, MKV, AVI, MOV, FLV, TS, change output quality, set recording duration, and more.
Let's see how to record an ASMR video on YouTube now.
Step 1. Launch MiniTool Video Converter after you install it on your PC. You can see the main interface on the screen.
Step 2. Tap on Click to record screen at the Screen Record tab to enter the screen recording window.
Step 3. Click the down arrow icon next to the Full Screen button. From the drop-down menu, select the screen area.
Step 4. Determine if you want to record the ASMR video sound. Just click the icon to turn on and off the sound.
Step 5. Click the Settings icon to enter the advanced settings page. Then click OK to remember your settings.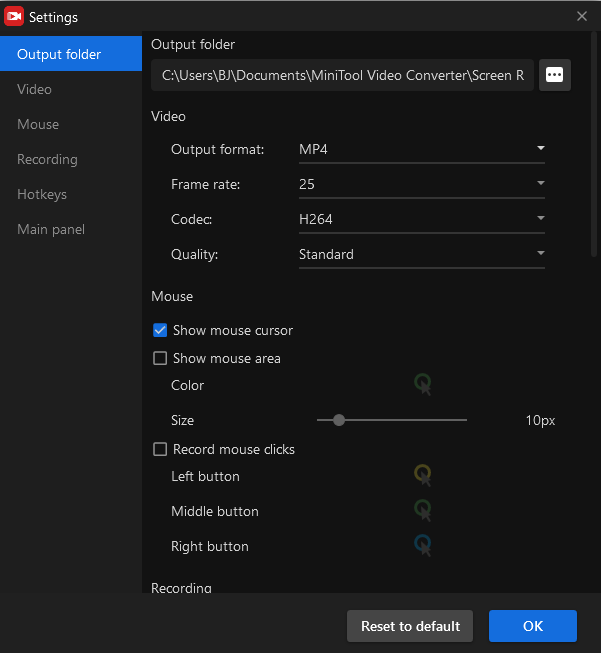 Step 6. Open YouTube and find the favored ASMR video. Open the video and then play it.
Step 7. Tap on the red Record button to capture the ASMR video.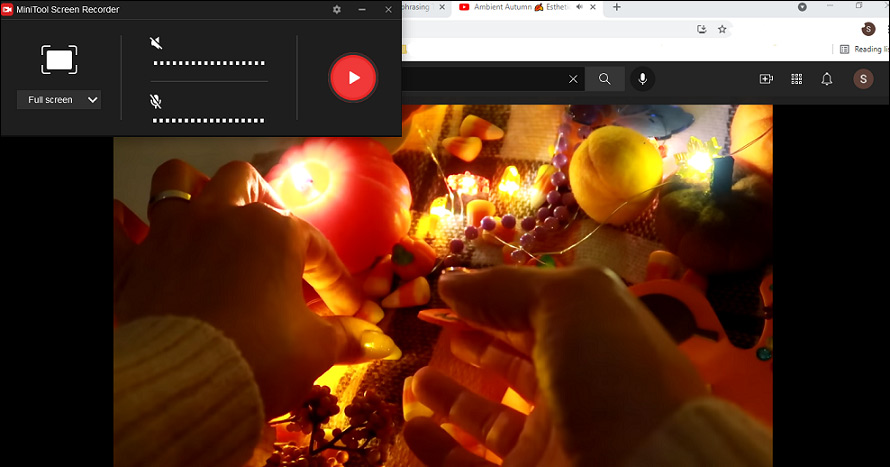 Step 8. Press the F6 key to finish the recording.
Step 9. Then the video you record will appear on the list. You can right-click on it to preview, delete, rename the recording file, or check the folder.
This post shares much useful information about ASMR videos. I can create my ASMR video by following the steps in this post.Click to Tweet
Conclusion
Based on the above discussion, what ASMR video is, how to make it, and other related questions have been answered in detail. Can't wait to make an ASMR video? Now is the perfect time to make your ASMR videos. If you have any questions, you can contact us via [email protected].