If you are wondering what apps can add captions to videos and where can you find suitable captions for your Instagram images and videos, read this list of caption makers (including MiniTool MovieMaker) and you will find the answer you want.
Video Caption Maker
MiniTool MovieMaker
MiniTool MovieMaker is not only a free caption maker but also an excellent video editor.
It provides you with dozens of different caption styles. You can choose to insert captions in your video, or you can choose a video template with captions it provides for you. You can adjust the font, size, background color, font color, etc. of the captions.
In addition to adding captions to the video, you can also add transitions, effects, motions and music to the video. A variety of video editing functions are also included in MiniTool MovieMaker, including splitting and trimming. Meanwhile, you can set the video playback speed and reverse playback.
What's more convenient is that you can apply transition, effect, motion, contrast, saturation, and brightness to all clips with one click. The horizontal, vertical and arbitrary angle rotation of the video is also allowed. You can use the template it provides to make a wonderful movie or make a meaningful slideshow with your own images.
You can export the video you have completed in multiple resolutions and formats, such as MP4, AVI, MOV, WMV, F4V, MKV, TS, 3GP, WEBM, MPEG2, GIF and MP3.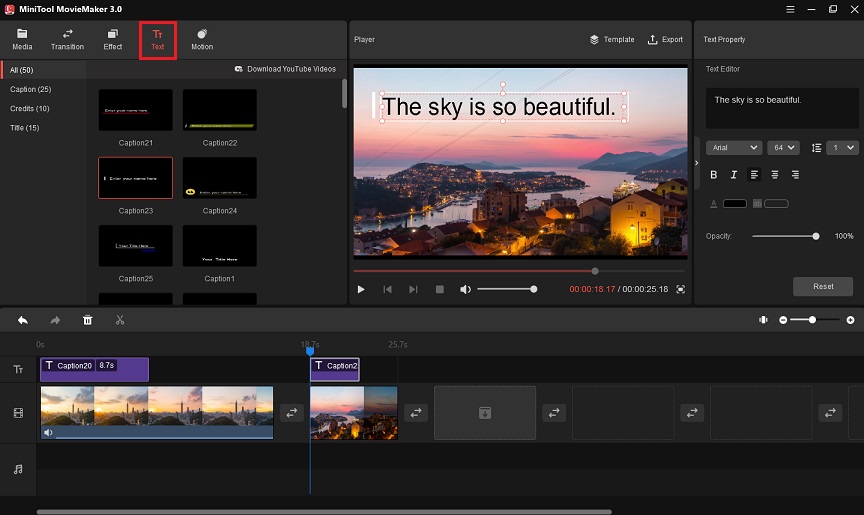 Caption Creator
You may also have heard of some apps that can automatically generate captions for videos, but they are not all easy to use. The captions generated by some caption makers can be said to have nothing to do with the original video content. However, there is an app named Caption Creator that allows you to automatically generate captions that exactly match the video content in a few simple steps.
Caption Creator is a caption maker online. On the one hand, you can add captions for a video manually or with SRT. On the other hand, you can use it to automatically generate captions for the video.
You can either import the video you want to add captions from your devices, or you can copy the URLs from YouTube and any other social media to upload online videos. Next, you can choose to upload SRT files, or you can choose to add captions manually. After you add your captions, you can also set the background color, font, color, size, position and alignment of the text.
After you finish making the entire video, you can adjust the video to a size suitable for Instagram and other major social media. And it supports outputting your video in MOV and MP4 formats.
MacCaption&CaptionMaker
MacCaption&CaptionMaker is the best caption maker for Windows and macOS.
Using it, you can create and edit captions for any type of video easily and quickly. At the same time, you can add voice text. It also provides you with industry-leading format creation and conversion support, allowing you to directly export captions to network media files and caption file formats and use them for TV, network and mobile transmission.
In addition, it also has a very powerful automatic caption processing function. It can automatically perform a large number of caption processing tasks, such as insertion and extraction, timing and frame rate adjustment, format conversion, sub-clip and clip assembly.
Its automatic time stamp function can save a lot of time when you need to add captions to a large number of videos. The automatic time stamp can identify potential problem areas in the file and achieve a certain degree of accuracy so that you do not need to manually time the entire video.
MacCaption&CaptionMaker can also automatically detect poorly synchronized captions and highlight them in red, so you can spot check and manually correct these red captions as needed.
HTML5 Video Caption Maker
HTML5 Video Caption Maker is an online caption maker that can help you define captions for video scenes.
It allows us to specify captions for videos using the track element. The various attributes of this element allow us to specify things such as the type of content we add, the language it uses, and a reference to the text file containing the actual caption information.
After you load the video in a format that the browser can play, you can alternately play and pause the video, adding captions to each segment of the video.
After you create the caption list, you can save it as a file in WebVTT or TTML format. If you saved a WebVTT or TTML caption file for your video, you can load it, edit the text of an existing clip, or append a new clip.
Kapwing
Kapwing is a free, online, no-ads, no-watermark, no-spam and powerful caption maker.
Want your videos to have a higher level of engagement on social media? Kapwing can do it for you.
You can import videos in two ways, one is to import from your devices, and the other is to paste a web link to upload. And it supports videos of various file formats and sizes.
After uploading the video, you can use the caption tool to transcribe the text to the correct location in the video. By listening to your video, it can locate captions in the video and add text at the exact moment.
Kapwing also has an AI-driven automatic caption generation function, which can automatically create captions and edit the generated captions to perfectly match the audio in the video. You can also adjust the background color, background shadow, font, size, color and position of the captions to make the captions fit your needs.
Additionally, Kapwing supports adding SRT files to the video to help you complete the rest of the work, and burn the captions directly into your video.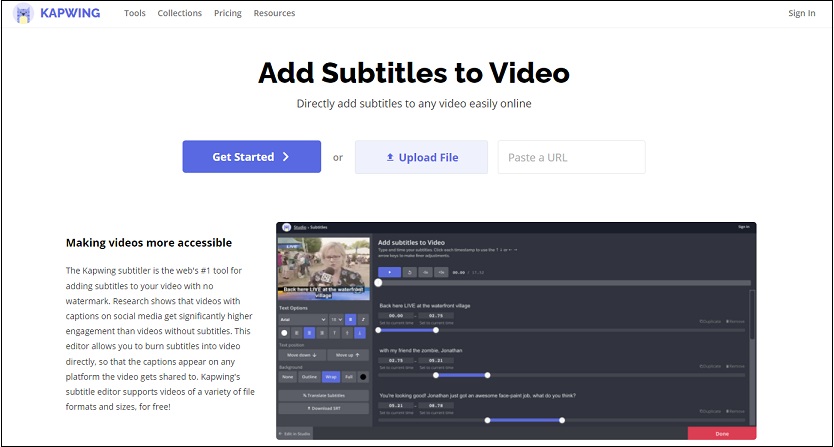 VEED.IO
Most videos on some social platforms are watched without audio, so if you want your videos to have enough engagement, you have to add captions to your videos. VEED.IO is a caption maker free. It can automatically generate captions for videos on major social media platforms such as YouTube, Instagram, and Facebook.
You can use its dynamic caption editor to easily add your own captions and edit the caption text with one click. VEED.IO also supports uploading your captions and caption files, including VTT, SRT, SSA and ASS formats. Its caption style is suitable for all video formats, including MP4, MOV, AVI, WEBM and so on.
In addition, it also provides real-time online support to ensure that when you encounter any problems, you can get a solution as soon as possible. Not only can VEED.IO help you add captions to the video, but also functions such as cropping, trimming, and adding music are also included in VEED.IO.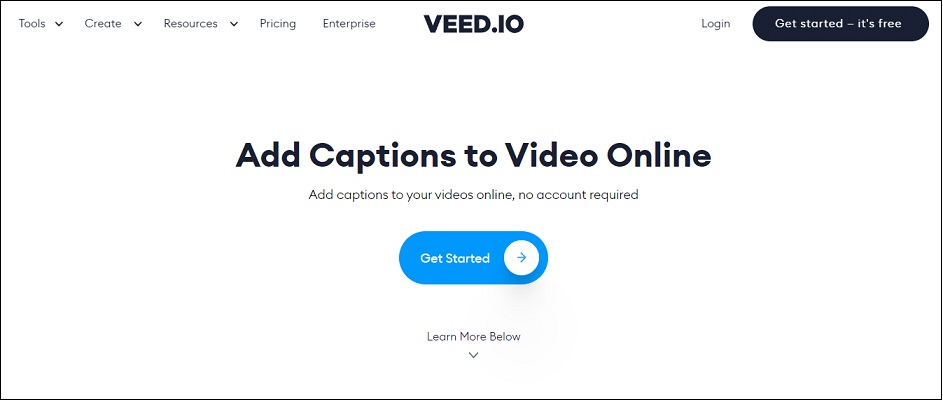 SubtitleBee
SubtitleBee is a caption maker online that helps you automatically add captions to your videos.
In terms of adding captions, it provides artificial intelligence to help you automatically translate and generate captions. Moreover, you can also customize your caption style, such as selecting the caption color that matches the video, optimizing the video resolution and so on. At the same time, you can create captions and apply them to your video editor.
SubtitleBee can automatically recognize more than 100 languages and add captions in the corresponding language to your video in just a few minutes, with an accuracy rate of up to 95%. You can also use its artificial intelligence mode to automatically convert your audio into text.
In addition, it also provides a video clipping function, allowing you to make a video with higher viewing quality. In general, it is a caption tool with greater influence all over the world. It not only focuses on protecting your privacy but also allows you to share your created videos on major social media platforms.
Instagram Caption Maker
Caption Pro
Caption Pro is an innovative caption generator that combines formula and facial recognition. Its most outstanding place lies in its advanced code replacement function. It can replace the caption codes that you have to input manually, which greatly improves your work speed and efficiency.
You only need to enter a letter, and it will display common phrases about the letter. Moreover, its code list is compatible with existing industry code replacement files, so getting started can't be easier for you.
Caption Pro can build a suggestion list for the images in your folder and build your own private database. Its professional metadata editing function can quickly read metadata fields, edit and save metadata, and automatically synchronize the old core content.
You can import images in a variety of standard formats, export and share your metadata templates and formulas with others, and export images to multiple disks at the same time.
Caption AI
Caption AI is a free and clever caption generator with artificial intelligence.
It is popular because of its powerful functions. Caption AI's intuitive operation interface and intimate navigation can give you a great experience. It contains tens of thousands of captions in more than 50 categories. To generate wonderful captions for your images, you only need to select artificial intelligence.
Caption AI is advancing with time, because it is in an updated state eventually, and the captions and titles will be improved over time to provide more suitable results for you. This means that no matter when you use it, it will provide you with the latest and most trendy captions.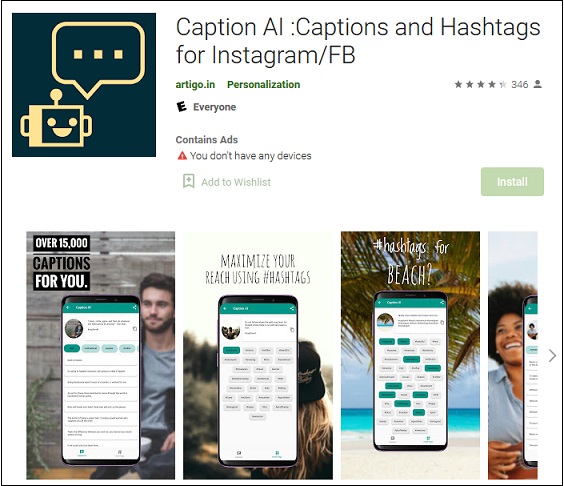 Issa Caption
To find the perfect captions and the popular titles for your images, Issa Caption's machine learning and inference engine can help you achieve it.
Its usage is very simple, you only need to upload the images you want to add captions, and it will recommend suitable captions for you. If you are not satisfied with the captions it provides, you can get other captions with just one tap of the button.
When you select the caption that you are satisfied with, it will be automatically copied to your clipboard. You can use it on Facebook, Instagram, Snapchat or any other social media platform. This could not be more convenient for you.
All in all, it can provide more complete and wonderful captions for your images, making your images more distinctive.
This article recommends ten caption makers that can help you generate captions for your videos and make your videos or images more attractive. Click to Tweet
Bottom Line
With the above caption makers, you can easily add captions to your videos and get the captions you want for your Instagram images and videos.
After reading this article, you can definitely find one or more of your favorite caption makers above. Which caption maker do you prefer? Do you have any other great caption maker recommendations? If you have any questions, you can contact us via [email protected].