Instagram is a great place to share videos, images, and other stories. If you want more followers on Instagram, one of the best solutions is that posting amazing videos. Instagram lets you record and shares short videos directly, but you can also make awesome video with professional video makers, and then upload it to Instagram. Here're 10 Instagram video makers for you.
If you want to make an amazing video and then upload it to Instagram, you've come to the right place. This post has rounded up 10 excellent Instagram video makers for your Android and iOS devices. (Try MiniTool MovieMaker to make an Instagram video on Windows.)
Top 10 Instagram Video Makers
InShot
YouCut
VideoShow
Boomerang from Instagram
mojo
Splice
Magisto
MoArt
Mostory
Noizz
1. InShot
When it comes to the best video maker for Instagram, we have to say InShot. It's a powerful video maker and editor with versatile features, but it offers in-app purchases. With it, you can easily record a video and fit it to any aspect ratio for Instagram, YouTube, TikTok, and more. And this app also allows you to directly share videos to the major social apps like Instagram, Facebook, IGTV, Whatsapp, etc.
Inshot is equipped with a set of tools. It lets you trim, cut, crop, flip, rotate videos, merge multiple clips with 55+ transitions, add your voiceover to the video, apply video filters and effects, add stickers, emojis, memes, and text to the video, adjust video speed. And it can combine multiple photos to create a slideshow with music.
2. YouCut
YouCut is a video editor without watermarks and it's also one of the best Instagram story video makers. It helps you easily make a short movie from photos and video clips and it has powerful tools to customize your video. This app enables you to trim cut, split, rotate, flip, and crop videos, change the video speed, add filters to the video, add music to the video, etc.
Aside from the basic features, YouCut allows you to adjust the video to any aspect ratio like 1:1, 16:9, 3:2, etc., change the video background color, compress and convert videos, adjust video brightness, contrast, saturation, etc. It can export video in HD quality.
3. VideoShow
VideoShow is another reliable picture video maker for Instagram. It lets you create videos with photos, music, stickers, and sound effects and record precious moments. And it has all the editing tools you need, including splice, merge, trim, split, rotate, blur, cut, reverse, zoom in/out videos, add your voiceover to the video, and more.
What's more, VideoShow offers hundreds of free music tracks, 50+ themes, 30+ filters, and various text styles for your creation. More importantly, this Instagram video maker app supports 30+ languages.
4. Boomerang from Instagram
This is a worth-trying free Instagram video maker. It's simple to use. With one click, you can take a burst of ten pictures and turn them into a mini video, and you can speed up the video and loop it. After that, you can directly share the video on Instagram and Facebook right from this app. More importantly, this application has no registration or account or account required.
5. mojo
Mojo is another reliable Instagram story video maker that helps you create animated stories for Instagram. To help you make stunning video stories, mojo provides 300+ templates and 200+ text styles, and you're allowed to change the text font, color, alignment, size, and position.
Also, you can add music to your story, adjust the video to square, landscape, or Instagram feed ratios, etc. After the customization, you can share the video on any social platform. By the way, mojo has no account required, either.
6. Splice
Splice is a simple yet powerful Instagram video maker app, making it easy to make good-looking videos. When you import video clips and photos, you can set the length, and then combine them into a video quickly.
To make personalized videos, Splice lest you trim, cut, split videos, change the playback speed, add titles and text overlays, select a song from its music library and add it to the video, fit the video aspect ratio for Instagram, YouTube, and TikTok. After that, you can export the video in high quality, then share it to social media or save it to your camera roll.
7. Magisto
Magisto is another best video maker for Instagram that enables you to create eye-catching videos from pictures and video clips. And it lets you add graphics, effects, filters, and music to the video to make your story more attractive. Also, you can cut and trim videos, add text to the video, and add stickers to the video, etc.
Besides, it can create beautiful photo slideshows and video collages with music.
8. MoArt
MoArt is also taken as one of the best Instagram story video makers. It's a simple Instagram story maker with many features. This app offers various video templates, animated texts, and layouts for you to pick from. Moreover, MoArt has trending filters both for videos and pictures. And it also lets you add music to the story, change the background color of the story. Undoubtedly, you can directly share videos to Instagram, Facebook, Tiktok, Youtube, etc.
However, if you want to edit all templates without limitations, or you want no ads during the creation process, you need to upgrade to the Pro version of MoArt.
9. Mostory
Mostory is another Instagram story video maker you should try, and it has 300+ story templates to turn your photos into a video. And it provides 100+amazing Instagram presets and effects for videos and pictures. To add unique text to the video, Mostory gives you 200+ text animations and beautiful layouts, and it also allows you to enter text with various fonts.
Apart from this, this app offers 100+ copyright-free music tracks. When your work is finished, just share it with friends on Facebook, Twitter, Instagram, Whatsapp, Snapchat, etc.
10. Noizz
If you need an Instagram video maker app to create awesome music videos, Noizz is a good option. This app features thousands of video effects like changing the sky in one second, and it offers various video templates. Thus, you can easily make a video with photos and songs with its template and effect for free.
On Noizz, you can share your stories on Instagram, Facebook, WhatsApp with ease.
How to Make an Instagram Video on Windows?
How to create an awesome Instagram video on your Windows PC? MiniTool MovieMaker is highly recommended here. It's a free photo video maker and editor without watermarks, allowing you to make a video with multiple pictures, video clips, and music tracks. And it supports the most popular media formats. Here're the supported input formats.
Video: 3GP, MOV, AVI, FLV, MKV, MP4, MPG, VOB, WMV, RMVB
Image: BMP, JPEG, ICO, JPG, PNG, GIF
Audio: MP3, FLAC, M4R, WAV, M4A, AAC, AMR, APE
Note: Currently, MiniTool MovieMaker cannot edit audio files without images or videos. Therefore, you need to add videos or images to the timeline first, then you can add the audio tracks to the timeline. But it allows you to edit the background music in the video.
To help you make amazing Instagram videos, MiniTool MovieMaker enables you to add captions, credits, and titles to the video, rotate and flip the video, split and trim the video, reverse video, speed up videos, slow down videos, brighten dark videos, fade in or fade out the music, etc. And it offers many video transitions and effects that can make your video cool.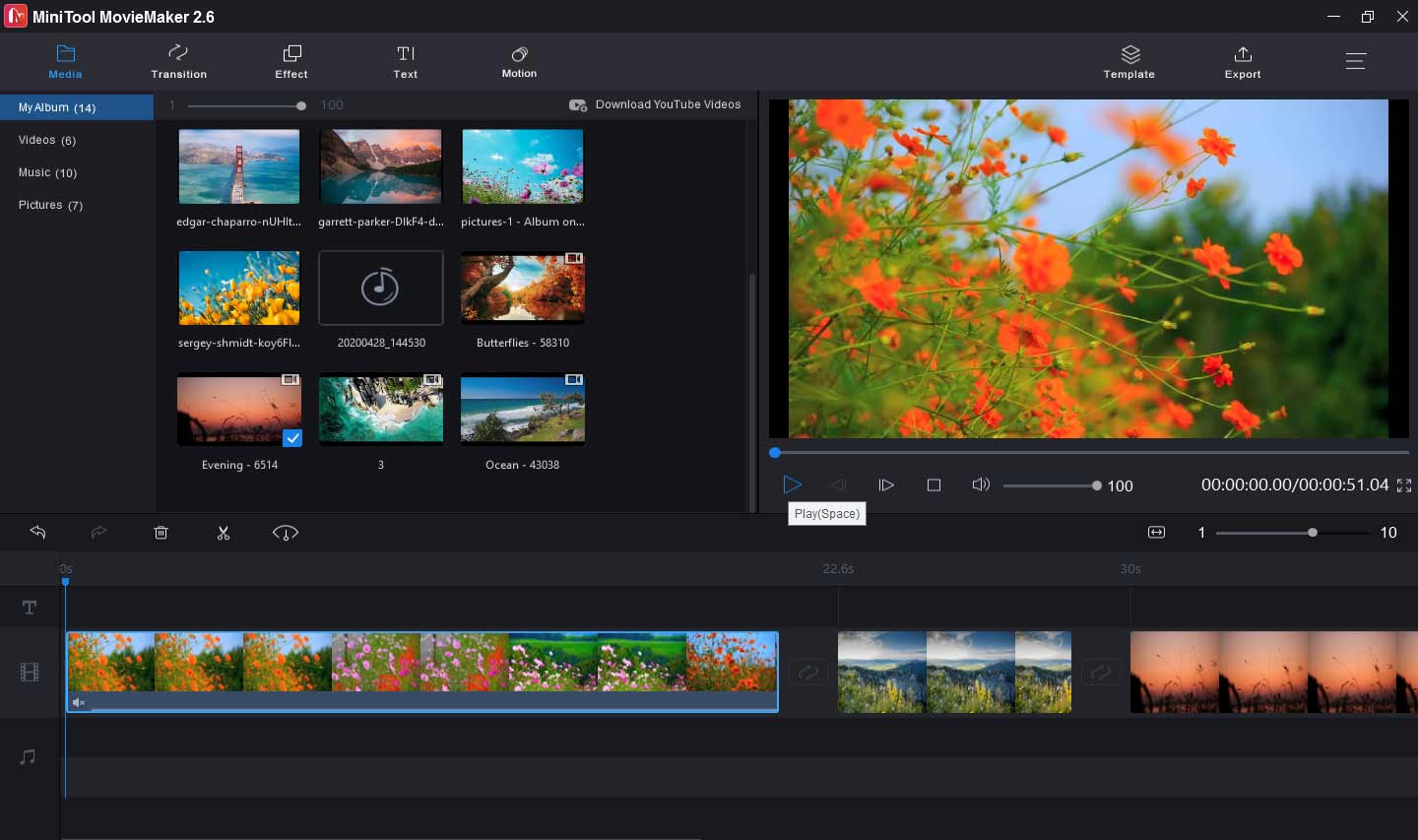 Here's how to make an Instagram video with MiniTool MovieMaker.
Step 1. Import your media files.
Download and install MiniTool MovieMaker, then open it and close the pop-up window and access the user interface.
Tap on Import Media Files to browse for target videos, images, and music tracks, and then upload them to the MovieMakker's media library.
MiniTool MovieMakerClick to Download100%Clean & Safe
Step 2. Create the Instagram video.
Drag and drop the video or image you need to the timeline, or click the + button in the lower right corner of the media file.
Then click on Zoom to Fit Timeline to adjust all clips to fit the timeline.
Rearrange the order of clips. Just directly drag the clip to a new location on the timeline.
Tap on the Playbutton to preview the video.
Step 3. Edit the video.
Rotate and flip video: Double-click a clip on the timeline, then choose one from Flip Horizontal, Flip Vertical, Rotate 90° Clockwise, Rotate 90° Anticlockwise, then click OK.
Split and trim video: Select a clip on the timeline, then click the Split (scissor)icon, and choose the Full Split, then split and trim the clip as you like.
Add text to the video: Go to Text, choose and add a text style, then replace the sample text, then edit the text.
Add music to the video: Just drag the music file from the media library to the timeline, then double-click it to edit fade in/out music, or adjust the volume, and click OK.
…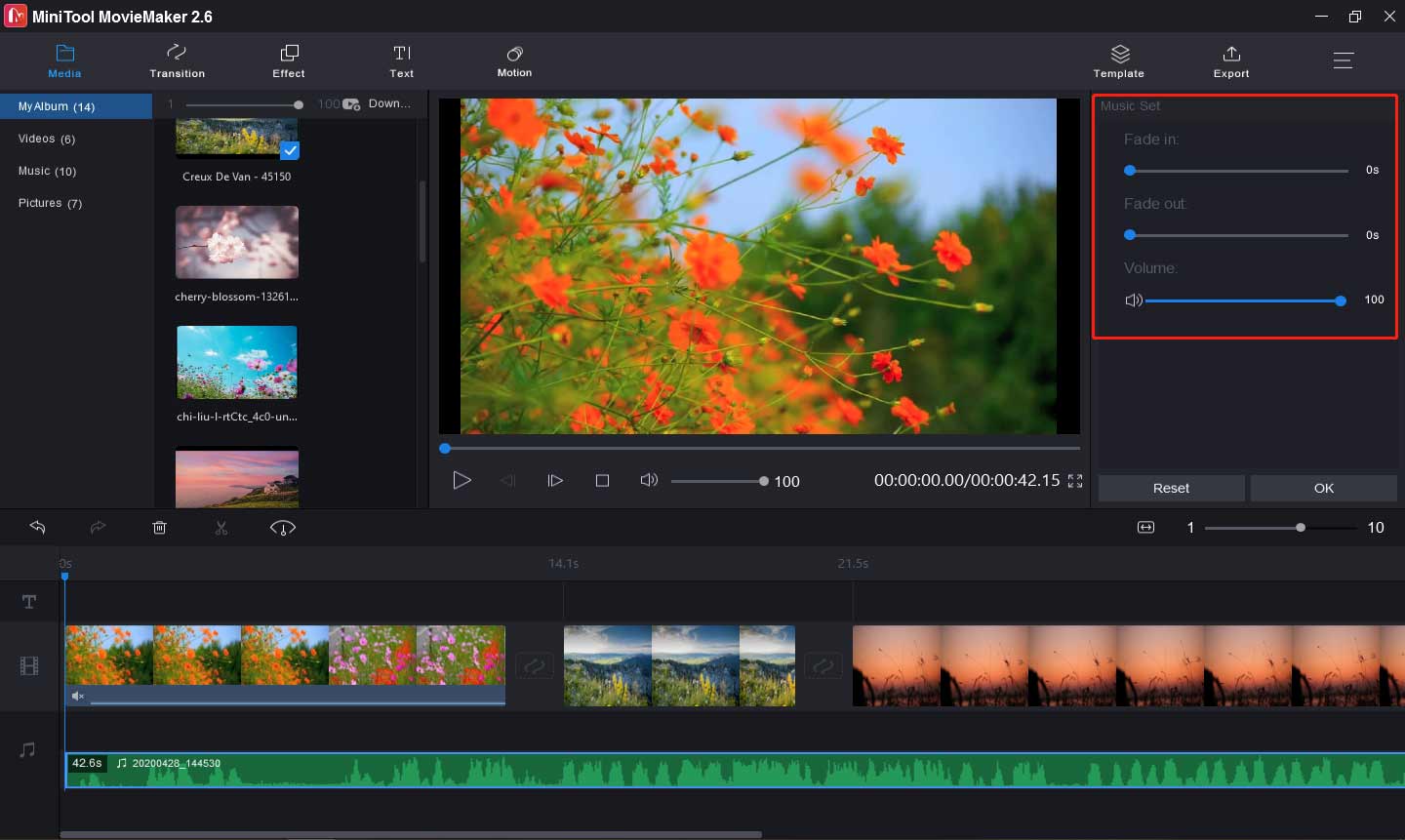 Step 4. Export the video.
Click on Export, then give the video a name. (Changing the default format MP4 is not recommended here. It is the best video format for Instagram.)
Browse for an output folder to save the video, and click on Settings in the Resolution bar to choose the video quality.
Finally, tap on Export to save the video to the destination folder.
Instagram is a mobile application, and you cannot directly post videos or images to it on a computer. If you want to upload videos or pictures to Instagram, you must have a third-party application, such as Gramblr, Flume, Later, etc.
Conclusion
This post has compiled a list of 10 Instagram video makers for your and iOS devices and also show you how to make an Instagram video on Windows. Now, it's your turn. Choose one video maker and create your unique Instagram video.
And if you have any suggestions or any questions, you can leave your comments below or contact us via [email protected].
Instagram Video Maker FAQ
How to post a video on Instagram?
Open the Instagram app on your Android or iPhone.
Click + button, then click the Library to choose a pre-made video or select the Video to record a video.
Tap on Next, then edit the video, and then click the Next.
Finally, click the Share.
Can I upload a two-minute video to Instagram?
No, you can't. Please keep in mind that the maximum video length is 60 seconds. When you upload a longer video, you have to trim the video and remain a one-minute video at most. And when you record a video on Instagram, the video also must be 3 to 60 seconds.
How to download videos from Instagram?
Find the target video on the Instagram app and copy the video URL.
Open the Video Downloader for Instagram on your Android.
Paste the video link, then click the Download.
How to share a picture or video from my Instagram story?
Open the Instagram app and go to your story.
Find the video or photo you want to share and click the three-dot button.
Tap on Share as Post, then edit your photo or video, click the Next.
Add captions or your location, and then share your photo or video.