We can see many training videos on video sharing platforms as video is one of the most popular ways to deliver and consume content. If you want to create training videos, you've landed in the right place. In this post, we will share almost everything you want to know about training videos
Making training videos is one of the best ways to share knowledge or information. As we can see many social media platforms like YouTube, Facebook, Twitter, and Instagram all encourage people to watch and share videos. So as your viewers are looking for videos to solve their problems more than ever.
In the content below, we will introduce the different types, a how-to guide, and editing tips to help you create the most effective videos for learning. You can also get an amazing video footage editor - MiniTool MovieMaker to polish your video clips. Click the button below to get this free training videos maker on your PC just now!
What Are Training Videos?
The training videos are videos with an educational or informal goal. They are made to share applicable skills or knowledge on how to perform a unique task, achieve a goal, or do something new. Just imagine the case, you found yourself wondering how to do something new correctly and turned to YouTube for some quick help.
With training videos, you can learn some needed information that has been studied, gathered, and presented by other people. Watching the relevant video is a simple way to gain new knowledge or master the skills. Any topic can be covered in the training videos.
What Are the Best Formats of Training Videos?
After searching some training video examples on YouTube, for instance, we can see there are so many training video formats, ranging from instructor-led, screen capture, to animated, interactive video.
Depending on your audience's learning goals, budget, available resources, and personal preference, you can choose one type or a blend of many types.
1. Instructor-led videos
These kinds of training videos are a simple version of in-person training. The instructor, or presenter, is shown on screen speaking to the virtual audience. We can see the kind of video training courses online.
We can also call these videos talking head videos because the instructor's head is on screen and talking to the audience. They can be very engaging especially if the presenter uses storytelling, humor, and other techniques to keep learners interested.
Skill level required: Beginner to intermediate
When to use: Use instructor-led videos when you have an expert presenter to explain the concepts.
Equipment requirements: Video recording tools like video camera, lighting kit, tripod, microphone, video editing software.
2. Screen capture videos
These videos are videos of screen recordings along with narration, most commonly used for software tutorials and demos. They often use a voiceover narration to guide the viewers to complete a set of tasks with the product displayed on the screen. The narration can be a spoken voice-over or text on the screen to explain the proceeding.
Skill level required: Beginner to intermediate
When to use: Use screen capture videos for software tutorials or technical process instructions.
Equipment requirements: Condenser microphone (for recording voice-over), screen capture video editing software such as MiniTool Video Convertor.
3. Animated videos
These are training videos using animated visuals, like characters, icons, and graphics. It is a great way to create a visually-engaging learning experience. Animated videos provide an opportunity to explain ideas and complex processes in a funny and understandable way.
You can use powerful online video creation tools like Animaker, Biteable to create animated training videos.
Skill level required: Intermediate
When to use: Use animated videos to explain complex processes and ideas.
Equipment requirements: Condenser microphone (for recording voice-over), animation video maker.
4. Interactive videos
Interactive videos are one of the most effective ways of training. The viewers can watch a small clip and need to choose which path to embark on next. They can be time-consuming to create but often serve as engaging types of training videos, requiring viewers to engage.
Skill level required: Advanced
When to use: Use interactive videos for most scenarios.
Equipment requirements: High-quality video camera, tripod, lavalier microphone, video editing software, eLearning hosting software.
What Are the Best Tools to Make Training Videos?
Just as the saying goes, if you want to do good work, you must first sharpen your tools. We compiled some of the best tools for you to make perfect training videos. They are clarified for different categories based on the formats we mentioned before.
You can choose the tools according to the video formats you select. Let's take a closer look at these tools one by one:
Interactive Training Videos
TouchCast
TouchCast is one of the best platforms for interactive training videos with real-time chat, one-to-one meetings, and live Q and As. It goes beyond simple video conferencing, with multi-camera virtual sets. With it, there is no need for a professional studio, lighting assistants, or stylists.
Whether you want to make training videos for employees or others purposes, it will totally meet your needs. You can create video presentations with personalized onboarding. Also, you can remove backgrounds virtually, share slides and respond to audience questions in real-time.
To enrich your training videos, you can add interactive articles, translations, and captions, as well as polls or emojis to the video.
Wirewax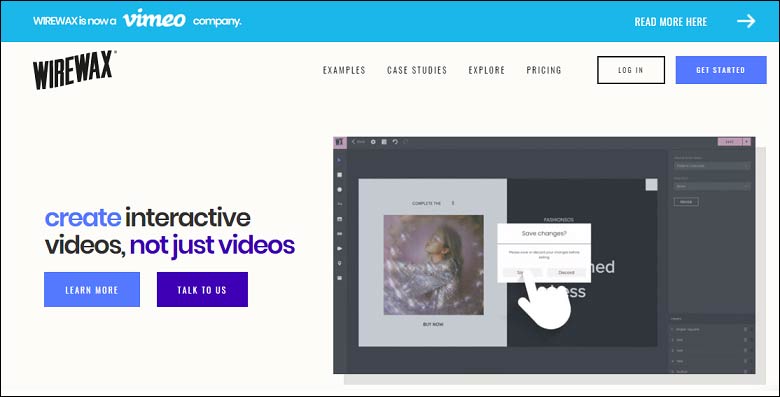 Wirewax is also an amazing tool that uses artificial intelligence to create interactive training videos. After you upload your training videos on this platform, you can add static or sticky hotspots.
It provides interactive elements like automated hotspots. People, objects, and products can be automatically identified with a hotspot, and the motion can be tracked as it moves in the scene. The creator can put buttons at any spot in a video, then viewers can click or interact with these items and choose their own path, swiping between videos or scenes and switching camera views.
HapYak
The intuitive HapYak allows you to create stimulating and interactive training videos by adding links, slide presentations, quizzes, chapters, personalization, and more to video assets. You can add interactivity to the existing video content without changing the original file.
It also provides you with an impressive analytics tool, with which you can track the metrics of your video and get feedback from your audience. It can be very helpful when you are trying to decide which parts of your training program need tweaking.
Screen Capture Training Videos
Screencast-O-Matic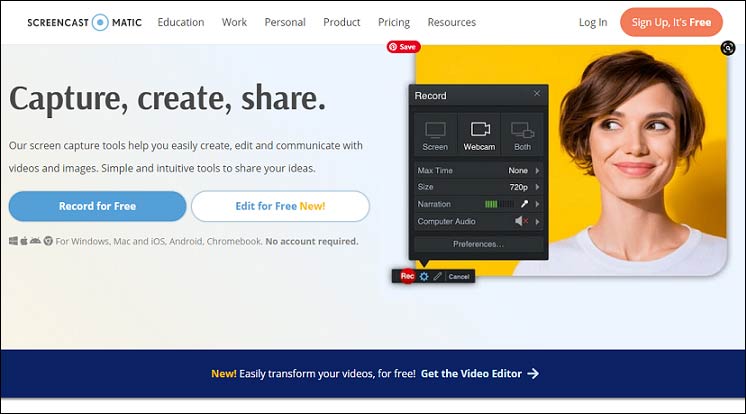 Screencast-O-Matic is an online tool that provides fast and free screen-recording for making training videos. With it, you can capture any area on the screen with the option to add audio narration from your microphone and video from your webcam.
Apart from that, it has exciting editing effects such as drawing on a screen, scripted recordings, zooming, creating captions, sharing tools, and many others. You can also add personalization to your video like text, shapes, images, green-screen effects, and transitions. For first users, you may need to install a small launcher to activate this online tool.
Most of its services are free but if you upgrade to its Premiere plan, you can also access its stock library for videos, images, and music tracks, and also include hosting solutions.
MiniTool Video Converter

When it comes to screen capture tools for Windows, MiniTool Video Converter is the one you should consider as an all-in-one media processing tool. It comes with 3 modules – Screen Record, Video Convert, and Video Download.
With Screen Record, you can capture everything that occurs on your computer screen and then export the recording in MP4, WMV, MKV, AVI, MOV, FLV, or TS. Besides, you can choose to capture all or part of your screen with the option to add audio from the system or microphone.
After recording, you can change the video frame rate, codec, and quality. Also. There are no restrictions on the number or length of the recordings. You can click the Free download button below to download it on your computer.
Animated Training Videos
Animaker
With Animaker, you can create animated characters even though you don't have a lot of technical knowledge. You can make animated training videos easily by choosing from various characters available in the library, deciding on a specific movement for the character, and customizing it as you like. Its extensive library of templates and stock videos ensures the result will look great.
You can choose to make different kinds of animated training videos, such as handcraft animations (a human hand holding the animation), whiteboard animations (an efficient and engaging way to explain the complex concept), or infographic videos. It also offers pop-up effects, scene transitions, and multi-camera possibilities.
Moovly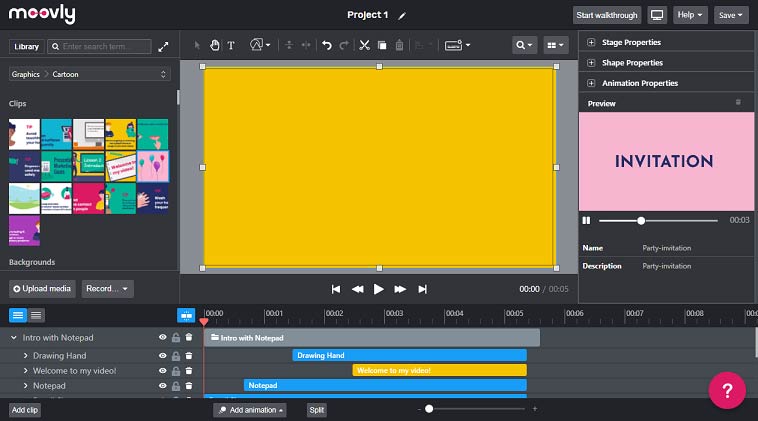 Moovly is also a great tool for you to make animated training videos. After you sign up and enter its main interface, you can see a library with objects and clips to create your video content, a stage where you visually compose your content, a timeline where you can time and synchronize the appearance and animations of your objects, and a property area where you can change the details about your objects.
Best Video Editing Software
MiniTool MovieMaker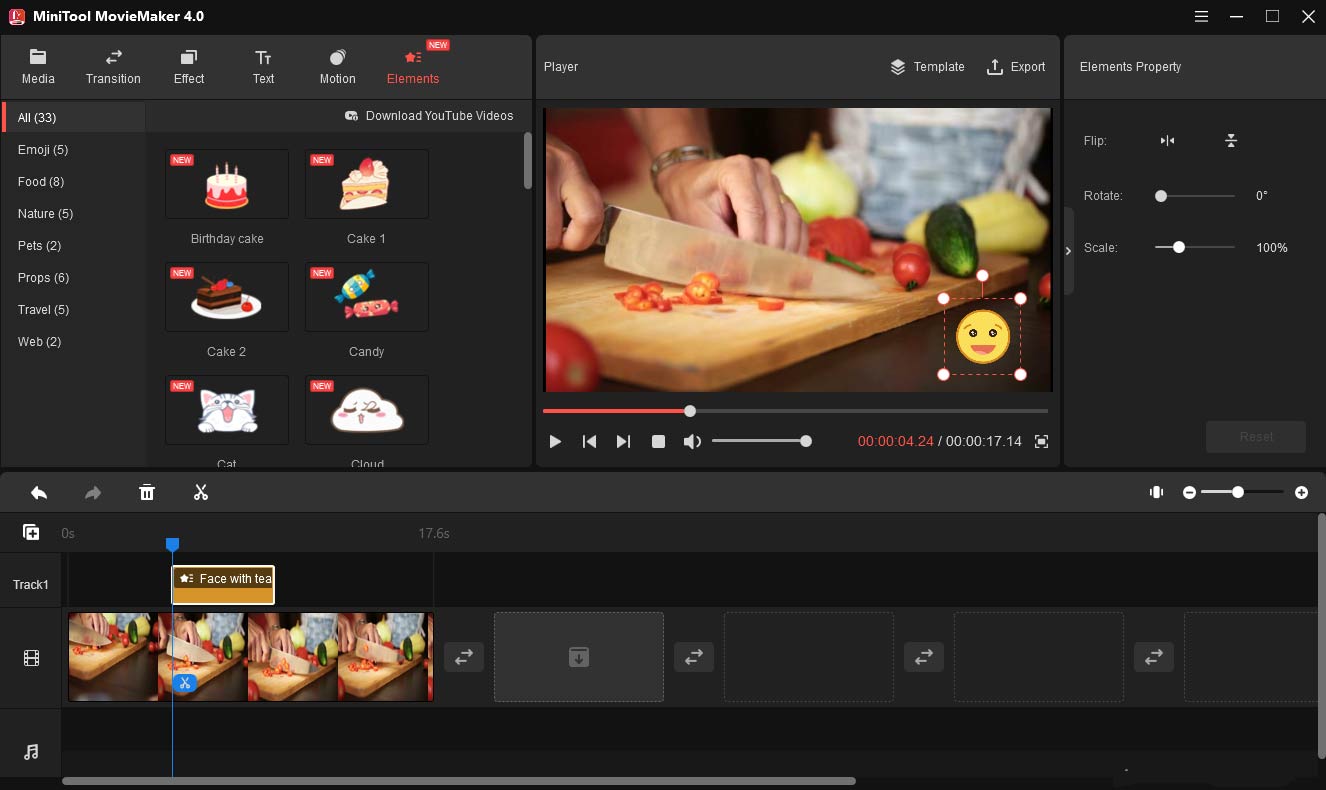 If you want free training video editing software for your Windows system, you can try MiniTool MovieMaker. The best thing is it is a completely free and safe video-making and editing program with no ads, watermark, or bundle. It supports importing three types of files: audio, video, and image.
As a straightforward approach to video post-production, it comes with a simple and intuitive interface and offers many useful features needed to edit your training videos.
There is a vast array of attractive filters, transitions, and motion effects that you can add to your videos. You can edit videos by using the tools like video splitter, video trimmer, video reverser, video rotator, video flipper, audio remover, video speed changer, and so on.
To customize your training videos and make them more engaging, you can add different types of cartoon animated elements and texts to your videos. You can personalize the text by customizing the color, font, size, and alignment. The animations can also be customizable by changing the size, duration, and position.
You can also add your local audio files to the training video as voiceovers. Concerning the video footage's background noise, you can remove it and import background music as you like.
After you finish the masterpiece, you can save the video projects for later editing or export the video in different formats such as MP4, MKV, MOV, AVI, WMV, etc. that are compatible with many video platforms.
How to Make Effective Training Videos?
After we are well-prepared, let's move on to the guide on how to make training videos. Follow these steps below:
Step 1. Choose the topic and training video format.
 The first thing you need to do is select a useful and relevant topic. After that, hone your topic to a single, focused idea. Then consider the resources available and your timeline. You can refer to the above section we introduced.
Step 2. Prepare all the materials.
Then you need to prepare all the equipment you may need, such as an HD video camera, tripod, basic lighting kit, microphone, and the software. Equipment requirements and prices can vary. Before you get started and purchase these items, make sure you know the type of video you're creating.
Step 3. Create the video.
Once you are done with all the base work, you are ready for creating the video. In this step, you'll produce, shoot, and record the video. The producers can be different as you choose the various format. If you get stuck, you can return to the former section for insight.
Note: If you make a mistake, continue recording. Take a breath and start from the place where you stumbled. You can cut out the mistakes you've made in the next step after all.
Step 4. Edit the video.
In this step, you can cut out some unwanted clips or finetune the color of the video. Add transitions to make the video goes smoothly, use text or graphics to highlight the important information, or insert background music. You can add all the finishing touches that will polish your training video.
Step 5. Review and distribute.
This is the final step of making the training video! This is the prime time you make the video available to your viewers. To make your video available for viewers, you can upload it to YouTube, Vimeo, or other websites to get engagement. The video can be shared with anyone by copying and pasting the URL.
Conclusion
To sum up, this post introduced some detailed information about training videos. I hope this article has given you some ideas on how to make effective training videos if you have no video production experience.
If you have any questions or any problems while using MiniTool MovieMaker, please contact us via [email protected].