What is DaVinci Resolve? This post explains it in detail and lists the 12 best alternatives to DaVinci Resolve, like
MiniTool MovieMaker
.
What Is DaVinci Resolve
DaVinci Resolve is a remarkable non-linear video editor. It originated from da Vinci Systems (2003-2009) and is developed by Blackmagic Design (2010-present). Blackmagic Design claims that DaVinci Resolve is the only product that combines color grading, color correction, visual effects, and audio post-production, video editing together.
In the past few years, it's well-known that DaVinci Resolve has become one of the best video editors in the world. It's compatible with Windows, macOS, and Linux. Its modern and elegant interface is not only suitable for beginners but also professionals.
DaVinci Resolve supports multi-user collaboration. It means that a group of members can work together in parallel on the same project at the same time and at any place in the world. In this way, your efficiency could be improved greatly.
DaVinci Resolve is divided into 6 pages, including Cut, Edit, Fusion, Color, Fairlight, and Deliver, each of which gives you a specific workspace for a specific task. You can switch between tasks only with a single click.
Some features of DaVinci Resolve:
Chroma Key / Green Screen
Support for VST Plugins
Multi-user collaboration
Multiple export formats
Color correction tools
A clear and well-designed interface
Support for 4K
Is DaVinci Resolve Free
Now that DaVinci Resolve is so powerful, can you believe you can use it for free? Yes, it has a free version! The free version applies to almost all 8-bit video formats. You can take full advantage of its video editing and color grading features with no watermarks and no trial period. The free version also includes multi-user collaboration and HDR grading!
In addition, the paid version is called DaVinci Resolve Studio and costs $295. You can download it for free, but if you want to use it, you need to pay for it. DaVinci Resolve Studio involves everything the free version has, and it supports 10‑bit video formats, Resolve FX, noise reduction, stereoscopic 3D, film grain, and more.
Alternatives to DaVinci Resolve
In this part, we list the 12 best alternatives to DaVinci Resolve, and you can choose from the following 12 alternatives.
1. Adobe Premiere Pro
Compatibility: Windows, Mac
Price: $20.99/month for individuals and $35.99/month per license for teams
Adobe Premiere Pro, developed by Adobe Inc, is a video production tool that helps users create professional-looking videos by combining video, audio, images, text, transitions, and even animations. It is a timeline-based and non-linear video editing software application.
Premiere Pro is the best for editing video and audio clips into a sequence together. You can edit the video in any format. Premiere Pro cooperates with other Adobe apps, such as Adobe Audition, After Effects, and Adobe Stock, and a lot of third-party extensions, so dealing with problems is quite easy when you edit a video.
Editing videos with Adobe Premiere Pro is not limited by location, you can do it wherever you are because it works with Premiere Rush, a new all-in-one app for all devices. Besides, it's simple to do color correction. You can use Premiere Pro with a 7-day free trial first. Then if you like it, try the paid version.
Features:
Auto color correction
Multi-camera sequence
VR audio editing
Simultaneous projects
Multiple formats support
Motion graphics templates
2. Shotcut
Compatibility: Windows, macOS, FreeBSD, and Linux
Price: Free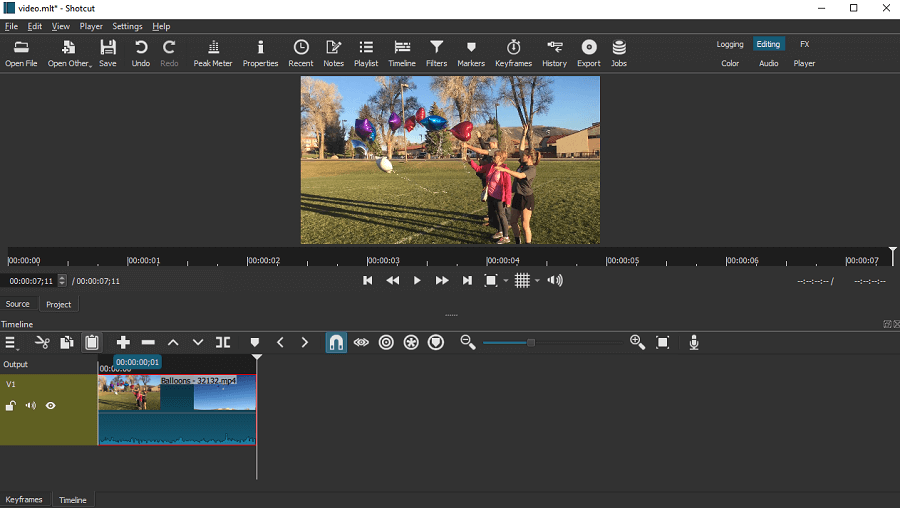 Shotcut is a free, open-source, cross-platform, and non-linear video editor. It supports multiple tracks with a timeline that can be composed of various file formats thanks to FFmpeg.
Shotcut is a multimedia editing tool with various visual and audio editing functionalities. You can create and edit multimedia files quickly. And it has a simple and intuitive interface. Unfortunately, it doesn't have animations, and you can't download text animations from third-party apps yet.
Features:
Wide format support
Webcam capture
Support for 4K resolutions
Audio mixing across all tracks
Video composition across video tracks
Multitrack timeline with thumbnails and waveforms
3. MiniTool MovieMaker
Compatibility: Windows
Price: Free
MiniTool MovieMaker is a free DaVinci Resolve alternative on Windows. It is an easy-to-use and free video editing application without watermarks and ads.
MiniTool MovieMakerClick to Download100%Clean & Safe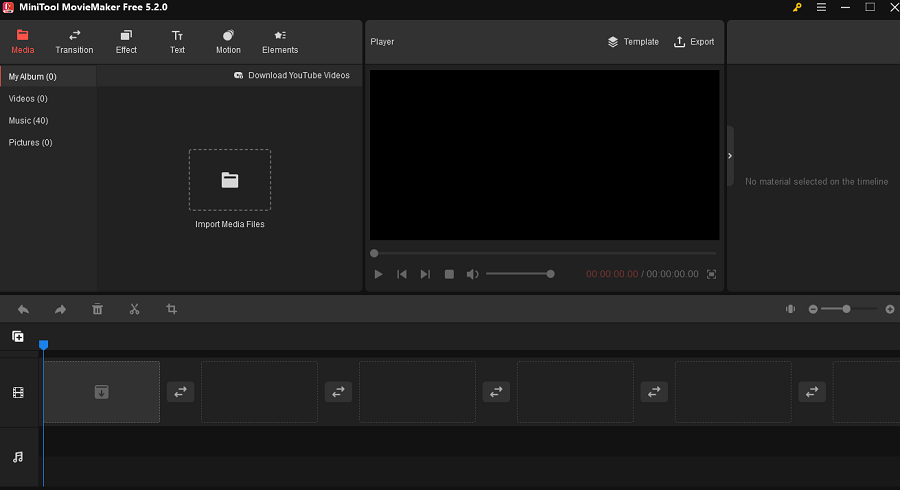 You can import your videos, images, and music to generate stunning videos with video templates with only one click. Apart from this, with the help of its transitions, filter effects, animated elements, and motion effects, your video will become more dynamic and stylish.
MiniTool MovieMaker also supports splitting, trimming, rotating, flipping, and reversing your video, adjusting video speed, and adding text to the video. You can save your videos in standard or HD quality with it. Most importantly, it allows you to export videos in many formats and up to 1080P without a watermark.
Features:
Easy-to-use and feature-rich
Support most video formats
Generate videos quickly with video templates
Friendly to beginners
Free, no bundle, no ads, watermark-free
Change video quality, bitrate and resolution easily
MiniTool MovieMaker is one of the best DaVinci Resolve alternatives for beginners. Try it to make your own amazing videos.Click to Tweet
4. Filmora
Compatibility: Windows, Mac
Price: $49.99 per year, and $79.99 forever
Filmora is a video creation and editing application developed by Wondershare, which simplifies advanced features to save time and effort.
With Filmora, users can turn videos into works of art with a simple drag-and-drop interface and powerful editing tools! You can use it to crop, trim or merge clips, and export the final product in a variety of formats.
The 7-day free trial of Filmora is available for users, but there will be a watermark when you export the video. If you want to remove the watermark, you need to subscribe.
Features:
Support HDR
Intuitive user interface
Remove unwanted background noise
Green screen
Various video effects
5. iMovie
Compatibility: macOS, iOS, iPadOS
Price: Free
iMovie was first released in 1999 by Apple Inc. It is a simplified video editing application that you can use to cut and edit videos, music, and graphics. For users who have no experience in video editing, you can still create your videos fast.
Like many other Apple products, iMovie remains a simple and intuitive interface. You can do all the basic editing tasks with iMovie, which includes cutting, splitting, applying transitions, and adding text. iMovie also supports advanced video editing, like green screen, color adjustment, background noise reduction, slow motion, and much more.
Features:
Green-screen controls
Easy-to-use trimmer
Extreme audio effects
Stabilize shaky videos
Crop and rotate video clips
6. Camtasia
Compatibility: Windows and Mac
Price: $299.99 per user
Camtasia by Techsmith is not only a screen recorder but also a video editor. It is a simple, all-in-one video editing and screen recording software program, designed to help users make tutorials and instructional videos.
If you have no experience in video editing, Camtasia is a nice DaVinci Resolve alternative. Recording the screen first, then you can edit, save and share the recording. You can create a video easily and quickly by using its video templates. Additionally, you can add annotations, effects, music, and sound effects to the video and remove the background with the green screen feature.
Features:
30-day free trial
Simple drag-and-drop editor
Green screen
A variety of transitions, templates, and themes
Annotations to highlight important points
If you're seeking another professional screen recorder, MiniTool Video Converter is a nice option.
MiniTool Video ConverterClick to Download100%Clean & Safe
7. Olive Video Editor
Compatibility: Linux, Windows, macOS
Price: Free
Olive is a free and open-source video editing application. It's also a free DaVinci Resolve alternative on Windows. It has all the basic functions for video editing. You can cut, split, trim, and rotate videos, change formats, and make other changes to the video. In addition, you can add text, effects, transitions, and edit audio.
The interface of Olive is a little bit complicated, thus it may be difficult for beginners to edit a video. Before you use it, you should figure out the function of every tool on the interface and what they can do with these tools.
Features:
Record audio directly from the video editor
Multitrack editing
Keyframe animation
Precise timetable
8. Kdenlive
Compatibility: Windows, macOS, Linux
Price: Free
Kdenlive, a free, open-source, and non-linear video editor, is an excellent DaVinci Resolve alternative on Windows. It supports almost all video and audio formats and has a wide range of features.
Kdenlive is an easy-to-use and friendly video editor for beginners. You can arrange the interface layouts to suit your workflow. When encountering complex editing tasks, timeline preview helps you accomplish video editing more effectively. It also allows you to use several audio and video tracks to edit videos simultaneously.
Features:
Online resources
Many effects and transitions
Multi-track video editing
Dark mode
Automatic backup
Keyframe Animation
Timeline preview
9. Blender
Compatibility: Linux, macOS, Windows
Price: Free
Blender is a free, fully featured, and open-source 3D computer graphics software tool. Blender makes users experiment with 2D objects in a 3D environment. Apart from modeling and animation, Blender can be used to edit videos.
In order to use Blender video editor, you need to modify the default workspace to "Video Editing" first. Then, it will look like easier and more familiar for someone who has experience in video editing.
Next, you can use Blender to do basic editing, like adding text and effects, color grading, speed control, converting video frame rates, and much more.
Features:
Audio mixing, syncing, and scrubbing
Support multiple import and output formats
Powerful color grading tools
VR video editing support
10. Lightworks
Compatibility: Windows, Mac, and Linux
Price: Free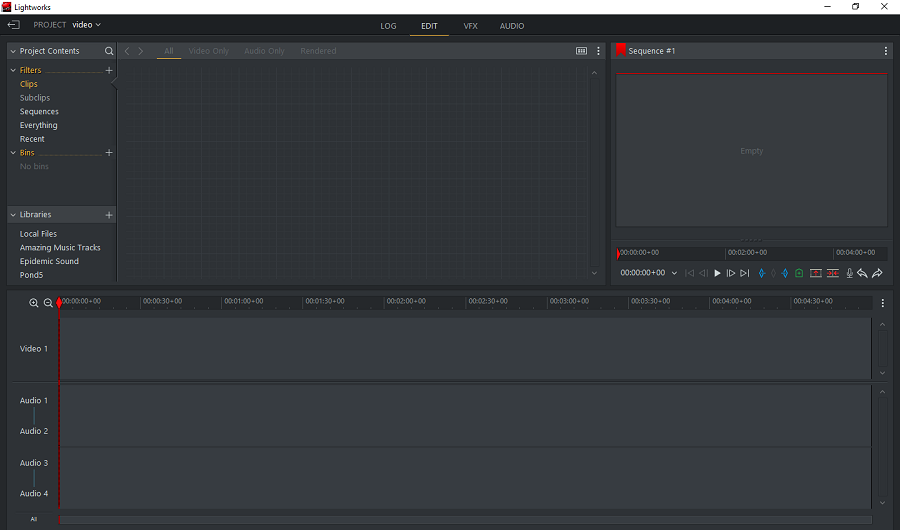 Lightworks is a non-linear video editing software, which won EMMY Award in 2017. In the past 30 years, it has helped countless users create their imaginable and fabulous videos.
As an advanced video editing software tool, Lightwork enables you to split and trim video, adjust video speed, add video effects, and add text to video to create high-quality videos. It takes all efforts to make sure the video files meet international delivery standards.
Features:
Storyboard bins
Cloud Connected
Fixed or flexible layout
A wide range of export formats
Optimize proxy files from HD, 4K, and 8K media
11. Final Cut Pro X
Compatibility: Mac
Price: $299.99
Final Cut Pro, Apple's professional video editing software, aims at supplying powerful editing features for users.
Final Cut Pro has a feature called object tracker that faces and objects could be detected automatically, then it will match with titles and effects according to the movement. Apart from this, Final Cut Pro offers the cinematic mode on iPhone 13 in which you can adjust focus points and depth of field on clips captured.
Besides, thanks to the optimization for Apple silicon, you can edit more complex projects at incredible speed with larger frame sizes, higher frame rates, and more effects.
Features:
A 90-day free trial
Support for layers
Advanced color grading
Object tracker
Support HDR video
Multicam editing
360-degree VR editing
12. OpenShot
Compatibility: Mac, Windows, and Linux
Price: Free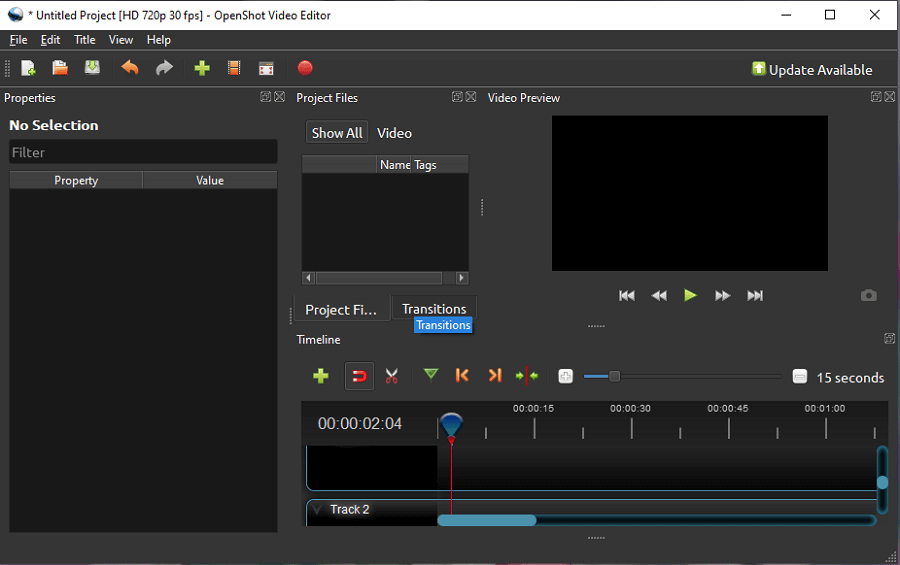 OpenShot is an open-source and cross-platform video editor. It's designed for providing a simple, stable, powerful, and feature-rich service for users, which is a nice and free DaVinci Resolve alternative.
Based on FFmpeg, OpenShot supports many commonly used video, audio, and image formats. It has unlimited tracks, which means you can add as many layers as you need. Moreover, you can fade, slide, bounce, and animate in your video project with its powerful animation framework. It offers many ways to cut and trim your videos.
What's more, you can add 3D animated titles and effects, display waveforms on the advanced timeline, split the audio from your video clip, and much more. Many other tools are waiting for you to explore.
Features:
Keyframe animations
Unlimited tracks/layers
Audio waveforms
User-friendly interface
Support for 70+ languages
Conclusion
In this article, we have introduced detailed information about the DaVinci Resolve video editor. And we list the 12 best alternatives to DaVinci Resolve. You can choose from the list according to your specific need. Hope this article would be helpful to you.