Do you want to capture GIFs when watching anime? How to make a GIF from anime? In this post, you will learn 2 ways to create an anime GIF – convert MP4 to GIF and record anime in GIF format. Also, here offers you some anime GIF makers including MiniTool MovieMaker developed by MiniTool and anime GIF download sites.
You may find some anime GIFs when you browse feeds on Twitter, Facebook, or other social media platforms. Do you want to make awesome anime GIFs by yourself and share them to social networks? Let's see how to make an anime GIF.
Part 1. How to Make an Anime GIF
Method 1. Make GIFs from Anime
MiniTool MovieMaker is an excellent GIF maker. With it, you can convert any popular video format to GIF including MP4, MKV, AVI, WebM, WMV, and MOV, vice versa, you can turn GIF into different video formats.
Other than that, this anime GIF maker allows you to edit GIFs like: add text to GIF, add audio to GIF, split GIF, trim GIF, change the speed of GIF, reverse GIF, apply effects to GIF, and so on.
Follow the detailed steps to make an anime GIF.
Step 1. Launch MiniTool MovieMaker.
1. Download and install MiniTool MovieMaker.
MiniTool MovieMakerClick to Download100%Clean & Safe
2. Open it and go to the main interface by closing the pop-up window.
Step 2. Import the anime clip.
1. Click on Import Media Files to open the anime clip you've prepared in advance.
2. Drag and drop it to the timeline. Or hover your mouse on the clip and click the plus icon to add it to the timeline.
Step 3. Edit the anime clip as you like.
1. Split the anime clip: the recommend GIF length is no more than 6 seconds, so you need to remove the unwanted parts of the anime clip. Choose the clip and move the playhead to the target place. Then click on the scissor icon to split the anime clip.
If you find there are subtitles on the anime clip, this post might be helpful: 5 Best Free Video Croppers for 2020.
2. Reverse the anime clip: after removing the unnecessary parts of the anime clip, you can click on Speed Controller and choose the Reverse option to reverse the anime video clip. What's more, you can choose other options like Slow or Fast to change the speed of the anime video.
3. Add text to the anime clip: if you want to make an anime meme GIF, you can click on Text, choose the caption template you like, and text the anime clip.
Step 4. Export the anime video as a GIF.
1. Tap on Export in the menu bar to open the Export window.
2. In the Export window, you need to change the output format as GIF. If necessary, you can rename the anime GIF and change the destination folder.
3. In the end, click the Export button to do the conversion.
Want to make a cute anime GIF? Try MiniTool MovieMaker! This tool is 100% free and safe.Click to Tweet
Method 2. Capture GIFs from Anime
If you like creating an anime GIF while watching anime, capturing an anime GIF is a good choice. Here recommend Screencastify. This screen video recorder can help you capture desktop, browser tab, or webcam and export the recording file like MP4, MP3, or animated GIF.
Besides, it allows you to save anime GIF you recorded to Google Drive.
To capture an anime GIF online, take the steps below.
Step 1. Add the Screencastify extension to Chrome and sign in with Google.
Step 2. Go to the anime streaming site and play the anime that you want to capture a GIF.
Step 3. Click the Screencastify extension icon and select the Browser Tab option.
Step 4. Adjust the record settings and start recording when you are ready.
Step 5. After recording an anime clip, you can choose to crop or cut it as needed.
Step 6. Afterward, choose the Export animated GIF option to download the anime GIF.
Part 2. 4 Best Online Anime GIF Makers
Online anime GIF makers are the best option for those who want to create an anime GIF online. Here list 4 best online anime GIF makers. Have a look!
#1. Ezgif.com
Ezgif.com is a powerful animated GIF maker and editor. It supports making GIF from video in various formats such as MP4, FLV, AVI, MOV, FLV, etc. Also, it allows you to make GIFs from pictures such as APNG, JPG, and PNG.
By using this online anime GIF maker, you can edit GIFs such as reverse GIF, text GIF, optimize GIF, crop GIF, rotate GIF, and much more.
#2. GIFMaker.me
GIFMaker.me is a web-based anime GIF maker that can be used to convert MP4 to GIF, or turn images to GIF. Meanwhile, you are able to reduce the file size of a GIF, make a reverse anime GIF, combine GIFs, or split a GIF into frames.
#3. Makeagif
Makeagif is an easy-to-use anime GIF maker that supports converting video to GIF, webcam to GIF, pictures to GIF, YouTube to GIF, and Facebook to GIF. It lets you add captions and stickers to GIF. However, the drawback is that the uploaded video size must be smaller than 25MB.
#4. GIFS.com
This anime GIF creator has a simple and adorable interface. You can upload an anime clip from local or by pasting the URL of an anime file. Like other online anime GIF makers, GIFs.com enables you to crop, blur, and text GIF. This tool will watermark your GIF. If you want a watermark-free anime GIF, you need to purchase the Premium account.
Part 3. 5 Place to Help You Find Anime GIFs
In addition to making an anime GIF by yourself, there is an easier way to get the wanted anime GIF that is searching for your favorite GIFs in anime GIF websites. There are 5 places to help you find anime GIFs.
#1. GIPHY
As one of the biggest GIF search engines, GIPHY has millions of daily active users and serves more than 1 billion GIFs per day. It has about 10 GIF categories including Anime, Animals, Cartoons, Memes, and Gaming. To find anime GIFs, you can directly choose the Anime option by clicking the three dots button. Or enter the anime name to find anime GIFs that you exactly want.
#2. Tenor
Similar to GIPHY, Tenor offers numerous anime GIFs. Here you can text an anime GIF by pressing the CAPTION button below it to create an anime meme GIF in seconds. Just type anime in the search bar or enter the name of the desired anime character, then you can find what you want.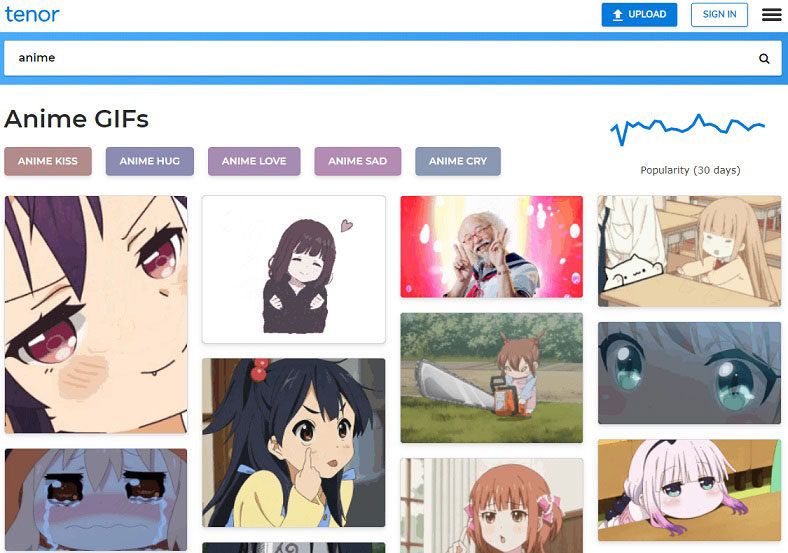 #3. Pinterest
As is known to all, Pinterest is an image and video sharing website where you can save anime GIFs or videos from other users' boards. You can also share anime GIFs you like to social networks or leave a comment to express your feelings.
#4. Weheartit
Weheartit holds thousands of anime GIFs. Here you save anime GIFs as many as you want, but you need to create a Weheartit account to browse all anime GIFs and share them to other platforms.
#5. Acegif.com
Acegif.com is one of the best GIF websites that can be categorized into Anime, Farewells, Holiday, Funny, Emotions, Celebrities, and so on. Under the Anime tab, it has 5 articles. Each article has about 100 anime GIFs. Hope you can find lovely and cute anime GIFs you want.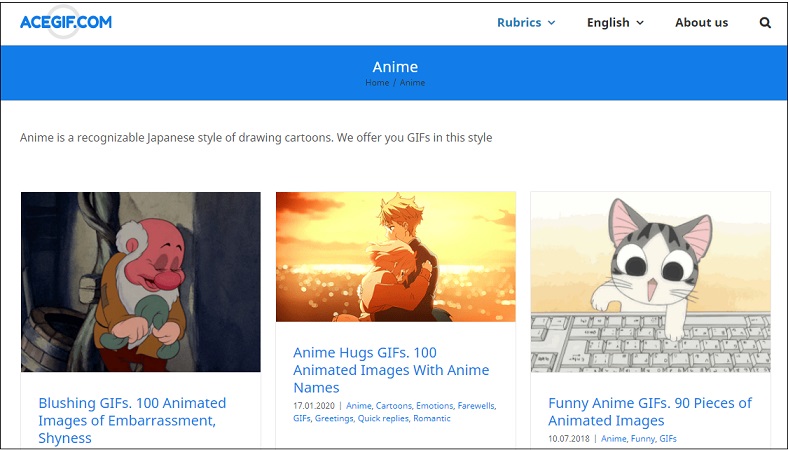 Bonus Tip: Top 5 Anime Download Sites
In this part, you will know the top 5 anime download sites. All of them are free and workable.
1.Chauthanh
Chauthanh offers tons of best free anime series as well as dramas. With the intuitive interface, you can easily find the most popular anime and ongoing anime. This anime downloader not only allows you to download anime series, but also lets you download anime OST and dramas from the Internet. Unfortunately, it's simply an anime download site, you can't watch anime on the website.
2. Animeland
Animeland holds 45,000 Dubbed anime series in high definition including some famous anime series like One Piece, Naruto and Bleach. It provides the download option, so you can directly download anime series for free. Animeland also lets you watch anime online.
3. Chia-anime
This anime download site has abundant anime resources. All anime series are divided into different genres like Adventure, Comedy, Drama, Romance, Demons, Military, Music, etc. Except that, you can read manga, watch drama and download anime OST.
More importantly, Chia-anime allows you to speed up video when watching anime series.
4. KissAnime
There are countless anime series on KissAnime. You can search for an anime by status or genres. After finding the anime you're looking for, you can download all the episodes at once. What's more, you can also share this anime with your friends.
Or you can choose to watch anime online while downloading.
5. 9anime.to
9anime.to is the most popular anime streaming site. Although you can't directly download anime series, there are lots of video download sites supports downloading anime from 9anime.to. It's a great place for anime fans that allows you to play anime in various video qualities and at different video speed.
Conclusion
That's all about how to make an anime GIF. Hope this post is helpful to you. If you like this post, don't forget to share it with your friends.
If you have any questions or suggestions about MiniTool MovieMaker, please contact us via [email protected] or comment on this post!
Anime GIF FAQ
What is the best GIF maker?
MiniTool MovieMaker
GIPHY Cam
Ezgif
Imgur
GIFMaker.me
Makeagif
GIFS.com
How do I make a GIF from Photos?
Launch MiniTool MovieMaker after installing.
Shut down the pop-up window to enter the main interface.
Import the needed photos and add them to the timeline.
Click on Export and choose GIF as the output format.
Press the Export button to export the GIF.
How do I save a GIF as a Video?
Open the Ezgif website.
Go to Video to GIF> GIF to MP4.
Upload the GIF you want to convert to video.
After that, click on Save to download the converted file from the Internet.
How do you add voice to a GIF?
Run MiniTool MovieMaker on the computer.
Go to the main interface by closing the pop-up window.
Import the GIF and audio file.
Drag and drop the GIF to the timeline and then add the audio file to the audio track.
Export the GIF in MP4 format. Remember, GIF has no sound.