If you're a gamer, you may want to share your gaming videos with others. Before that, you need to edit them. How to edit gaming videos? In this post, I've made a list of the 7 best video editing software for gaming.
A good video editor makes your gaming video more engaging and helps you get more views. This post offers you the 7 best video editing software for gaming. Whether you are a beginner in video editing or not, you can always find a gaming video editor that suits you best!
Part 1. Best Free Video Editing Software for Gaming
7 Best Video Editing Software for Gaming
Microsoft Photos App
iMovie
VSDC Free Video Editor
OpenShot
Lightworks
Kdenlive
MiniTool MovieMaker
MiniTool MovieMaker is a simple video editor for gamers. Although it's not as versatile as Adobe Premiere Pro which has complex capabilities, it's a good option for those who are complete novices in video editing. It has a clean and simple interface, so you can easily learn about all the editing features and know how to use this tool.
This easy-to-use gaming video editing software offers you a variety of transitions, effects, titles, text templates, motion effects that you can use to enhance your gaming video. Moreover, the offered serval movie templates can help you generate a gaming video from photos and video clips in minutes.
As a video editor, MiniTool MovieMaker comes with basic editing features as well as advanced editing options. It lets you split, trim, cut, combine, reverse, speed up, slow down gaming videos, add background music to gaming videos, and put text over gaming videos.
It also allows you to save video projects for later editing and export your gaming video as MP4, MKV, MOV, AVI, WMV, MP3, or GIF.
Want to find some free video footage for your video? See this post: Top 15 Websites to Download Free Stock Footage with No Watermark
How to Edit Gaming Videos Using MiniTool MovieMaker
Now, let's see how to edit gaming videos with MiniTool MovieMaker.
Step 1. Download MiniTool MovieMaker, open the installer, and follow the on-screen instructions to complete the installation. Click Start Now to run MiniTool MovieMaker.
MiniTool MovieMakerClick to Download100%Clean & Safe
Step 2. After launching MiniTool MovieMaker, shut down the popup window to access its main interface.
Step 3. Click Import Media Files to import the gaming videos you want to use. Choose the first video, press the Shift button and choose the last video to quickly select all the imported videos. Then drag and drop them to the timeline. Alternatively, you can click the + on the video thumbnail to add the video to the timeline one by one.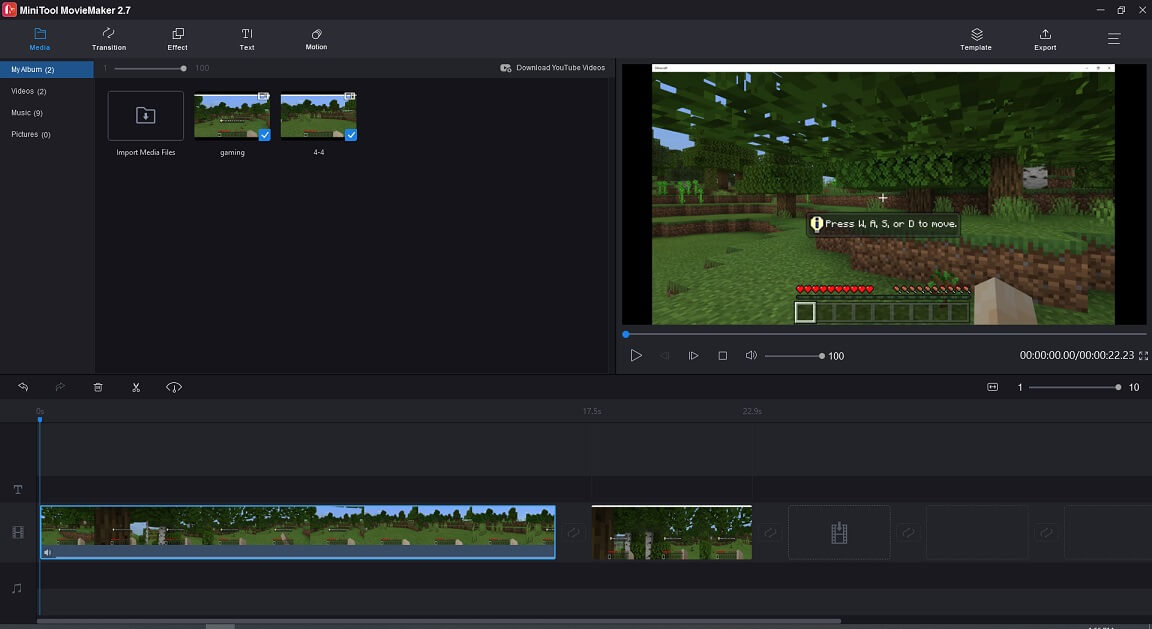 Step 4. Next, you can edit these gaming videos.
Cut video: Choose the video and move the playhead to where you want to cut. Click the scissor icon on the playhead to split the video, choose the unwanted clip and press the Delete key.
Speed up/ slow down video: Choose the clip you want to speed up or slow down. Click the speed controller icon, select Fast or Slow and choose the wanted speed option.
Add transitions to video: Click on Transitions and find the transition you like. Drag and drop the wanted transition between the two clips.
Add text to video: Click on Text, choose your favorite text template and drag and drop it to the text track. Then enter your text, change its size, font type, color and move the text to the desired place. Click OK. Select the text and change its duration.
Add background music to video: Click Import Media Files to load the background music and add the music file to the audio track. Then the audio will automatically match the length of your video.
Related article: 8 Best Places to Get Free Intro Music
Mute audio in video: Select the clip you want to remove the original audio from and click the speaker icon.
Step 5. Click on Export to open the Export window. On the Export window, you can adjust the output settings. After that, hit the Export button to export your gaming video.
Microsoft Photos App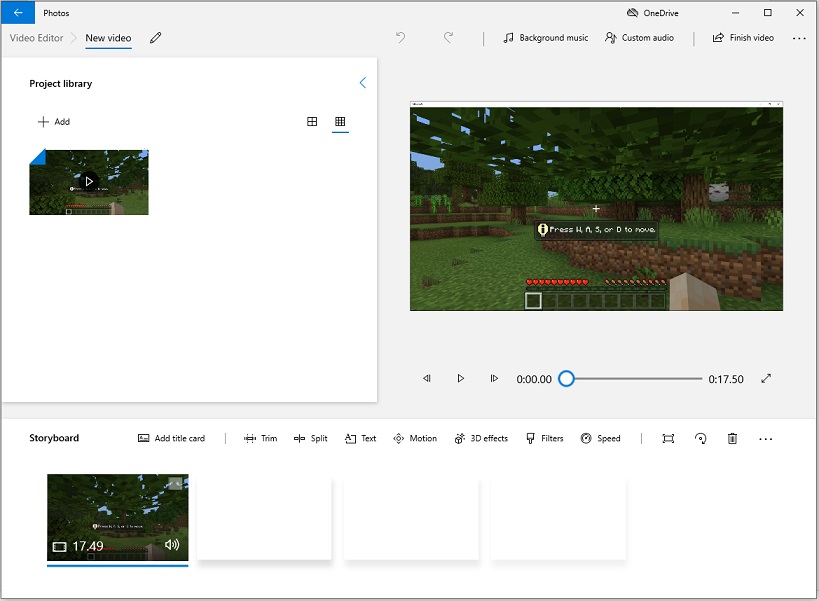 Microsoft Photos is another best video editing software for gaming. It's packed with all the basic editing tools like trim, split, and rotate. It also offers a collection of 3D effects, 3D objects, camera motion effects and filters that can make your gaming video more professional. The Photos app allows you to import audio background music your computer and select background music from its built-in music library.
This Microsoft game video editor can also function as a photo viewer and photo editor. You can use it to view photos, crop photos, rotate photos, correct colors, fix red eye, remove spots and reduce image noise.
iMovie
If you are a Mac user and want a simple gaming video editor, iMovie must be a great choice. It's a free video editing software application included with Mac, iPad and iPhone. It supports editing 4K gaming videos. Green screen and split screen tools are also available in iMovie. Green screen can help you remove the background of the video. Split screen lets you put two videos side by side on one screen.
With iMovie, you can create professional-looking gaming video without editing experiences. To make it easier to editing videos, this video editor offers lots of free soundtracks and sound effects. In addition, iMovie lets you share the created gaming video directly to YouTube, Facebook and Vimeo.
VSDC Free Video Editor
VSDC Free Video Editor is one of the best video editing software for gaming It's a free yet powerful program that helps you edit videos like a pro. It can handle complex editing tasks with a set of advanced editing tools including Chroma Key, Masking, Motion Tracking, Video stabilization, Video capture and more.
VSDC Free Video Editor has rich functions but its interface might be a little complicated for beginners to understand. Luckily, its official website has many tutorials. You can also go to the YouTube channel – VSDC Free Video Editor to learn how to use VSDC Free Video Editor.
OpenShot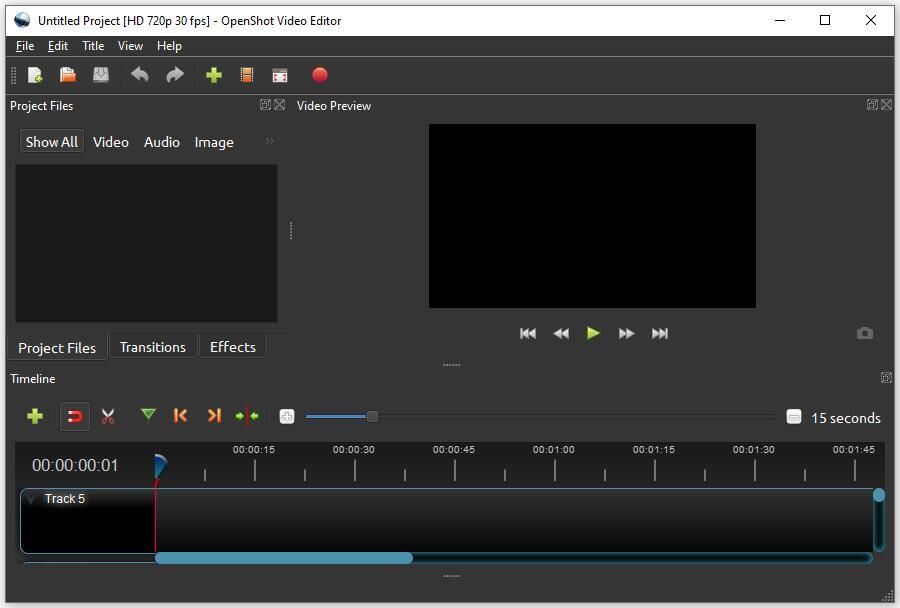 OpenShot is a free and open-source video editing software for gaming. It's capable of trimming videos, reversing videos, speeding up/slowing down videos, applying video effects, visualizing audio files as waveforms, adding text, rendering 3D animated titles and adding unlimited tracks. The intuitive interface makes it easy to master.
OpenShot is available for Windows, macOS and Linux and it fits your needs perfectly.
Related article: 5 Best Open Source Video Editors [Free]
Lightworks
Like VSDC Free Video Editor, Lightworks is a non-linear editing program for video editing. It's cross-platform, so it can work on Windows, macOS and Linux. This non-linear editing software has been used to edit films like The Wolf of Wall Street, Heat, Road to Perdition, Hugo, The King's Speech, LA Confidential and more. It also can be used as a gaming video editing software to modifying your gaming videos.
It has two versions. The free version comes with a limited number of features such as export videos up to 720p. The paid version can export videos up to UHD 4K and has more advanced options. But the free version is enough for you to editing videos.
Kdenlive
Another video editing software that you can use to edit gaming videos is Kdenlive. Kdenlive, based on the MLT Framework, KDE and Qt, is freely available for Windows, Linux and FreeBSD. It supports almost any audio and video format, so you don't have to convert videos. When editing gaming videos, you can use Kdenlive to crop, delete, move, zoom and rotate video clips.
Apart from that, it provides you with some options for editing videos like phase and pitch shifting, volume adjustment, reverb filters, distortions, masking, blurring, blue-screen and many more.
Part 2. How to Record Video Games
After learning about the 7 best video editing software for gaming, this part will show you how to record video games. To record video games, you need a screen recorder. Here recommend MiniTool Video Converter. It's an all-in-one tool for video editing, screen capture and video downloading.
As a screen recorder, MiniTool Video Converter lets you record video games with the internal audio and the external microphone. Also, you have the ability to customize the recording area. The default output format is MP4. If you want to record the screen in other formats, just click the settings button to change the output format.
MiniTool Video Converter is free without watermarks, compatible with Windows. If you want to record gameplays on macOS, you can use OBS screen recorder.
Here's how to record video games with MiniTool Video Converter.
Step 1. Download and install MiniTool Video Converter. Run it immediately after installing it on your computer.
Step 2. Once you get the main interface, click on Screen Record and tap on Click to record screen.
Step 3. On the MiniTool Screen Recorder window, enable the system audio and the microphone. Then run the game you want to play.

Step 4. After launching the game app, go back to MiniTool Screen recorder and click Full screen. Then choose Full screen or Select region to customize the recording area.
Step 5. Play the game and click the red Record button to record.
Step 6. When you finish the game, press the F6 key to stop recording. Then right-click on the recording and choose the Open folder to find the recording.
Part 3. Most Popular Games on YouTube
If you have no idea what game to play, continue to read this post. This part introduces the 5 most popular games on YouTube to you. Let's see!
#1. Minecraft
Minecraft is a sandbox video game developed by Mojang. It has 126 million monthly active users in 2020. It's the bestselling video game of all time.
#2. Roblox
Roblox is an online game platform developed by Roblox Corporation. It allows players to create their own games. Roblox has over 164 million monthly active users as of August 2020.
#3. Garena Free Fire
It's a battle royale game developed by 11 Dots Studio. Compatible with Android and iOS, Grana Free Fire has over 80 million daily active users as of May 2020.
#4. Grand Theft Auto V
Grand Theft Auto V is an active-adventure game developed by Rockstar North. It's available on multiple platforms like PlayStation 3, Xbox One, Windows and others. It's the second best-selling video game of all time.
#5. Fortnite
Developed by Epic Games, Fortnite is an online video game available on Windows, macOS, Nintendo Switch, PlayStation 4, Xbox One, Android and more. The Fortnite YouTube channel has more than 10M subscribers.
Conclusion
This post gives you a list of the 7 best video editing software for gaming, teaches you how to record video games and introduces the 5 most popular games.
If you have any questions about this post, please contact us via [email protected] or leave a reply!
Best Video Editing Software for Gaming FAQ
Is Adobe Premiere Pro free?
Adobe Premiere Pro is not a free video editor but offers a 7day free trial. The annual plan costs $239.88 and the monthly plan costs $31.49.
Which is the best editing software for YouTubers?
Here are some best video editors for YouTubers like Premiere Pro, Final Cut Pro, Adobe Effects and Davinci Resolve.
Is Windows Movie Maker free?
Windows Movie Maker, a free video editor, is a built-in program in Windows. Now, it's replaced by the Microsoft Photos app. Want to download Windows Movie Maker? Click
here
.
Where to find PUBG clips?
You can get PUBG clips on YouTube or Twitch. Just search for PUBG and find the video clips you want to watch from the matched results.