What are the best video editors for Windows? This post shares 10 best Microsoft video editors (including MiniTool MovieMaker) with you. Some of them are suitable for beginners, some are available for professionals... Hope you can find the desired video editor!
If you often upload videos to social networks, you may need a video editor to beautify your videos. What are the best video editors for Windows? In this post, I've compiled a list of 10 best Microsoft video editors across the web.
10 Best Microsoft Video Editors That You Should Try
Windows 10's Video Editor – Microsoft Photos
MiniTool MovieMaker
VSDC Free Video Editor
Shotcut
OpenShot
HitFilm Express
DaVinci Resolve
Lightworks
Adobe Premiere Pro
Corel VideoStudio
Price: Free
Windows Movie Maker is no longer available on Windows. How do you edit videos on Windows? Don't worry, Windows 10 has a hidden video editor – Microsoft Photos. It doesn't have many editing advanced features but it's packed with all the basic editing options such as split, trim, merge, rotate, flip, mute, add text, apply filter, add music, change video speed, and apply motion effect (like zoom in, zoom out).
This Microsoft video editor also has a built-in music library with over 50 free audio tracks and allows you to synchronize your video to a beat of a music track.
This native video editor has a simple interface and is easy to use, which is best suited for beginners.
To find this hidden video editor, just tap in the search icon in the taskbar and enter "video editor" in the search box. Then open the video editor to get started.
Features
Free and easy to use.
Supports most commonly used audio formats.
Comes with basic editing features.
Offers 3D effects.
Saves any video in MP4 format.
#2. MiniTool MovieMaker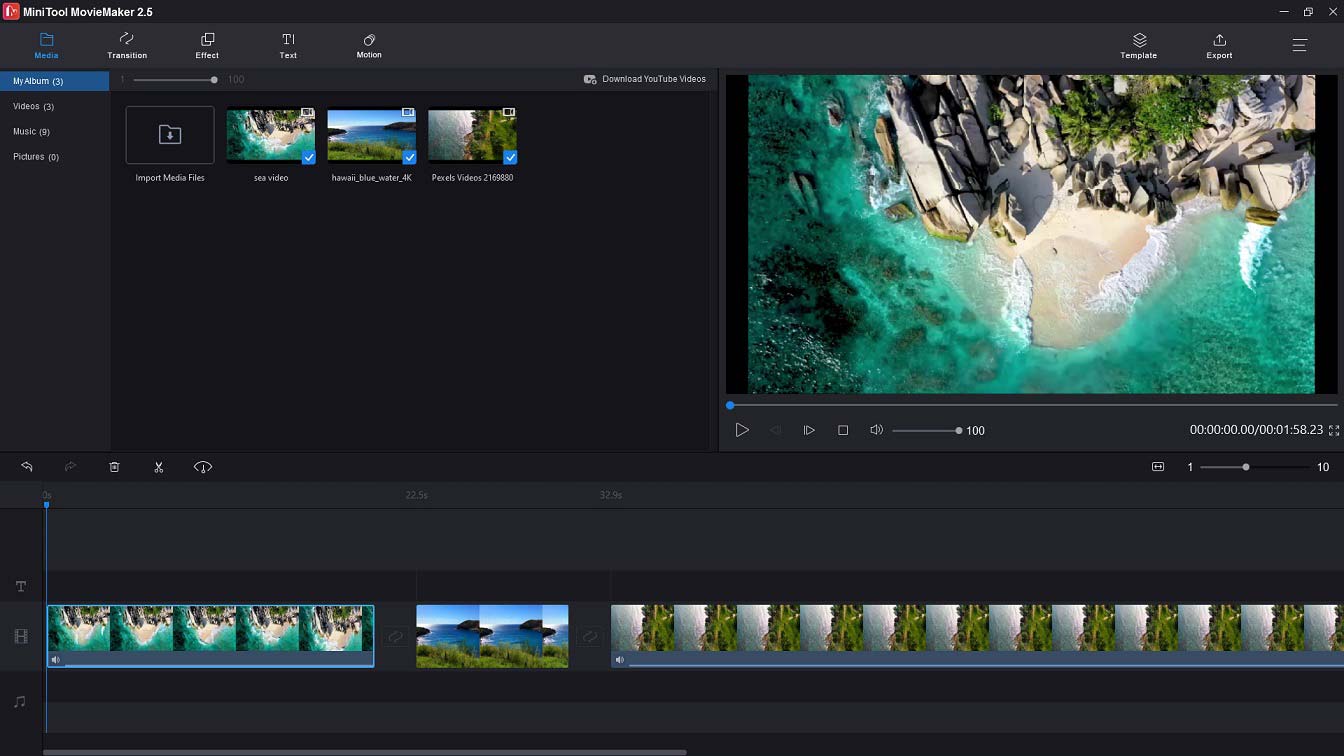 Price: Free
If you prefer to edit a video in timeline mode, not storyboard mode, MiniTool MovieMaker might be the best alternative to Microsoft Photos. It supports all almost popular video and audio formats and lets you convert them into MP4, AVI, MOV, WMV, F4V, MKV, MKV, TS, 3GP, MPEG2, WEBM, GIF, and MP3.
This video editing software has the same basic editing tools as Microsoft Photos including split, trim, rotate, flip and more. Aside from that, MiniTool MovieMaker allows you to create a reverse video with high video quality and quickly make a video with a movie template.
With an intuitive interface, it's a convenient video editor for people who don't have much experience in video editing. It's a free video editor for Windows 7/8/10.
Features
Free with no viruses, ads, watermarks and bundles.
Supports a wide range of formats.
Comes with a suite of video editing tools.
Provides transitions, effects, animated text templates, motion effects and movie templates.
Allows you to create a project file.
Can extract audio from video.
Can make a GIF from a video.
#3. VSDC Free Video Editor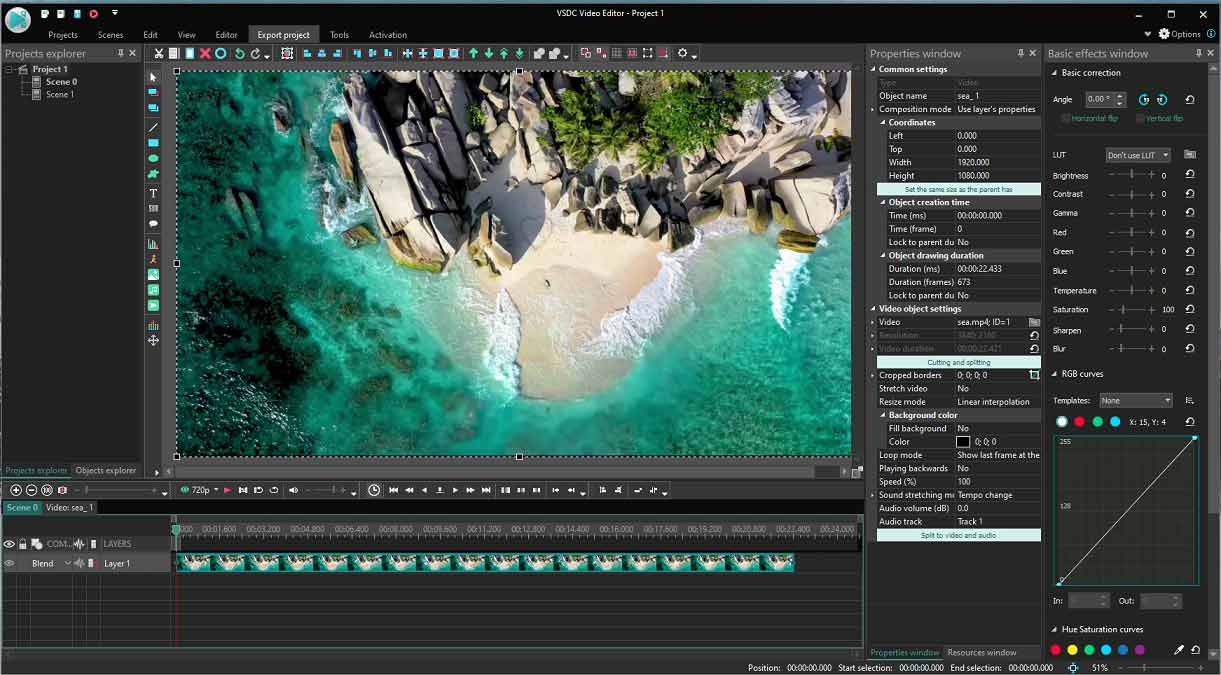 Price: Free, Pro version: $19.99
VSDC Free Video Editor is a non-linear editing software for Windows, allowing to create and editing high-resolution videos. It supports the most commonly used video and audio coding formats and can make them compatible with various mobile devices.
This free Microsoft video editor provides both basic and advanced editing features, which is perfect for beginners as well as professionals. The DeLogo filter can blur unwanted parts in a video. The color correction feature can adjust contrast, brightness, and temperature. The mask tool enables you to apply a filter to a specific object in a video.
If you want to access all the advanced features, you should buy VSDC Video Editor Pro.
Features
Free to use.
Offers advanced features for post-production such as motion tracking, mask tool, Chroma key, and Face Landmarks.
Screen recorder and voice recorder are provided.
Supports 3D to 2D conversion and 360-degree video to 2D video conversion.
Includes more than 70 transition effects.
#4. Shotcut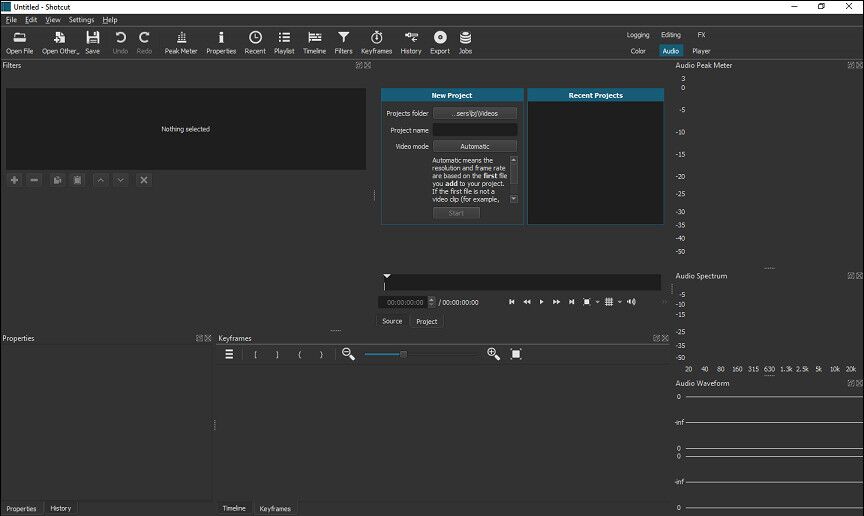 Price: Free
Shotcut is a free and open-source video editing tool with hundreds of audio and video formats support, available on Windows, Linux and Mac operating systems. It supports multi-format timelines and frame-accurate seeking for many formats. Other powerful functions are webcam capture, audio capture, network stream playback, tone generator, etc.
Shotcut also can help accomplish some basic editing tasks such as detaching audio from video, trimming video, and fade in/ fade out audio.
It has a complex interface and requires video editing skills to create videos.
Features
Free, open-source, cross-platform.
Supports 4K resolution.
Allows importing videos, audio files and images.
Offers various video and audio filters.
Plays videos from websites.
Supports MLT, XML files.
Provides UI translations like English, Chinese, French, Spanish, Russian, Japanese, and more.
#5. OpenShot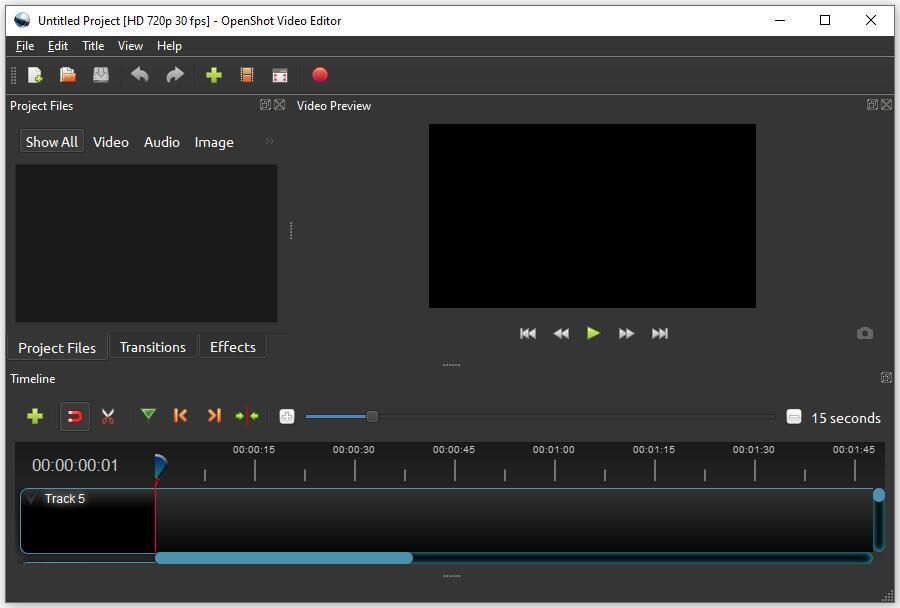 Price: Free
OpenShot is a lightweight yet powerful video editor for Windows, macOS and Linux. It's free and open-source. More importantly, it's easy to learn due to its simple and clean user interface. As an open-source video editor, it has all the needed editing features that a video editor should have. It lets you add overlays to video, delete background from video, invert colors, visualize audio file, add slow effect to video, etc.
Based on FFmpeg, this free Microsoft video editor can edit most video formats. With OpenShot, you can create all kinds of videos quickly without losing quality.
Features
Free, open-source with a large number of formats support.
Support creating layers without limitations.
Comes with basic and advanced editing functions.
Offers 3D animated titles to enhance your video.
Drag and drop videos from file manager into OpenShot.
Available in over 70 languages.
#6. HitFilm Express
Price: Free, Pro version: $349
HitFilm Express is video editor that compatible with Windows. Except for basic editing features, it gives you the options to enhance your video visuals with specialized effects, composite 3D models, etc., which helps you make a professional-looking video.
The best part of this Microsoft video editor is Particle Simulator that enables you to create weather systems and more. This free video editor is perfect for novices, YouTube content creators, film students, etc.
Features
Free to use.
Supports compositing 2D and 3D elements.
Offers over 410 effects and presets.
Enables you to add tracks and transitions without limitations.
Comes with a voice recorder.
#7. DaVinci Resolve 17
Price: Free, Pro version: $295
DaVinci Resolve 17 is an all-in-one software for Windows and other operating systems. It's a professional non-linear editor for video editing, color correction, visual effects, motion graphics and audio post-production. The traditional workflow makes it easy for novices to learn.
It supports video formats like AVI, MP4, QuickTime, DNxHD and XAVC, MXF, audio formats like AAC, AIFF, WAVE, image formats like RAW, TIFF, JPEG, DPX, OpenEXR, etc.
DaVinci Resolve has been used in films such as Avatar, La La Land, and Love & Mercy, television shows such as The Big Bang Theory, The Flash, Orphan Black, The Walking Dead and more.
Features
Supports Multicam editing, automatic trimming, fast proxy editing, and more.
Offers hundreds of titles, transitions, effects.
Supports creating 3D particle systems, animated titles, photorealistic composites and so on.
Allows you to add up to 2000 audio tracks at a time.
Lets you quickly upload videos to YouTube, Vimeo and Twitter.
#8. Lightworks
Price: Free, Pro version: $24.99/month, $174.99/year, $437.99/outright
Lightworks is another non-linear editing software for editing videos. It's a cross-platform video editor for Windows, macOS and Linux. Compared with other non-linear editors, Lightworks has a simple and intuitive interface that makes it easier for users to create videos. The free version of Lightworks offers a limited number of features, but it's enough for beginners.
Features
Supports importing all formats.
Supports advanced Multicam editing, second monitor output, etc.
Provides a library of effects and royalty-free stock videos.
Can export videos to YouTube and Vimeo.
#9. Adobe Premiere Pro
Price: Free Trial, $239.88/year
Adobe Premiere Pro is the world's most popular Windows video editor, which is widely used to produce commercials, movies, television shows, and more. It can manipulate all common video editing tasks and complicate video editing tasks. Whether you're a professional or amateur video editor, Adobe Premiere Pro can help you get the job done.
Aside from that, it works seamlessly with After Effects, Premiere Rush, Photoshop and other apps. That is to say, projects in these apps can be opened and edited in Premiere Pro.
Features
Supports any format.
Packed with all necessary tools for video editing.
Offers amazing effects, transitions, and titles.
Automatically detect original edit points.
Provides you with a set of color grading and color correction tools.
#10. Corel VideoStudio
Price: Free Trial, Pro version: $39.99, Ultimate version: $49.99
Corel VideoStudio is a robust Microsoft video editor. With Corel VideoStudio, you can edit videos with basic editing tools like video cropper, video splitter, video rotator, and video trimmer, and enrich your videos with hundreds of effects, filters, transitions, and stickers.
The instant project templates help you create a video in just a few clicks.
Features
Comes with essential tools for video editing.
Supports Multicam editing, and 360-degree video editing.
Gives you the options to fine-tune the color in videos and record video & audio.
Makes your video impressive with various effects, filters, overlays, graphics and stickers.
Features fast/ slow motion, stop motion, pan and zoom, painting creator, motion tracking and custom motion paths.
Conclusion
All the Microsoft video editors have their benefits and downsides. After reading this post, hope you can find a video editor that suits you best! Before downloading the video editing software, please make sure that your computer meets its system requirements.
If you have other suggestions, please contact us via [email protected] or leave a reply!
Microsoft Video Editor FAQ
Does Windows have a video editor?
Windows has the built-in video editor – Windows Movie Maker. But the video editing software has been discontinued by Microsoft in 2017 and it's replaced by Microsoft Photos on Windows 10.
What video editing software do YouTubers use?
Most of the YouTubers would like to use professional video editors like Adobe Premiere, Final Cut Pro, iMovie, DaVinci Resolve, etc.
How to trim a video?
Choose a video editor like Microsoft Photos.
Import a video and choose the Trim.
Then drag the edge of the video to the left or right and apply changes.
Then save the trimmed video.
How to remove unwanted parts of a video?
Open Windows MovieMaker.
Import the target video file and right-click on the video.
Choose the Split option to split a video into two parts.
Then choose the unwanted part and delete it.
Save the video to your computer.