WMV (be short for Windows Media Video) is a compressed video file format developed by Microsoft. It was originally designed for Internet streaming applications and supports various video codecs. If you can't play music video in WMV format, you can convert WMV to MP3 with converting software.
Can't play the WMV file on your device? You can install a media player that supports WMV such as Windows Media Player, RealPlayer, VLC Media Player and more. Or you can convert WMV to other formats like WMV to MP4, WMV to MP3.
To play and convert WMV video, you may want MiniTool MovieMaker released by MiniTool. This software not only can play the WMV file but also can convert WMV to MP3. Let's take a look at how to extract audio from WMV with these converting software.
Part 1. Top 7 WMV to MP3 Desktop Converters
This part shows seven WMV to MP3 desktop converters and how it works.
#1. MiniTool MovieMaker
To convert WMV to MP3, first I would recommend MiniTool MovieMaker to you. It's an easy-to-use video editing software. With its user-friendly interface, you can create and edit your videos easily. What's more, it supports import formats: FLV, MKV, MP4, VOB, WMV, AVI, 3GP, MP4, RMVB, which helps you convert FLV to MP4, WMV to MP4, MP3 to MP4, MKV to MP4, MP4 to MOV, etc.
Main Features
It's free to use and ad-free.
It offers different kinds of transitions and filters as well as titles, captions and credits.
It can convert video to MP3 like WMV to MP3, MP4 to MP3, FLV to MP3, etc.
It allows you to export a video to a variety of devices including computer, iPhone, Apple TV, iPad, PS4, Nexus, Sony TV, Galaxy note 9 and Xboxone.
You can use it to edit MP4 like add music to video, change voice, etc.
Pros
It's 100% safe and reliable.
It has a simple and clean interface.
It supports importing photo, audio and video.
…
So let's dive into how to convert WMV to MP3 with MiniTool MovieMaker. Firstly, you need to download and install MiniTool MovieMaker on your computer.
MiniTool MovieMakerClick to Download100%Clean & Safe
Step 1. Import the WMV file.
Launch the software and click Full-Feature Mode to get its main interface.
Click on Import Media Files to add the WMV file you want to convert.
Step 2. Edit the WMV file.
Drag and drop the WMV file on the timeline. Then you can edit this video as you like, such as change voice, mute audio, etc. To learn more about changing voice, see this post: The Best Voice Changer Software for YouTube/PC/Phone.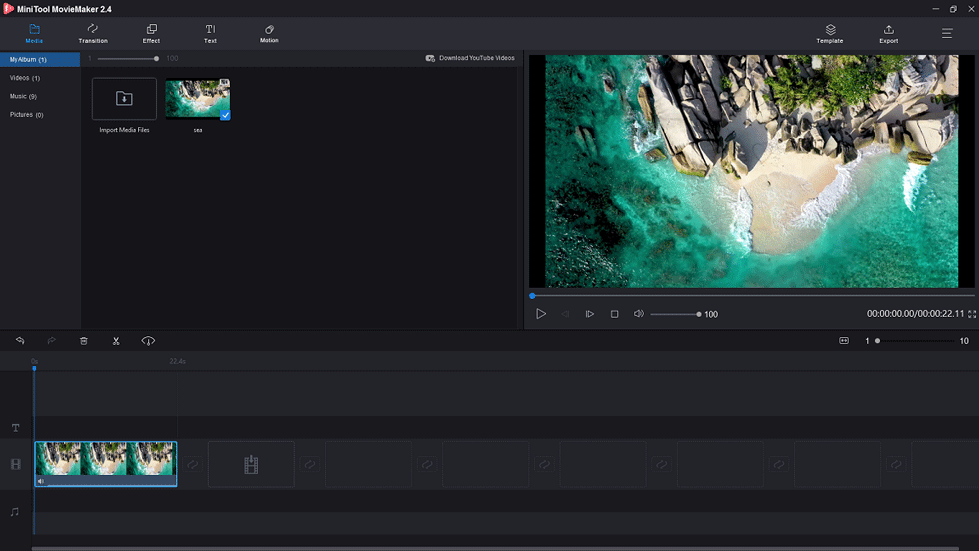 Step 3. Export the WMV file.
After that, tap on Export in the menu bar.
Then it will pop up a window. Click the Format box to choose the MP3 You can also change the file name, save path even video resolution.
When you're done, tap the Export button to export the MP3 file.
It will a few minutes to complete the conversion. When the process is done, you will get the exported file right now.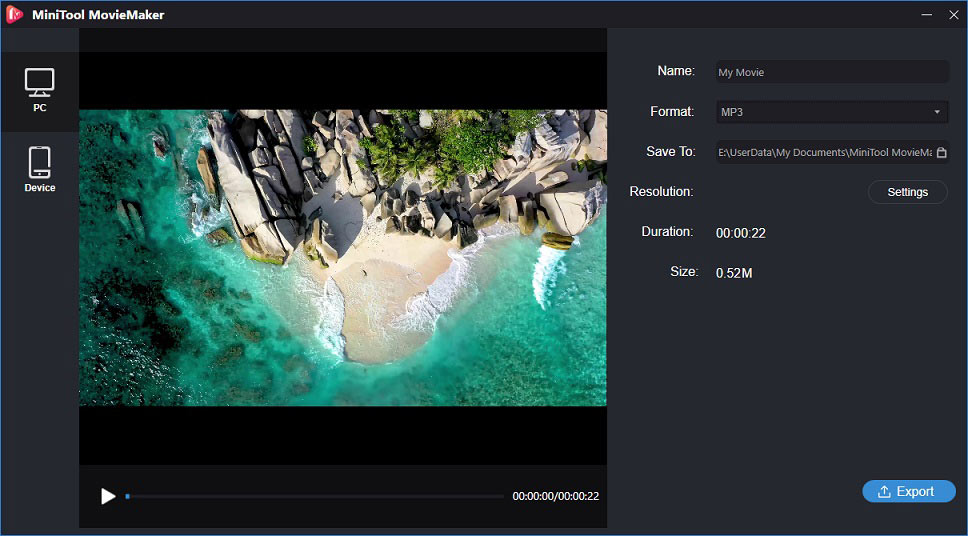 Thanks MiniTool MovieMaker, I can convert WMV to MP3 in just three steps!Click to Tweet
#2. Format Factory
Format Factory is a multifunctional and multimedia file converting software. This tool supports converting all popular video, audio, picture and file to others. Also, it lets you export files to any device. If your video file is damaged, it can repair the damaged file for free.
Aside from that, it allows you to rip DVD to video, rip music CD to audio. If the video file takes much disk space on your computer, you can use this converter to compress the video file. Additionally, it enables you to download videos from websites like YouTube. Want to download music from YouTube? Read this post: How to Download Music from YouTube for Free.
Pros
It supports converting all kinds of file formats including video, audio, picture, file.
It can repair the damaged file and decrease the file size.
You can download videos from websites and extract audio from DVD.
Cons
It includes unwanted programs.
How to convert WMV to MP3 with Format Factory? This part will guide you through the steps required for converting WMV to MP3.
Step 1. Download and install Format Factory on your PC.
Step 2. Launch the software and access its main interface.
Step 3. Tap on Audio to choose the output format MP3 from these options below.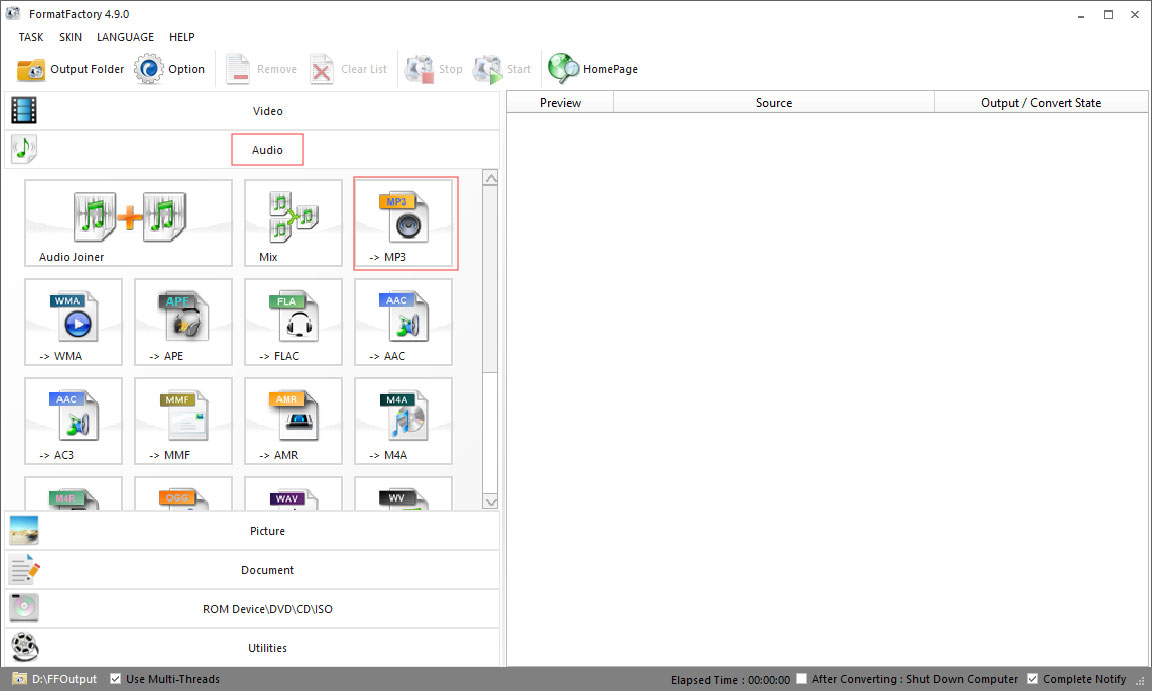 Step 4. Click on the Add File button to open the WMV file you need to convert. If you have multiple WMV files to convert, just import these files from your computer and do batch convert.
Step 5. After you add the target WMV file, press the OK button and you will return to the homepage. All WMV files are listed here.
Step 6. In the end, tap on the Start button in the tool menu. It will convert your files at the same time.
Step 7. After the converting process completes, tap on the video and click the folder icon to locate the MP3 file you just convert.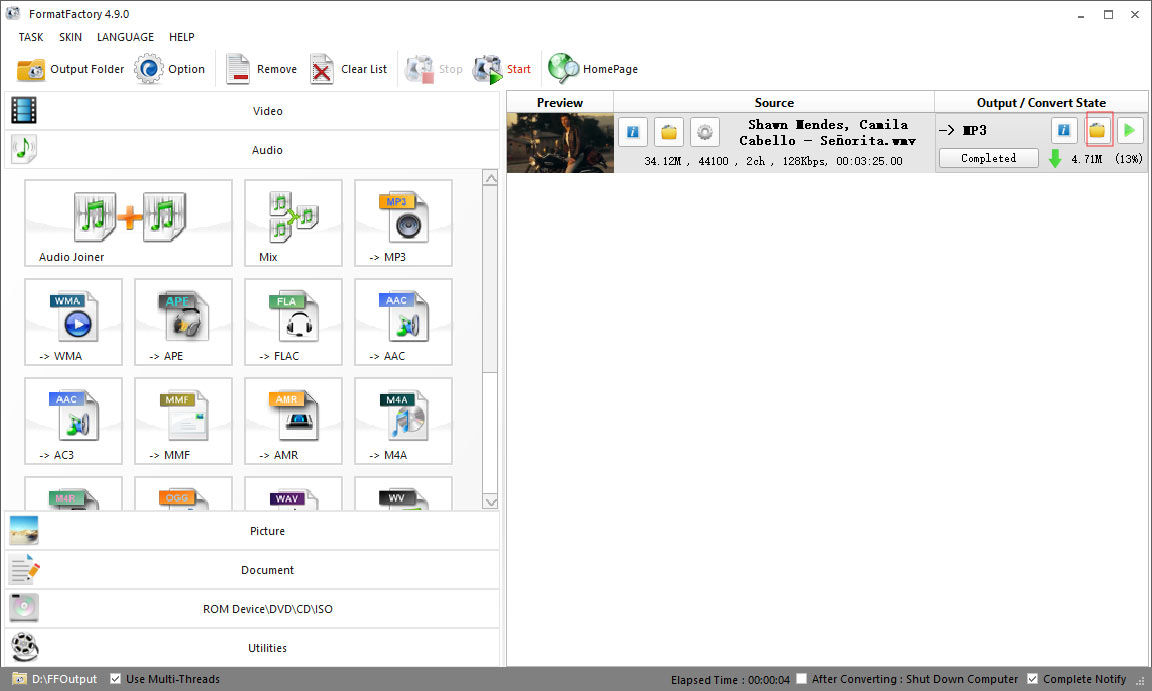 #3. VLC Media Player
VLC a free and open-source multimedia player. It can play most media files, DVDs, VCDs, Audio CDs and video streaming services. Also, this player is compatible with all platforms including Windows, Linux, Mac OS X, Unix, iOS, Android and many more. It's not merely a media player but a video converter.
VLC supports all file formats including video, audio and DVD and allows you to convert them to other formats like MP3, MP4, etc. Apart from that, it can be used to download YouTube videos, synchronize subtitles, crop a video and so on.
After downloading videos from YouTube, you find there are no subtitles in the video. Read this post to download YouTube subtitles easily: How to Download YouTube Subtitles – 2 Solutions.
Pros
It plays media files in all formats.
It's capable of download videos from video streaming websites.
Plenty of features provided in this player you can edit, capture and record video.
See also: 4 Hacks You Need to Know about VLC Media Player.
Cons
Beginners may not know how to use this tool to convert or play YouTube videos.
To convert WMV to MP3 with VLC, you need to download and install this application on your computer. Then tap on Media to choose Convert / Save… to convert your WMV files.
#4. WinX Video Converter
It's the best video converter that allows you to convert WMV to MP3. This converter supports more than 420+ formats and runs on Windows and Mac. In addition to converting videos, it also lets you trim, crop or merge videos as you like.
Like some video converters, WinX Video Converter enables you to save videos from 1000+ sites and YouTube in minutes. Whether you want to convert YouTube videos to MP3 or MP4, this tool is always a better option for you.
Pros
It's able to compress 4K video without quality loss.
It allows you to edit videos as you want with no watermark.
You can use it to convert WMV to MP3 in batch.
Cons
The free version doesn't support some features like save YouTube 4k videos offline.
#5. VSDC Free Video Converter
If you're looking for an absolutely free video converter, here recommend VSDC Free Video Converter. It supports all popular formats including DVD, AVI, MOV, MP4, M4V, 3GP, WMV, etc. Before converting the media file, you can edit the video using the export presets, such as merge files, split files and delete fragments of a video.
On top of that, this tool uses only high-quality video processing algorithms, so you can convert WMV to MP3 with no loss in quality.
Pros
It supports all popular formats.
It has high conversion quality.
The conversion speed is high.
It's extremely stable and reliable.
Cons
It's only available for Windows operating systems.
#6. Bandicut Video Cutter
This video cutter has an intuitive interface that enables you to edit videos quickly. It supports most formats such as AVI, MKV, MOV, WMV, etc. Besides, you can also use it to extract the MP3 file from the video.
Bandicut supports the hardware-accelerated H.264 video encoders which enables you to convert or edit video at high speed with excellent quality.
If you want to learn more about how to cut video, see this post: Top 5 Video Trimmers – Easily Trim Video for Free.
Pros
It has an intuitive interface.
It allows you to quickly cut a video into clips or delete unwanted parts of a video.
It does not decrease the video quality.
Cons
Your video is watermarked if you are not registered for the To remove watermark from video, you may like: How to Remove Watermark from Video and Photo Efficiently.
Some features seem like free but they're not.
#7. Free Audio Converter
Free Audio Converter is the most popular audio converting software that supports 50+ audio formats: MP3, AAC, M4A, WMA, OGG, FLAC, MP2, etc. Likewise, it allows you to convert music files to MP3 format for your devices including PC, Mac, mobile phone, tablet and many others.
More importantly, it's capable of extracting audio files from the video. This software supports over 500 video formats such as WMV, MP4, FLV, VOB, MOV, WebM, etc. As a professional audio converter, it allows you to merge audio files of different formats and convert them in batch.
Furthermore, you can directly upload the converted music file to Google Drive & Dropbox to save storage space.
Pros
It enables you to convert video to MP3 for any gadget.
It supports converting multiple tracks in batch.
It's capable of transferring the output audio files to Google Drive & Dropbox.
It's free to use.
Cons
It doesn't support converting the file into a less popular format.
Part 2. Top WMV to MP3 Online Converters
Want to convert WMV to MP3 without any software? You've come to the right place. Here offers you three WMV to MP3 online converters, check out here!
#1. Online Convert
Online Convert nearly covers all kinds of file formats including video, audio, eBook, document and so on. Here recommend the audio converter of this website. The audio converter supports over 50 source formats. You can convert any video to MP3, like WMV to MP3, OGG to MP3, FLV to MP3, MOV to MP3, WMA to MP3, etc.
Also, it allows you to customize the output settings you want.
Here's how to convert WMV to MP3 online:
Step 1. Go to the audio converter page and click on Choose Files to select the target video from your computer.
Step 2. If you have nothing to change, tap on the first Start conversion to start to convert.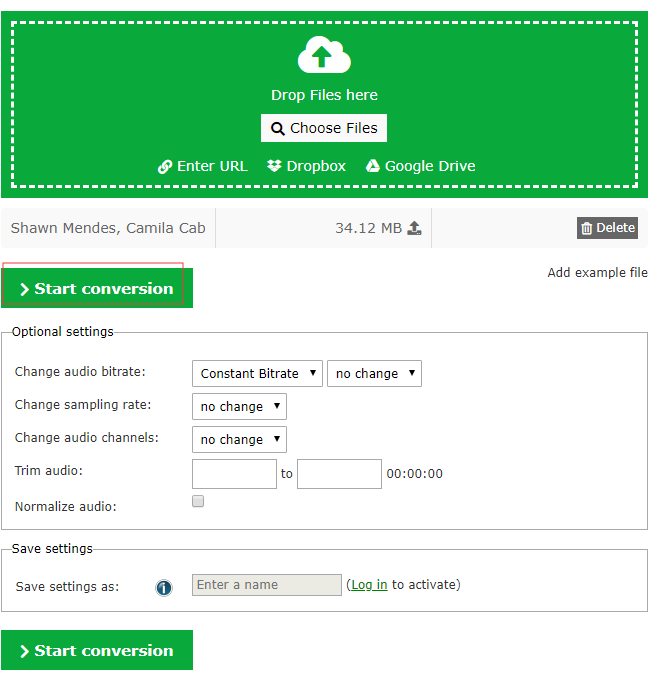 Step 3. It will take a few seconds. After the conversion finishes, choose the Download button to save the MP3 file to your computer.
Pros
You can customize the output settings.
Cons
Some features are only available for registered members.
#2. Convertio
This audio converter not only allows you to import files from the computer, but also enables you to upload files from Google Drive & Dropbox. In addition, it works for all platforms, so you can convert WMV to MP3 on your phone.
Pros
It works on any platform.
Cons
You can upload a file no more than 100 MB.
#3. Files-conversion
Files-conversion is a free web application which supports all video formats. With it, you can convert the media file to video or audio and change its file size and quality as you like. Some other file types also available here, such as image, font, eBook, presentation, document, etc.
Pros
It supports different types of file formats.
It enables you to change the file size and quality.
Cons
The output formats are not many.
Conclusion
As mentioned above, converting programs are better than online video converters. They convert files faster without limits. To convert WMV to MP3, which one do you prefer?
If you have any questions about WMV to MP3 converters, please leave a comment or contact us [email protected] and let us know.