There are few events bigger than a wedding. You can watch the best wedding videos on YouTube to get your video ideas. No matter you want to make a wedding video, anniversary video, proposal wedding, wedding invitation video, etc. you can try wedding video maker. MiniTool software is recommended here.
Will you regret not having a wedding video? 98% of married couples regret not having a wedding video, according to the Huffington Post.
Congratulations! Now, you have a chance to make amends for that disappointment. This post lists the best wedding videos on YouTube to help you find your video ideas and shows how to make a wedding video.
Top 3 Wedding Videos on YouTube
Before making a romantic love video, you can watch the best wedding videos on YouTube to get more inspiration.
#1. Our Wedding Video
You will be crying and being happy when watching this video. The sweetness of this wedding video will make your heart melt. This couple set the strongest example of what true love is. Hope everyone has a very happy future.
#2. A Wedding That Will Move You
It is a heart-touching and beautiful wedding video. If you had watched it, you would have been moved. The boy was going to die, and his last wash was to get married. True love made the hospital a church. The bride and the groom had celebrated an unforgettable wedding. The man died happily within 10 hours of the wedding. This video is no less than a fairytale because the bride and the groom are so devoting to each other.
#3. JK Wedding Entrance Dance
This video is packed with hilarious moments. At the beginning of this funny video, you will see the moves of two gentlemen. If you want to create a funny wedding video, you can't miss it. This video is full of happiness, making your day unforgettable.
Of course, there are many other best wedding videos on YouTube. As long as you search for "Wedding videos", YouTube will show you many different videos.
Now, you might be wondering:
"Can I make a wedding video?"
Of course! You can!
Wedding video makers can help you make your unforgettable wedding video by yourself.
Wedding Video Ideas
A wedding video records your journey towards marriage, and it is very easy to share. Before creating your own unique love video, you can visit our wedding video ideas.
Proposal video: To surprise your soon-to-be spouse, you can create a creative wedding proposal video.
Wedding invitation video: Video invitations are versatile and paper-free, thus they are gaining popularity.
Love story: Before the wedding, you can make a video to record your love because some friends might not know you both or have details about how you fell in love.
Wedding ceremony slideshow: Video editing software can easily make your wedding pictures into a cool slideshow. To make a wedding video, you had better ask a friend or wedding videographer to record the special moments in your video. Thus, you can combine wedding videography to make a cool video.
Honeymoon video recap: Want to make a video with honeymoon photos and video clips to remember the moment of happiness. You can read this post "make video with pictures" to know the detailed steps.
Anniversary slideshow: Video is a beautiful way to show you're still head over heels in love whether it's your first anniversary or your 30th.
Wedding Video Makers
There are many different video editing software that can help you create wedding videos. MiniTool MovieMaker is a great choice for common users or users who don't have video editing knowledge. This free tool offers some excellent features to help users easily create outstanding videos.
Features of the Best Wedding Video Maker
MiniTool MovieMaker is a free, no ad, no bundle video editing software without watermark.
It offers movie templates to help you create fun, Hollywood-style movie trailers and movies with one click.
It lets you change video brightness, contrast, and allows you to apply 3D LUTs to video.
It offers 98 free video transitions to help you combine multiple videos into one.
It provides animated text templates including titles, subtitles, and end credits, and you can easily add these animated texts to your videos.
It can change video format, change video quality as well as change video bitrate.
It lets you split, trim, merge video as well as audio files.
It lets you add music to video, and fade in/out music files.
It lets you create video with pictures and music files.
This free video maker can also be used as a video player like MOV player.
Now, let's see how to make a video. This tool offers 2 simple ways to create a video.
How to Make Wedding Videos
Before making a video, please prepare your wedding photography or wedding videography.
Solution 1. Create Weddings Videos with Video Templates
MiniTool MovieMaker offers cool movies/trailers to help you create videos easily.
Watch Video Templates
Of course, there are wedding video templates, such as Our Love Story, Love Couple Slideshow, etc. Here, we take the Our Love Story template for example to show how to create wedding videos.
Step 1. Free download and install MiniTool MovieMaker on PC.
MiniTool MovieMakerClick to Download100%Clean & Safe
Step 2. Launch it to get the movie templates window.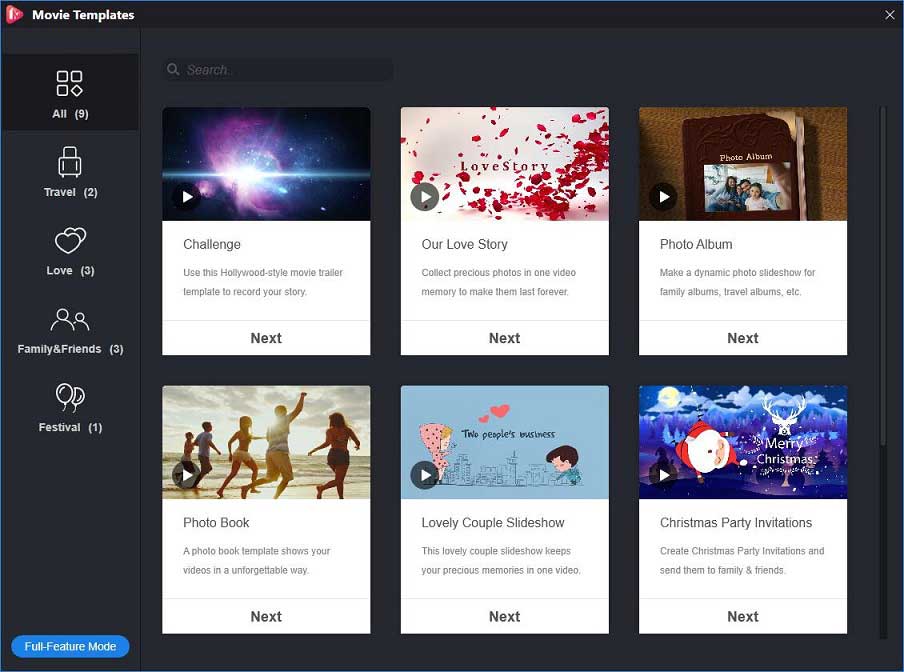 Step 3. Preview Our Love Story, and click the Next button to import your videos or pictures.
Step 4. Drag and drop these media files to arrange clips.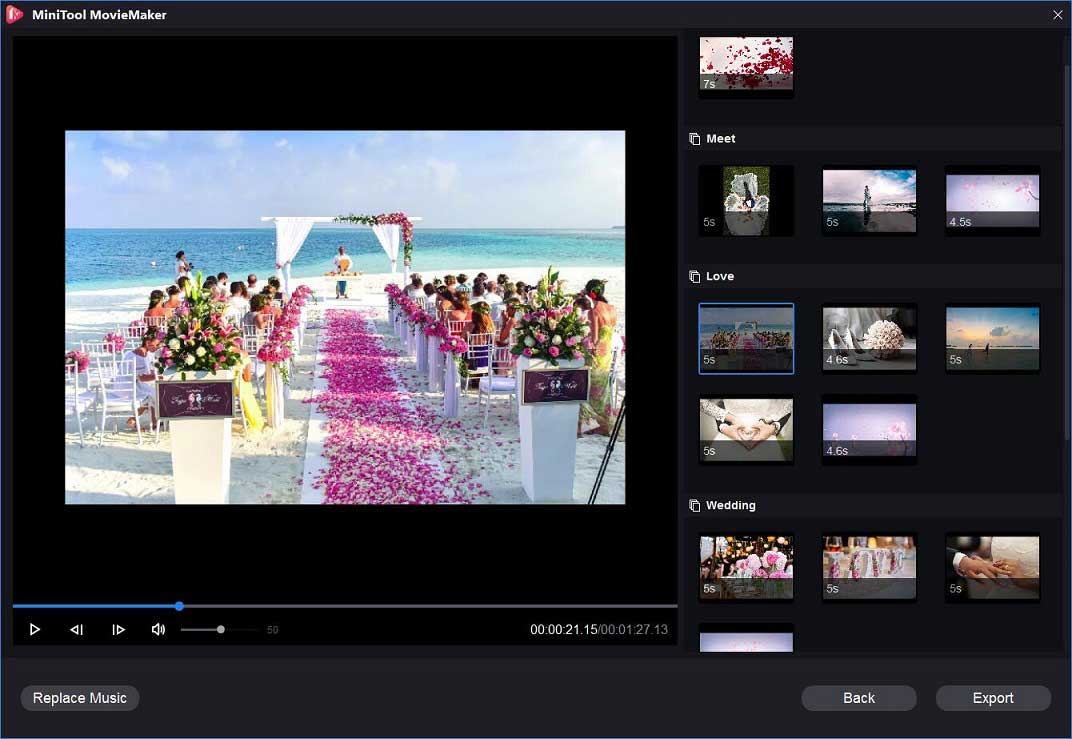 Step 5. Edit the text, and replace the music file if you like.
Step 6. Save this wedding video as an MP4 format and share it with friends.
Note:
You can save this video into other file formats like MOV, AVI, etc. It is recommended to read this post "
change video format
" to know more details.
Solution 2. Create Weddings Videos with Handy Video Editor
MiniTool MovieMaker offers a simple and clean timeline (containing 3 text tracks, media track, and music track) to help you create videos.
Step 1. Import your media files
Download and install the free wedding video maker.
Launch it.
Close the movie templates window to enter into its main window.
Click the Import Media Files button to import your wedding videography or photos.
Drag and drop media files to the timeline.
Step 2. Create wedding videos
To create a preface wedding, you can try the following features.
Feature 1. Arrange video/picture clips in the timeline to make a love story.
Feature 2. Split or trim video to remove some wanted parts, and trim pictures to change its duration as you like. Related article: video splitter
Feature 3. Add video transitions such as fades, dissolve, wipe and others to video to merge videos.
Feature 4. Change video brightness, contrast, etc. and apply filters to video to make your wedding video stand out.
Feature 5. Add animated text to video to complete your story. This free tool not only lets you add animated titles as well as end credits, but also lets you add animated subtitles to your romantic love videos to complete your story.
Feature 6. Rotate video. This free video maker lets you flip video vertically and horizontally, rotate 90 degrees, rotate 180 degrees or rotate 270 degrees.
Feature 7. Add wedding songs to video, and edit the songs like fade in or fade out music.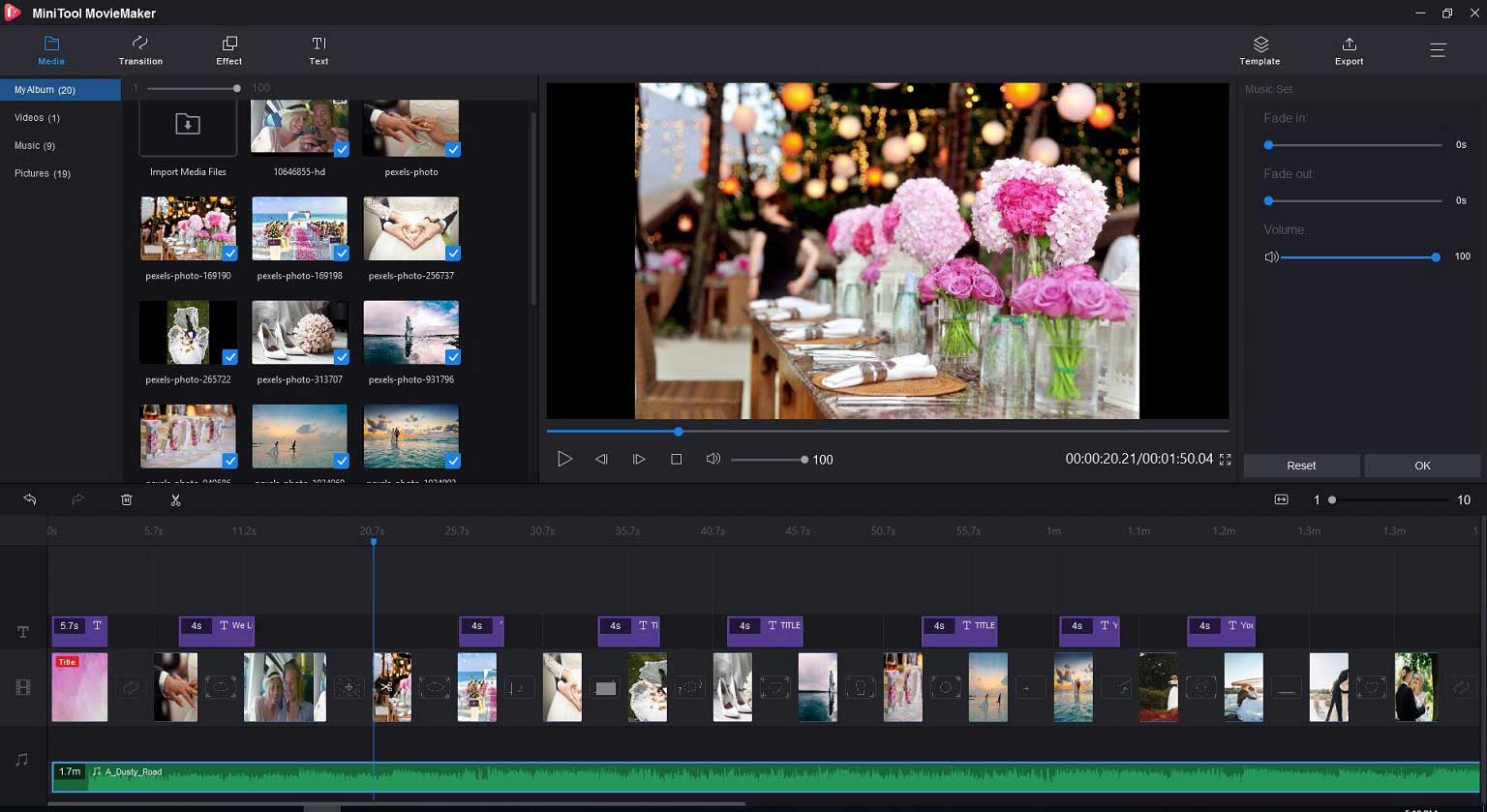 Tip: If you want to share your wedding video on YouTube or other social websites, you need to make sure the music you added is licensed. If not, your wedding video will be muted or taken down by social sites. Conversely, if you only watch your wedding videos at home, you can use any music files.
Step 3. Save wedding videos
After making wedding videos, you can click the Export button to save this video on your PC or mobile devices like iPhone.
If you want to save the wedding video on PC, you can save it to MP4, AVI, MOV, MKV, GIF, etc.
Related article: video to GIF
See! With this free, no ads, no bundle video makers, you can easily create wedding videos without watermark. Now, it's your time to share your lovely romantic movies with your friends.
MiniTool MovieMaker helps you make wedding videos easily. Click to Tweet
Download Wedding Videos from YouTube
In the beginning, we have talked about 3 top wedding videos on YouTube. Now, what should you do if you want to watch these videos on your trip?
To watch YouTube videos offline, you can try YouTube downloader to download videos. MiniTool uTube Downloader, a free YouTube downloader, lets you download and save YouTube to video and audio file formats including MP4, MP3, WAV, and WebM. Most importantly, this tool can download YouTube playlists for free.
How to Download YouTube Wedding Videos
Step 1. Download and install MiniTool uTube Downloader.
Step 2. Open this free YouTube downloader/converter, find the target video you want to download, and click the Download button.
Step 3. Choose file formats, like MP4, and click the DOWNLOAD button.
Now, MiniTool uTube Downloader begins to download video and save it as MP4 format.
Related article: YouTube to MP4
Bottom Line
We hope this guide can help some users who don't have wedding videos make up for the pity. MiniTool MovieMaker, a free video editing software without watermark, helps you easily create romantic, lovely wedding videos.
Wedding Videos FAQ
?How long should your wedding video be?
In general, the length of the wedding video depends on the type of wedding. Cinematic wedding videos are usually between 5-25 mins, and documentary wedding videos are 45-120 long. Usually, a wedding highlights video is between 3 to 5 minutes. Therefore, you can make your wedding video according to your needs.
?How much is a wedding video?
In America, most couples spend between $1,000 to $2,500 for a wedding video, and the average cost of a wedding videographer is around $1,799. As we know, to make a wedding video stand out, most couples will turn to a vendor team. A wedding videographer plays an important role in this team since he or she will create a priceless memory of your day that you'll cherish for years to come.
?How do you make a wedding video?
If you don't have a wedding video or you want to make it by yourself, you can try a wedding video maker like MiniTool MovieMaker.
Launch this free video editor.
Import your wedding videos and photography.
Edit your wedding video, including split video, merge video, trim video, add text to video, etc.
Save the wedding video and share it with friends.
?Is a wedding video worth it?
A wedding video is most definitely worth it. You can relive some of your favorite wedding moments including the vows you exchanged, your dad's speech, etc. Also, you can share these moments with your friends and family again and again as long as you have a wedding video. In the future, you can show your love wedding video to your kids, and enjoy this video to mark anniversaries.