VOB (short for video object) is a container format that's used for containing digital video, digital audio, subtitles, DVD menus, and navigation content. Unlike MP4 or MOV, VOB isn't one of the most common media formats. Do you know how to open VOB files on different devices? Here're the top 12 VOB file players.
The file with the VOB file name extension is a VOB file and it's usually stored in the VIDEO_TS directory at the root of a DVD. And this format is based on the MPEG format. You may wonder how to play VOB files on Windows, Mac, Android, and iPhone. This post offers 12 VOB players (including MiniTool MovieMaker).
The Best 12 VOB Players
MiniTool MovieMaker
Final Media Player
File Viewer Lite
KMPlayer
VLC Media Player
ALLPlayer
5KPlayer
Media Player
BSPlayer
MX Player
8Player
Movie Player 3
Part 1 – Top 4 VOB Players for Windows
MiniTool MovieMaker
MiniTool MovieMaker comes as the first recommended VOB file player. It's 100% free and simple to use. This program allows you to open VOB files with a few clicks. Except for VOB, it can play other popular video formats, including MOV, MP4, WMV, AVI, FLV, 3GP, MKV, MPG, RMVB. As a video editor, MiniTool MovieMaker offers many features to edit the videos.
MiniTool MovieMaker, you can create awesome videos from pictures, video clips, and audio tracks. Also, it lets you split and trim videos, rotate and flip videos, slow down or speed up videos, add text to the video, apply video transitions and filters, add music to the video, reverse videos, etc.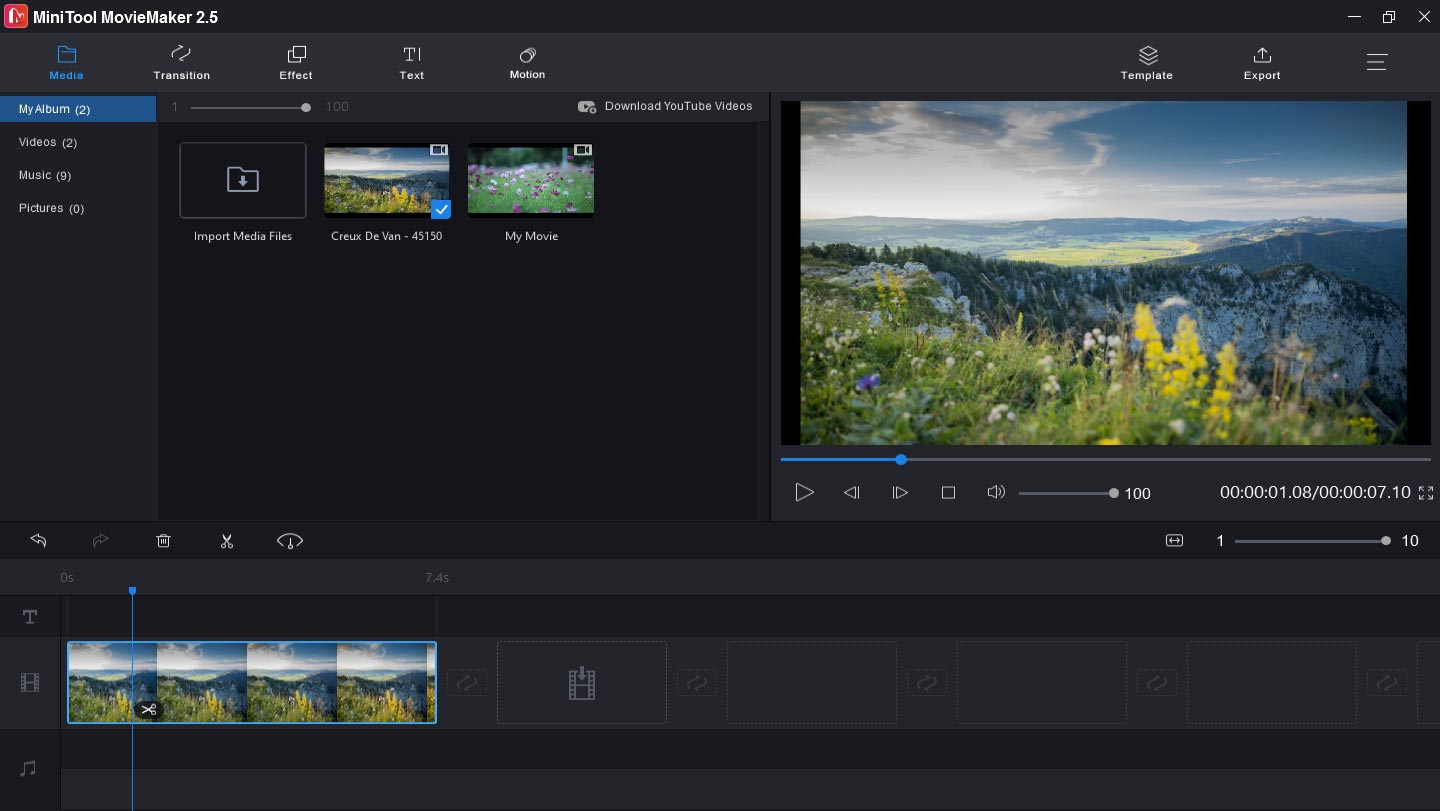 What's more, it can work as a video converter. It enables you to convert VOB to MP4, AVI, MOV, WMV, ETC. And it also supports video to GIF, WebM to GIF, GIF to MOV, and more. All in all, MiniTool MiniTool MovieMaker is an all-in-one tool to play, edit, and convert your VOB files.
Final Media Player
Final Media Player is a simple and free VOB player for your Windows PC, and it enables you to open VOB files without installing any third-party software. As a video and audio player, it supports 40+ video formats and 40+ audio files. And this software is simple to install. Therefore, you can easily have this media player and play your video and audio with ease.
File Viewer Lite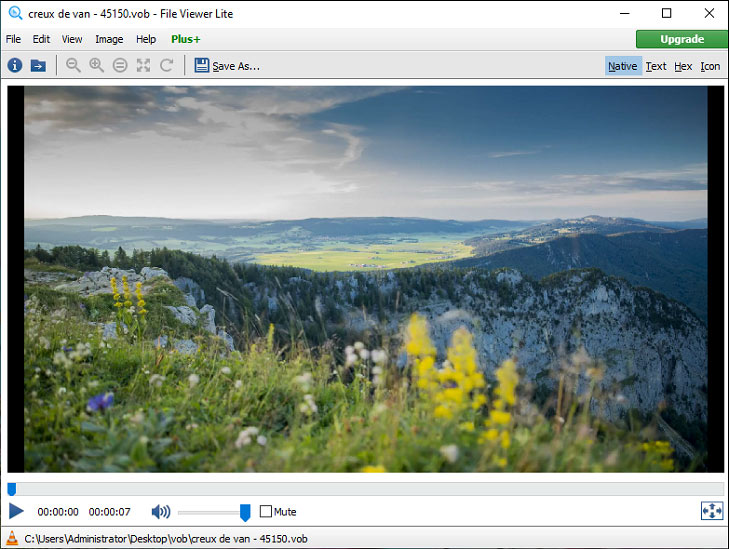 File Viewer Lite is another free VOB file player that lets you open DVD Video Object .VOB files. Actually, it's a universal file opener that allows you to open more than 150 file types. With this file viewer, you can open 36 video files, 36 audio files, 25 camera raw files, 48 image files, 12 text document files, 4 spreadsheet files, and other files.
Except for the common video formats, the supported video formats include the VCD video file, digital video file, real media file, Windows recorded TV show file, iTunes video file, Bink video file, and more. With the free version, you can only view and print files. If you want to save, edit, convert, and print files, or open more file types, you need to upgrade to File Viewer Plus.
Also read: Solved - How to Get Kodi Subtitles
Part 2 – Top 3 VOB Players for Mac
KMPlayer
KMPlayer is also a good choice for VOB file players. With it, you watch high-quality videos like 4K, 8K, UHD, etc. As a well-known media player, KMPlayer supports almost all video formats, audio formats, many subtitle formats, and it also supports Blu-ray Disc and DVD. And it enables you to skip, increase, or slow down playback speed, set parts of a video as favorites, and more.
KMPlayer allows you to capture audio, recording, video, and screenshots, and capture can be saved in desired formats like JPG or GIF. And it lets you stream and download videos on YouTube, Instagram, etc.
VLC Media Player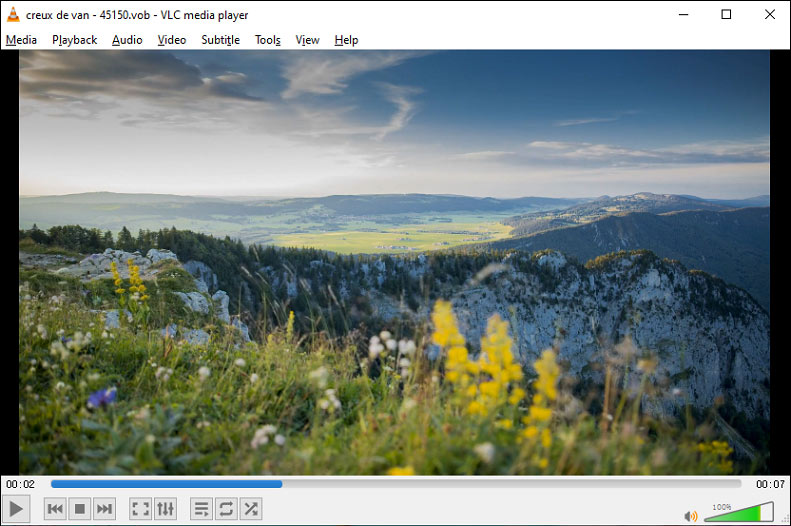 VLC is a free, open-source, portable, and cross-platform media player. It supports almost all video and audio input formats like VOB, OGG, Raw DV, AAC, and you can easily play any video or audio files. In addition to video playback, VLC works as a video converter. The output video formats include all popular files, and so you can convert a video file to another one easily and quickly.
When you watch videos, you can change playback speed, take screenshots, and more. You can also zoom, flip, rotate, cut videos, add text or logo over videos, delay or speed up subtitles, and more.
ALLPlayer
ALLPlyaer is a cross-platform media player and it's also one of the best VOB file players for Mac. It supports dozens of video, audio, and subtitle formats. It's connected to some subtitles database like OpenSubtitles.org, so it can automatically download subtitles in selected language while watching videos. Also, it can play DVDs, CDs, RAR files, and movies from torrent files.
ALLPlayer can automatically play the next parts of videos. What's more, it supports video streams from many sites like YouTube and provides dozens of online radio stations, such as FEGGAE, FOLK, JAZZ, ROCK, CHILLOUT, and others.
5KPlayer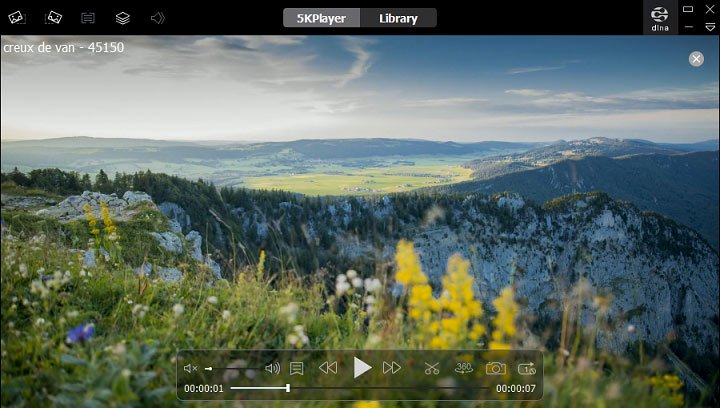 5KPlayer is a video and music player to play 4K/1080P/360 videos, DVD, IPTV, MP3, AAC, FLAC, APE music, and more. And you can listen to live radio from many internet radio stations like BBC, WNYC, XFM, etc. When playing a video, you can rotate and cut it, take snapshots, adjust the volume, and more.
It offers a built-in AirPlay tech used for instant screen mirroring and video music AirPlay. Also, it has a screen recording compatibility that supports up to 4K video records. Also, it's an online downloader that enables you to download videos and music from many video and music streaming sites.
Part 3 – Top 3 VOB Players for Android
What's the best VOB player for Android? How to play VOB files on Android? Here're 3 VOB players you can try.
Media Player
It's one of the most popular media players for Android. With Media Player, you can play all popular video and audio formats like MP4, WMV, MP3, AVI, and more. When you open this app, it will automatically find all your videos and display the video format conversion.  
And it can load external subtitles with the same name of video automatically and works with the M3U playlist. It offers a powerful WiFi transfer feature that allows you to upload and download files to or from your phone. Besides, it provides video thumbnails and lest you rename files.
Also read: How to Transfer Music from iPhone to Android?
BSPlayer
BS player is a free VOB player for Android. It enables you to open VOB files with ease and can improve the playback speed with the HW decoding support. And it supports background playback in the popup window. Also, it works with external and embedded subtitles like SSA, SRT, TXT, SUB, etc.
In addition to VOB files, BSPlayer can play many other files, including WebM, SWF, ASF, OGG, FLV, and more. But BSPlayer is an ad-supported video player. If you want to remove the ads and access more features, you should get BSPlayer Pro on Google Play.
MX Player
MX Player is another free VOB player for Android. And you can also play other formats, such as 3GP, WMV, MKV, AVI, and more. When you watch a video, you can change the playback speed by swiping up or down with two fingers, or go to Menu > Play > Speed to control the video speed precisely, and you can zoom in on a video or zoom out it by pinching and swiping across the screen.
Moreover, MX Player supports many subtitle formats and lets you change the text size and scale, move them up and down, and it can clear subtitles with ticker and shadow.
Part 4 – Top 2 VOB Players for iPhone
How to play VOB files on iPhone? First, you may think of PlayerXtreme Media Player. It's a powerful media player for iPhone. This app works with a wide range of video formats and so it enables you to play any video you like. Except for this application, there're some other VOB file players for iPhone. The following part will introduce 8Player and Movie Player 3.
8Player Pro
8Player is a powerful media player for the iPhone, iPad, and Apple TV. This app enables you to play your local videos, music, and images, and other media files from DLNA/UPnP, Dropbox, Google Drive, OneDrive, SMB, and FTP. It supports a wide range of video, music, and image formats, such as VOB, MXF, FLAC, HEIC, TIFF.
Besides, you're allowed to control the media playback on the DLNA players and Chromecast devices, download files from DLNA/UPnP, Dropbox, Google Drive, OneDrive, SMB, and FTP for offline playing. And you can create and edit the music playlist.
Also read: Top 4 Music Organizers to Manage Your Music Library on Desktop
Movie Player 3
Movie Player 3 is designed to play various file formats, including VOB, AVI, MPV, 3GP, MP4, MKV, OGV, and more. With it, you can watch all your favorite videos. And it lets you transfer files via iTunes, Dropbox, and WiFi to the iPhone, iPad, and iPod Touch, open files from Dropbox, and organize your videos with folders and playlists.
Part 5 – How to Play VOB Files with the Best VOB Player?
MiniTool MoieMaker comes as the best free VOB player for Windows. This software allows you to open VOB files, edit them, and convert VOB to other formats. Here's how to play VOB files with MiniTool MovieMaker.
Step 1. Click the Free Download button to download MiniTool MovieMaker.
Step 2. Install and launch this VOB player, and close the pop-up window.
Step 3. Click the Import Media Files to upload your VOB files.
Step 4. Drag and drop all files to the timeline, and click the Zoom to Fit Timeline.
Step 5. Tap on the Play button to play the video file.
Step 6. Edit the video as you like.
Step 7. Click on Export, choose an output video format in the Format list, and browse for a folder in Save to bar to save the video.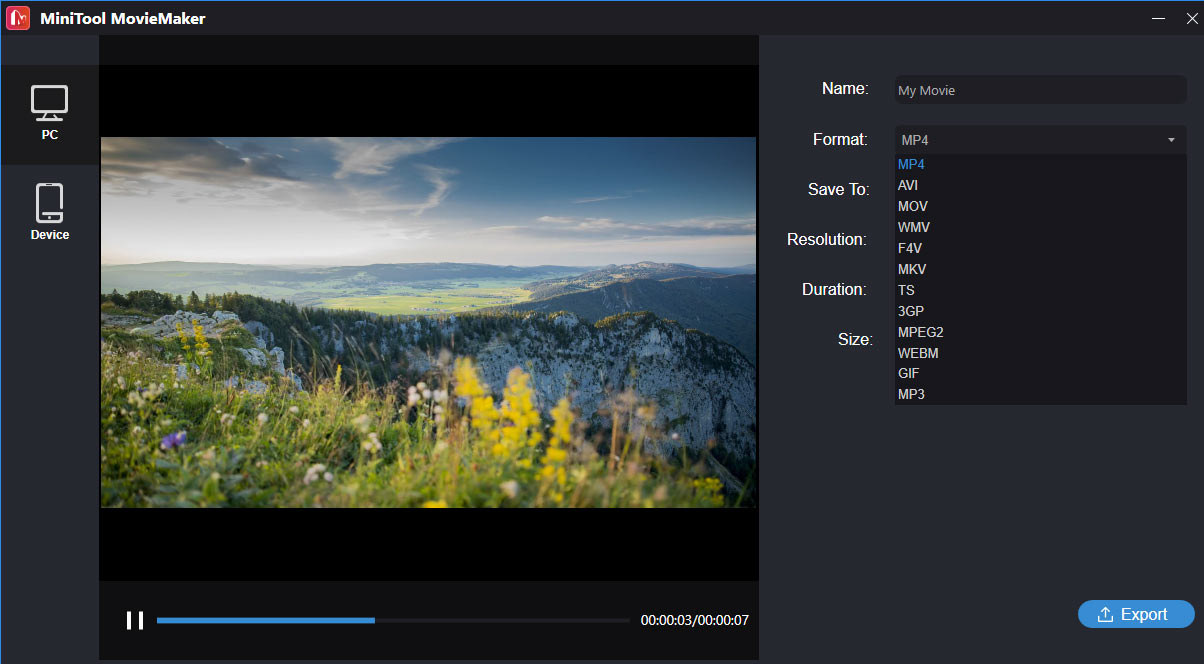 Step 8. Press the Export to save the video on your destination folder.
Conclusion
With these 12 VOB players, you can easily open VOB files on Windows, Mac, Android, or iPhone. Now choose one and try to play your VOB files. And if you want to share other VOB file plyers with us, or if you have any questions, you can leave your opinions in the below comments area or contact us via [email protected].
VOB Player FAQ
How to open the VOB file on VLC Media Player?
Launch VLC Media Player on your computer.
Tap on Media (Windows) or File (Mac).
Click the Open Folder (Windows) or Open File (Mac).
Browse for the folder that contains your VOB files.
Select the folder and click the Open.
How to convert VOB to MP4 on Windows?
Run VLC, select the Media > Convert/Save.
On the File section, click the + Add to import your VOB files.
At the bottom right corner, hit the Convert/Save.
In the Profile dropdown list, select the Video – H.264 + MP3 (MP4).
Tap on Browse to choose a destination folder, then click the Save and Start.
How to convert VOB files to DVD?
Download and install Freemake Video Converter on your Windows PC.
Open this VOB converter and choose File > Add Video to import the VOB files.
At the bottom of the screen, choose to DVD to set MP4 as the output format.
Select an output folder to the MP4 file, and click on Convert.
How to turn VOB to MKV online?
Go to the CloudConvert website and log in.
Hit the Select File to upload your VOB files.
In the Convert to box, set MKV as the output format.
Click on Convert to start the conversion.