Christmas Day is a big day for most of us. We can celebrate it in different ways. You can see many YouTubers make their vlogmas videos to have special celebration. If you want to join them and make vlogmas videos yourself, you just need to keep on reading.
This post will give you a complete guide on vlogmas. You will learn the vlogmas meaning and origin, vlogmas ideas, a step-by-step guide on how to do vlgmas, and some of the best vlogmas video editing software (including MiniTool MovieMaker).
What Is Vlogmas?
What is vlogmas on YouTube? Generally, vlogmas is a blended word with Christmas and vlog (video blog). It is a yearly tradition on YouTube where vloggers or content creators post a daily vlog for 24 days in the lead-up to Christmas.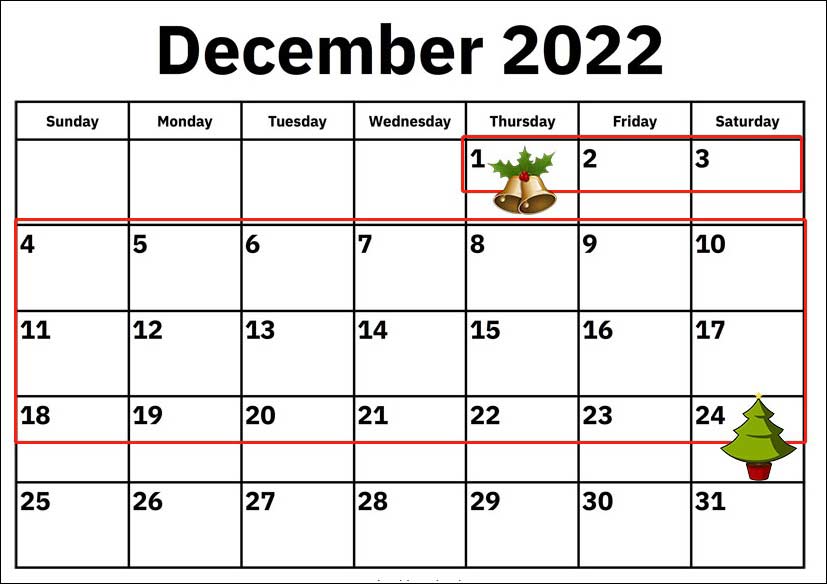 Vlogmas videos are not just the traditional daily vlog, they are all about Christmas and how to get the festive groove on in the lead-up. Similar to VEDA (Vlog Every Day in April) and Vlogtober in October, this vlogging form has become a tradition on YouTube.
Well, how about the origin and who started vlogmas?  Let me explain. It is believed that it was first coined and used in 2011 by Ingrid Nilsen, American beauty and lifestyle YouTuber. She posted her first vlogmas video on 1st December 2011 and continued posting every day until Christmas Eve. Since then, vlogmas has become one of the most popular holiday traditions for creators and viewers alike.
You may find that it is an interesting tradition to give people a space to celebrate the holiday. It also serves as motivation to keep producing creative content.
Also read: How to Start a Vlog – Here Are 8 Useful Tips to Help You Prepare.
How to Do Vlogmas?
After knowing about the vlogmas meaning and origin, want to join the next vlogmas challenge on YouTube and do not know where to start? Firstly, having a YouTube channel is obviously a must. If you don't have one, check out this post How to Become Successful YouTuber in 2022 [6 Steps] for everything you need to know.
Then, the part below will cover some vlogmas ideas that may inspire you. I hope you can get some useful information from it to produce unique and festive vlogmas videos.
Vlogmas Ideas
Filling a content calendar with unique ideas to keep your subscribers engaged may be a tough yet admirable task. After searching some of the best vlogmas channels, I picked some vlogmas ideas from searchable content topics that people actually want to see. These will help you grow your channel as well as give you inspiration for the vlogmas video content.
Christmas Tree or Room Decorating
Decorating video is great to film at the beginning of the holiday season. People always love to see this kind of video because it gets a nice cozy feeling and adds a festive atmosphere.
Christmas Daily Routine
Whether you're relaxing at home or have a busy day, you can record your daily life in the Christmas vlog. Sharing your daily life is a great way to keep your subscribers engaged and build trust and relationships with your audience.
Christmas Recipes or Snacks Ideas
Maybe you have some special traditions at Christmas or some nice recipes that you want to try this year that could be inspiring for your viewers.
Christmas OOTD (Outfit of the Day)
Sharing how you style different pieces of clothing for various occasions would be interesting and inspiring for your viewers to plan the Christmas outfits.
Christmas Movie or Music List
You can share what you think are the best Christmas movies or must-listen Christmas melodies with your audience and give a review. You can check The Best Christmas Movies on Netflix to Watch and Top 10 Popular YouTube Christmas Music of All Time to refer.
Christmas Get Ready with Me
You can film a Christmas GRWM before you go on a party, wedding, date, or just record what you do in the morning or the night routine.
There are also other vlogmas ideas for you such as holiday travel vlog, Christmas outings, Christmas wish list or gift guide, build a Gingerbread house, Christmas workout routine, Christmas giveaway, new year's resolution, and more.
Guide to Make Vlogmas Videos
After we get inspired by these vlogmas ideas, we can get started making a vlogmas video. Let's go through the step-by-step guide on how to make a winning vlogmas video.
Step 1. Decide on a vlogmas idea to film
This is the first and most important step to start your vlogmas creation. You can choose an interesting topic or gather your viewers' most-wanted content for Christmas.
Step 2. Start recording
After selecting the topic, the next thing you need to do is to keep your camera rolling. Don't forget to make your recorded video cover Christmas elements like beautiful presents or lovely Gingerbread houses.
Step 3. Edit the recordings on vlogmas video editing software
Whether you are shooting the video on your phone or camera, you need to modify the vlgmas video footage on the editing software. You can trim, add effects, apply transitions, add text, insert background music, and more to your vlogmas videos. If you are wondering which program to choose, keep on reading and the next part will get you covered!
 Step 4. Publish the vlogmas video on YouTube
Now, you've got your vlogmas ready, publishing and sharing your content to YouTube is the final step. You can also share your vlogmas video on other platforms. Check this post 5 Best Vlogging Platforms Worth Checking Out to get more sharing platforms.
What Is the Best Vlogmas Video Editing Software?
To create attractive and successful vlogmas videos, you will need to use some quality video editing software to modify and polish your vlogmas video footage. Picking the right editing software can make a large difference in vlogmas video success.
What is the best vlogmas video editing software? There are so many options. To save your time on ransacking a suitable one, we've done the research and testing to bring you some of the best vlogmas video editing software for different operating systems. You can read the following content to choose the one which works for you.
MiniTool MovieMaker (Windows)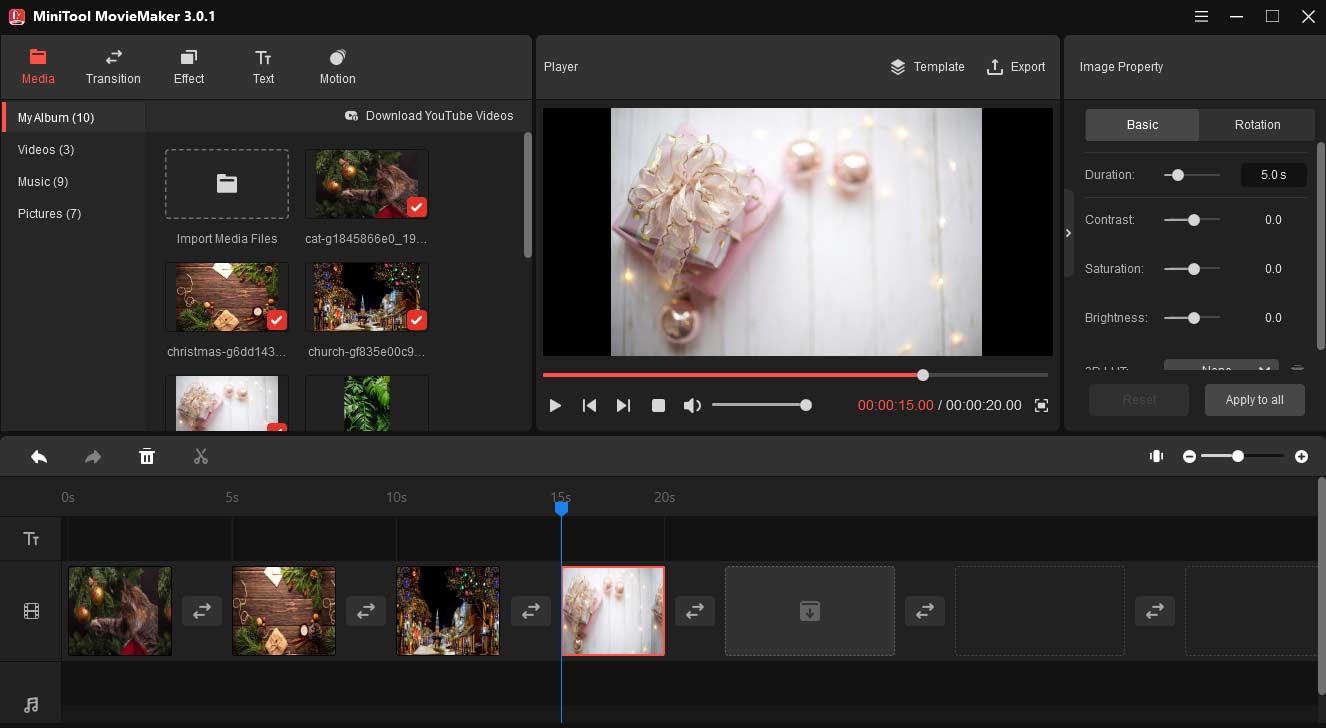 If you are a Windows user and a complete novice in video editing, MiniTool MovieMaker is one of the best options to help you do the vlogmas editing easily. With its clean and simple interface, you can learn about all the editing features and know how to use this tool quickly.
Although it is a free video editor, it comes with basic editing features as well as advanced editing tools. It enables you to your split, trim, cut, combine, reverse, speed up or slow down your vlogmas videos, and add background music to vlogmas videos.
To enhance your vlogmas videos and make them engaging, this free video editing software offers you a wide range of transitions, filters, text templates, and motion effects. You can also use the 3D LUT effects and color correction to achieve a professional looking.
In the latest version, you can even one-click apply the same transition duration and mode to all clips or edit transition on a single video clip. It is a very useful feature that will save a lot of time if you have many clips to edit.
Apart from the visual video enhancement, it also offers audio editing tools to customize the sounds in your vlogmas videos, like volume adjustment, audio merging, audio fading in and fading out effects, and audio extracts.
MiniTool MovieMaker is a useful tool to do vlogmas editing. Amazingly, it is completely free and easy to use!Click to Tweet
Final Cut Pro (macOS)
If you want to do the vlogmas editing on your Mac, Final Cut Pro is a great choice for you. This non-linear video editing software has a collection of powerful features and a sleek interface that enables you to create Hollywood-level vlogmas videos. Paying the one-time fee of $299 will give you access to all of its features perpetually.
It uses a magnetic timeline that supports the non-destructive editing of clips. To edit vlogmas videos, you can move, trim, crop, rotate, resize your video clips and do 3D skews with a simple click-and-drag.
Compound Clips allows you to put together clips, audio, and effects to move them as a unit and keep everything stays in sync. After your vlogmas clips are in place, you can fine-tune them with its rich collection of color tools, transitions, effects, and text tools.
It also supports color correction. You can either balance color, saturation, and exposure automatically or use the color adjustment panel to adjust manually. The panel includes a color picker to set a clip's color values, saturation, and exposure, each of which you can apply shadows, mid-tones, highlights, and more separately.
Adobe Premiere Pro (Windows/macOS)
As an industry-standard professional video editing software, Adobe Premiere Pro is a solid choice for those who want to turn raw footage into stunning cinematic products. If you have mastered the basic editing skills or are already a Creative Cloud subscriber, you can try this program to complete the vlogmas editing.
It comes with extensive format support and built-in tools for video editing, graphics, color correction, and compositing. You will have full control over your vlogmas video clips by using its editing tools in a high degree of precision.
If you have a large number of video clips to deal with, you can work on multiple projects at the same time. You can switch between projects seamlessly at any time. Its audio search, titles and animations, built-in presets, and other advanced functions will give your vlogmas video a professional look.
KineMaster (Android/iOS)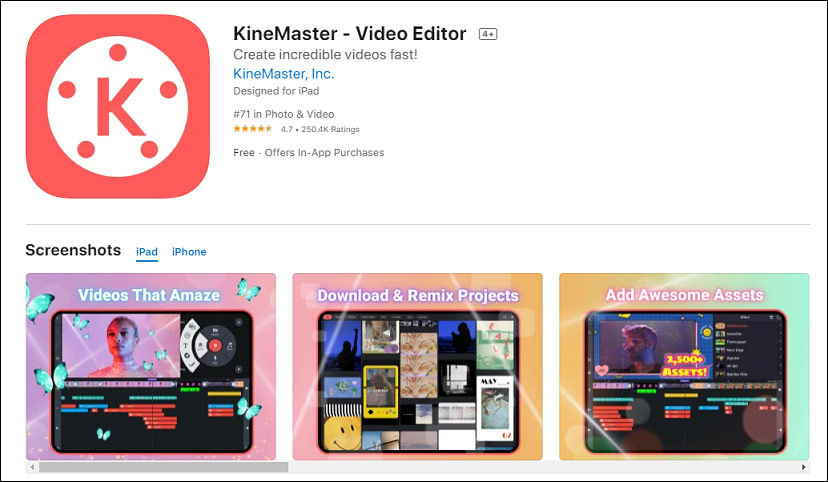 If you want to edit vlogmas videos in an easy way, Kinemaster is one of the best vlogmas video editing apps right on your mobile phone. It offers many editing options such as cropping, rotation, color filters, speed control, chroma-key effects tool, opacity, and special effects like blur and mosaic.
The user-friendly interface makes it easy to swap, drag, and trim your video clips. It also enables you to adjust the color and enhance the image quality of your videos. You can add funny voice-overs, Christmas background music, and other interesting sound effects to your vlogmas videos with ease.
You will access advanced features like keyframe animation tools to add motion to your clips, along with premium blending modes. You can export your videos in 4K or 2160p and upload them straight to social media platforms when you are ready to publish your vlogmas videos.
PowerDirector (Android/iOS)
PowerDirector is also a great vlogmas video editing app that comes with many useful features to craft a perfect vlogmas video. You can use the keyframe controls for transparency and positioning, animated text and titles, and video stabilization to fix shaky video footage.
It also features filters, overlays, and blending modes that allow you to create amazing effects. It also supports green screen chroma-key editing that makes changing the background a breeze. You can also adjust the transparency, rotation, position, and scale for the picture in picture and masks.
It provides a speed adjustment tool to help you produce fast-forward or slow-motion videos. Interestingly. You can experiment with quirky audio effects in voice changer to create a joyful festive atmosphere in your vlogmas.
Conclusion
To sum up, this post introduces the vlogmas meaning and origin, vlogmas ideas, a guide on how to do vlogmas, and some of the best vlogmas video editing software on different platforms.
I hope this post will help you to make winning vlogmas. If you have any questions about this post or encounter any problems while using MiniTool MovieMaker, you can contact us via [email protected]