Vintage videos have never lost their charm in today's world. Vintage processing has become especially popular among many filmmakers. If you want to make vintage videos by yourself and go rival on social media, this post is coming to help you. In this post, we will share the secrets to making vintage videos and some of the best vintage video editors with you.
In this post, we will cover the content about the secrets to shooting vintage video, vintage video editor for PC (MiniTool MovieMaker) as well as some of the best online vintage video editors for your web browser. Let's begin our journey just now!
Secrets to Shoot a Vintage Video
Vintage videos have the magic to take us back to a completely different world. Such videos remind us of footage from retro films. In fact, the old-school vibes and retro effects can be achieved during shooting.
In this part, we will get started with the expert secrets to shooting vintage videos given by photographers based on their practical experience. So, keep the following points in mind when you shoot vintage video footage. Hopefully, the tips given below will help you a lot in creating a retro look.
Use Vintage Lenses
One of the best things you can do to give your project a vintage look is to shoot on a vintage lens. Unlike other lenses, vintage lenses will distort colors around the edge of the frame, a phenomenon called chromatic aberration. Typically, you'll find lots of chromatic aberration in some older or cheaper lenses. You can pick up a vintage lens and buy an adapter to fit whatever mount your camera uses.
Change the Frame Rate
Old school video cameras are filmed with a naturally low FPS (frames per second), which is why all vintage video footage looks a bit choppy and scratched. Lowering your camera's FPS will be the finishing touch; use a posturize time effect and adjust the frame rate down to what you desire.
Keep the Image Soft
As we can see, one of the key differences between modern video and vintage video is the sharpness of the final image. Typically, on vintage videos, images are a little soft and look degraded with time. This is the result of an overall soft video or images. To achieve this on your camera, you can turn down the sharpness in your camera menu settings or simply add a slight blur to your final video.
Decrease Contrast
If you have ever noticed, this move is to do the color correction. In order to make your footage look vintage, you'll need to turn down the contrast just a little. Vintage video footage doesn't hold the same black or white levels as modern video. You can add a contrasting effect and then reduce it to have that vintage look.
Bring Up the Black Levels
We can see many dark black points in the vintage video. This has become synonymous with theatrical color grading as a very good approach to creating a vintage look. The best thing you can do is bring up your black levels and map the bright whites down to a light gray. You can get this by using either the curves effect or the levels effect depending on your color grading tools.
Turn Down the Saturation Level
Turning down the saturation level is another secret to achieving a vintage video look. We can see in vintage videos, that there are not that many bright colors. All you need to do to simulate this look is simply turn down the saturation of your final video. You can easily do this in most video editing software by adjusting the saturation effect.
As we can see, the vintage video effect can be achieved during shooting by adjusting the camera settings. You can also make it happen during the video post-production phase when you get the video footage. The following part is coming to introduce the best vintage video editors.
What Is Best Vintage Video Editor?
What to do if you have shot the video footage and want to create a vintage video effect? The vintage video editor can help you with that. There are many video editors available on the market. What is the best vintage video editor online?  In this part, we offer some of the best vintage video editor applications that you can use.
Best Vintage Video Editor for PC
MiniTool MovieMaker
MiniTool MoviMaker is the first recommendation on the list of the best vintage video editors for Windows PC. It is completely safe video editing software with no watermarks, bundles, or ads.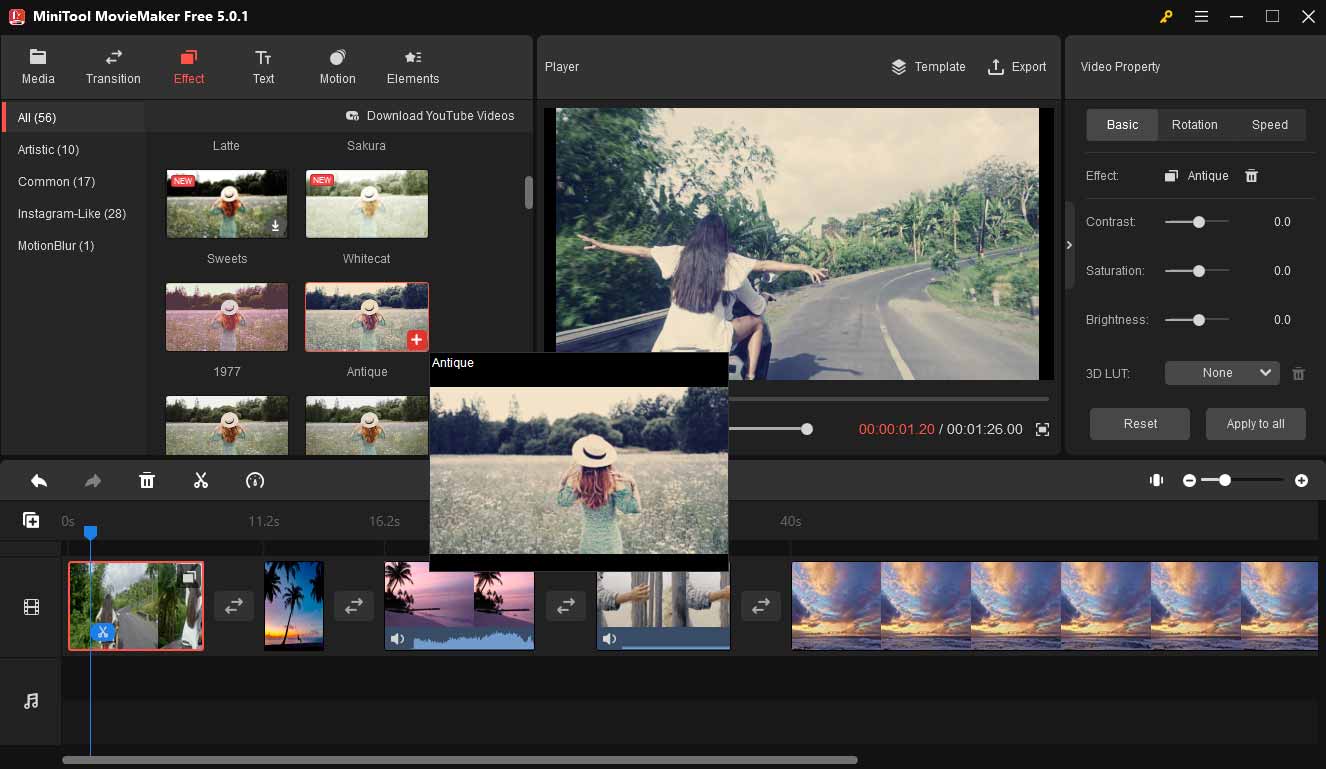 With MiniTool MovieMaker, you can make vintage videos from your favorite video clips and images, which supports many popular formats of video and images. After you import the video footage, you can add the vintage touch to your video with various retro video effects like Antique, Old film, Old photo, Film grain, Industry, 1977, etc.
As we mentioned above, you can do a color correction to achieve a vintage video effect. MiniTool MovieMaker allows you to change the video's brightness, saturation, and contrast. You can also add 3D LUT effects to your vintage video. Besides, you can also add old-fashioned background music to your video to give it a vintage tone.
To polish your vintage video, you can also apply transitions, animated elements, text templates, and motion effects to the video. Additionally, you can use this program as a video splitter, trimmer, rotator, merger, reverser, flipper, and video speed controller.
In the next part, we will introduce you to how to make a vintage video with MiniTool MovieMaker. Keep on reading to start creation.
How to Make a Vintage Video with MiniTool MovieMaker?
Step 1. Download and install MiniTool MovieMaker.
Click the Free Fownload button, then install this program according to the instructions. Launch this video editor, and close the pop-up window to enter its main interface.
Step 2. Import the vintage video footage.
Click Import Media Files and add the clips to the Media library. Drag and drop the media files to the timeline. Click the Zoom to Fit Timeline button to adjust all clips to fit the timeline.
Step 3. Apply vintage video effects.
Go to Effect, explore and choose the desired one, and hover the mouse over it to preview. Target the video clip and click the + button or directly drag the wanted effect to the clip.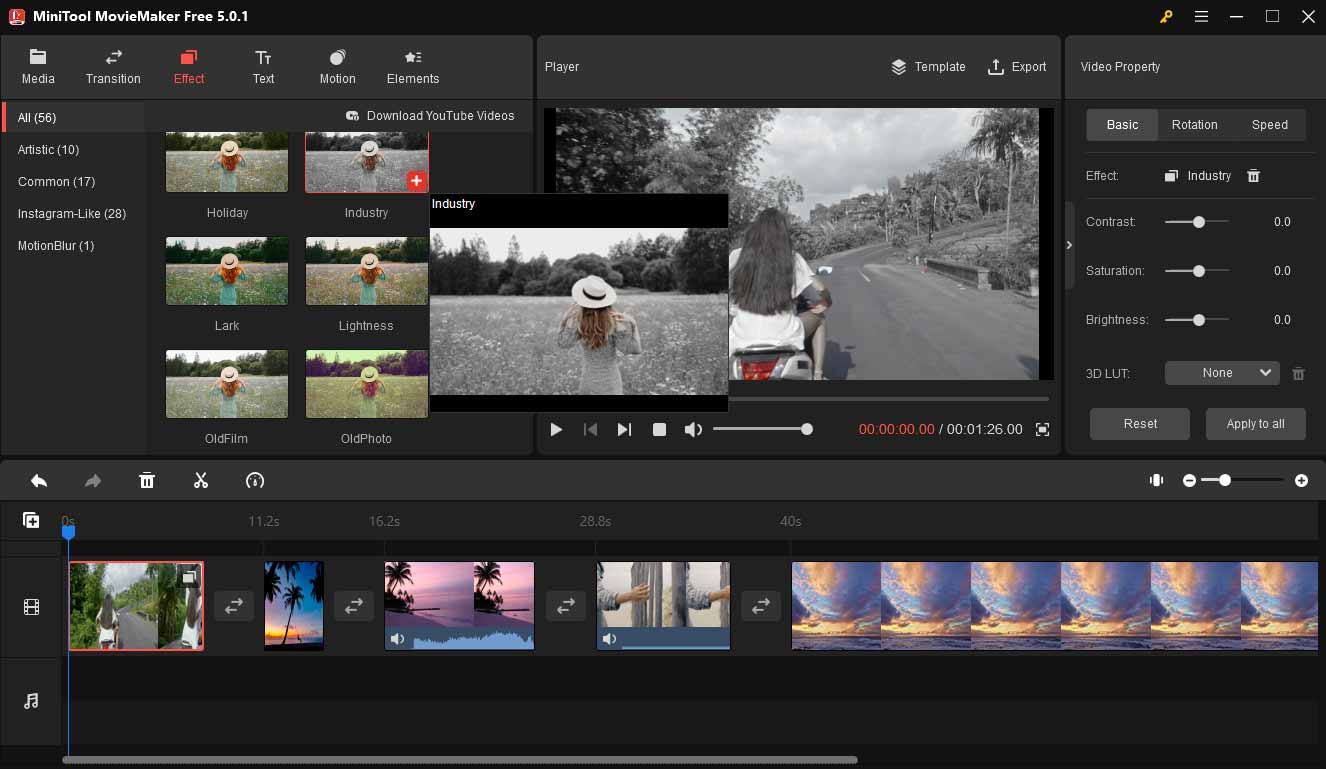 On MiniTool MovieMaker, you have many vintage video effects to choose from. Like Antique, Old film, Old photo, Film grain, Industry, 1977, Ink Well (Black and white) can give a vintage touch to your video.
Step 4. Adjust the color of the vintage video.
Click the target video on the timeline and the video editing window will pop up. To change the color correction settings (contrast, saturation, brightness), just move the slider on the indicator to achieve the effect you like.
Step 5. Export the final vintage video.
After finishing editing, press the Play icon and go over the whole video through the previewing window. If all things are right, hit the Export button to enter the export window. At last, click the Export button again.
MiniTool MovieMaker is an amazing vintage aesthetic video editor for Windows PC. It has various vintage video effects to choose from.Click to Tweet
Best Online Vintage Video Editors
If you want a vintage video online and make the vintage video on your web browser, you have the following options. We handpicked the top 3 online retro vintage video editors for you.
FlexClip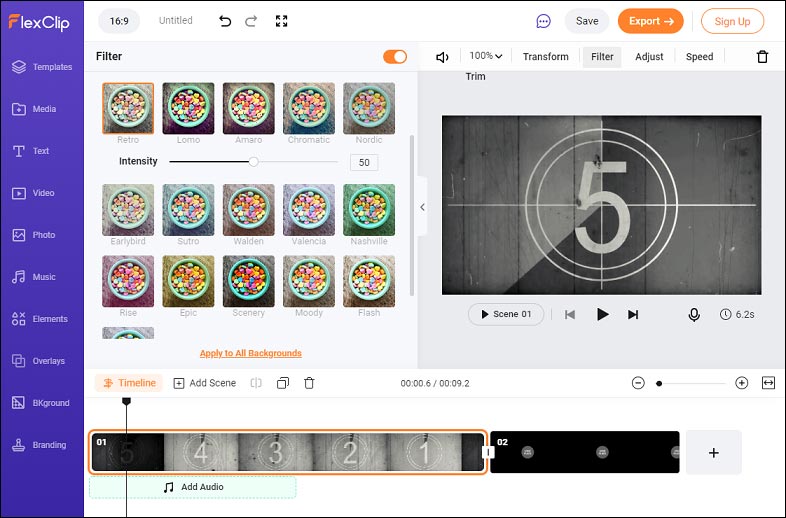 FlexClip is the first online vintage video editor free to use that you can't miss. It has many vintage video overlay filters to use for free. You can also use it to do color correction for retro effects by adjusting the contrast, highlight, vignette, and saturation.
It comes with ready-to-use vintage video templates for you to customize. What's more, FlexClip's vintage video editor is easy to use; everyone can make a vintage video with great ease even a novice.
The main rules for color correcting a video to the vintage look are low contrast, low highlights, low saturation, and high vignette.
Kapwing
Kapwing is a good option for you to make a vintage video. With Kapwing, you can have full control of your video and achieve the old-fashioned look that's perfect for your video easily.
It allows you to turn the raw videos into a retro look with vintage or black and white effects. You can use a lot of retro filters and adjust the brightness, contrast, and saturation to add vintage effects to your video and make it look like an old film.
Veed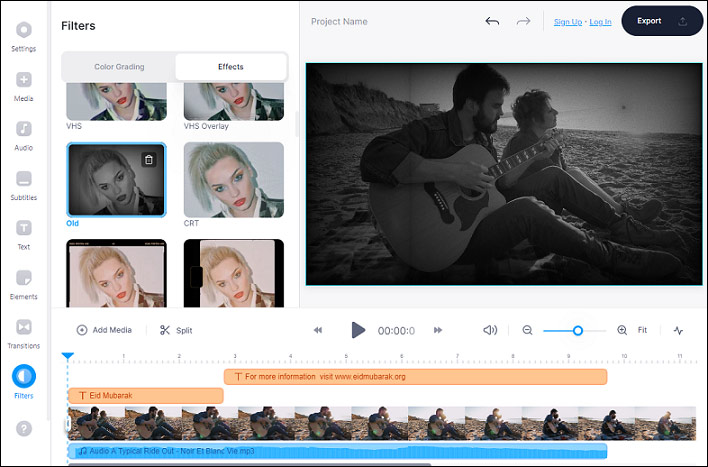 Veed is also an online vintage video editor to help you make a video with an old-style cinematic feel in a few clicks. With this retro vintage video editor, you can give your movies the texture of the vintage film.
It enables you to use its vintage filters to add retro effects to your video, including 90s VHS, Vignette Sepia, black & white, and more. It also allows you to adjust brightness and contrast settings, exposure, and saturation, to create lighting effects that give your video a vintage look as you like.
You may also like 7 Best Tribute Video Makers & Tips for Making Tribute Videos.
Best Practices to Make Your Vintage Video Stand Out
You can follow the best practices to help you make perfect vintage videos:
Use vintage video editor apps to add old-school feels to your video.
Keep the camera on low highlights and low contrasts if you use a specific vintage camera. As we have discussed above, they help to provide the ultimate old-school effect.
Keep low saturation settings for shooting vintage videos. Take control over saturation, hue, and luminance of video.
Add overlays and respective filters to recreate a vintage look. You can add things that dust, scratch, and grain the heck out of the video that you have created.
Pay attention to the black and white filters you have used.
Lower the frame rate or FPS to create an excellent vintage look. You can make it to 18 or 14 FPS depending upon the aesthetic requirements.
Conclusion
After reading this post, you must have known how to make a perfect vintage video. We do hope with the vintage video editors we shared above can help you make a video look vintage just like an old film. Just pick the one you like to make a vintage video now.
At last, do not hesitate to contact us via [email protected] if you have any questions or encounter any problems while using MiniTool MovieMaker.