Are you looking for digital apps to make photos look vintage? A photo speaks a thousand words when it has been hidden and undergoes a natural aging process. Now, the vintage photo is back in vogue. You can use these apps to make photos look vintage. (You can try MiniTool MovieMaker to add effects to your videos.)
Given that the word "vintage" is a hot point for anything under the sun, it's no wonder these vintage photos are hugely popular. Vintage photos can be created when you take a photo using a film camera, giving a nostalgic, retro, throwback feel.
Luckily, you don't need expensive film camera to create a vintage photo. These apps to make photos look vintage with editing techniques can make it happen.
Huji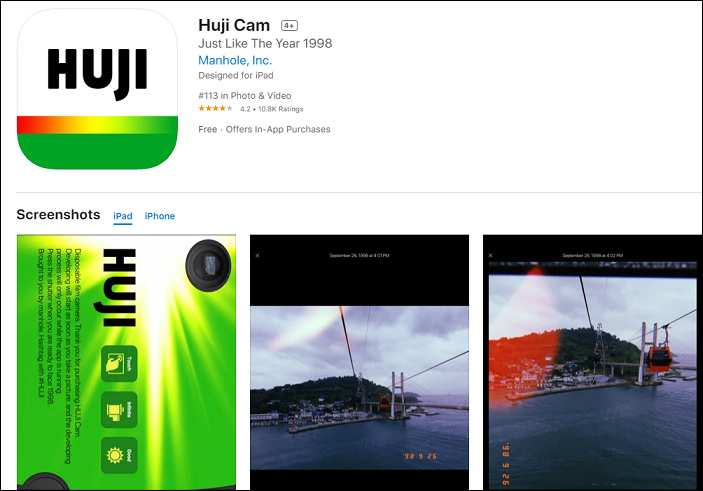 Huji is the first on our list of best apps to make photos look vintage. It is a popular app in the vintage filter arena and is available for iOS users. It can imitate the effects of a 1998 film camera, right down to the date stamped on the photos. The timestamp can be customized and makes a great feel of vintage.
The photos can be captured using the app and Huji will apply vintage effects to the photo at random. Then the photo will appear in the app's gallery and can be downloaded into your phone's storage. The pre-existing photos can be edited with a $1 purchase made at the app.
You may also like: 5 Best Apps to Fix Blurry Pictures for iPhone
Retro Camera Plus
Retro Camera Plus is not only a vintage photo editor but also a retro image creator. It is available for both Android and iOS.
It gives you a wide range of options to edit photos. It also allows you to fully customize the way you click and edit your photos with a camera option and an option to edit images that you have already captured. You can adjust vintage filters to create special photo effects.
1998 Cam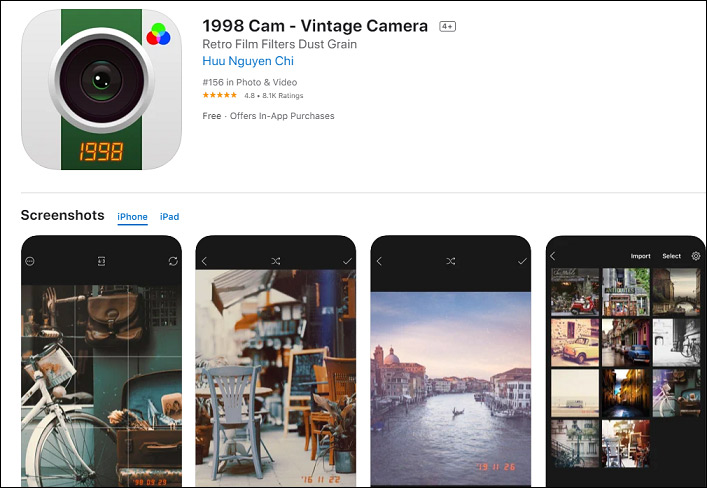 1998 Cam is a camera app that can be downloaded free on both android and iOS. Just as the name suggests, this app provides the effect of a 1998 disposable film camera, just like Huji we mentioned before.
It is also among the best editing apps to make photos look vintage in the free version, along with a whole range of other editing options such as overlays, glitch effects, grain, light leaks, and scratch effects.
Snapseed
Snapseed is extremely popular with users. It is exactly among the best editing apps to make photos look vintage.
This app does not provide you with scratches, timestamp options, or the light leak effect. It does provide a whole range of grain filters that can be applied to your photos. These filters can be adjusted according to the intensity you like and they come with a wide variety of color schemes that you can choose from.
You can correct and edit your photos in the app before or after applying the grain effect with saturation correction, many other filters, black and white effects, and many more facilities.
Conclusion
If you're looking for the best apps to make photos look vintage, now you've got at least four ways to snap flicks vintage style. And you can supplement this list in the comments!
Also read: