GIFs are a great way of making content more appealing. However, searching for the right GIF that expresses what you want to say can be time-consuming. So, why not make a GIF by yourself? It would be much easier if you using the best GIF makers we summarized in this post, such as MiniTool MovieMaker.
Have you noticed that GIF has become more popular than ever before on the Internet, social media platforms, or instant messing apps? Do you want to make your own vivid and interesting GIF?
If your answer is positive, check the following outstanding GIF makers. With them, no matter what device you're using, you can easily create an animated GIF from images or videos in a few minutes and then share it with your family, colleagues, or friends.
Part 1. Best GIF Makers for Windows
# MiniTool MovieMaker
MiniTool MovieMaker is a free yet professional video editor designed for Windows users, with no ads, viruses, bundles and watermarks. Meanwhile, it is the best free GIF maker, which allows you to make a GIF from images, such as JPG to GIF, PNG to GIF, etc.
MiniTool MovieMakerClick to Download100%Clean & Safe
You can also use it as a GIF converter to convert GIF to video or video to GIF without quality loss.
In addition to making and converting GIFs, MiniTool MovieMaker also provides some advanced features for editing GIFs as follows:
Add text to GIF.
Add music to GIF.
Apply effects to GIF.
Speed up GIF and slow down GIF.
Combine multiple GIFs into one.
Quickly rotate and reverse GIF.
Easily split and trim GIF to reduce GIF size.
# ScreenToGif
ScreenToGif is a free screen recorder tool, which lets you record, edit, and save as a GIF, video, or other formats. It offers three ways to record content. You can capture your screen, your webcam, or a digital sketch board.
With ScreenToGif, you can select a portion of your screen and record anything that happens in that specific area, and there is an inbuilt editor that can be used to edit GIFs, such as remove audio and add captions.
Part 2. Best GIF Makers for Mac
# Giphy Capture
GIPHY Capture, used to be called GifGrabber, is a simple yet powerful GIF maker. It is the best way to make a GIF on your Mac. The best part of GIPHY Capture is that whatever you display on your Mac can be converted into a GIF extremely quickly and extremely easily.
If you want to create a short and sweet animated GIF, then you can definitely go with this app. It allows you to edit the GIF with animated captions, themes, frames, and much more. Apart from all these tools, you can preview the size of the GIF file.
# PicGIF Lite
PicGIF Lite is a free GIF creator for Mac that enables you to quickly create incredible animated GIFs from any images or short videos. And with its animated GIF editor, it's easy for you to customize GIF size, sequence, frame delay, etc.
PicGIF Lite supports many formats, which makes it possible to create GIFs from any desired video formats. Besides, it also allows you to create animated photo slideshows from several photos. Once finished, you can directly share the GIF via Tumblr, iMessage, email, and Finder.
Part 3. Best GIF Makers for Android
# GIF Maker – GIF Editor
GIF Maker – GIF Editor is one of the best GIF Maker apps available. It is an ideal option for those who want to make a GIF on Android because it enables you to create a GIF from local images or online videos and then share it on GIPHY, Instagram, Twitter, and many more.
The app allows you to create a GIF from up to 200 photos. More importantly, it provides you with opportunities to edit GIFs before saving it, such as crop and cut unwanted parts of the file as well as add stickers and texts to GIFs.
# GIF Maker, GIF Editor, Video Maker, Video to GIF
GIF Maker, GIF Editor, Video Maker, Video to GIF is an all-in-one GIF tool with a beautiful interface. This app lets you make a GIF from a video or multiple images and instantly share them on social platforms. It also has a search engine that you can use to search for GIFs from GIPHY.
This app offers plenty of advanced editing features, like GIF rotator, GIF compressor, and GIF resizer. You also have the option to crop or trim video before generating a GIF. By the way, you can even use it to convert a GIF into multiple images.
Part 4. Best GIF Makers for iPhone
# GIF Toaster – GIF Maker
If you've already got a video or a collection of photos that you'd like to turn into a GIF, GIF Toaster – GIF Maker for iPhone devices can help. This animated GIF maker allows you to create GIFs from a compass of file types such as videos, images, time-lapse, bursts, etc. in just a few taps.
The app consists of all types of effects and filters that make your GIF stand out. It also has the ability to crop images. Apart from this, you can also flip GIF, rotate GIF, add text and filters to GIF, convert GIF to other multimedia files, or even combine several GIFs to a whole one.
# GIF Maker – ImgPlay
GIF Maker – ImgPlay is your one-stop solution to convert, split, and edit GIF & video. The application allows you to make GIFs using live photos, burst photos, as well as videos, and easily edit the GIF by adding text, editing specific frames, controlling speed, and even quantifying loops.
After creating GIFs, you can share it with iMessage, Messenger, WhatsApp, Instagram, Twitter, and Tumblr directly. Apart from making GIFs, meme creators can use the app to combine and caption GIFs to make hilariously funny memes.
Part 5. Best Online GIF Makers
# GIFPAL
GIFPAL is an amazing free online GIF animator, which enables you to create GIF animations from either images on your PCs or a webcam. After creating, GIFPAL lets you directly download your GIF with no watermark or share it on Tumblr and Twitter.
Related article: How to Make a GIF from a YouTube Video
Moreover, this easy-to-use GIF maker also allows you to change the quality of the images, set contrast, brightness, saturation, and hue, reverse the frames to play the GIF backward, apply 30 visual effects, as well as adjust the animation speed.
# MakeAGif
MakeAGif is an extremely popular online GIF maker. What makes it unique and special GIF maker is that it lets you create a GIF from multiple images, a video from your computer, a YouTube or Facebook video, or directly from your webcam.
If making a GIF from images, you can resize all of the images at once and set a custom animation speed. It's also easy to produce a GIF from a video because you just have to set the start and end time. Once created, you can save the GIF to your computer and copy its URL to find it online.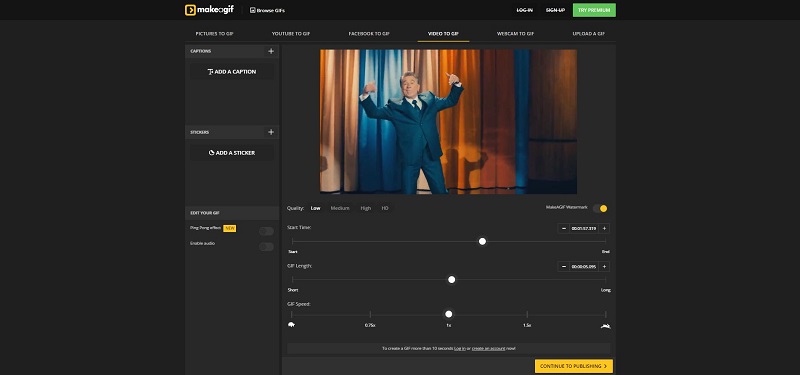 Bonus – How to Make a GIF
The above have discussed 10 best GIF makers compatible with different devices. Now, it's time to learn how to make a GIF. Here, we take MiniTool MovieMaker as an example to introduce in detail the specific steps on creating a GIF from a video or several still images.
Option 1. Video to GIF
Step 1. Import a video file
Install MiniTool MovieMaker on the Windows and launch it to get the main interface. Click the Import Media Files to add your video file into the software. Then drag and drop the video onto the timeline, or click the + icon on the thumbnail of the video.
MiniTool MovieMakerClick to Download100%Clean & Safe
Step 2. Make a GIF
Now, you can customize the video before turning it as a GIF.
Change GIF duration: Hover your mouse over any edge of the video to get the trim icon. Drag the icon forward or backward to trim the content that you don't want to keep in the GIF.
Add text to GIF: Click the Text tab from the top toolbar, choose a caption style, and then drag it to the text track. Type your text and click OK to save it.
Add effect to GIF: Select the Effect tab, choose the desired effect, and click the + icon to add it to the GIF.
Color correction: Double-click on the video clip and then change its brightness, saturation, and contrast.
Step 3. Export the GIF
When you're done, click the Export button in the upper right. Once the export window pops up, set GIF as the output format, rename the GIF file, and change the destination folder as you like.
Option 2. Image to GIF
Step 1. Import the images
Run MiniTool MovieMaker on your PC. Close the Movie Templates window to enter the main interface of the software. Import your images by clicking the Import Media Files button. Then drag and drop them onto the timeline in the order you want them to appear in the GIF.
Step 2. Merge images into a GIF
Click the Transition tab to open the transitions library. Choose your preferred transition and then drag and drop it between two images on your timeline. Of course, you can also add text and effect to the images if needed.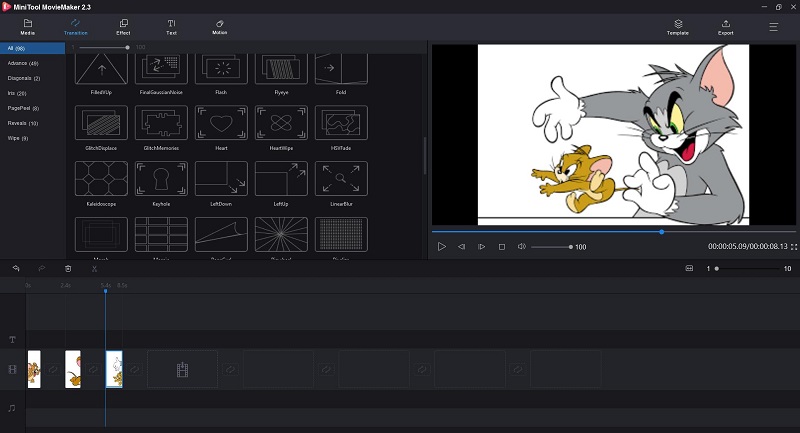 Step 3. Save the GIF
If you're satisfied with the result, tap on the Export button. Select the GIF format to save it on your PC.
Why not make a funny GIF using MiniTool MovieMaker?Click to Tweet
Bottom Line
Making a GIF is much easier than you think because you don't have to create it from scratch. Just using the above-mentioned GIF makers, you can easily create eye-catching GIFs from existing videos and images.
If you have other good GIF maker options to recommend, please let us know via [email protected] or share them in the comments section below.
Best GIF Maker FAQ
What is a GIF?
Short for Graphics Interchange Format, GIF is a bitmap image format by a team at the online services provider CompuServe in 1987. It is widely used for expressing emotions.
How big can a GIF be on Twitter?
Photos can be up to 5MB, while animated GIFs can be up to 5MB on mobile, and up to 15MB on the web. Twitter supports looping GIFs. However, if your animated GIF doesn't loop and plays a single time, it will display as a static image.
How do I make an animated GIF online?
Go to makeagif.com.
Create an account and tap on Make a GIF.
Select Pictures to GIF and click UPLOAD IMAGES.
Rearrange these images and select CONTINUE TO EDITING.
After finishing all editing, click CONTINUE TO PUBLISHING.
Rename the GIF and hit CREATE YOUR GIF.
How to make a GIF from photos on my iPhone?
Launch the Shortcuts app.
Search for and download the Convert Burst to GIF shortcut.
Run the shortcut by tapping on the arrow.
Select one photo and it is quickly transformed into a GIF.
Tap on the Done button.