This article published by
MiniTool official web page
mainly introduces a type of video effect known as VHS (Video Home System) effect, which is gives your modern footage the classic look, color, and distortion of old video tape.
What Is a VHS Video Effect/Filter?
VHS effects are a new kind of video distortion that is applied to crate stylized video with retro qualities. Usually, they are used in music videos. Among video creators who love the classic appearance, VHS video effects are popular.
VHS Effect in Video Editing
VHS effect is a type of video editing style that adds film grain, noise, and saturation to a video clip or footage. Videos with a VHS filter looks like clips recorded from VHS tapes, old camcorders, or VCR, which are favored by many YouTube users nowadays.
How to Add VHS Effect to Video?
Since VHS-effect videos are the trend today, a lot of people want to create their videos with such an effect. Then, how to put a VHS filter on a video? There are some ways.
#1 Physical Method
First of all, you can add a VHS effect on the top of a video from a camera with no lens attached, which will make your video seems like it was captured through old VHS tapes.
#2 Use Software
Another way to convert video to VHS effect is to rely on VHS video effect apps such as MiniTool MovieMaker, which can help you make the desired videos in a few steps.
MiniTool MovieMakerClick to Download100%Clean & Safe
Step 1. Download and install VHS video filter app on your computer.
Step 2. Open the application and go to its main interface.
Step 3. Click on the Import Media Files option under the Media tab to upload your target video on which you'd like to add VHS video overlay.
Step 4. Drag and drop the uploaded video to the below timeline.
Step 5. Move to the Effect tab on the top menu.
Step 6. Choose a proper old-style filter to add it on your video. Just click on the download icon on the bottom right of the effect to download it from online server. Then, click the + icon to add it to the video on the timeline.
Step 7. Or, you can choose a 3D LUT filter in the upper-right Video Property section, which will appear when you click on the video on the timeline track. There are several 3D LUT filters in the drop-down list that can create a VHS-style video such as RMNDark1.
Step 8. You can further do other edits to your video like add texts, a motion, or elements. Also, you can change the contrast, saturation, and brightness to make your video looks like an old video. Besides, video rotation and speed change are also available.
Step 9. Export the created VHS video.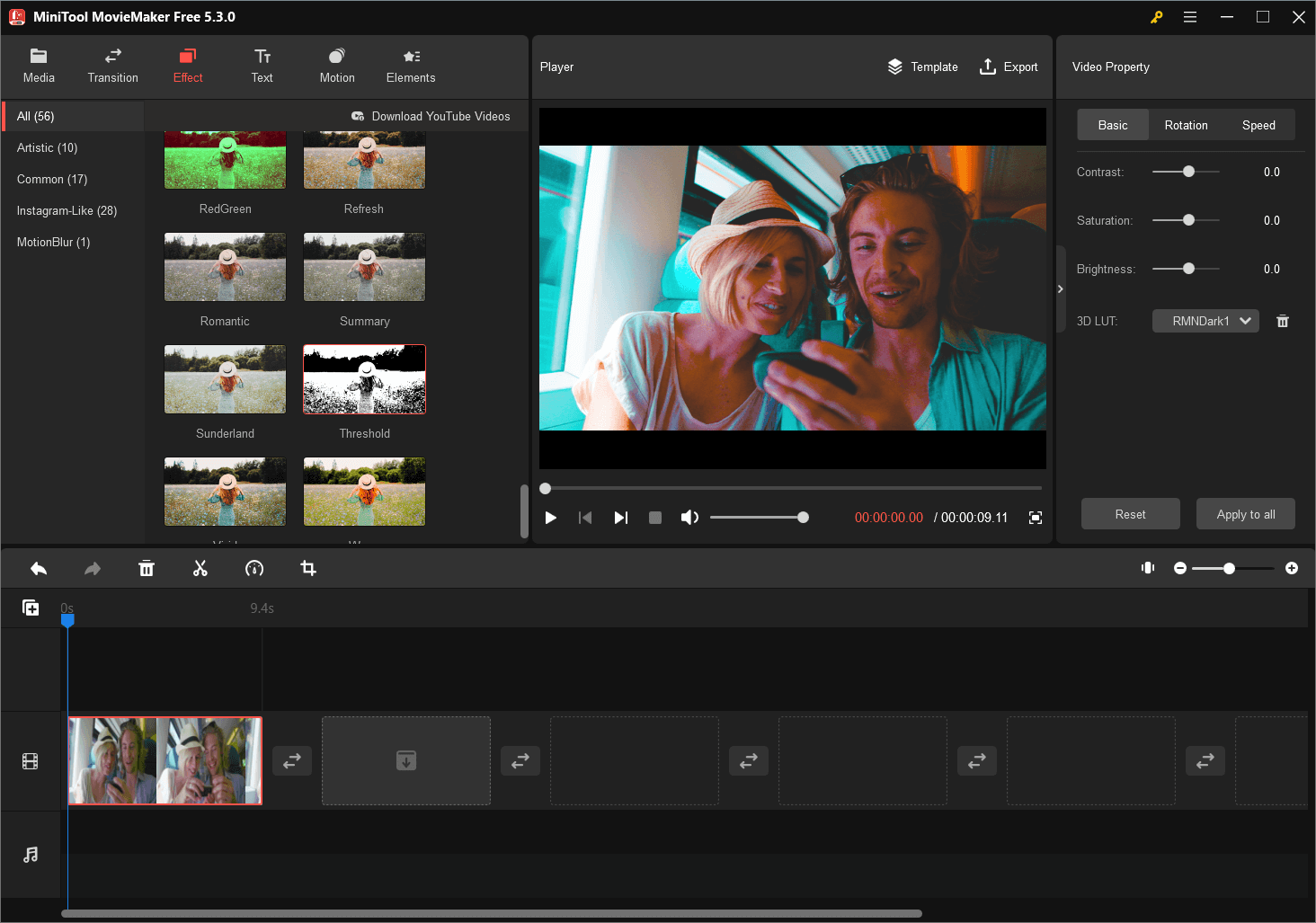 Finally, you have successfully got a video decorated with VHS effect.
VHS Video Effect Online
VEED.IO provides video editor effects like VHS, glitch, filmic filters, etc. for you to add to your videos online. It is an online video editor packed with wonderful effects to make your videos attractive. You are able to put VHS filters, glitch, snow, black and white, filmic effects and so on to your clips. Just add the popular VHS video camera effects to make eye-catching color-saturated 70s, 80s, or 90s-style footages.
Top Vintage VHS Video Filters
In general, VHD video effects are textured and distorted. They mimic an old analog video recording on tape cassette. The following the best retro VHS effects.
Top 8 VHS Filters for Adobe After Effects
VHS opener
VHS freeze frame opener
VHS transitions
VHS style slideshow opener
Damaged VHS effect
VHS toolkit for After Effects
VHS video effect overlay
VHS horror trailers and titles
8 Best VHS Effects for Adobe Premiere Pro
VHS style pack
VHS build pack
VHS retro trailer
20 free VHS overlays
Rampant VHS effect
VHS film effect preset
Stories – glitch & VHS edition
VHS glitch
3 DaVinci Resolve Popular VHS Filters
VHS & glitch logo
VHS slideshow
VHS retro styles
Top 3 Final Cut Pro VHS Effects
VHS effects
VHS street opener
VHS glitch transitions
3 Best VHS Filter on Motion Graphics
VHS noise background
Static VHS screen & text effects
VHS color noise pack
Related Articles