QuickTime, developed by Apple, is an excellent multimedia architecture that's designed to handle videos, images, and audio files. Sometimes, you may want to try other similar media players on your computer and phones. To help you out, this post will show you 10 alternatives to QuickTime.
QuickTime, a powerful multimedia platform with a built-in media player, allows you to view a wide range of file formats in high-quality. Except for playing files, QuickTime can edit your videos, record audio, video, and screens, and share or export movies. Apple has released QuickTime version for Windows, but in 2016 it discontinued support for the Windows version of QuickTime. And in 2018, Apple discontinued support for the QuickTime 7 on macOS.
If you're looking for some QuickTime alternatives, you've come to the right place. This post has curated 10 alternatives to QuickTime for the computer and phones. Want the best free media player for Windows? MiniTool MovieMaker is recommended here.
Top 10 QuickTime Alternatives
VLC Media Player
PotPlayer
Aiseesoft Blu-ray Player
SMPlayer
RealPlayer
MiniTool MovieMaker
MX Player
PlayerXtreme Media Player
GPlayer
KM Player
Part 1. Top 6 QuickTime Alternatives for the Computer
VLC Media Player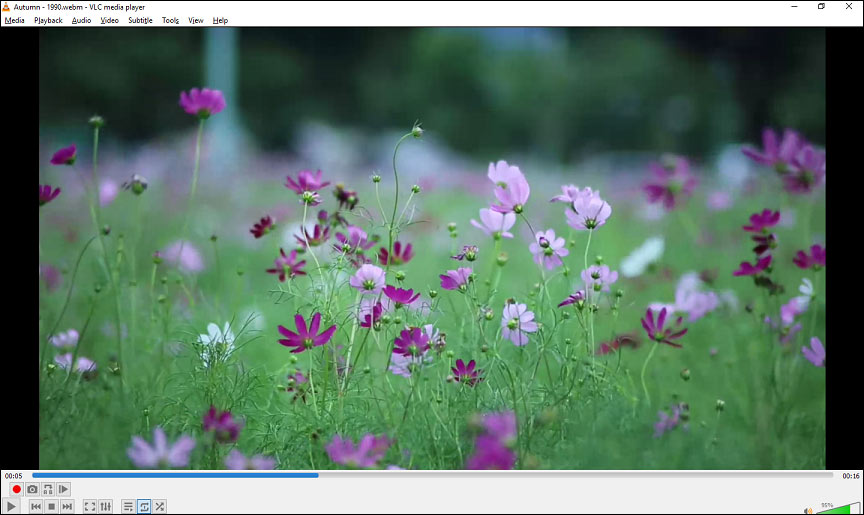 If you want a QuickTime alternative for Windows, VLC comes as the first recommendation. VLC Media Player, formerly VideoLAN Client and commonly called VLC, is an open-source, cross-platform, and free media player and streaming media server software. It has no ads, no spyware, and no user tracking. It plays almost all video and audio files, and it also can play much other content like DVD, text files, closed caption, ID3 tags, etc.
Besides, VLC offers many amazing advanced features. For a better watching experience, you can slow down or speed up videos, toggle the video in full screen, minimize the interface, adjust subtitle speed, control the volume, and more. Except for viewing videos, it enables you to download videos from YouTube with clicks, convert videos and audio files to any format, record playing audio and videos.
What's more, VLC can loop a part of a video or an audio file, rotate videos at any degree, crop videos, cut parts of a video, add text or logo over videos, records desktop and webcams, capture screenshots, bookmark a portion of a video, and more. By the way, it also works as a graphic equalizer for your music.
PotPlayer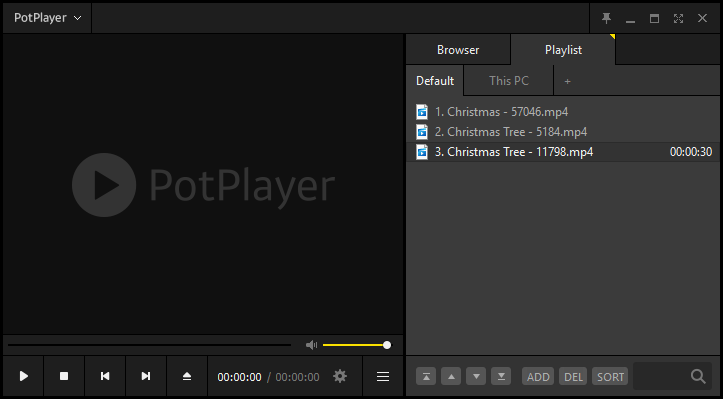 PotPlaye is also one of the best alternatives to QuickTime for Windows. This media player is compatible with almost every video format, and it provides internal codecs. PotPlayer supports a variety of 3D glasses, and so you can get an amazing 3D viewing experience. And it also works with various devices, including TV, DVD, HD TV. Undoubtedly, it can play a wide range of audio files.
PotPlayer offers smooth and seamless video play. When you watch a video, you're allowed to change the playback speed, create a bookmark for your favorite scene or chapter, preview the scene with snapshots, etc. And it supports a wide range of text subtitles and Blu-ray subtitles. Moreover, this software enables you to capture audio, video, and screenshots.
This multimedia software can play broken files and supports various output formats. Other features of PotPlayer include webcam support, live broadcasting, and gapless video playback.
Aiseesoft Blu-ray Player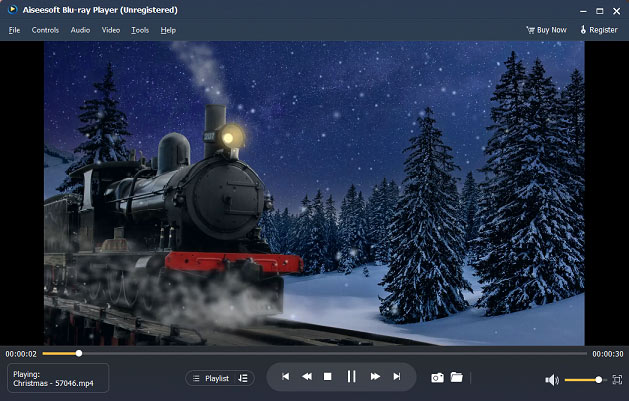 Aiseesoft Blu-ray Player is another QuickTime alternative for Windows. It offers a free download and it's simple to operate. As a powerful media player, Aiseesoft Blu-ray Player enables you to view Blu-ray (Blu-ray disc, Blu-ray folder), DVD (DVD disc, DVD folder, ISO image file), HD videos, and a variety of formats of video and image files, including MPG, MP4, AVI, GIF, PNG, BMP, and more.
It's also an excellent music player and supports the most popular audio formats like AAC, AIFF, WAV, MP3, FLAC, OGG, M4A, and more. When you play a file, it allows you to choose the video quality, audio quality, audio effects, and subtitles when viewing files. Also, it lets you crop videos, change the video aspect ratio, adjust the hue, brightness, contrast, saturation, and gamma of the video.
Aiseesoft Blu-ray Player can take a quick snapshot of your favorite scene when you watch a video. To help you manage your files easily, it lets you create music and video playlists to organize your TV shows, movies, music albums, video collections, Blu-ray creations, etc. The only drawback is it's not a free alternative to QuickTime.
Related article: How to Convert AVI to GIF (Windows/Mac/Online)
SMPlayer
If you want an alternative to QuickTime for Windows and Linux, SMPlayer is a good choice. It's is a free and open-source media player and it's under the GPL license. It has built-in codecs, so you don't have to install other codecs. It supports the most common media formats like AVI, MKV, MP4, MOV, etc., allowing you to play and video and audio content.
One of the important features of SMPlayer is that it can remember the setting of files you view. When you open a video again, the video will be resumed at the same point, volume, etc. Another feature is that SMPlayer lets you search and download subtitles from OpenSubtitles. Also, it can play YouTube videos and offers a plugin to search for YouTube videos.
SMPlayer also includes some advanced features. It works as a video equalizer to adjust the brightness, contrast, hue, saturation, and gamma of the video image. It offers multiple playback speeds, allowing you to play videos at 2X, 4X, …, or in slow motion. And it offers many videos and audio filters and adjustment of audio and subtitles delay.
What's more, SMPlayer provides several skins and icon themes, and so you can change its appearance. And it supports more than 30 languages.
Also read: Top 8 Best Websites to Download Movie Subtitles for Free
RealPlayer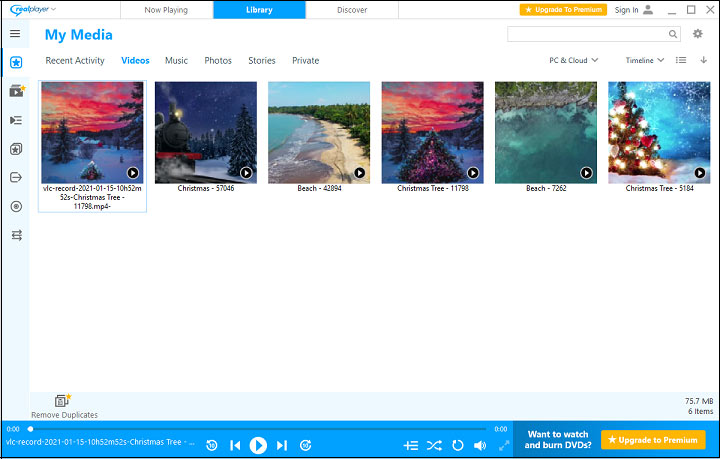 RealPlayer, formerly RealAudio Player, is another QuickTime alternative for Windows, allowing you to play videos, music, and photos. It's compatible with almost all video and audio formats, including DVD, video CD, MPEG videos, AVI, MOV, MP3, CD audio, CD audio, and more. For the image formats, it supports BMP, GIF, JPEG, JPG, and PNG. And RealPlayer offers a wide variety of plug-ins.
RealPlayer enables you to search and download videos from thousands of popular video sites, and then view them offline in the RealPlayer library. It also lets you manage and organize your media library by date and location, helping you find what you want quickly. And it can keep your videos private by signing a PIN.
RealPlayer works on Chromecast, Roku, and Xbox One, so you can stream content on a bigger screen. After uploading videos to the RealCloud account, they're automatically transformed into the desired ones that can play on your tablet, smartphones, and computer. And it can trim videos and delete unwanted parts.
MiniTool MovieMaker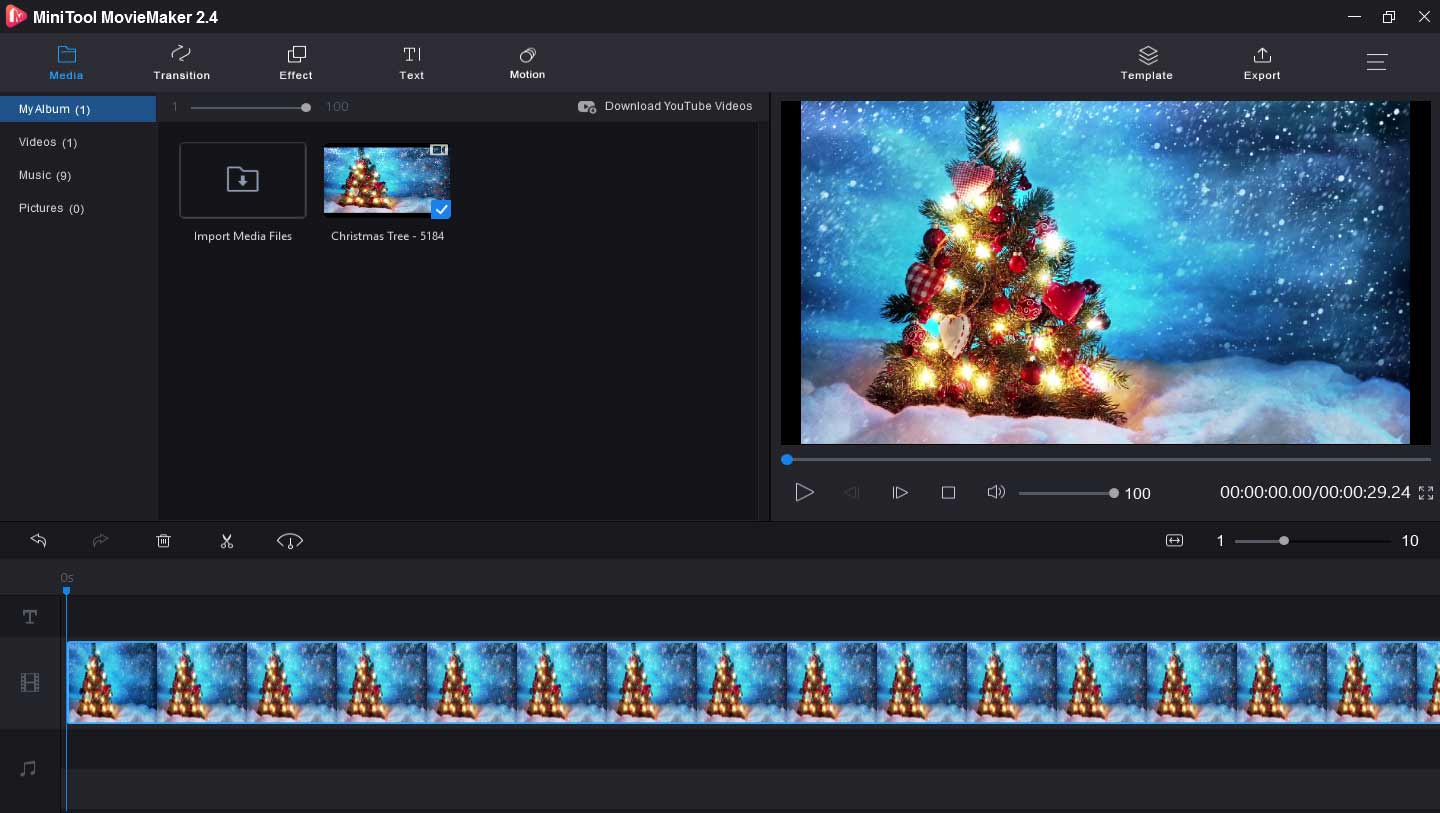 MiniTool MovieMaker is a free media player for Windows to play your audio and video files. The supported input formats include 3GP, MOV, AVI, FLV, MKV, MP4, MP3, M4A, WAV, and more, allowing you to watch videos easily.
MiniTool MovieMaker is also a photo video maker and editor, enabling you to make videos from pictures, video clips, and music. It allows you to add text to the video, apply transitions and effects, rotate videos, flip videos, merge video files, split video, add music to videos, and more. Besides, it works as a video converter, supporting video to GIF, MP4 to GIF, GIF to MOV, and more.
MiniTool MovieMakerClick to Download100%Clean & Safe
Part 2. Top 4 QuickTime Alternatives for the Mobile Phone
MX Player
MX Player is one of the best QuickTime alternatives for your smartphones. With the HW+ decoder, advanced hardware acceleration can be applied to videos. It's easy to zoom in and out by pinching and swiping across the screen. And MX Player support many subtitle formats like DVD, DVB, SSA subtitle tracks, MicroDVD, TMPlayer, Teletext, and more. It also enables you to move the subtitles up or down, zoom in or out to change the text size.
What's more, it's also a video streaming application, offering many movies, TV shows, short videos, and music videos. And it lets you download videos for offline watching. It provides more than 30 MX original videos, popular movies in Hindi, Telugu, Kannada, etc., TV shows, and games. And it offers 50+ news channels.
Also read: Top 6 Sites to Watch Hindi Movies Online for Free
PlayerXtreme Media Player
PlayerXtreme is also one of the best alternatives to QuickTime, working as a video player, audio player, movie player, and online streaming player. This app works on Android, iOS, Android TV, Apple TV, Amazon Fire TV. It's compatible with a wide range of video formats and hi-fi music and video formats, and so you can easily enjoy your videos. It lets you play files without conversion.
It also supports the most popular subtitle formats and can play Closed Captions, SRT, SMI, TXT, and more, and PlayerXtreme can resize the text. Besides, it offers 4K Ultra HD playback support, media organization, and gesture control. And it can change the video aspect ratio.
GPlayer
GPlayer is another QuickTime alternative. This video player also supports many formats of videos, audio files, and subtitles. And it enables you to customize the theme style. With the Multiple-window and floating fop-up technique, you can play videos for multiple windows. Besides, this media play has a good performance in loading and playing large amounts of videos.
KM Player
KM Player is the last recommended QuickTime alternative for your phones to play all types of videos and subtitles. It offers high-definition video playback, including HD, 4K, 8K, UHD, Full HD. And it can bookmark the video, adjust the playback speed, zoom in video, do color correction, and invert the video left and right.
What's more, it's a video and audio equalizer. It also can change subtitle color, size, and position. And KM Player can trim audio and videos.
After learning the 10 QuickTime alternatives. Now let's look at the following table to get detailed information about their supported operating systems and price.
Software

Price

Supported Operating Systems

VLC Media Player

Free

Windows, macOS, Linux, Android, iOS, Windows Phone, tvOS, etc.

PotPlayer

Free

Windows

 

Aiseesoft Blu-ray Player

Free Trial

Year License: $25.6/year/1 PC

Lifetime License: $36/1 Pc

Multi-User License: $85/3 PCs

 

Windows and macOS

SMPlayer

Free

Windows and Linux

 

RealPlayer

Free Trial

Downloader Express: $24.99

Plus: 439.99

Premium: $4.99/month

 

Windows, macOS, Linux, Solaris, Android, Symbian, and Palm OS

MiniTool MovieMaker

Free

Windows

MX Player

Free, in-app purchases

Android and iOS

PlayerXtreme

Free, in-app purchases

Android and iOS

GPlayer

$2.99, in-app purchases

Android and iOS

KM Player

Free

Android and iOS
Bottom Line
After reading the whole post of the 10 QuickTime alternatives, you must have discovered your favorite one for your devices. Just share it with us in the below comments area. If you'd like to recommend other alternatives to QuickTime or if you have any questions, you can leave your suggestion below or contact us via [email protected].
QuickTime Alternative FAQ
What is the latest version of QuickTime Player?
According to Wikipedia, the latest QuickTime version for Mac is QuickTime X, and the latest version for Windows is QuickTime 7.7.9.
Is QuickTime free for Mac?
Yes. QuickTime is free for macOS operating system. And it's also available free for Windows.
What files are compatible with QuickTime on Mac?
The supported video file formats include QuickTime Movie (MOV), MPEG-4(MP4, M4V), MPEG-1, 3GPP, 3GPP2, AVI, and DV. The compatible audio file formats are iTunes Audio (M4A, M4B, M4P), MP3, Core Audio, AIFF, AU, SD2, WAV, SND, and AMR. And QuickTime also supports many video and audio codes.
How do you convert MOV to MP4?
Navigate to the CloudConvert website.
Click on Select File to upload the MOV file from your computer, Google Drive, or Dropbox.
Select the MP4 as the target file format, and tap on Convert.
After the conversion, click the Download the MP4 file on your computer.