How do I generate tones online without extra programs? In this post, you will learn the top 5 online tone generators and how to use them to generate sounds in different frequencies. Check out this post now!
What is a tone generator? A tone generator is a tool that creates different sound frequencies. It's very useful in testing hearing/ speakers and tuning instruments. Want to find simple free tone generators that work online? Here are serval best online tone generators for you (To add tones to video? You can use MiniTool MovieMaker).
Here's a List of the top 5 online tone generators
Szynalski Online Tone Generator
Online Tone Generator
Gieson
ToneScope
Tone Generator Editar Audio
Note: Please adjust the volume level of your speakers or headphones before using online tone generators.
#1. Szynalski Online Tone Generator

Szynalski Online Tone Generator is an easy-to-use tool that can be used to create different wave types: Sine wave, Square wave, Triangle wave, and Sawtooth wave. This free online tone generator supports frequencies from 1 Hz to 20,154 Hz.
It offers you serval options to change the frequency.
You can drag the slider to adjust the frequency.
Press and hold "Shift + ←" or "Shift + →" to adjust the frequency by 1 Hz.
Click the "x1/2" or "x2" button to halve or double the frequency.
After getting the tone you want, you can click on GET LINK and share the current tone with others.
#2. Online Tone Generator
This is a free and simple online tone generator compatible with most web browsers. It has four waveforms: Sine, Square, Sawtooth, and Triangle. And it supports frequencies between 1 Hz and 20,000 Hz. With it, you can generate tone online or save it for offline playback. The audio file will be saved in a WAV file (Try MiniTool Video Converter to convert WAV to MP3).
Besides generating tones, Online Tone Generator also allows you to turn text to voice, generate tuning tone for your musical instruments, change the tempo of audio files, etc.
#3. Gieson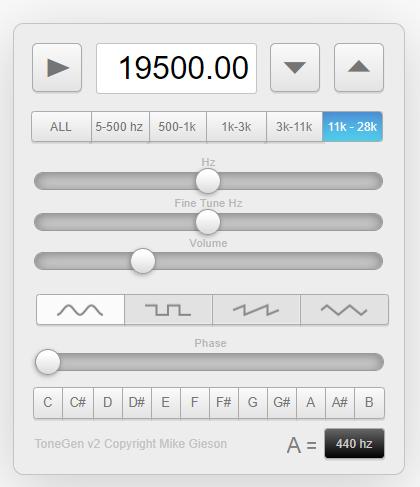 Gieson lets you create sounds in frequencies from 5 Hz to 28,000 Hz. Like the above online tone generators, it offers four wave types to choose from. To change the frequency, you can enter the number in the box or drag the Hz slider.
You can use it to generate tones online but can't download generated tones from this website.
#4. ToneScope
ToneScope is an online service. It enables you to generate tones from 1 Hz to 10,000 Hz and use the waveform you like. Another useful feature is Metronome. It is a good helper for those who need to practice their tempo. No registration is required!
Also read: 5 Best Song Key Finders to Find the Key of a Song
#5. Tone Generator Editar Audio
As an online tone generator, Tone Generator Editar Audio can create tones from 5 Hz to 10,000 Hz, reproduce four different wave types and combine three different octaves.
Conclusion
The top 5 online tone generators are listed in this post. They are simple to use and compatible with any operating system. However, compared with tone generator software, they are not stable because of the slow internet connection.
If you have any questions about this post, please leave a comment below!