In the last few years, memes came into fashion. Meme is one of the most direct and efficient communication means. Do you like using memes? Moreover, do you know how to make a meme with your own picture? Meme generators can help you can create a meme. MiniTool also offers a free meme maker to help you make a meme without watermark.
Memes come in various formats including video, gif, and image. Memes have taken the world of social media by storm in recent years.
We can express our ideas in a creative and humorous way through memes. But, do you know how to make a meme? Don't worry you come to the right place. This post shows 3 different ways to help you make a meme video.
Part 1. Understand Meme
What Is a Meme
A meme is quite simply a humorous or satirical piece of content, behavior, or idea that has been shared with a large number of people. Memes most commonly manifest themselves in a picture or a video. Paring a seemingly normal photo with absurd text or pairing a ridiculous photo with a witty caption.
Types of Memes
Dark memes involve absurd or out-of-context humor.
Traditional memes: choose a photo or video from a movie, viral video, or magazine, and add some text to the video or photo.
Related article: add subtitles to video.
Meme Examples
To help you better know what memes can be about, you can see the following 3 examples or check out the most popular memes of the past decade.
Be Like Bill
In the meme, simplicity is the source of the funny. It is an adorable stick-figure model and your audience will endorse it. Describe bill in there lines to lead up "Be Like Bill".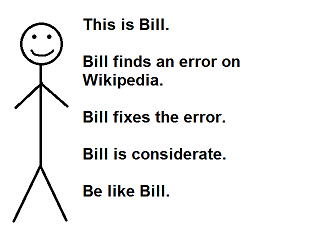 Success Kid
Success Kid is a meme featuring a baby clenching a fistful of sand with a determined facial expression. This popular meme has stood the test of time.
OK Boomer
OK Boomer is an internet meme that gained popularity among younger cohorts from 2019. It is often used to dismiss or mock attitudes stereotypically attributed to the baby boomer generation.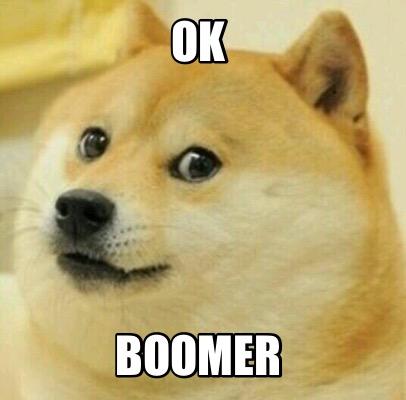 To create a meme, you need to start with a great idea, footage and the best meme generator to put everything together. Send your meme to friends or upload your video to YouTube. Here's how to make a meme.
Part 2. How to Make a Meme Video – 3 Ways
Here, we'll list 3 different meme generators to help you create a meme.
Solution 1. How to Make a Meme Video with Best Video Makers
If you want to create a meme with funny videos, or pictures you can try MiniTool MovieMaker. Developed by MiniTool, this tool is a handy video editing software that enables you to create a meme easily. Besides, it is a free video editor without watermark. Thus, you can create a meme without any watermark.
Follow the steps to create a meme with your own picture or video.
MiniTool MovieMakerClick to Download100%Clean & Safe
Step 1. Download and install MiniTool Movie Maker on PC.
Step 2. Import your files.
Launch MiniTool video meme maker, and close the Templates window to get its main interface. Click Import Media Files to import your file like a funny video to this free meme maker, and add it to the timeline.
Note:
If you want to create a meme with a video from a movie or YouTube, you need to download it via a free, no ads
YouTube downloader
– MiniTool uTube Downloader.
If your imported video is too long and contains some unwanted parts, or you want to change the time of the picture, you can try the trim feature to easily change the duration of the video/photo clip in the timeline. Video trimmer is recommended here.
Step 3. Add text and music to the meme video.
Click the Text button in the menu bar and then you can see many studio-quality titles. Now, choose a text style you like, drag it to the text track of the timeline, enter the words and change the font, color, and size of the caption.
After adding text, you can insert a popular song in the background to create a meme. Import a song, drag and drop the song to the music track of the timeline, and fade in or fade out music if you like.
Related article: How to fade in or fade out music
Step 4. Save and share your meme.
After creating a meme, you can click the Export button to save it on your PC, and then you can easily and directly upload your video meme to YouTube or Vimeo.
The best meme generator lets you save meme to MP4, Gif or other different video file formats. For more information, you can read this post: change video format.
Pros
Free: MiniTool MovieMaker is an absolutely free, no ads, no bundle tool. You can use all its features without paying any bucks.
Easy to use: It offers simple as well as clean interfaces. With its user-friendly interfaces, you can easily and quickly create movies without any difficulties.
Goodbye Watermarks: MiniTool MovieMaker lets you make memes without any watermarks. It is one of the coolest features of the tool.
Video to GIF: The best meme generator allows you to convert video to Gif file which allows you to make GIF memes from your videos. It is also a gif meme generator.
Powerful Functions: MiniTool MovieMaker also provides some other features. For instance, you can combine videos into one, create a meme video with your own pictures, create Holly-wood style movies by using its templates, change video resolution, etc.
Cons
It only supports Windows operating systems including Windows7, Windows 8 and Windows 10.
I created a meme without any watermark by using MiniTool MovieMaker. Share this free tool with all of you. Click to Tweet
Solution 2. How to Make a Meme with MemeCreator
We can not only make a meme with video but also create a meme with photos. If you are familiar with Photoshop, you can easily create a photo meme. If not, don't worry you have options. Online meme generators can help you.
MemeCreator, an easy-to-use online meme creator, includes fantastic ready-made meme templates and the tools you need to add captions. Thus, you can try this online meme generator to create a meme. Follow the below steps to learn how to make a meme video with your own pictures.
Go to MemeCreator.
Browse all the existing memes to find the one you like, and click it.
Add text to the meme via the form on the right-hand side of the page.
Customize the meme as you like before making. As long as you register an account, you can change the font and change the text color.
Click Make the Meme to begin making your meme.
Pros
It is pretty straight-forward.
It offers hundreds of examples online.
It lets you upload an image to make your custom mug. 
Cons
There will be a watermark on your meme. To remove the watermark, you can find solutions from this post: remove watermark from video/photo.
Solution 3. How to Create A Meme with Kapwing
Last but not least, we want to share another free online image, GIF, and video meme maker, Kapwing. Here is a quick guide on how to create a meme with it:
Sep 1. Open the Kapwing meme generator.
Step 2. Click Get Started to make a custom template. (Here, you are able to choose a template for your meme and click the MAKE IT button to create a meme.)
Step 3. Upload your video, GIF, or image to Kapwing, or paste a link from YouTube, Twitter, etc.
Step 4. Add text to your image or video. Then, you can change the position and change font options, make the text box smaller or larger, and add a white or black outline.
Step 5. Edit your meme including change speed, trim, crop, adjust, resize, etc.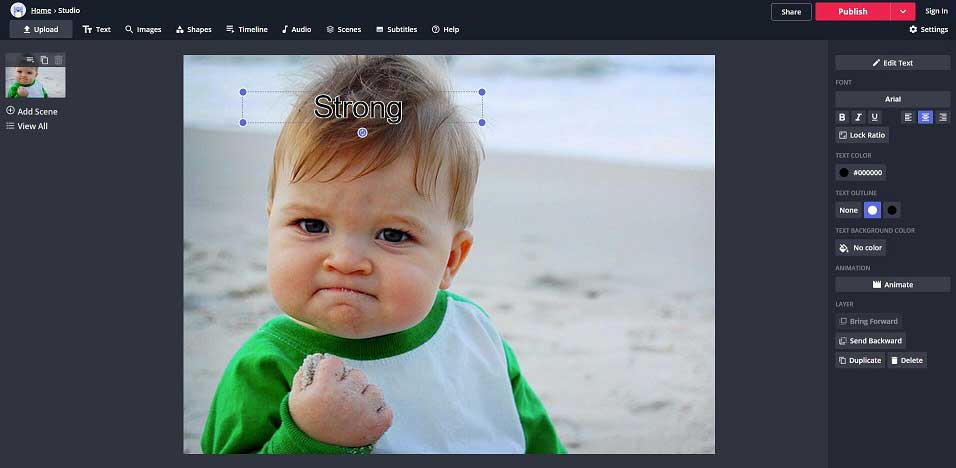 Step 6. Add audio to meme video if you like. Related article: How to add music to video.
Step 7. Click Publish to save your meme video. Download the meme video to your PC in MP4 format a few minutes later.
Related article: Download YouTube video to MP4.
Although Kapwing is a free meme generator, it will have a watermark. You can sign up for a subscription to remove its watermark.
Pros
It works on Chromebooks, both iOS and Android phones, and any computer.
It contains many tools including studio, video maker, meme generator, subtitler, resize video, loop video, trim video, rotate video, mute video, etc.
All Kapwing features are free to use.
Cons
There is a watermark in the corner of the meme video.
It takes a lot of time to process and create a meme out of your video.
Part 3. 3 Ways to Spread Your Memes
What should you do if you have created a meme? There are 3 ways to help you make the most out of your funny new meme:
Method 1. Optimize Memes for Social Sharing
If you want to share your meme on websites, please add social sharing buttons thus visitors can easily share your meme, which extends the reach of your meme.
Method 2. Share Memes on Social Media
Sharing your memes on Facebook, Instagram, Pinterest, and Twitter because they're all sites where visual content thrives.
Method 3. Use Meme as a Visual Element in other Content
You can create a blog post to show your memes, and add a call-to-action to the post. It is an effective way to convert any visitors into leads.
Bottom Line
Are you still looking for a meme generator to create a meme? Now, try using MiniTool MovieMaker.
This free, no ads video editor tool offers wizard-like interfaces to help you make a meme without any watermark. Moreover, it is a good video editing software. It offers templates to help you create cool holly-wood movies in one-click, and offers an intuitive timeline to help you create and edit video. Download this free meme generator to create a meme easily.
MiniTool MovieMakerClick to Download100%Clean & Safe
Make A Meme FAQ
How do I create a meme?
Launch MiniTool MovieMaker.
Import your video or picture, drag and drop this file to the timeline.
Add text to the clip, and edit the text including font and position.
Add a song to the video or picture as you like.
Save the meme on your PC as MP4 or GIF or another file format.
How do you make a meme with a picture?
Go to Kapwing.
Upload your images.
Add a text.
Publish and share.
What is the font used in memes?
The majority of the Internet meme pictures use Impact font and some minority use Arial although the font selection is at the discretion of the image maker.