How do you usually spend your weekend? If you don't want to go out during the COVID-19, you can watch family movies with your kids together. Of course, you can turn to a free movie maker, like MiniTool MovieMaker, to create family videos by yourself.
Like watching movies? Most people watch videos to kill time during the COVID-19. Here, we round up cool family movies including beloved classics, action-packed adventures, laugh-out-loud comedies, powerful dramas, etc. to watch together. Besides, you can learn the basic tips to make a family video by yourself with a free video maker.
Related article: video maker without watermark
16 Best Family Videos to Watch Together
1. Frozen
I bet many users must know the song "Let it go." However, have you ever watch this film – Frozen.
Frozen is a Disney animated musical. Families with children of all ages can watch this family video. Like many Disney movies, the parents die in this movie and the orphaned princesses who must find a way to survive.
Anna and Elsa live in Arendelle. Elsa can turn things to ice. Arendelle is stuck in an eternal winter. Anna goes in search of Elsa to bring the spring back, with the help of her new fella and a few other friends.
Of course, in this film, there are some violent scenes, including snarling wolves, men with weapons, a scary snow monster, etc.
2. Inside out
Inside Out is the introspective journey of a young girl's inner emotions. This movie has GREAT animation and more, and teach us how to deal with our emotions.
3. Harry Potter and the Sorcerer's Stone
Harry Potter series brings us into a magical realm sprinkled with fantasy and excitement. Harry boards the train at Platform and goes to Hogwarts School for Witchcraft and Wizardry. Form then, everything changes, and he meets a few friends. Harry begins to uncover what exactly led to his parent's strange death.
4. Despicable Me
Gru delights in all things wicked. He is prone to freeze-raying passers-by and hatches a plan to steal the moon. He makes ready to vanquish all who stand in his way, including an army of little yellow minions. However, Gru meets his greatest challenge. Three adorable orphan girls melt his cold, cold heart, and want to make him their dad.
5. Finding Nemo
Nemo and Dory were a hit with both kids and adults since this film release. Nemo must go on a personal journey to overcome the pain and fear caused by the loss of his family.
6. The Little Mermaid
Poor Ariel, a red-headed mermaid, is fascinated with life on land and falls for a human prince. To look for true love, she makes a dangerous deal with the sea witch Ursula. However, something goes wrong, therefore the king must make the ultimate sacrifice for his daughter.
7. Beauty and the Beast
Belle is a kind and beautiful bookworm. One day, she heads into the quite scary woods to find her inventor father. In the woods, she meets a beast and begins an adventurous journey.
8. Tangled
A woman kidnapped Princess Rapunzel because she could stay forever young with the princess' magical long locks. The princess eagers to explore the world. One day, with the help of a tower thief, she ventures out and begins a new journey.
9. How to Train Your Dragon
Viking clan hunter dragons. However, Hiccup wants to make a friend with dragons. When he meets the Night Fury dragon, he learns many things about this feared creature. They become friends and protect their home together.
10. Zootopia
Judy Hopps tries her best to become the police. However, her fellow police officers don't take her seriously. To prove herself, Judy decides to take on a missing person case, and she enlists the unwilling help of con fox Nick Wilde.
11. The Lion King
The Lion King is a classic Disney film. Young lion Simba must rise to power after the loss of his father, Mufasa. I bet you will cry at some point when watching this family video.
12. Home Alone
Home Alone is synonymous with Christmastime. In this family movie, we can see Kevin's family go to Paris to spend their holidays in the City of Lights. However, they leave Kevin at home by mistake. A few sneaky bandits find a young boy is alone and decide to move in. Let's watch this video to see what is going to happen on Kevin.
13. A Christmas Story
A Christmas Story was released in the '80s. Now, you also can feel that there is a timelessness. Watching this family movie, you can see some iconic moments, including "You'll shoot your eye out," a leg lamp and a tongue sticking to a flagpole.
14. Up
Carl Fredricksen, a 78-year-old balloon salesman, ties a bunch of balloons to his home and flies away to the South American wilderness. Everything is fine. However, the grouchy senior discovers a little boy who is a stowaway aboard the balloon-powered house.
15. Back to the Future
It is a movie about generational differences. This family movie shows a previous time journey from Gen X to Gen Z. This video is perfect for any time of year.
16. The Secret Life of Pets
This family movie will give you a heartwarming version of New York City, although the city's landscapes just through the eyes of pets.
There are 16 family movies that you can watch them with families together. Click to Tweet
Of course, there are many other family videos. You can watch the above family videos together with your kids. If you want to watch family videos offline, you can download these movies.
Related article: Watch YouTube offline
Besides, if you turn to a free video editor, you can create your family videos by yourself.
How to Make a Family Video?
We usually record our families and save them as videos. Want to turn all those cute videos into fun montages? How to combine videos? Where to start?
If you don't know how to turn various clips and videos into more substantial movies, don't worry. Here, you will find the details on how to pull together the pieces to make your family video easily.
Best Movie Maker Software
To create family videos, you can turn to video editing software. MiniTool MovieMaker, a free, no ads, no bundle video editor, is recommended here. This free video editing software offers wizard-like interfaces as well as simple operations to help you create different style videos, including family video, travel video, meme video, etc.
Related article: make a meme
Main Features of MiniTool MovieMaker
Free, no ads, no bundle, watermark-free video editor.
Have about 100 different cool video transitions.
Easily split video, trim video, merge video, change video speed, etc.
Let you apply motion effects as well as video filters to video, and change its brightness, contrast, etc.
Add animated text modules including titles, subtitles, and end credits to video to complete your story.
Add music to video, mute the noise of video, fade in or fade out music file, merge music files, etc.
How to Make Family Videos
Step 1. To create a family movie, you need to download and install MiniTool MovieMaker on pc. Next, launch it to create a video.
MiniTool MovieMakerClick to Download100%Clean & Safe
Step 2. Choose a method to create a video.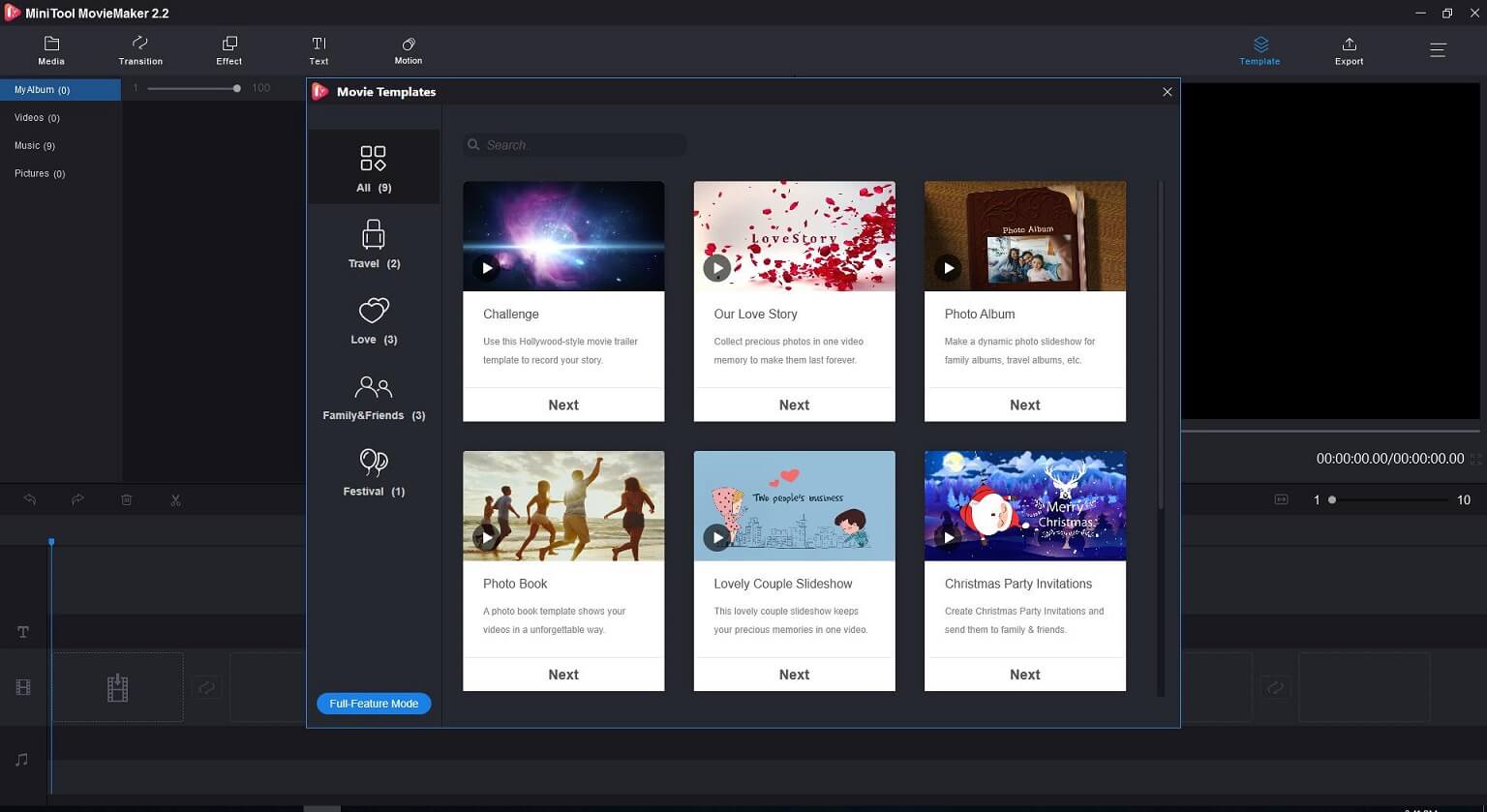 This free family movie maker offers two ways to create a movie including:
Method 1. Movie templates: MiniTool MovieMaker offers some different cool movie templates and movie trailers including wedding video, travel video, family video, etc. to help you create video. Here, you only need to choose a template, import your video clips, edit the text and save this family video.
Method 2. Simple video timeline: If you don't find a suitable video template, you can close this window to get into its main interface. Next, import your files, and then edit this video as you like.
Here, we take the method 2 for example.
Step 3. Create family movies.
In the timeline, you can do the following things:
Trim video to remove some unwanted parts.
Split video to turn a long video into several parts. Related article: video splitter
Rearrange video clips.
Add music to video, and edit music file.
Apply video transitions to combine multiple videos into one.
Apply motion effects, also called pan and zoom effects, to video.
Reverse video, speed up video, slow down video, etc. Related article: slow motion.
Apply 3Dlut to video.
Add text to video to complete your story.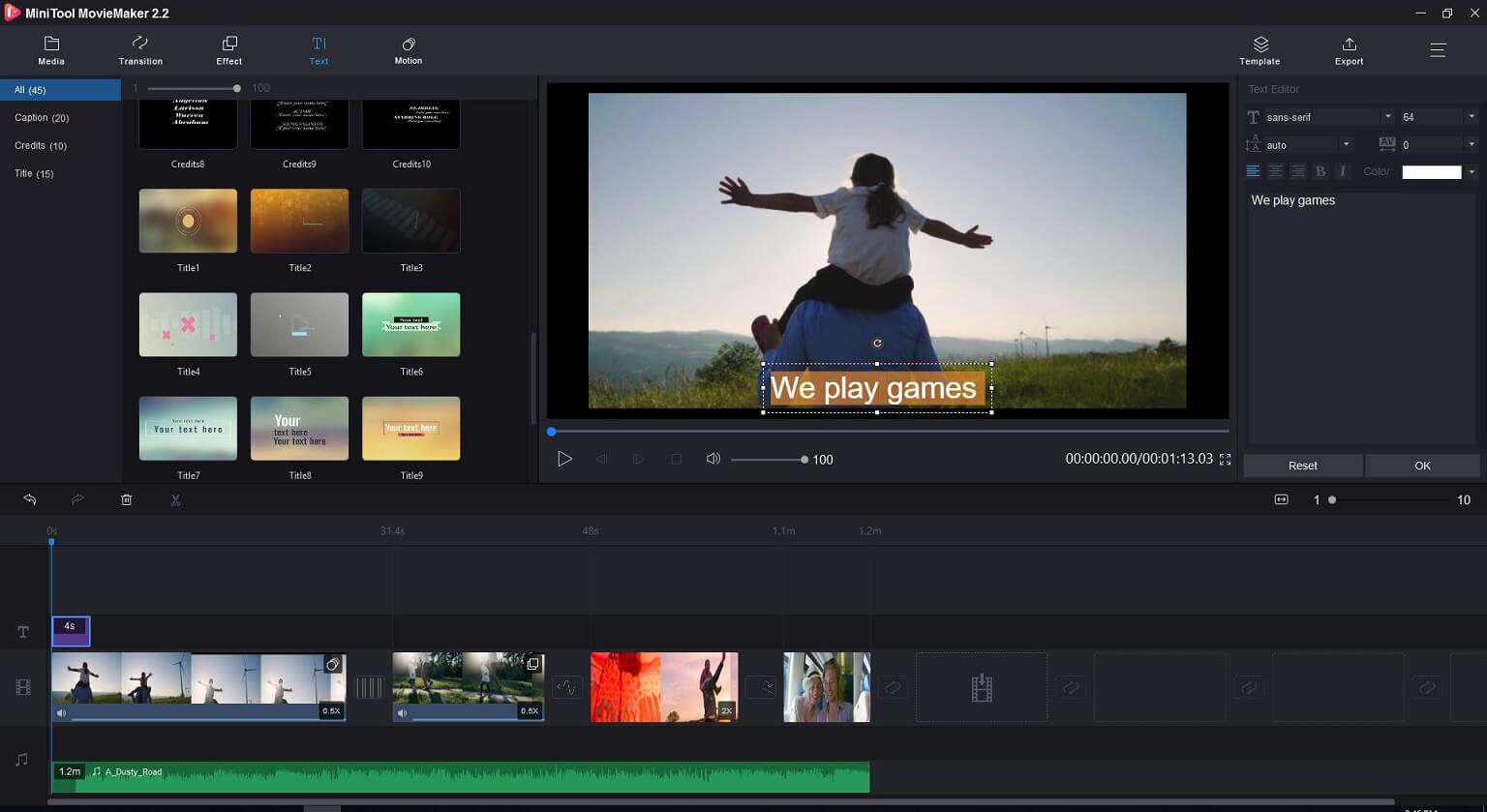 Step 4. Export family video.
After editing the family movie, you can click the Export button to save it on PC. The default file format is MP4. Of course, you can change it to other file formats such as AVI, WMV, etc. Besides, you can change video resolution, video bitrate and video quality.
MiniTool MovieMaker helps you make a family video easily. Click to Tweet
Bottom Line
See! You can watch the best family movies with your kids together. Of course, you can create your own family videos as long as you turn to a free family movie maker. If you have any family movie recommendations, please let us know. Thanks in advance.
If you have any questions on how to make a family video, please feel free to contact us!
Family Videos FAQ
Where you can watch movies for free?
22 free online movie streaming sites to watch movies for free:
AZMovies
Tubi
co
ga
site
IMDb TV
com
net
Vudu
tv
https://spacemov.top
Sony Crackle
ag
com
FilmRise
pl
PopcornFlix
com
Kanopy
to
Yidio
Internet Archive
What films are free on YouTube?
Super Size Me
Sleepover
Rabbit Hole
Before We Go
Penelope
Into the Blue
Labor Pains
Yentl
The Pink Panther
Dirty Rotten Scoundrels
The Boy Downstairs
How to download movies from YouTube to pc?
Launch MiniTool uTube Downloader.
Search the movie you want to download in this YouTube converter.
Play the target movie, and click the Download button.
Select a format like MP4 and click the Download button to beginning the task.
How to make movie trailers?
Launch movie trailer maker.
Select a movie trailer template.
Import your video clips or images.
Edit the text, replace the background music if necessary.
Save the movie trailer on PC.