This article abstracted by MiniTool official website mainly teaches you how to compress iPhone video files' size and shrink them to smaller ones to be able to upload to different platforms or send via email. All below solutions can be used freely.
Today, it is very convenient to record videos on your mobile devices including iPhone. After you have recorded a video of your daily life, you may want to share it on social media like YouTube, Facebook, Twitter, Instagram, TikTok, etc. Yet, those social platforms have their limitations on uploaded video file size respectively, which is usually smaller than your original videos.
Therefore, you have to compress the video on iPhone to a smaller size to meet the requirements of those social services. Then, how to compress video on iPhone? There are several ways.
#1 How to Compress a Video on iPhone by Recording a Smaller Video?
First of all, you can do some video recording settings to reduce the video size before recording. For example, by changing the resolution of the recording, you can greatly shrink the recorded video size. The lower the resolution, the smaller the recorded videos. If you care little about the quality of your videos, you can get your iPhone to record smaller videos by default.
Go to Settings > Camera > Record Video.
Select a proper video resolution, quality, and frame rate. There are 6 options.
720p HD at 30 fps
1080p HD at 30 fps
1080p HD at 60 fps
4K at 24 fps
4K HD at 30 fps
4K HD at 60 fps
The default option of my iPhone X's recording specifics is 1080p HD at 30 fps. If I want a smaller recording size, I need to change the selection to 720p HD at 30 fps. If you upgrade my recording settings to one of the other 4 options, my recorded video will get an increased file size.
On the Camera Record Video page, it gives us a reference list. A minute of video will be approximate:
40 MB with 720p HD at 30 fps (space saver)
60 MB with 1080p HD at 30 fps (default)
90 MB with 1080p HD at 60 fps (smoother)
135 MB with 4K at 24 fps (film style)
170 MB with 4K HD at 30 fps (higher resolution)
400 MB with 4K HD at 60 fps (higher resolution, smoother)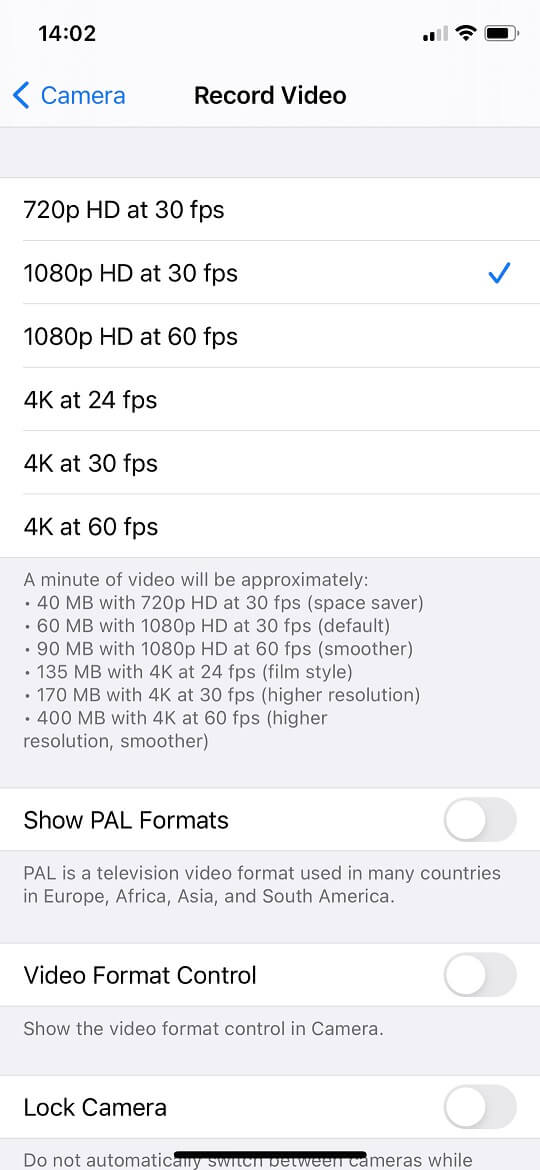 #2 App to Compress Video iPhone after Recording
If you have already recorded the video, it is also possible to decrease its size by relying on specific applications like Video Compress, which can help you compress your videos easily for free. You can search this tool in Apple App Store; find, download and install it on your device; then, add the desired video to the program, specify the target size, and save the product.
#3 Compress Video iPhone Online with Clideo
Clideo is a set of all-in-one and easy-to-use online video management tools. It contains a video editor, video merger, video compressor, video resizer, video cutter, and video cropper. Besides, Clideo can add subtitles, create memes, and change video speed.
Just visit https://clideo.com/compress-video in the Safari web browser and upload the target video file to its platform. When your video is compressed by the tool, tap Copy direct URL, open a new tab, and paste the link into its address column. Once the link loads, Safari will prompt you to download the file. Alternatively, you are able to store the compressed video in your Google Drive or Dropbox.
#4 Compress iPhone Video for Email
In addition to sharing your iPhone videos on social media, you may also need to share some work videos with your colleagues via email. Even if you can compress the target videos with one of the above methods, it is time-consuming to do that work if you need to share every day.
Luckily, you can just upload the target videos into a file-sharing platform that allows you to upload large videos and share them with others by generating sharing links referring to the uploaded videos respectively. There are three choices.
Upload your iPhone videos to Cloud drives like iCloud, Google Drive, OneDrive, and Dropbox and share their links with others.
Upload the target videos to file sharing services such as WeTransfer.
Upload videos to YouTube and tag them as "private" or "unlisted" and share them.
Videos/Audio/Photos Management Tools Recommended
These applications are completely compatible with Windows 11/10/8.1/8/7.
MiniTool MovieMaker
An easy-to-use video editing software without watermarks and limits. The embedded templates enable you to quickly make personal slideshows and share them with your friends!
MiniTool uTube Downloader
Free download YouTube videos, audio, and subtitles without ads or bundles. It can operate multiple tasks simultaneously at a high speed and supports multiple file formats.
MiniTool Video Converter
Quickly convert videos and audio from one file format to another to apply to more devices. It supports 1000+ popular output formats and batch conversion. Besides, it can also record PC screens without any watermark.