TikTok Video Format General Information
The following are the dimensions and formats of TikTok videos.
TikTok video file formats: MP4 and MOV
TikTok advertising formats: MP4, MOV, AVI, and MPEG
Resolution: 1080×1920
Canvas size: 1080×1920
Maximum ad file size: 500 MB
Newsfeed video max file size: 72 MB for Android and 287.76 MB for Apple
TikTok max video length: 3 minutes
Next, it will elaborate on each format of Tik Tok videos.
Tik Tok Video Formats
First of all, let's have a look at what formats are TikTok videos. Currently, TikTok-supported video formats are MP4 and MOV. Especially, the .mp4 file format is more popular than .mov and it is more used not only by TikTok users but also by other video media users.
MP4 vs. MOV on TikTok
Although there is nearly no visual difference, why do most people use MP4 video format rather than MOV? In the first place, MOV is the native video file format for Apple. So, only Apple users tend to use MOV. Yet, as for the number of smartphone users, iOS is less than Android.
Secondly, MOV tends to have a large file size. It will eat out your phone storage quicker than MP4. Although you can resize the MOV file to make it smaller, it consumes time and energy.
TikTok Video Dimensions
What are the dimensions of TikTok videos? Portrait or landscape? Vertical or horizontal?
In general, TikTok vertical video format (portrait dimension) is the ideal one since TikTok is an application that is used mainly on cell phones. The portrait video dimension enables you to maximize each pixel of space on a phone screen to attract the audience.
However, you can still post a horizontal landscape video on TikTok, but it is not recommended.
TikTok Video Length
Next, let's see how long can a video be on TikTok. That is to say, what is the length limit of TikTok videos. The answer is 3 minutes. You can upload and post a video at most 3-minute long to the TikTok platform.
However, you do not have to make every video 180 seconds. The TikTok algorithm will penalize you for posting too many videos with a high drop-off rate. On the contrary, you are recommended to post shorter videos.
Yet, it does not mean the shorter, the better. You need to make a video with enough content to express your ideas. Make every second count by trimming the video to ensure the entire video is compelling. Otherwise, the viewers will scroll away.
TikTok Video Format Size
What is TikTok format size? When talking about the Tik Tok format size, it means not only the storage space that the video file occupies but also the resolution of the target video.
Typically, the resolution of TikTok is 1080 by 1920 pixels, the standard portrait size of most mobile phones. Videos created within TikTok take advantage of that canvas size automatically. Otherwise, you can use TikTok's Intelligent Optimization Tool or a third-party video editor such as MiniTool MovieMaker to adjust your video resolution to fit the requirement of TikTok.
As for TikTok video file size, the maximum file size for devices running the Android operating system (OS) is 72 megabytes (MB) while the maximum file size for hardware based on Apple OS is 287076 MB. Besides, the TikTok ad format of file size is much larger, 500 MB.
How to Convert Video to Tiktok Format by Tiktok Video Format Converter?
Did you ever encounter such a situation that your almost perfect-look video turned out to be blurred, pixelated, or cut off after uploading to TikTok? If so, to deal with that situation, you need to avoid TikTok automatically converting unsupported video formats to its supported ones with those problems. Thus, you should convert video to TikTok format in advance with a TikTok format converter.
In addition to converting other video formats to TikTok formats to make them compatible with social media, you also need to rely on a video format converter to convert between MP4 and MOV for personal preference.
Among the many video format converters in the market, MiniTool Video Converter is on the recommended list. It is a professional and easy-to-use offline video converter that can change your video quality, file format, video encoder, frame rate, resolution, bitrate, as well as audio specifications if there is sound in your video.
The following is a guide teaching you how to convert the TikTok MOV video to MP4 video.
MiniTool Video ConverterClick to Download100%Clean & Safe
1. Download, install, and launch MiniTool Video Converter on your Windows computer.
2. Upload the target MOV video file to the PC.
3. Click the Add or drag files here to start conversion option to add the TikTok MOV file to the application.
4. Click on the settings icon within the Target section to specify the output Tik Tok video formats.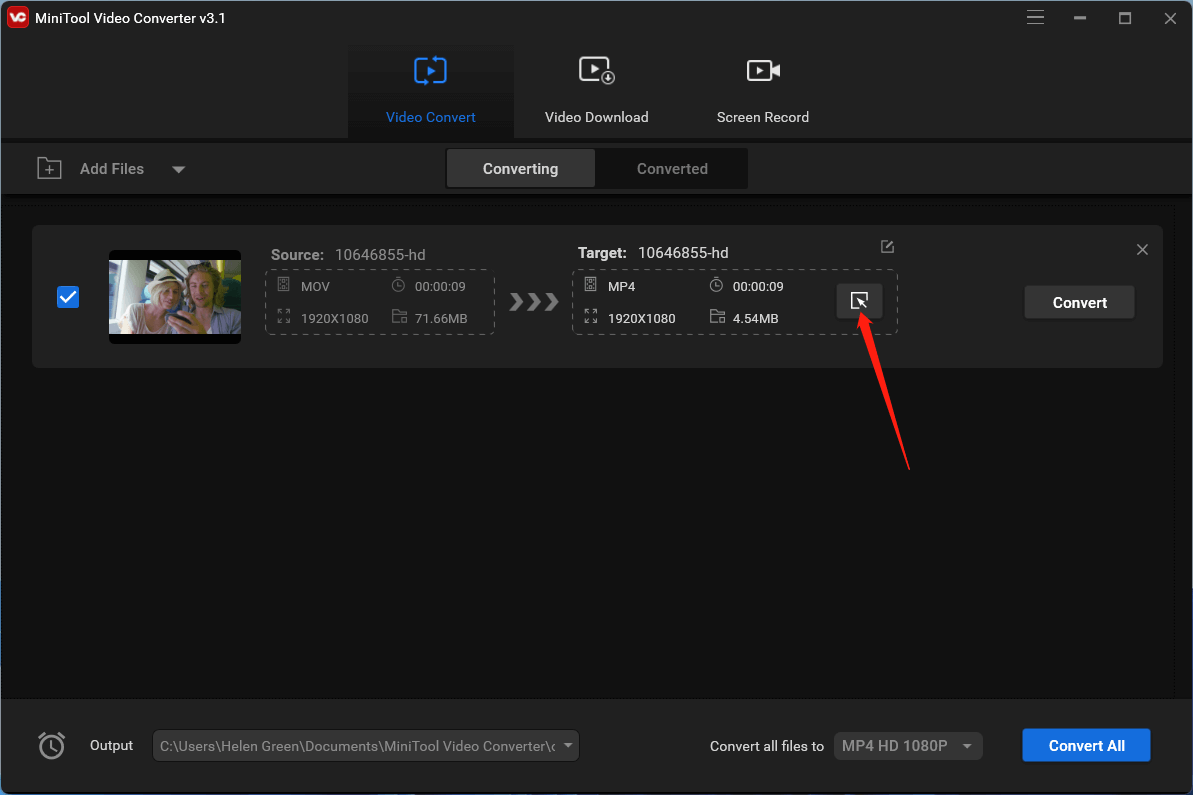 5. In the pop-up window, select the Video tab from the top menu, choose MP4 from the left panel, and pick up a video quality (available for personalization by clicking the editing icon) or click the Create Custom option.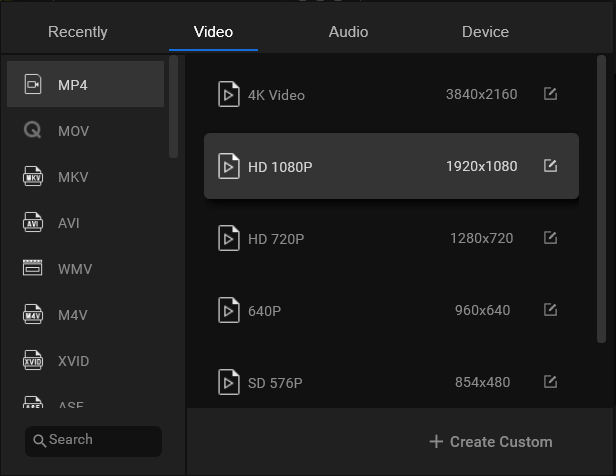 6. In the further video format settings popup, you are allowed to change the format name, video quality, encoder, resolution, frame rate, bitrate, as well as audio encoder, audio channel, audio sample rate, and audio bitrate. Once done, click the Create button to save changes.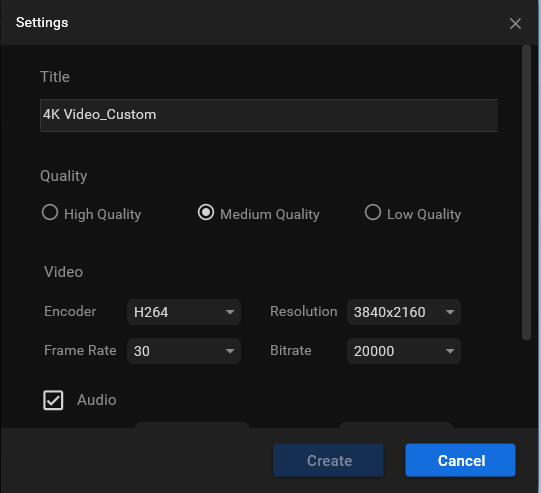 7. Back to the parent video formatting window, select your customized video format.
8. Returning to the main interface, click the Convert button behind the task list to start the converting.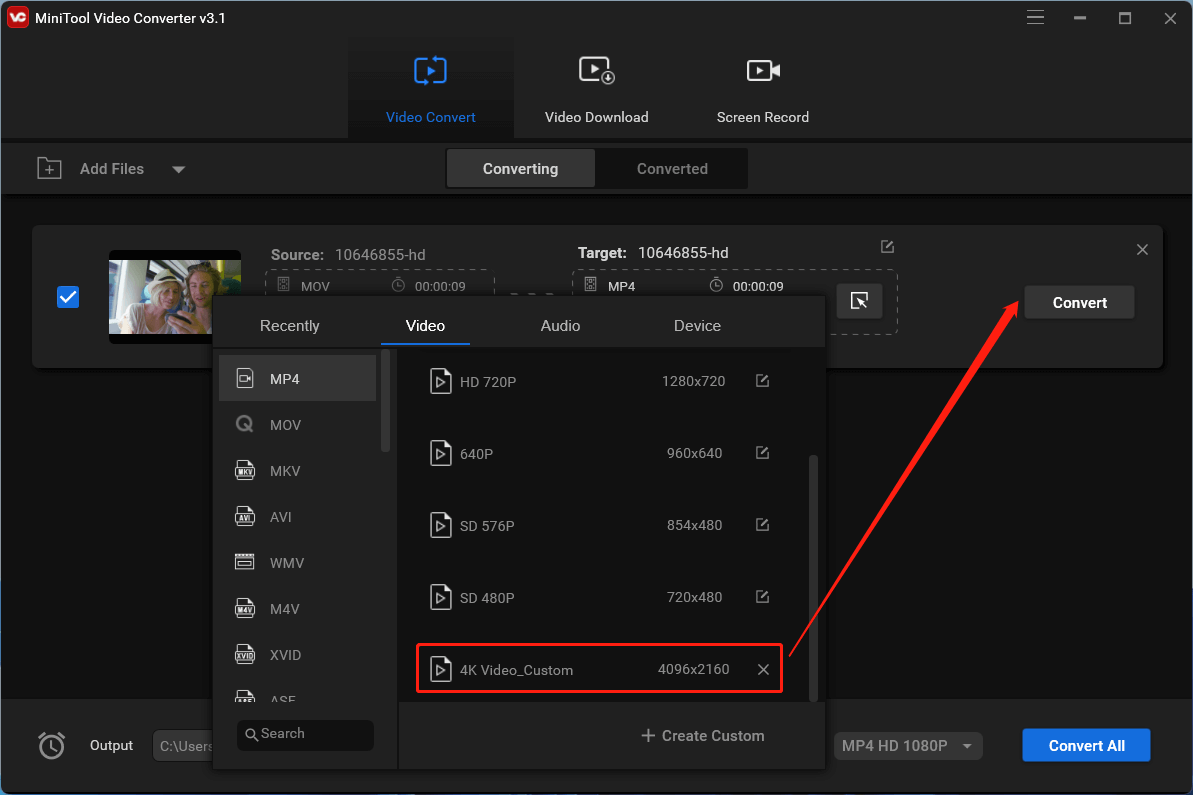 The time to complete the conversion process depends on the TikTok video size format. In most cases, it won't take long (only a few seconds) to finish. When the conversion is done, export the converted video to your phone and post it on your TikTok.
TikTok Ad Formats
Having millions of users worldwide, TikTok is one of the most popular social media apps. Thus, many businessmen choose to put their advertisements on this platform. To increase their ROI (rate of investment), they have to get the best video format for TikTok.
Generally, there are two Tik Tok ad formats for brands and content creators to advertise on TikTok.
#1 In-Feed TikTok Video Ads
Usually, users see TikTok ads in their feed as they scroll. That kind of ad is called in-feed TikTok video ads or standard ads. TikTok algorithm put paid in-feed ads between the content posted by creators you follow.
since TikTok in-feed ads are placed between two feeds, its format specs are similar to an organic newsfeed video. Advertisers can upload a higher quality of video up to 500 MB and post MPEG and AVI files.
The aspect ratios of the standard TikTok ads are 16:9 or 1:1. So, you should record your video in portrait (9:16 or 720 x 1280p) so it fills as much of the screen as possible.
Within a TikTok in-feed ad, there are video creative, display image, brand or app name, as well as description. It should have a traditional ad feel like an organic piece of content for audiences scrolling through their feeds. Only when customers feel informed or entertained instead of being interrupted, can they interact with your ads.
As for the duration of TikTok video ads, it's better to be short between five to sixteen seconds. Below is the recommended in-feed TikTok video ad formats.
File type: MP4, MOV, MPEG, or AVI
File size: less than 500MB
Resolution: 720×1280, 640×640, or 1280×720
Aspect ratio: 16:9, 9:16, or 1:1
Duration: 5 – 16 seconds
#2 Newsfeed TikTok Ads Formats
Newsfeed TikTok video ads are sponsored content appearing in special placements. TikTok created this kind of ad via partnerships with BuzzVideo, TopBuzz, Babe, and the News Republic. Also, TikTok newsfeed ads include video creative, brand or app name, and description. They are available in these placements:
Recommended news feed under the Discover tab.
Post-video ads that populate after a played video ends.
Details page ads display on a video or article page beneath the content.
This is the recommended newsfeed TikTok video ads format:
File type: MP4, MOV, MPEG, or AVI
File size: less than 500MB
Resolution: 720×1280, 640×640, or 1280×720
Aspect ratio: 9:16, or 1:1
Duration: 5 – 60 seconds
In addition to the best format for TikTok video ads, some other aspects are also critical for catching the eyes of viewers, like background music or narration, captions/texts, meaningful or funny elements, etc. All those aspects can be added to the TikTok video with the help of a video editor.
Turn Video into Tiktok Format with MiniTool MovieMaker
When it comes to a reliable and simple video editor, MiniTool MovieMaker is the one you can't miss. It can freely merge multiple videos into one and add additional effects without a watermark. Vice versa, it can split a single video into multiple clips and remove the unwanted part with a few clicks.
No more nonsense, let's dive into how to create a TikTok-friendly video with MiniTool MovieMaker.
MiniTool MovieMakerClick to Download100%Clean & Safe
1. Downlaod, install, and open MiniTool MovieMaker on your PC.
2. Transfer the video(s) that you are going to edit and post on TikTok to the computer.
3. Under the Media tab in the main user interface (UI) of the software, click the Import Media Files to add the original videos to the program.
4. Click on the + button on the bottom right of the media file to add it to the below timeline track. Repeat the operation to add extra videos or photos.
5. Add your music or the built-in songs to the timeline to make them the background audio of the TikTok video.
6. Put transitions between two videos or pictures.
7. Assign a proper effect to a proper video.
8. Describe the video with captions, a title, or credits under the Text tab.
9. Focus on a special part of the video by adding a specific motion.
10. Make your video more vivid with elements, functioning like a GIF.
11. You can customize the contrast, saturation, brightness, 3D LUT, and speed of your video, rotate the video, as well as fade in/out the embeded audio.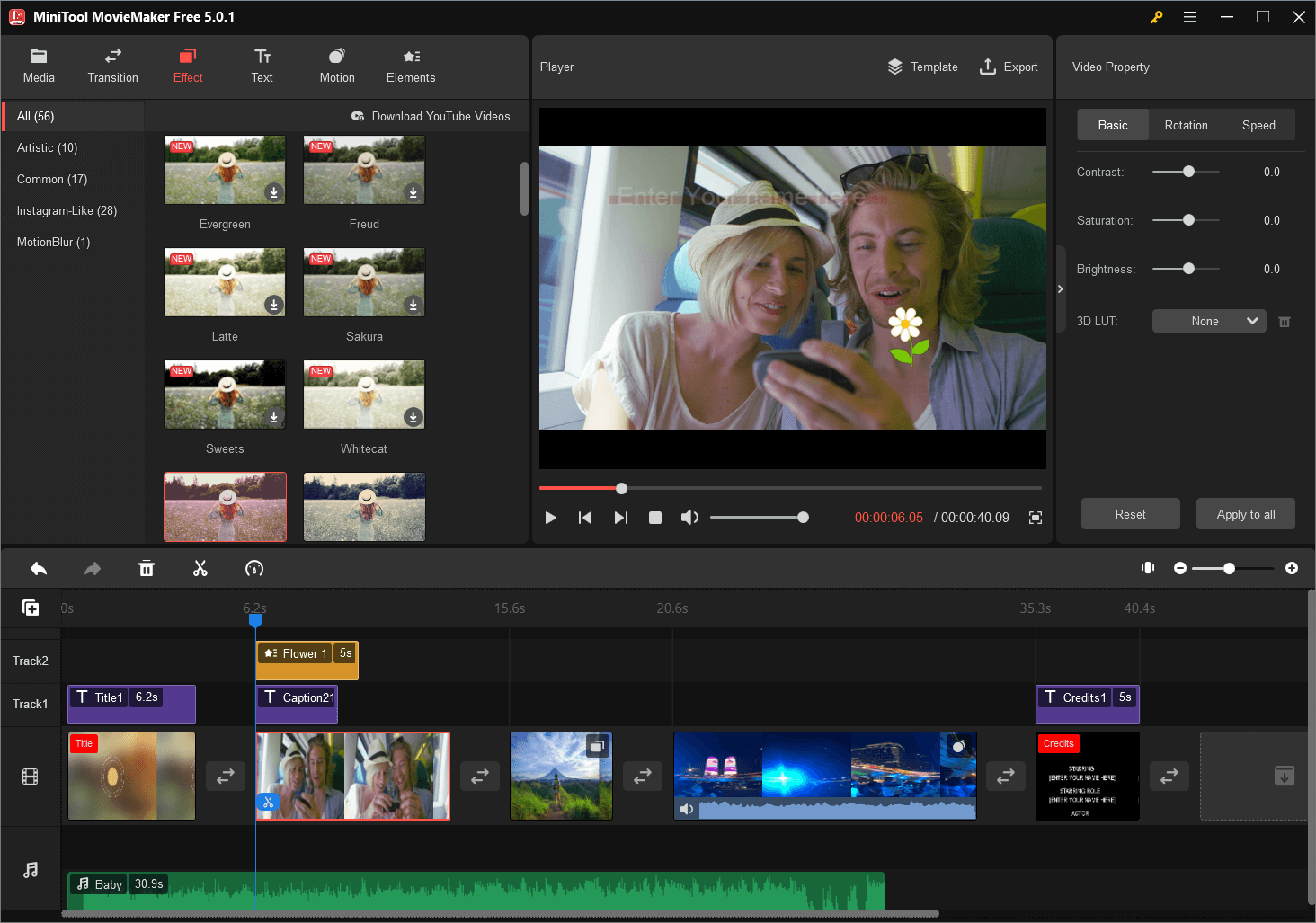 12. Click the Export option in the upper right to save your edition. You can specialize the TikTok video output format by its type, encoder, resolution, bitrate, and so on.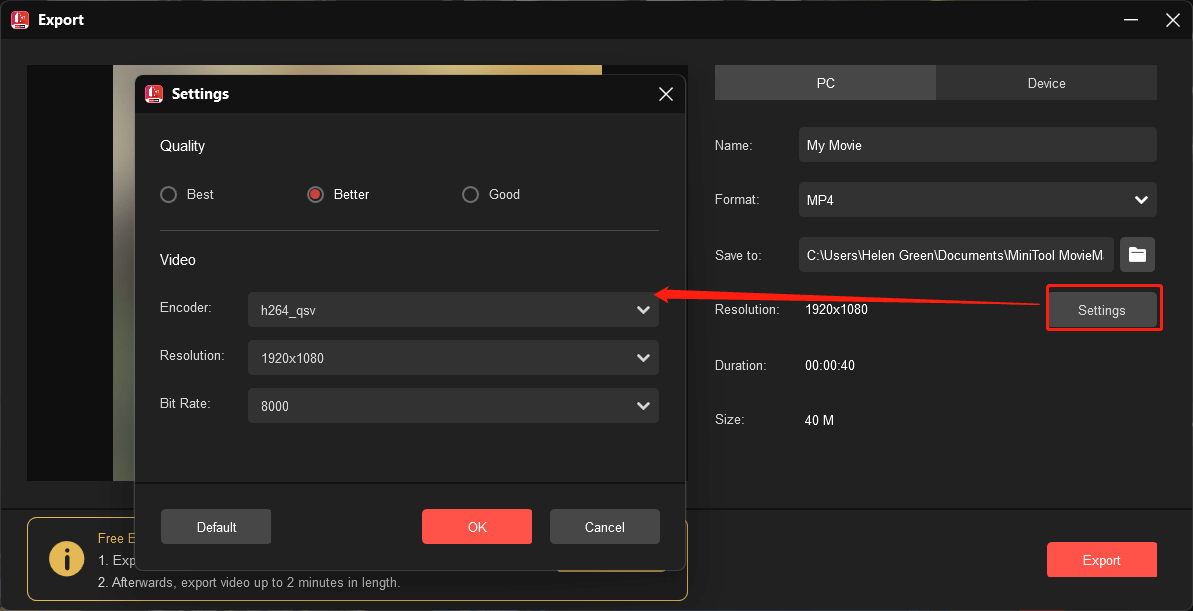 13. Finally, click Export to start the process.
It will take a few minutes to finish. Once you get the edited TikTok video, just deliver it to your mobile and upload it to your TikTok account.
Youtube to Tiktok Format Converter – MiniTool uTube Downloader
In the last part, let's talk about how to convert the YouTube videos to a format that is compatible with TikTok. Actually, you can directly choose to download a video from YouTube in a TikTok video format.
MiniTool uTube DownloaderClick to Download100%Clean & Safe
1. Download, install and launch MiniTool uTube Downloader on your computer.
2. Under the YouTube Downloader tab, search for your target video or directly input its URL link address to find and play it.
3. Click on the download icon behind the URL.
4. In the new window, choose a video format that is supported by TikTok and Click DOWNLOAD.
Wait until you have completely downloaded the target video. Then, edit the video with a video editor like MiniTool MovieMaker. Next, move the edited video to your smartphone and post it on TikTok.
Conclusion
Until now, you must have a better understanding of the TikTok video format and know how to create and recreate a TikTok-compatible video. If you have something to share with other readers, please leave a comment below. If you encounter any problems while using MiniTool products, don't hesitate to contact [email protected].
Related article: