How to compress a video? To address this, this article lists 4 easy-to-use video compressors to help you compress large video files so that you can more easily store, publish or share them no matter what device you use. If you need more video editing functions, try MiniTool software.
Why do people want to compress video size?
Meet any file size limits of social media.
Reduce video size to save more space on devices.
Send videos via email or over social networks quickly.
How to Compress a Video on Desktops
Handbrake (Windows & Mac)
HandBrake is a free and open-source transcoder for digital video files, which can be used to compress videos. You can use it on both Windows and Mac devices. The best part is that it can compress videos within seconds while maintaining its quality.
Another excellent feature is its real-time preview screen that allows you to preview videos before you export and save them on your device.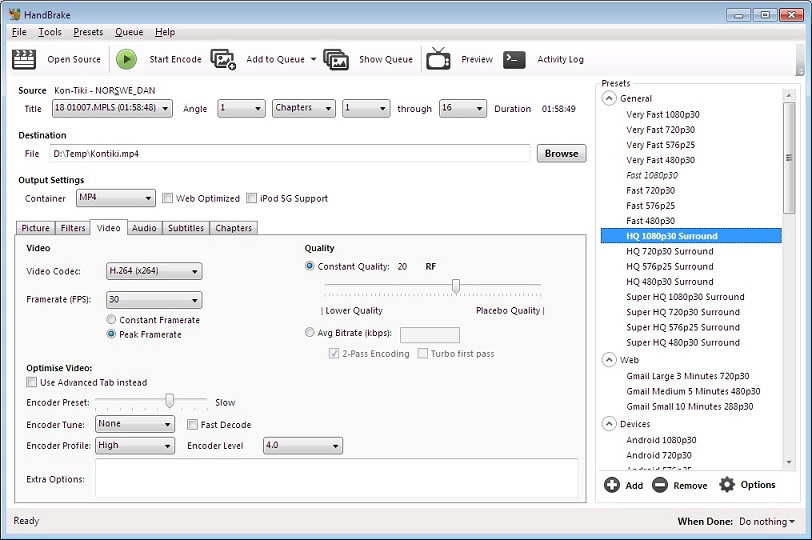 Download, install and run HandBrake on your PC.
Click the Open Source tab and import the video file you want to compress.
Click Browser to specify the destination folder.
Open the Presets drop-down options and select one preferred compression size.
How to Compress a Video on Mobiles
Video Compress (Android)
Video Compress is an excellent video compressor application developed by Mel Studio application development. The application supports all major video formats so that you can compress MP4, MOV and more as needed. After compressing the video, you can share it directly on social media.
In addition to MP4 compressor, the application contains all basic video editing functions such as rotation, trimming, etc. You can also extract audio files from videos. Another amazing feature is that you can even extract subtitles from videos. If you want to make space on your Android device, this is the app that works best for you.
Download and launch the Video Compress app.
Choose the album of the gallery that contains the video you want to compress.
Select the video file you want to compress.
Tap on the Compress Video
Choose the approximate size of the compressed video.
Select a kind of video rotation to apply.
Video Slimmer (iOS)
Video Slimmer lets you compress video files on your iOS device to reduce file size while keeping the good video quality. With just several taps, you will greatly save the precious space on your iPhone. This video compressor makes it possible to easily share, publish and email your iOS videos. You can also use it to combine small video clips or split long videos.
Open the Video Slimmer app on your iPhone.
Select the video file from the Camera Roll and tap on Done to load it into Video Slimmer.
Once the video is loaded, set options to preferred compression size.
Return to Video Source tab and tap Slim Now.
Once completed, the Converted Video tab will be active and shows your video and compression results. And the compressed video will be automatically saved to your Camera Roll.
How to Compress a Video Online
KeepVid Online Video Compressor
If you are looking for a way to compress video online, try KeepVid Online Video Compressor. This online video compressor fully supports Chrome and Firefox browsers to reduce video size online with ease. It can be used as an MP4 compressor and a MOV compressor. More importantly, it guarantees quality as well as handles the compression of video files in seconds.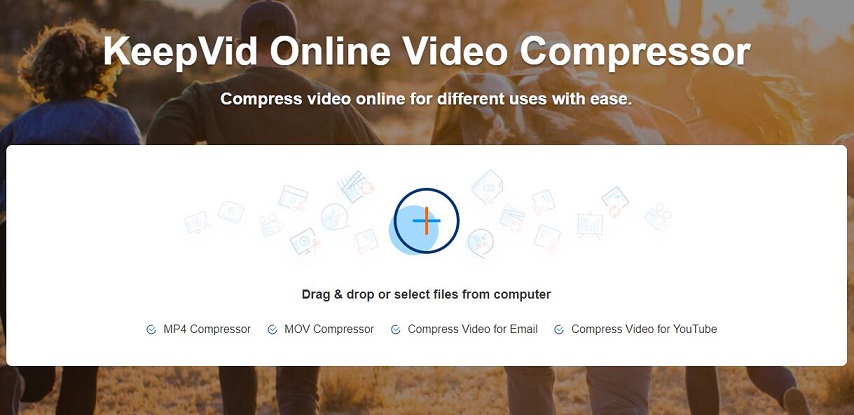 Visit the KeepVid Online Video Compressor site on your browser.
Add video from your computer by dragging and dropping, or clicking the Add Files.
Now choose quality for output video. You're also allowed to make advanced settings.
Click the Start button to start compressing video online.
Bottom Line
After learning how to compress video size on different devices, it's your time to have a try. If you have any questions or suggestions about it, please let us know via [email protected] or share them in the comments section below.