Which software is used for 2D animation? What is the best 2D animation software? How do I make a 2D animation for free? This post shows the top 10 2D animation software. If you want to create an animation video, you can try MiniTool software.
Today, more and more businesses consider using 2D animation videos for promotion. To increase conversion rates, some companies hire an animation team. In general, 2D animation programs can help you make videos easily and quickly.
Best 2D Animation Software
Adobe Animate
Animaker
Syngif
Stop Motion Studio
Opentoonz
Rencil2D
Toon Boom Harmony
Mopho Pro
FlipBook
Crazytalk animator
Top 10 2D Animation Software
1. Adobe Animate
Adobe Animate lets you animate just about anything. With Animate CC, you can create interactive animations for games, TV shows, and the web, and you can publish to multiple platforms.
Adobe Animate CC is an easy to use program. Unfortunately, the best 2D animation software limits our creative freedoms since it is missing some features. For instance, you can adjust the opacity of the brushes to sketch directly into the program, but you have to turn to Photoshop if you want to create more pressure-sensitive drawings.
To know more details about the best 2D animation software, you can read this post: Adobe Animate.
Features:
Export 360 VR animations.
Create ads directly with Animate.
Create new poses for vector images.
Arrange layers in a parent-child hierarchy.
Automatically matches mouth poses to voice inflections.
Pros:
You can add bone rigging to your characters.
Cons:
Animate CC is subscription-based.
2. Animaker
Animaker is an online 2D animation tool that can be used for marketing, education, business, or personal videos in a variety of styles. It provides numerous animated characters, icons, properties, maps, and charts, helping you create an ideal video for your presentation, personal projects, etc.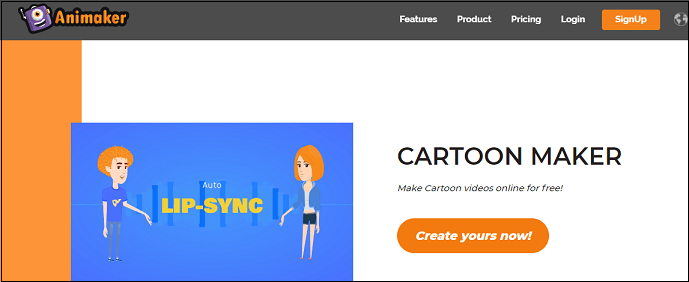 Features:
Offer 200 sound effects.
Export video in full HD quality.
Provide 100 background music tracks.
Create 6 animated video styles including 2D, handcraft, whiteboard, infographics, 2.5 D, and typography.
Pros:
A fair amount of characters and free material.
Support materials and quick email response team.
Cons:
No autosave feature.
Often freezes.
3. Synfig
Synfig is an open-source free 2D animation software that works on Windows, OSX, and Linux. It offers two versions available (stable and testing) for beginners to learn about 2D animation.
Features:
Multiple layers of content.
Sync narration or music to video.
Create cutout animations from bitmap images.
Pros:
It offers more than 50 layers.
Cons:
Few tutorials are available in the market to show how to make animation.
4. Stop Motion Studio
To create fun, 2D animated videos, or create a 2D animated presentation to highlight a product's features, you can try Stop Motion Studio.
The best 2D animation software helps you achieve all that you want in the world of 2D animation. Whether you change up the focus, exposure or white balance, you can easily capture content.
Features:
Offer dozens of music clips and sound effects.
A magic eraser can remove unwanted objects in the movie.
Frame-by-frame view to show all images in chronological order.
Set in and out points to mark a specific portion of your movie for playback and looping.
Pros:
You can record voice and add it to video.
Cons:
There are no premade designs or templates.
5. Opentoonz
Opentoonz is an open-source animation program that helps you create 2D animated content. This 2D animation tool offers 4 types of scanning and lets you save settings of scanning.
Features:
GTS scanning tool.
Paint with provisional colors.
Add distortion and light effects.
Compatible with both raster and vector images.
Compatible with black and white and colored scans.
Pros:
You can make beautiful animation effects automatically by using a plugin.
Cons:
UI design is outdated.
6. Pencil2D
Pencil2D is an easy to use and lightweight 2D hand-drawn animation software that helps you create 2D graphics as well as animation. Try the best 2D animation software to create some very fun as well as interesting videos.
Features:
Support TIFF format.
Raster and vector workflow switching.
Flipping or rolling technique lets you quickly review work.
Support Windows, macOS, and Linux operating systems.
Pros:
Multiple language support.
Cons:
It doesn't support the shapes tool.
7. Toon Boom Harmony
If you want to create an art piece or craft a unique message for your audience, you can try harmony. This all-in-one 2D animation software lets you create artwork, animate, and add sounds and special effects into animation.
Professionals like harmony since it offers bitmap and vector tools for creating art. Besides, it provides 3D imported models for hybrid productions, and Z-depth to help create multiplane scenes.
Features:
Cut-out animation tools.
Stabilizer for smooth lines.
2D or 3D integration to make professional animation.
Integrate it with software available in the production pipeline.
Pros:
You can make 2D or 3D animation with models.
You can import multilayer PSB and PSD files, Illustrator, PDF, bitmaps, and media files.
Cons:
Beginners need spending some time learning how to use this 2D animation software.
It only offers a 21-day free trial. Then, you need to pay $109 per month.
8. Moho Pro
Mopho combines professional tools with animation technology, letting you get professional results easier and faster. The best 2D animation software offers a simplified and efficient workflow. With this tool, you can create unique textures and effects for the characters.
Features:
Improved 3D object support.
Create unique effects and textures for your characters.
Make changes in the material properties of the 3D objects easily.
Keywords, sub-words and boolean operations can be used for chat.
Pros:
Its update is regular with advanced and newest features to use.
Cons:
It is expensive animation software.
9. FlipBook
If you like to make carton videos or create your own Disney character, you can try FlipBook. Free to download the best 2D animation software, and import your pictures directly from your scanners. You have to animate every single element yourself since this 2D animation maker is not based on bones animation. FlipBook is a powerful video editor. With this tool, you can make 2D animation with various functions like syncing sound with animation, scanning cells and more.
Related article: video editor without watermark
Features:
Customize the toolbar.
Import images from the scanner.
Convert PDF files directly into flipping books.
Shoot your pencil drawings with just one click.
10 layers in animation for adding extra touches.
Import overlays, backgrounds and movies, and add multiple music tracks.
Pros:
The best 2D animation software helps you create powerful video from drawing, and scanning to sound.
Cons:
Bone rigging is not available. Thus, it cannot make subtle changing.
10. CrazyTalk Animator
CrazyTalk Animator turns images to control characters and animated characters. This 2D animation program can animate your character's facial images with text and voice. With this tool, you can easily turn static images into proper real-life characters. The best 2D animation software is popular among YouTubers, educators and marketers.
Features:
Generate lip-sync animation.
Capture different facial motions.
Create interactive compound animations.
Convert Photoshop layers into 2D characters.
Timeline editing and motion paths are available.
Existing content can be transformed into 360 heads.
Pros:
It controls characters with your expression and lip-syncing.
Cons:
There are no drawing tools.
Share the top 10 2D animation software with all of you. Click to Tweet
There are different 2D animation software. Choose a suitable one to create your 2D animations. However, do you know how to create a 2D animation video easily?
How to Make 2D Animation Video
Free Animation Video Maker – MiniTool MovieMaker
MiniTool MovieMaker, free, no ads, no bundle video editing software, is recommended here. This watermark-free video editor offers simple as well as intuitive interfaces to help you create 2D animation videos easily.
Features:
Free, no ads, no bundle, no watermark.
Add animated text to animation video.
Create slideshow with photos and music files.
Trim video, split vide, combine video easily quickly.
Apply video transitions, filters and 3D LUTs to create outstanding videos.
Add music to animation video and edit music file such as fade in or fade out music.
Convert animation video to GIF easily.
Change video format, video bitrate, and video quality.
How to Create 2D Animation Video in Minutes?
MiniTool MovieMaker offers 2 ways to help you create an animation video. Free download this watermark-free 2D animation video maker to create videos.
MiniTool MovieMakerClick to Download100%Clean & Safe
It offers cool video templates including wedding video, travel wedding, movie trailers, etc. Thus, you only need to choose a template, import your files, and export this 2D animation video and share it with friends.
If you don't want to use video templates, you also can create and edit videos.
3 Steps to Create Animation Video
Step 1. Download, install and launch MiniTool MovieMaker, next import your media files including videos, pictures, and music files. Drag and drop all needed files to timeline.
Step 2. Create and edit your animation video.
Apply filters to video and change the color or video.
Add animated text to video including titles, subtitles and end credits.
Add video transitions like fades or dissolves to combine multiple videos into one.
Trim video to remove some unwanted parts, split video to cut out the middle of video.
Remove the background music from video, add music to video, and fade in/out music file.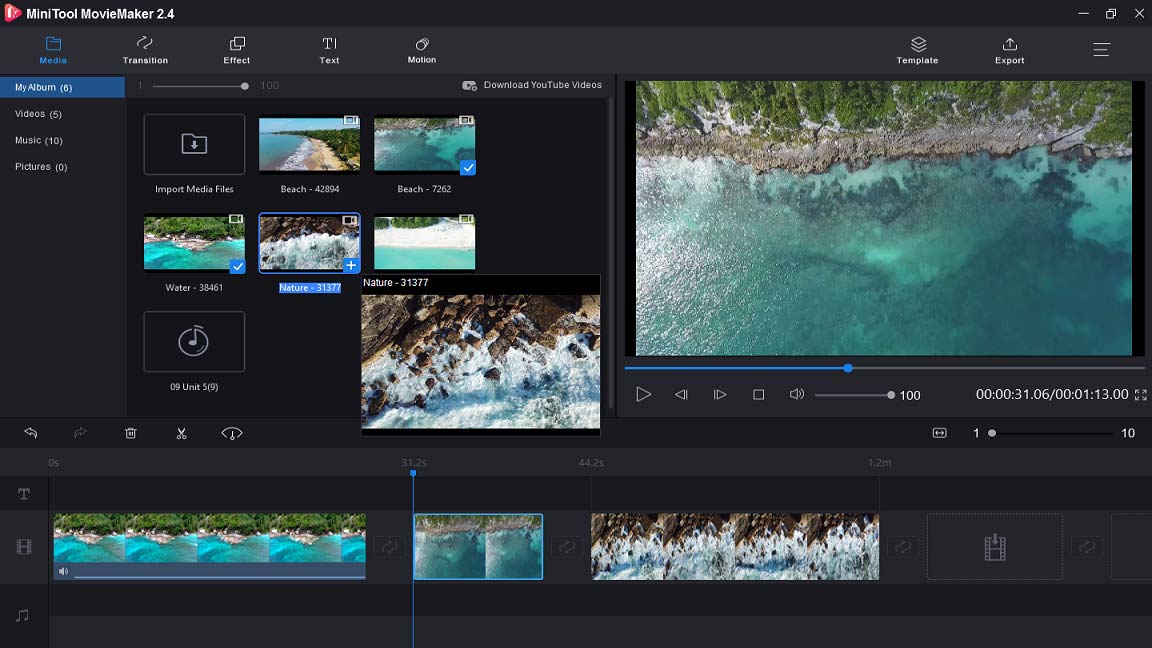 Related article: video splitter.
Step 3. Save animation video on PC.
This free 2D animation software lets you save video into different file formats including WMV, MP4, AVI, MOV, and others. Besides, you are allowed to change the video resolutions, video bitrate and video quality. After exporting, you can click the Find Target Files button to find the animation video you have created.
MiniTool MovieMaker is a free 2D animation software that helps beginners create animation video easily. Click to Tweet
Bottom Line
2D animation stands for two-dimensional animation. In other words, you create characters and backgrounds in two-dimensional, flat space. It is very easy to create 2D animation as long as you have the right tool.
To create an animation video for free, you can try MiniTool MovieMaker because of its simple interface as well as powerful functions.
If you have any questions on how to use MiniTool software, please contact us via [email protected].
2D Animation FAQ
?What is 2D animation?
2D stands for two-dimensional. 2D animation is the art of creating images and characters in a two-dimensional format and enliven them with movement.
?How do you make a 2D animation?
To make a 2D animation, you can try the following 2D animation software.
Adobe Animate
Animaker
Syngif
Stop Motion Studio
Opentoonz
Rencil2D
Toon Boom Harmony
Mopho Pro
FlipBook
Crazytalk Animator
?️Why is 2D animation important?
The following 3 reasons can explain it.
The demand for 2D animation is at an all-time high.
The best 2D animation software gives artists unlimited opportunities to create innovative new looks and experiment with 2D/3D hybrids.
It is very easy to learn 2D and create 2D animation.
?Is 2D animation dead?
No. 2D is a popular and diverse medium that can be seen prevalently in TV shows, video games, feature films, advertisements, mobile apps and websites. Today, 2D animation still reigns over the industry even in the age of 3D.