This article analysed by MiniTool official website mainly make a comparison between 8K resolution and 4K resolution. It compares their definitions, pixels, technologies, applications, prices, as well as performance. Learn more details below!
What Is 4k?
4K here refers to 4K resolution, which is a display or image resolution with a width of approximately 4,000 pixels. Usually, digital television (TV) and digital cinematography take advantage of several different 4k resolutions. Yet, the domain 4K standard is 3840 x 2160 p, which is also known as 4K UHD (ultra-high-definition television). Whereas, the movie projection industry makes use of 4096 x 2160 p, DCI (digital cinema initiatives) 4K.
4K Resolutions
The following are some common 4k footages and non-standardized 4K resolutions accepted by different industry niches.
3840 x 2160p
4096 x 2160p
4096 x 2560p
4096 x 2304p
3840 x 2400p
3840 x 1600p
3840 x 1080p
3996 x 2160p
4096 x 1716p
4096 x 3112p
The Application of 4K
The TV industry has adopted 3840 x 2160 as their 4K standard. Compared with offline fields like TV shows and broadcasting, 4K content has become more widely available online on YouTube, Apple TV, Netflix, Hulu, Amazon, etc.
Advanced Television Systems Committee (ATSC)
On March 26, 2013, the Advanced Television Systems Committee announced new proposals for a new standard named ATSC 3.0 that would implement UHD broadcasts at resolutions of up to 3840 x 2160 or 7680 x 4320. That standard would also include framerates of up to 120Hz, high-efficiency video coding (HEVC) encoding, high dynamic range (HDR), and a wide color gamut.
Digital Video Broadcasting (DVB)
In 2014, the Digital Video Broadcasting Project published a new set of standards intended to lead the implementation of high-resolution content in broadcast television. Dubbed DVB-UHDTV, it builds 2 standards called UHD-1 and UHD-2 with the former for 4K content and the latter for 8K.
In 2016, DVB finalized UHD-1 Phase 2 together with the introduction of service by broadcasters expected in 2017. New utilities are added into UHD-1 Phase 2 like HDR using hybrid log-gamma (HLG) and perceptual quantizer (PQ) at 10 or 12 bits, high frame rate (HFR) up to 120Hz, as well as a wide color gamut.
Video Streaming
Since 2010, YouTube and Vimeo permit a maximum upload resolution of 4096 x 3072 pixels, 12.6 megapixels, aspect ratio of 4:3. 4K content on Vimeo is limited to mostly nature documentaries and tech coverage. High-efficiency video coding (HEVC or H.265) should allow streaming of 4k videos with a bandwidth of 20 – 30 Mbit/s.
Mobile Phone Cameras
In late 2013, the first smartphones that can be recorded at 3480 x 2160p were released. Among those cell phones, there was Samsung Galaxy Note 3, which can record 2160p at 30 frames per second (FPS).
In 2014, the OnePlus One phone was published with a camera that is capable of recording DCI 4K at 24 fps. At the same time, Samsung Galaxy Note 4 and LG G3 were equipped with optical image stabilization (IS).
In 2015, Apple Inc. announced the iPhone 6s with a 12 Mpx camera that can record 4K at 25 or 30 FPS.
Until 2017 – 2018, mobile chipsets reached sufficient processing power that mobile phone vendors began selling phones recording 2160p resolution at 60 fps for a smoother and more realistic appearance.
What Is 8K?
8K stands for 8K resolution that is a horizontal display resolution of approximately 8,000 pixels. It is the successor to the 4K resolution. 8K UHD (7680 X 4320) is the highest resolution defined in the Rec. 2020 (UHDTV) standard.
The Application of 8K
Compared with 4K, 8K is more advanced. Let's see its application history.
Movie Reproduction/Shooting
In 2007, the original 65 mm negative of the 1992 film Baraka was re-scanned at 8K with a specialized film scanner at FotoKem Laboratories and used to remaster the 2008 Blu-ray release.
Guardians of the Galaxy Vol. 2 was the first feature film shot in 8k in 2016 and was put on screen in 2017. It was shot by the Red Weapon 8K VV.
Tips:
The projector – Digital Projection INSIGHT Laser 8K at Integrated System Europe 2018 is an 8K projector.
Broadcasting
In 2012 at the Consumer Electronics Show (CES), Sharp unveiled the first 8K television in the world. Experimental transmissions of the resolution were tested at the 2012 London Summer Olympics and the 2016 Cannes film festival showcasing Beauties À La Carte, a short showcased publicly on a 20" screen.
8K TVs
Sharp: 85″ 8K LCD TV,
Panasonic: 145″ 8K Plasma Display; 55″ 8K 120 Hz LCD,
LG: 98″ 8K LCD TV; 98-inch UH9800 with ColorPrime Plus technology; 8-inch 8K OLED TV
Samsung: 110″ 8K 3D LCD TV; 98-inch SUHD 8K curved TV; Q9S 85-inch QLED TV, Q900 R – 65, 75, 82, and 85-inch 8K QLED TV models; QLED 8K TV Q700T/Q800T/Q950TS
BOE: 98″ 8K TV
Hisense: 98-inch ULED 8K TV; U9E – 75-inch 8K QLED
Changhong: 98-inch 98ZHQ2R "8K Super UHD",
Sony: Z9G/ZG9 – 85 inch and 100 inch 8K Ultra HD Bravia TV; Z8H/ZH8 – 75 and 85 inch 8K Ultra HD Bravia TV; Z9J – 65, 75, 85, and 100 inch 8K Ultra HD Bravia; Z9K – 65, 75, 85, and 100 inch 8K Ultra HD Bravia
TCL: 75 inch 8K QLED TV
The First 8K Camera
On April 6, 2013, Astrodesign released AH-4800, which is able to record 8k resolution.
In April 2015, Red announced Weapon VV which can record 8K videos. Further in 2016, Red published another two 8K cameras, Red Weapon 8K S35 and Red Epic-W 8K S35. Red replaced Weapon VV with Weapon Monstro VV with improving features like dynamic range and noise reduction.
Smartphone Cameras
In May 2019, vendors started to release the first generation of 8K video recording phones, which is largely thanks to the sufficient resolution of image sensors and chipset performance. Below is a list of mobile phones that have 8K cameras.
Samsung Galaxy: Note 20, S20, S21, S22 series
ZTE: Axon 30 Ultra, Nubia Red Magic 3/3s/5G/5S/6/6 Pro/6R, Nubia Z20/Z30 Pro
Asus: ROG Phone 3/5, ZenFone 7/8/8 Flip
Lenovo: Legion Duel 2
Vivo: X50 Pro+, X60 Pro+
LG: V60 ThinQ
Motorola: Edge 20 Pro
OnePlus: 9/9 Pro
Xiaomi: Mi 10/10 Pro/10 Ultra, Mi 10T/10T Pro, Mi 11/11 Pro/11 Ultra, MIX 4
Redmi: K30 Pro, Poco F2 Pro, K40 Pro/K40 Pro+
Sharp: Aquos R5G
Tips:
Mobiles with up to 
5K (2880P)
 or 6K (3240P) cameras have never been released.
Gaming
Both PlayStation 5 (PS5) and Xbox Series X support games at an 8K resolution.
GeForce RTX 30 Series GPUs are the first available to feature HDMI 2.1 support for single cable output on 8K HDR TVs.
Below are some 8K monitors that are compatible with 8K games.
Canon 30″ 8K reference display
Sharp's prototype 27-inch 8K 120 Hz IGZO desktop monitor with HDR
Philips 328P8K 8K UHD desktop Monitor
Dell UltraSharp 32 Ultra HD 8K Monitor
BOE 8K 13.3 inch Narrow Bezel Laptop Display
Tips:
8K VR
 headset Pimax Vision 8K X is made up of two 3840 x 2160 screens of 90 Hz.
4K vs 8K TV
Next, let's see the differences between 4K and 8K TVs.
4K TV
According to the above content, 4K TVs refer to televisions that adopt 4K technology and have a picture resolution of 3840 x 2160 pixels, more than 8 million pixels and 4 times the resolution of Full HD TVs. 4K TVs reproduce 4K content with more definition, details, clarity, as well as texture, so what you see is more immersive than on an FHD TV.
Besides, 4K televisions upscale compatible content that is not created in 4K. That content can look its best on a 4K TV. 4K TVs offer the full-color range experience closeup and they update the screen for smooth action frequently, even on a big displayer.
8K TV
8K TVs have 33 million pixels, 4 times as many pixels as 4K TVs. Thus, an 8K resolution provides you with extremely wonderful crisp detail, especially on the largest 8K TV screen. 8K TVs reproduce 8K UHD video content created in 8K once those movies, shows, or games begin being produced.
4K TV vs 8K TV Price
In addition to the technical difference between 8K and 4K televisions, there are some other aspects such as price. Usually, price is a standard that reflects the quality of a physical thing or invisible service. The higher the price, the better the target is. So, in general, 8K TVs are more expensive than 4K devices.
On the one hand, 8K technology isn't as mature as 4K and few manufacturers have successfully produced 8K TVs. Considering the cost and market of 8K televisions, currently, they charge more than 4K televisions. Yet, with the development of technology, 8K TVs' prices will decrease. At the same time, the price of 4K TVs will be much cheaper.
Where to Buy 4K or 8K TVs?
Comparing the differences between 4K and 8K televisions, you have a decision about which model to get. Then, where can you purchase your ideal TV model?
1. Buy 4K/8K TVs online at Amazon, Best Buy, Aliexpress, eBay, Newegg…
2. Buy 8K/4K TVs on the official websites of television manufacturers or vendors like Samsung, Sony, LG, Sharp, Hisense, etc.
3. Buy UHD TVs offline in shopping malls such as Walmart.
8K vs 4K Editing
The above discussed the playing devices for 4K and 8K videos. Then, how to create and edit 4K or 8K videos? Actually, given adequate hardware, either 4K or 8K videos can be edited by all major non-linear video editors like Adobe Premiere, Lightworks, Final Cut Pro X, DaVinci Resolve, and Avid Media Composer, Vegas Pro, Edius, and Kdenlive.
However, in real daily life for common people, most of them don't need to handle that high-resolution videos. Usually, a 1080p video is enough. Here, it will introduce you to a free video editing application that can create and edit 1080p videos for you without watermark – MiniTool MovieMaker.
MiniTool MovieMakerClick to Download100%Clean & Safe
1. Download, install, and launch MiniTool MovieMaker on your computer.
2. Under the Media tab in the upper left section, click the Import Media Files option to import photos, songs, videos, etc. materials into the app.
3. Click the + icon under each imported material to add it to the timeline.
4. Click on the target material on the timeline track and add effect, text, motion, or animation elements to it from the upper left menu.
5. You can also add a transition between two materials.
6. Besides, you can edit each material with different parameters depending on its type. Commonly, you can manage contrast, saturation, brightness, rotation, and 3D LUT for images and videos; change fade in/out and volume for videos and audio.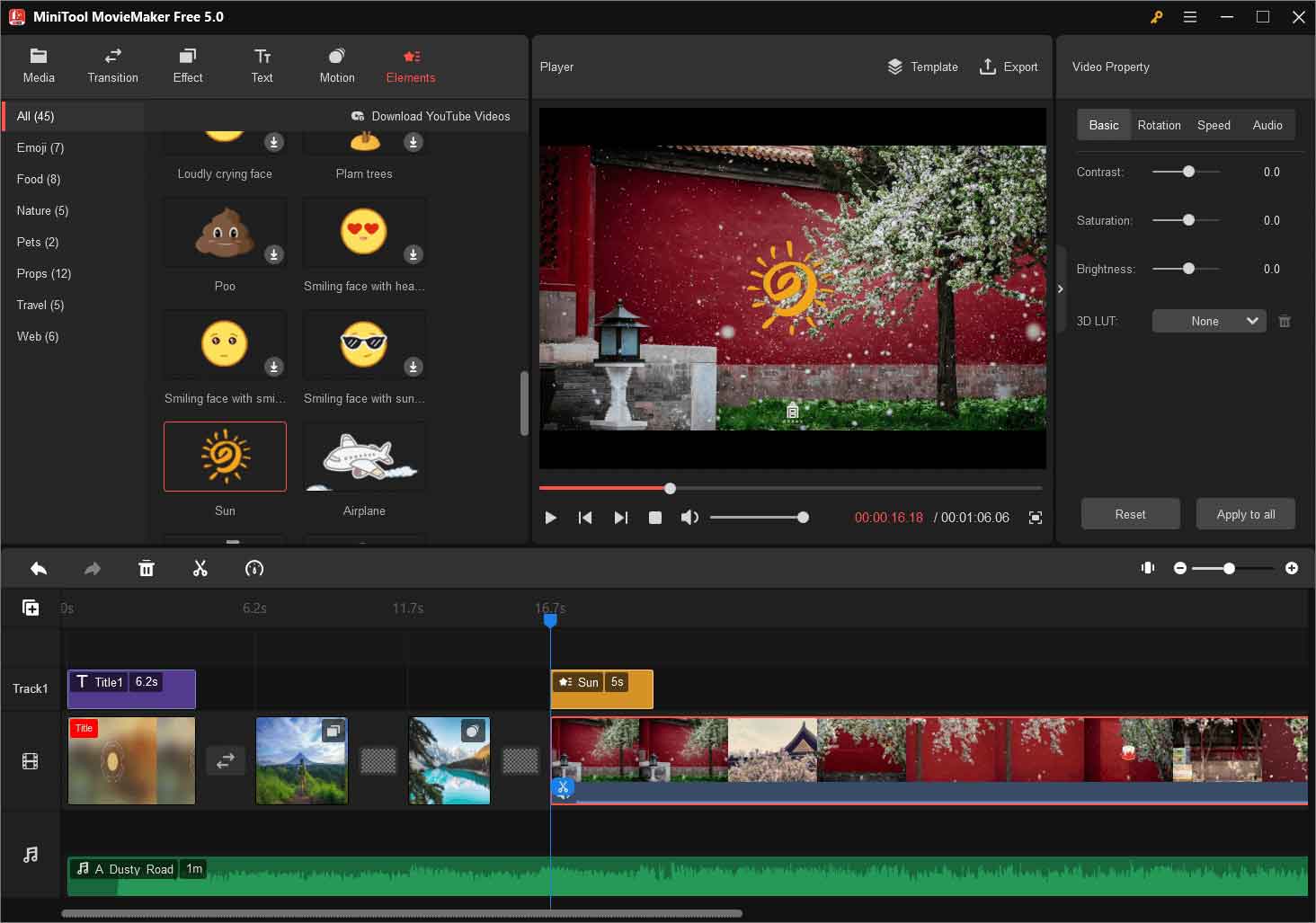 7. When finish editing, click the Export option in the upper right and select the resolution of the created video to export. The currently available resolutions are: 1920 x 1080, 1440 x 1080, and 1280 x 720.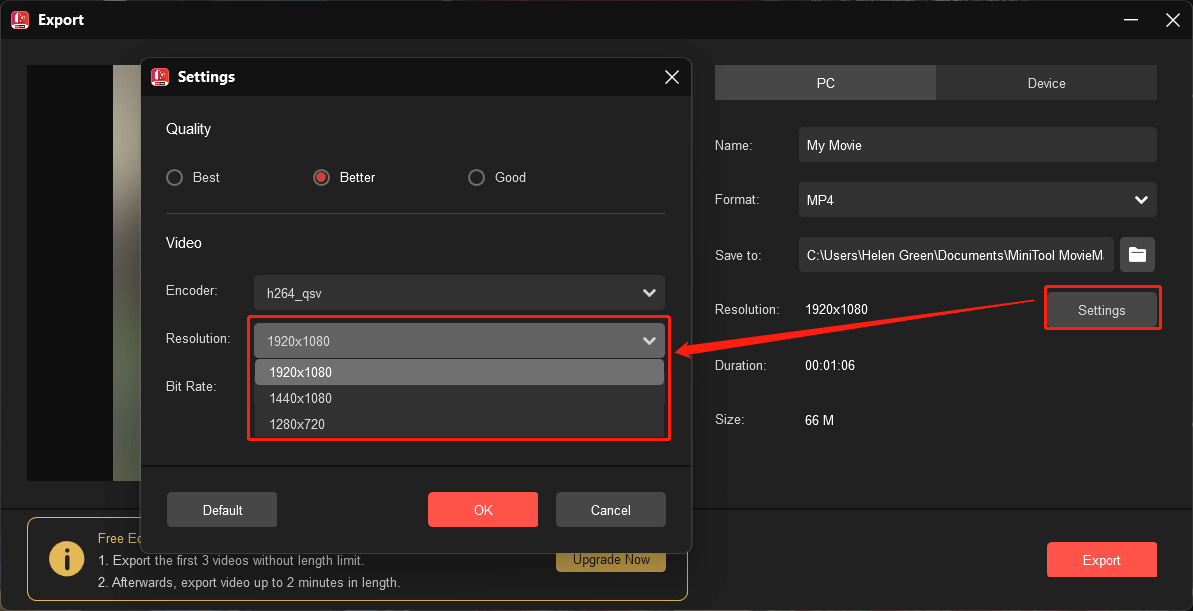 8. Finally, click the Export button to complete.
In addition to those features, MiniTool MovieMaker can also adjust the speed of your video, reverse a video, trim or split a target video, make a quick video with templates, and so on.
Verdict
In a nutshell, 4K is a resolution of 3480 x 2160p while 8K stands for a resolution of 7680 x 4320p. 8K is four times the pixels or sharpness of 4K. Therefore, an 8K TV is clearer and more immersive than a 4K television. If you have more information about 4K vs 8K to share, please write it down in the following comment zone. If you encounter any problems while using MiniTool MovieMaker, please contact [email protected] for help.
Also Read