About Windows 11 Default Media Player
Windows 11 default media player is called Media Player. It is created by Microsoft for the latest Windows 11 operating system (OS). Media Player replaces the old Windows Media Player, Windows 10 Groove Music, and Microsoft Movies & TV. It was released to all Win11 users on February 15, 2022.
Why Windows 11 Media Player Isn't the Default Media Player?
By default, the new Windows 11 Media Player should be the default media player in Windows 11. Yet, for some reason, you may not have it as your default player. For example, when you install a third-party media player on your computer, it will ask you to set it as the default media player after installation, when you open it, or sometimes while you are using it. If you don't notice that and mistakenly confirm its suggestion, your default media player will change from Media Player to the non-official media player.
How to Change Default Media Player Windows 11?
If you want to make Windows Media Player default in Windows 11 again, or if you want to use your favorite media player as the default player instead of the Windows 11 Media Player, you can follow the following instructions.
#1 Set Default Media Player Windows 11 Settings
First of all, let's see how to customize the default media player in Windows 11 Settings app.
Click the Windows 11 Start Menu and select Settings in the popup.
When the Settings window pops up, choose Apps in the left panel.
Find the Default apps option in the right section and click on it.
Find one of the media players that you have on this computer and click on it.
On the next page, it will show a long list of different file types (formats/extensions). You can specify the default media player as Windows Media Player or another media player for each file extension.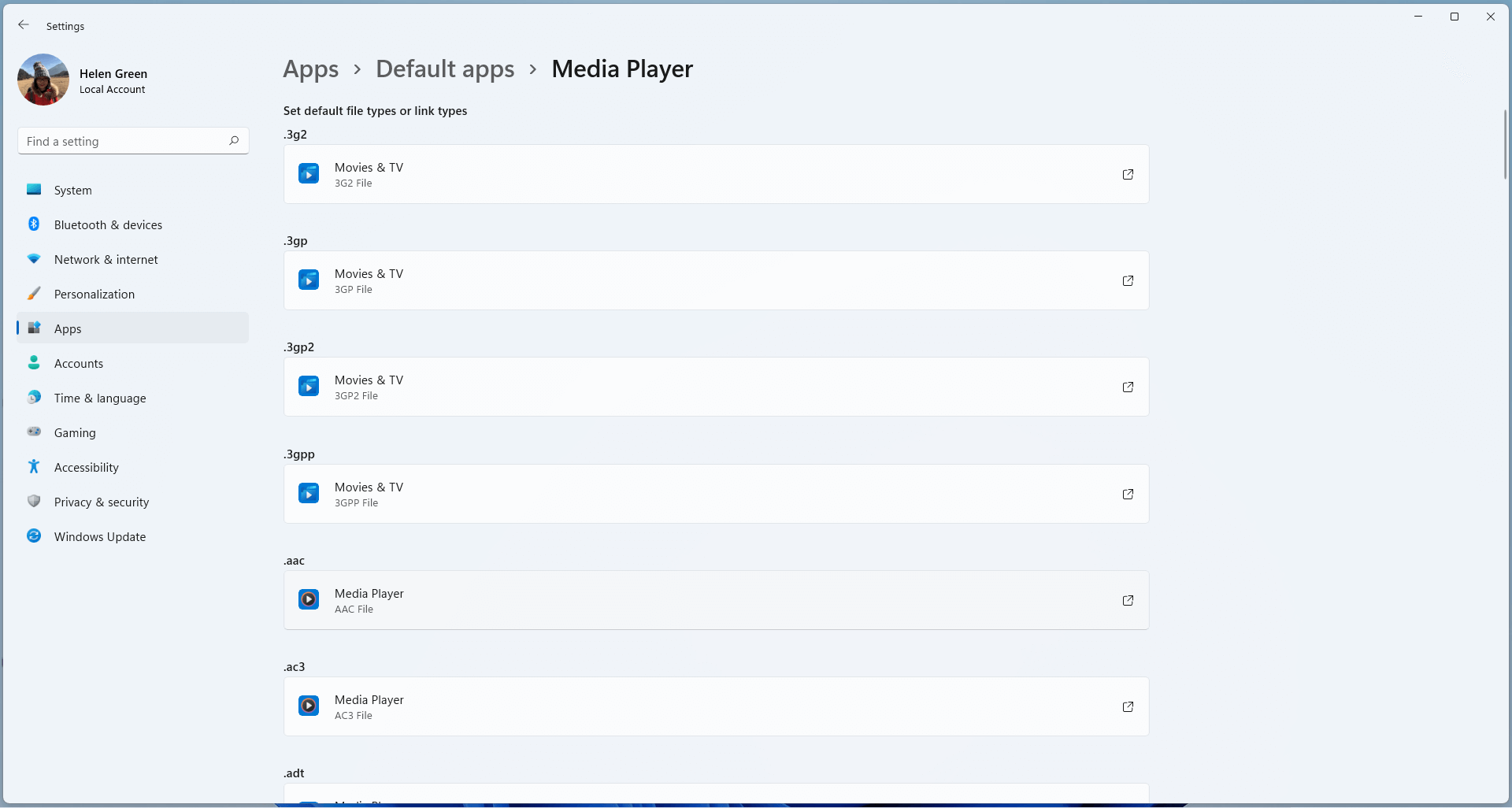 Since there are many file extensions, you don't need to set their default player one by one. Just pick up the file formats you usually use and assign a default media player to them.
#2 Set Windows Media Player as Default Windows 11
Secondly, you can change the default media player on Windows 11 by right-clicking.
Right-click one of your common media files (types) and select Open with > Choose another app.
In the new window, select your desired media player. If a media player does not support the current file type, it will not show in the list.
Check Always use this app to open .xxx files.
Click OK to save the change and open the media file with the selected media player.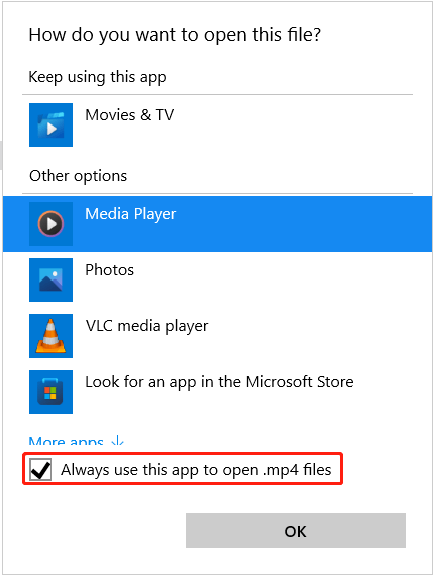 In that way, you have successfully set your desired media player as the default media player for the specific media file format in Windows 11.
Videos/Audio/Photos Management Tools Recommended
These applications are completely compatible with Windows 11/10/8.1/8/7.
MiniTool MovieMaker
An easy-to-use video editing software without watermarks and limits. The embedded templates enable you to quickly make personal slideshows and share them with your friends!
MiniTool MovieMakerClick to Download100%Clean & Safe
MiniTool Video Converter
Quickly convert videos and audio from one file format to another to apply to more devices. It supports 1000+ popular output formats and batch conversion. Besides, it can also record PC screens without any watermark.
MiniTool Video ConverterClick to Download100%Clean & Safe
Related article: