Are you searching for the best place to watch dubbed anime? If yes, you've come to the best place. In this post, we will offer you the top 8 dubbed anime websites. Here you can watch dubbed anime and download them for free. To make anime GIFs, you can't miss MiniTool MovieMaker.
Before knowing the best site to watch dubbed anime, let's see what the difference between a subbed anime and a dubbed anime is. A subbed anime means anime with Japanese audio and English (or other languages) subtitles, while a dubbed anime means anime with English (or other languages) audio and English (or other languages) subtitles.
Most people prefer subbed anime because it preserves the authenticity of anime. But the drawback is that reading subtitles distract them when watching a subbed anime. For those who want to concentrate on watching, a dubbed anime is better than a subbed anime. In this post, we will list 8 best places to watch anime with the English dub online free. You may like: 7 Best Free Websites to Download Anime Subtitles.
Disclaimer: We do not advocate piracy. Please do not download copyrighted content!
Top 8 English Dubbed Anime Websites
AnimeDao
GoGoAnime
Crunchyroll
DubbedAnime.biz
AnimeHeaven
Chia-anime.tv
Animeland.us
Dubbed Anime
#1. AnimeDao
Wondering where to watch dubbed anime? AnimeDao gives you the answer. It's one of the best English dubbed anime websites which provides lots of anime shows. You can search anime by genre, popular, list (in alphabetical order). When you watch anime shows at night, you can enable dark mode to protect your eyes.
On AnimeDao, you can watch anime the Englsih dub online with no sign-up requirement, but you cannot download them from the website.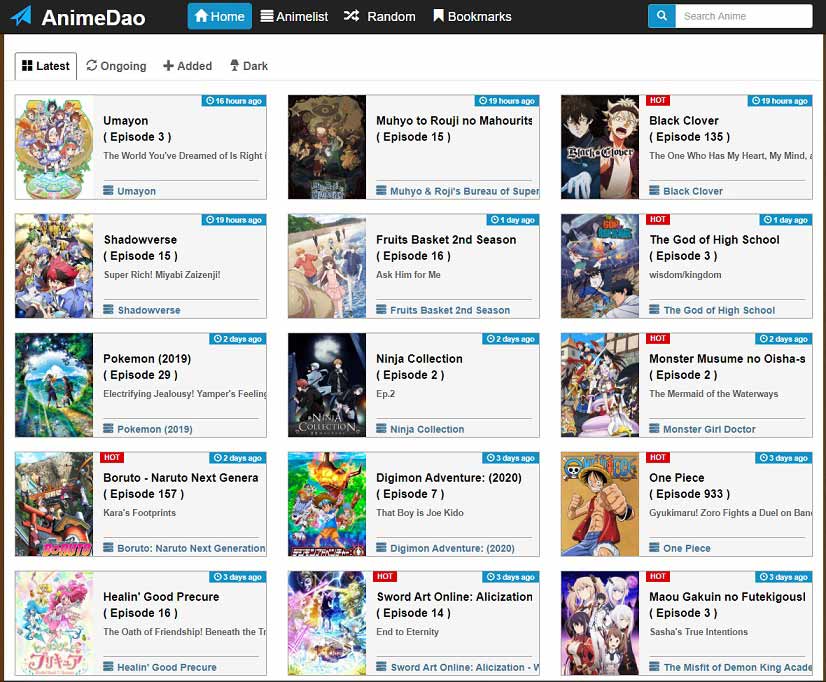 You may also like: 3 Ways to Download Streaming Video from Any Website.
#2. GoGoAnime
GoGoAnime is another best site to watch anime. It provides you with both dubbed and subbed anime such as Black Clover, Shingeki no Kyojin, Horimiya and many more. This website allows you to watch dubbed anime with various quality and speed. And anime series on this website can be downloaded fo offline playback. By the way, there is no registration required!
#3. Crunchyroll
Crunchyroll holds numerous anime shows, manga and games. It offers various qualities from 240p to 1080p and foreign language subtitles including English, France, Spanish and so on. You can watch anime series online free but cannot watch them offline. If you wish to save anime shows for offline viewing, you'd better subscribe to the Premium plan. The Premium member can read manga and access anime unlimitedly.
Related article: 4 Best Methods to Download Crunchyroll Videos.
#4. DubbedAnime.biz
As its name suggests, DubbedAnime.biz has tons of dubbed anime shows. It has an intuitive interface which lets you quickly find what you want. anime shows can be searched by type, genre, year and status. When watching anime on this website, you are able to change the video quality and adjust the video speed. What's more, it lets you download anime shows for offline playback.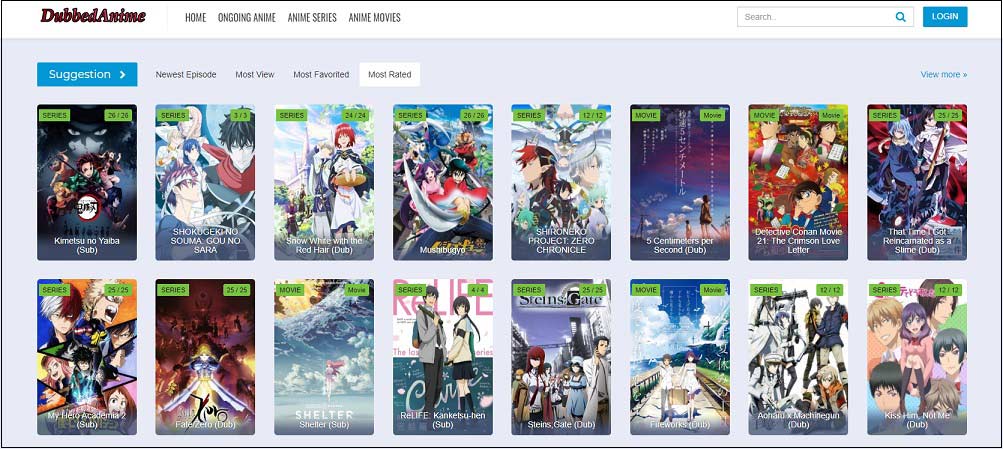 #5. AnimeHeaven
AnimeHeaven is a great place to watch English dubbed anime online free including Kaguya-sama wa Kokurasetai: Tensai-tachi no Renai Zunousen, Kumo desu ga, Nani ka, Hataraku Saibou BLACK. Besides that, it also offers ongoing anime and anime movies. Here you can watch and download dubbed anime without having to sign up.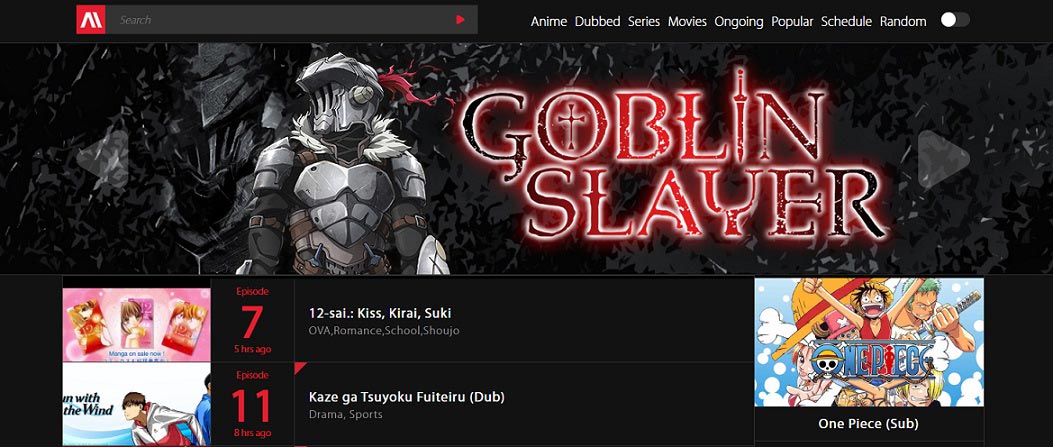 You might be interested in this post: 5 Best Manga Apps for Android and iOS (2021).
#6. Chia-anime.tv
This website is easy to navigate with a simple and intuitive interface. It shows detailed information of every anime show and offers a download option for you. Different from other anime websites, Chia-anime lets you filter by Studio and season. In addition, you can read manga online for free including Naruto, Bleach and One Piece.
#7. Animeland.us
It's one of the most popular English dubbed anime websites which offers the download option. And the available source quality of anime is from 480p to 1080p and there is no option to change the video playback speed. Animeland hosts a large number of anime shows, visit the website and watch dubbed and subbed anime series right now!
#8. Dubbed Anime
Dubbed Anime enables you to browse anime by genre, letter, type, status, language, year, season and sort. Besides, it features Auto Next Episode. Like other English dubbed anime websites, it doesn't require you to sign up for accessing the website. However, the video quality is not as good as other websites.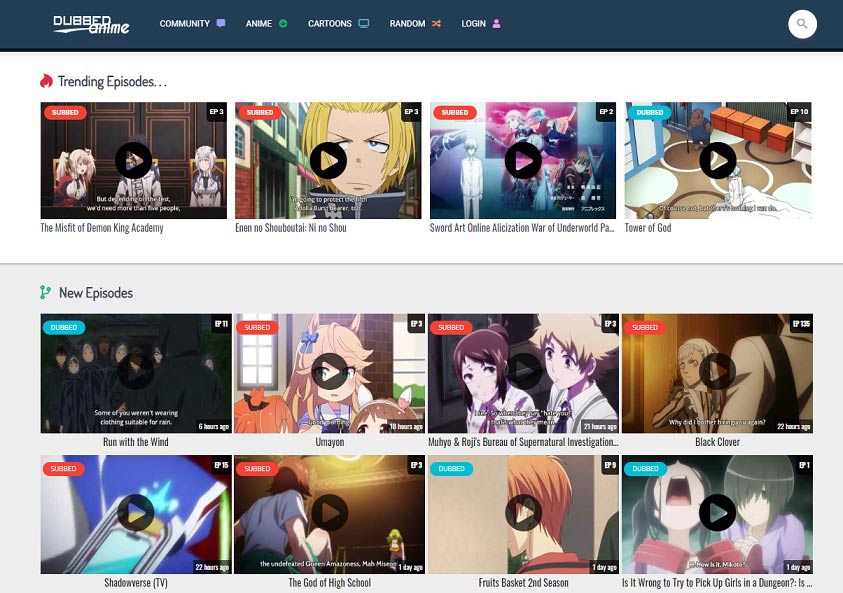 If you also like watch TV shows online, see: 7 Best Sites to Watch Series Online Free in 2020 | Still Working
10 Best  Anime You Can't Miss
After knowing the top 8 best places to watch anime, here recommend 10 anime shows with the best English dub.
My Hero Academia
Naruto
Death Note
Attack on Titan
Black Clover
Assassination Classroom
Tokyo Ghoul
Fairy Tail
Hunter x Hunter
One Piece
Conclusion
Top 8 websites to watch dubbed anime for free are listed in this post. Which one do you prefer?
If you have better anime websites to share, please tell us in the comments area.
Related article: