In order to watch the latest anime and anime movies for free, choosing a high-quality anime streaming site is very important. After comparisons, some anime streaming sites stand out. Here list the top 10 best anime streaming sites for your reference.
Japanese anime is no longer limited to Japanese audiences. These animes have huge fans around the world, especially in the United States and European countries. But most series are only available online.
Therefore, this article tested a number of declared best anime streaming sites and finally came up with 10 top anime streaming sites. These are worth trying on PC, Android and iOS mobile devices. If you want to make your own cartoons or anime, try MiniTool MovieMaker.
Top 10 Best Anime Streaming Sites
Funimation
GoGoAnime
9Anime
AnimeFreak
Hulu
MyAnimeList
AnimeHeaven
Anime-Planet
Chia-anime
AniWatcher
1. Kissanime (Not Working)
Kissanime is one of the best anime websites. It provides a lot of cool animations in thumbnail view and arranges the latest anime on the homepage. At the top of the homepage, users can choose their favorite anime category.
Navigate to the anime list on the site and you'll see videos organized by category. Clicking on the anime name in the menu will take you to the video page. However, you cannot change video resolution on the playback window and ads may pop up at any time.
Related article: Best Kissanime Alternatives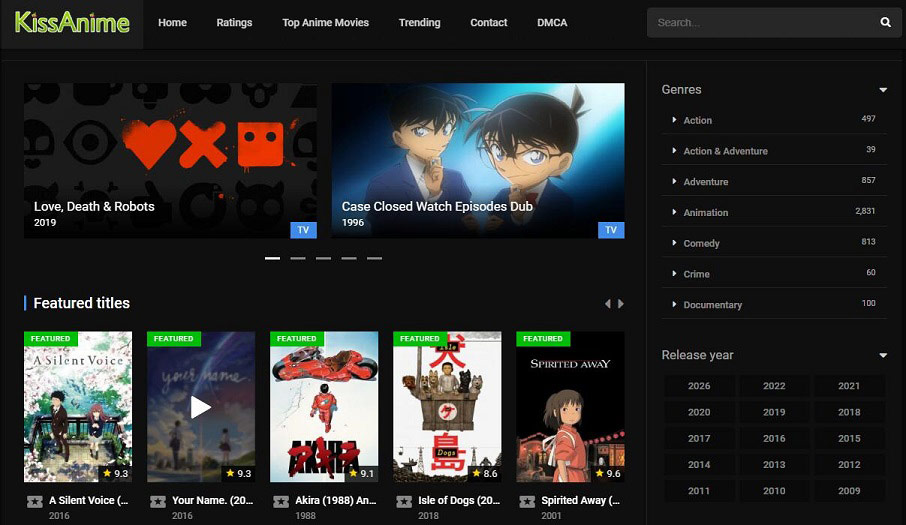 2. Funimation
Funimation is an animated streaming website that specializes in dubbed anime series to cater to English-speaking regions. The site offers the latest updates of the anime series airing in a specific season, and has been known to produce English versions of hit Anime movies.
In addition, the library of Funimation contains various anime series, including on-going and completed series. Users can watch it for free on Funimation with ads or subscribe to it to remove ads.
3. GoGoAnime
GogoAnime provides many top animes for you to watch online for free. This anime website shows you the updated plot of the latest anime of the season. It provides high-quality anime videos and movies, and is only dedicated to streaming Japanese anime. In addition, you can watch the English animation series, which means you don't have to rely on subtitles to understand it.
In addition, the site has a section where you can watch animated movies at any time and watch them in high quality. If you enjoy watching anime, GogoAnime is one of the best anime streaming sites you must try.
4. 9Anime
The next anime streaming site is 9Anime. The site claims to play anime series and movies in ultra-high definition quality. It features Japan's top-rated anime series. The site is unique in that part of it shows the release schedule for upcoming anime episodes.
It also has a feature that allows users to request anime to add from an existing list of series that they already own. Finally, all anime series and episodes are appropriately classified based on their respective genres to speed up access.
5. AnimeFreak
AnimeFreak is an excellent anime website where you can find the latest anime releases, the latest episodes of anime and anime movies you watch often, and the latest chapters of the comics you are reading. You can use the alphabetical list function of the website to browse the website effectively. You can browse the site efficiently by using the site's alphabet list feature.
If you are looking for a new anime to watch, you can choose from the various genres available on the site. For otaku who likes watching anime, this site is perfect. However, it has a lot of ads popping around, which can be annoying.
6. Hulu
Hulu is one of the best anime sites that offer online streaming anime videos. Hulu contains a large number of anime movies, TV shows and original Hulu shows.
The site is not completely free and you have to pay a few dollars to access some paid shows. But the site offers a 30-day free trial period. Therefore, you can consult services before purchasing a plan.
7. MyAnimeList
MyAnimeList is another best free anime streaming website without ads. The site is very popular among users because of its user interface. It offers different tabs to help users easily search for their favorite anime series.
It also provides a short description of the show. It will show you the ranking, popularity, reviews, characters, etc. of the series. In addition, you can also enjoy your favorite HD video English subtitle anime series.
8. AnimeHeaven
AnimeHeaven is completely free on this list of top anime streaming sites. You will get all the popular anime series, current series, cartoons and movies.
It allows users to download videos of different video quality. So, if you are looking for a website that can not only download videos but also stream them, then Anime Heaven is the ideal choice for you.
9. Anime-Planet
Anime-Planet is one of the most popular and interesting anime streaming sites. Similar to other anime streaming websites, it lets you stream your favorite anime shows and series online. It also provides some basic information about the program you want to stream.
The best part of this website is that you can also make friends through this website. Anime Planet gives you the opportunity to join the community and follow other users who have the same interest.
10. Chia-anime
Chia-Anime is considered one of the best free anime streaming sites in Japan. The company opened an office in Japan as early as 2009 and continues to provide services to audiences worldwide for free. Here you can find almost any anime series you might think of.
It provides excellent video quality and English subtitles to international audiences. Videos load faster than other videos, without buffering, and without annoying ads when viewed.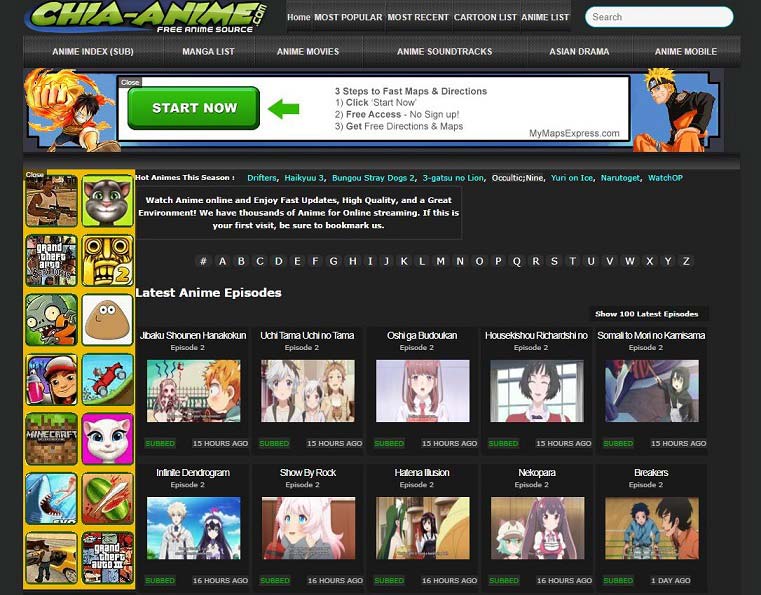 Some of the above-mentioned anime streaming sites not only allow you to watch anime online, but also allow you to download your favorite anime. If you want to make anime GIFs or anime mixed cuts using the downloaded anime, it is recommended to use MiniTool MovieMaker here.
Bottom Line
The top 10 best anime streaming sites have been introduced in detail. Which one do you prefer? If you have any other excellent anime streaming sites to recommend, please let us know via [email protected] or share them in the comments section below.
Also read: