How to get anime subtitles for free? This post collects the 7 best free websites to download anime subtitles. Besides, it will give you a list of the 10 best anime of 2020. Now, read this post to learn more!
7 Best Free Websites to Download Anime Subtitles
Anime subtitles help foreigners get a better understanding of Japanese anime. However, some anime shows lack English or other language subtitles. In this case, here list the 7 best free websites to download anime subtitles for free (To add subtitles to anime video, try MiniTool MovieMaker).
7 Best Free Anime Subtitles Download Websites
Kitsunekko
OpenSubtitles
Subdl
Subscene
Animetosho
iSubtitles
AniSubs
#1. Kitsunekko
Kitsunekko is a free website where you can download anime subtitles in 4 different languages including English, Japanese, Chinses, and Korean. All the anime subtitles can be downloaded without signing up. If you want to upload subtitle files to this website, then you need to sign in with your Google account.
#2. OpenSubtitles

As one of the biggest subtitle download websites, OpenSubtitles allows you to download anime subtitles, movie subtitles, and TV series subtitles (including Game of Thrones subtitles). Input the anime title in the search box and choose the language you speak. Then you click the Download icon to download subtitles for the anime.
#3. Subdl
With its simple and clean interface, this anime subtitles download website lets you filter anime subtitles by languages. Also, you can choose Subtitle, or Popular movies to quickly find the subtitle that you want to download. No sign up is required!
You may also like: Top 8 Places to Watch Dubbed Anime Online Free 2020
#4. Subscene
This is another anime subtitles download website offering subtitles in various languages like English, Arabic, Chinese, Dutch, Thai, and more. Except for anime subtitles, you can also find subtitles for movies, TV shows, and music videos. Plus, it offers you a dark theme, so you can enable dark theme when browsing subtitles at night.
#5. Animetosho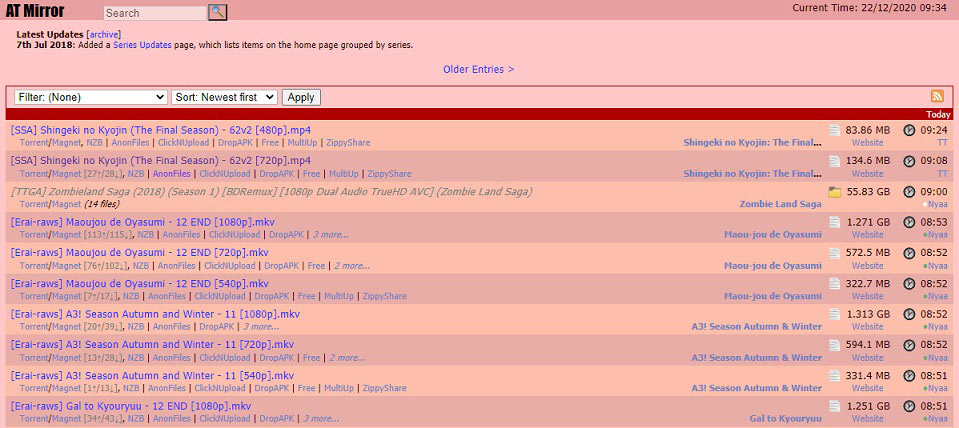 Animetosho is an anime subtitles download website. On this website, you can download the wanted anime series with subtitles. It offers you multiple sources. If you can't download the file directly, you can download the torrent file and play the file with torrent player.
#6. iSubtitles
Another best place to download anime subtitles is iSubtitles. It allows you to search for subtitles for anime, movies and TV shows and preview subtitle file. The search results can be sorted by Match keyword, IMDB Rate, Release Date and Updated. Besides, you can browse subtitles by Country, Genre, and language.
#7. AniSubs
This anime subtitles download website has a lot of anime subtitle files. Most of these files are saved on Google Drive. Just click the download link, you can download the wanted subtitle files from the web in minutes.
After knowing the 7 best free websites to get anime subtitles, I'll introduce the 10 best anime that you should watch in 2020.
10 Best Anime of 2020
Jujutsu Kaisen
Attack on Titan (Season 4)
Akudama Drive
Haikyuu!!
Re: Zero -Starting Life in Another World (Season 2)
Kaguya-sama: Love is War (Season 2)
Dorohedoro
ID: Invaded
My Next Life as a Villainess: All Routes Lead to Doom!
A Certain Scientific Railgun T
Conclusion
Are you looking for websites to download anime subtitles? Try the above-mentioned anime download websites right now!