Vimeo is one of the most popular video-sharing platforms. For those who want to share videos to Vimeo, a Vimeo video editor is essential. So, this post offers the 7 best Vimeo video editors for them and illustrates how to edit Vimeo videos.
Best Vimeo Video Editors for Computers and Mobile Phones
Can you edit Vimeo videos after uploading? The answer is positive but Vimeo only supports trimming videos. If you want to edit Vimeo videos like a pro, you can't miss the following Vimeo Video Editors (including MiniTool MovieMaker).
#1. MiniTool MovieMaker
Compatibility: Windows
Adobe Premiere is difficult to learn and use, so you may want to choose a simple but powerful Vimeo video editor. MiniTool MovieMaker has a simple and intuitive interface and comes with all the features needed to edit videos. It surely meets your needs.
There are lots of cool filters, transitions, text templates, and motion effects that you can add to your videos. You can edit videos by using tools like video splitter, video trimmer, video reverser, audio remover, video rotator, video flipper and so on.
The built-in movie templates are very useful, which lets you create videos without effort. If you want to create a photo slideshow, using a movie template will save you time. Besides, MiniTool MovieMaker can create GIFs from videos or photos.
Take the steps below to learn how to edit Vimeo videos with MiniTool MovieMaker.
Step 1. Download, install and launch MiniTool MovieMaker. Close the pop-up window or create a new project.
Step 2. Click Import Media Files to import the video that you want to edit.
Step 3. Drag and drop this video to the timeline or hover your mouse cursor over the video thumbnail and click the + icon to add the video to the timeline.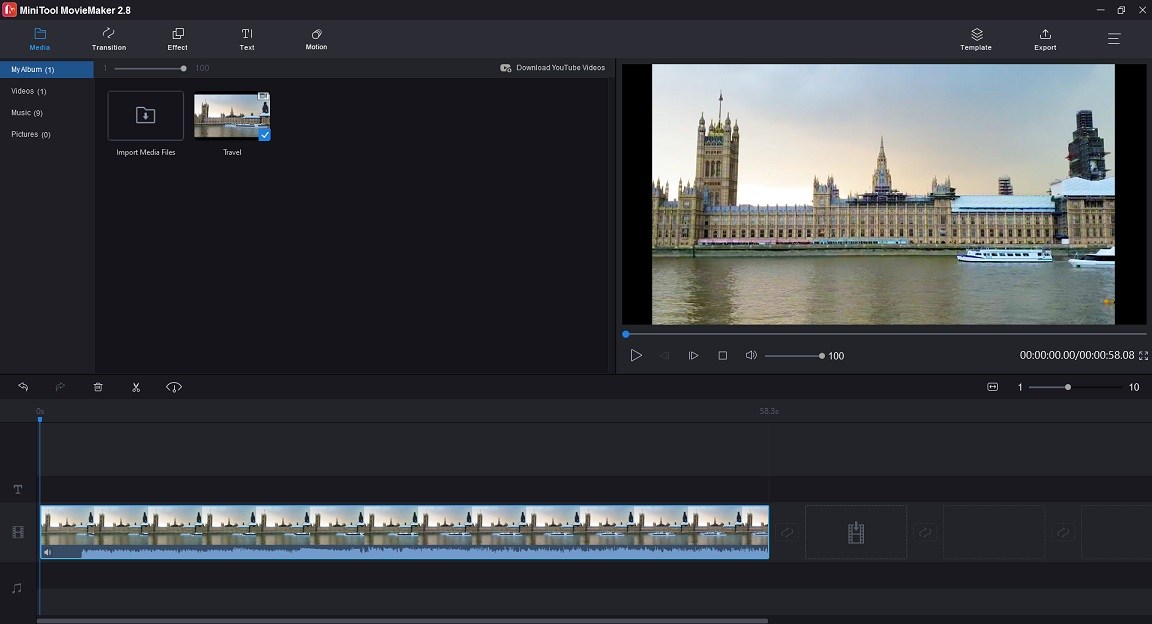 Step 4. Now, you can edit the video. Here are some suggestions.
Split video: Move the playhead to where you want to split and click the scissor icon on the playhead. Then right-click the unwanted clip and select Delete.
Add transition: Click Transition. Drag and drop a transition between two clips.
Add text: Tap on Text and find the text template you want to use. Drag the text template to the track and release the mouse. Move the text to where you want it to appear and double-click it to edit.
In the Text Editor, enter your text, change the text's font, size, color and adjust the position of the text. Click OK.
To change the duration of the text, drag the end of the text clip to the right to make the text stay on the screen longer or to the left to make the text stay on the screen shorter.
Apply effect: Click Effect and choose a suitable filter for your video. Then drag and drop the filter onto your video.
Reverse video: Click the Speed controller icon and choose Reverse.
Add music: Import your music and add it to the timeline. MiniTool will automatically adjust the duration of the music to the video.
#2. VSDC Free Video Editor
Compatibility: Windows
VSDC Free Video Editor is a powerful video editing software for Vimeo. With so many features, you are able to remove green background, edit 360-degree videos, apply picture-in-picture effects, apply split-screen effects, record voice-overs, record computer screen, and so on.
It supports all the popular video/audio formats and codecs, so you can directly import your Vimeo videos without the need for conversions. If you need to change the video format, VSDC Free Video Editor also lets you convert videos and make videos compatible with various devices. Besides, this software provides a DVD burner tool that enables you to easily burn videos to DVD.
As a professional Vimeo video editor, VSDC Free Video Editor also comes with a variety of visual effects, filters, audio effects, and transitions. You can spice up videos by applying special effects.
The advanced version of VSDC Free Video Editor – VSDC Pro offers more pro-level editing tools and faster processing speed. Multi-color Chroma key can help you remove any background color in your video. Mask tool lets you highlight, blur, hide certain objects in videos. Motion tracking enables you to create curved motion paths for objects in your videos. VSDC Pro only costs $19.99, which is a great choice for experienced users.
#3. Lightworks
Compatibility: Windows, Mac OS X, Linux

Lightworks is a cross-platform nonlinear video Vimeo video editor. You can edit Vimeo videos on all popular operating systems including Windows, Mac OS, and Linux. It has two versions. One is Lightworks free, another one is Lightworks Pro. Lightworks Free is best for novice users while Lightworks is best for filmmakers, YouTubers, etc.
Lightworks Free supports all formats, powerful editing timeline, cloud storage access, and offers many read-made titles & transitions. Unlike some free video editing software, Lightworks Free won't put a watermark on your output video. The biggest disadvantage of this software is that it only lets you export videos up to 720p.
Lightworks Pro is more powerful and feature-rich than the free version of Lightworks. It has a large library of hundreds of preset effects, animations, 2D &3D titles, and animated text effects. Other features that Lightworks Free doesn't have: advanced project sharing, timeline sharing, 4K UHD export, Stereoscopic (3D) output, Lightworks console, Boris Graffiti plugin, SDI capture devices support, and more.
Lightworks Pro offers three plans:
Monthly plan: $23.99
Yearly plan: $239.99
Lifetime: $389.99
Do you need stock videos? Check out this post: Top 15 Websites to Download Free Stock Footage with No Watermark
#4. iMovie
Compatibility: Mac OS, iOS, iPadOS
iMovie is a free video editor included with Apple devices such as Mac, iPhone and iPad. It's user-friendly with a simple interface, which makes it easy to use for beginners. You can use it to crop, split, trim, rotate videos, add transitions to make your video look smooth, apply filters to make your video more visually appealing, etc.
The special effects offered by iMovie are awesome. You can speed up, slow down, reverse videos, and create wonderful videos with split-screen and picture-in-picture effects. The built-in audio library has over 80 smart soundtracks and some sound effects, so you don't have to buy music from stock music websites or spend time finding non-copyright audio files.
A good trailer often grabs the audience's attention. iMovie offers you some Hollywood-style templates to choose from. You can select the template you want, enter your movie title and credits to make your video more professional.
iMovie works across Apple devices. You can transfer your iMovie project from iPhone to iPad using AirDrop or iCloud Drive to continue to edit your video. After editing the video, you can directly share your video to Vimeo, YouTube, Facebook and Email.
#5. Shotcut
Compatibility: Windows, Mac OS X, Linux
Different from the above Vimeo editors, Shotcut is an open-source video editor. It's free and cross-platform with hundreds of audio/video formats and codecs support. It also supports image formats like GIF, BMP, JPEG, PNG, SVG, TIFF, WebP and image sequences.
There are a bunch of features and options for video editing. You can cut, copy, paste, insert, trim video clips, and detach audio from video clips. You can undo and redo edits operations. You can save videos as MLT XML files.
Shotcut has tons of video filters, 360° video filters, audio filters. It's capable of blurring videos, reducing noise in videos, etc. Tone generator, speed controller, audio mixer, and volume controller are also included.
This open-source Vimeo video editor offers about 40 UI translations including Arabic, English, Chinese, Finnish, French, German, Greek, and more. It's compatible with Windows, Mac OS, Linux and can run as a portable app from an external device.
#6. InShot
Compatibility: Android, iOS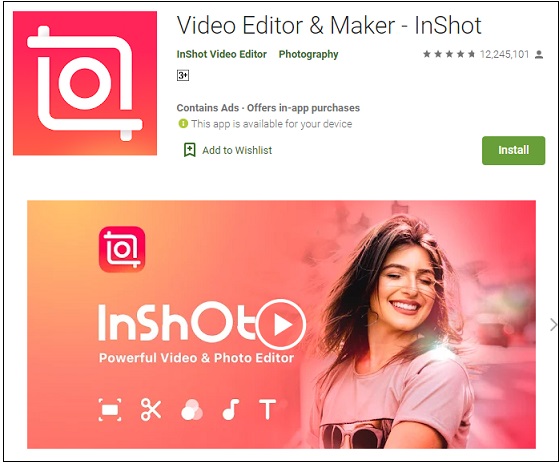 InShot is one of the most popular video editing apps for Vimeo with more than millions of users. It's available on Android and iOS. With InShot, you can split a video into multiple clips, combine videos into one, crop unwanted parts of a video, resize video for social networks, reverse video, change video speed and create a photo slideshow.
In addition, this video editor provides some advanced editing features: keyframes, Picture-in-Picture, Chroma key, mask, color picker and blend mode.
As a video editor, InShot also allows you to apply filters, sound effects, add voiceovers, extract audio from video, add text, and do color correction such as adjusting video contrast, brightness, and saturation.
You can record a video or upload a video from your phone. Then edit the video with InShot. In the end, save the video to your device or directly post your video on YouTube, Twitter, TikTok, Facebook, Instagram, etc.
#7. Magisto
Compatibility: Android, iOS, browsers
Another Vimeo video editor is Magisto. Magisto works on Android, iOS as well as in web browsers. It's a wonderful video editing app. You can edit your Vimeo videos by cutting, merging, trimming and using ready-made templates to make a story quickly. Here are some options for you to customize videos, such as adding stickers, filters, text, and changing their orientation.
In addition to editing Vimeo videos, Magisto can function as a slideshow maker to create an eye-catching photo slideshow with music. The Share feature lets you share the out video to social media platforms immediately.
Free users can only make a video up to 60 seconds long and there will be a Magisto watermark on your output video.
Further reading: How to Trim a Video on Vimeo
Want to know how to trim a video on Vimeo? Follow the guidance:
Step 1. Log into your Vimeo account.
Step 2. On your home page, click Videos and open the video you want to trim.
Step 3. Click the scissor icon below the video to enable the Trim tool.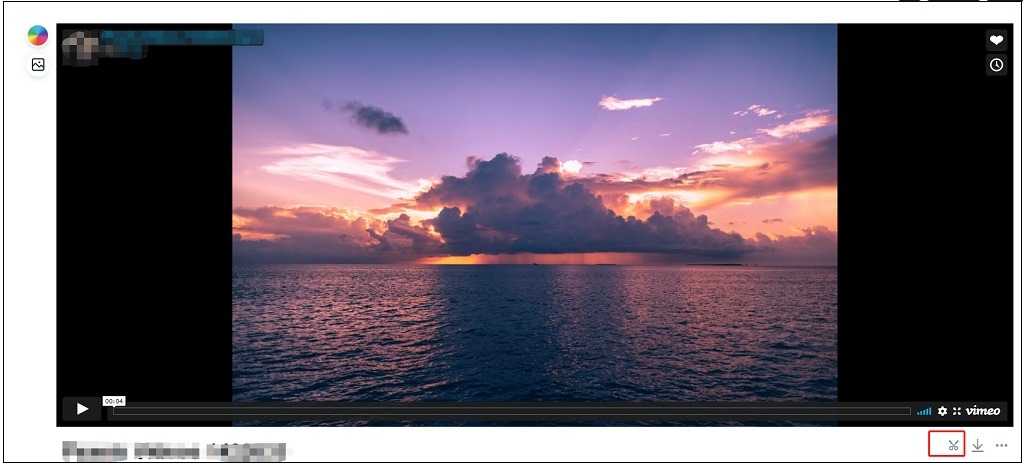 Step 4. In the Trim window, set the start time and end time or select the wanted part of the video by using the trim box. Once done, click the Save button to save the change.
Click the picture icon in the left panel, you are able to add a thumbnail to the video.
Frequently asked questions:
How long can Vimeo videos be?
There are no limitations for the duration of a Vimeo video. Bhut Vimeo only lets free users upload 500MB per week.
How to hide logo on Vimeo?
Go to the Vimeo website and log into your account.
Find and open your video.
Click the Advanced
Head to Embed > Customization. Then toggle off the button Show Vimeo logo. If you want to add your custom logo to the video, you need to upgrade to Pro.
Conclusion
7 best Vimeo video editors are listed in this post. Which one do you prefer? Choose the desired Vimeo editor to make your video more professional!
If you have any questions about this post, please contact us via [email protected] or leave a comment below!