Want to improve video quality? How to improve video quality on PC? This post lists some top video editing software (including free and paid). You can choose a suitable one according to actual needs to enhance the quality of a video. 
What should you do if your video resolution is poor? What should you do if your video contains some background noise? What should you do if your video is too dark or shaky too much?
For instance, a reader asked the following question in VideoHelp Forum.
I downloaded a video, but the quality or resolution is not that great. Is there a software which can improve the overall resolution and quality? It is an MP4.
Generally, all of these problems can be solved as long as you improve video quality. But, how to improve video quality on PC or Mac? 
Fortunately, this post will show several of the most common tools which are specifically designed to improve video quality. Keep reading to find the best one.
7 Tools to Improve Video Quality
MiniTool Movie Maker
Windows Movie Maker
iMovie
Adobe Premiere Pro CC
Corel VideoStudio Ultimate
CyberLink PowerDirector
Final Cut Pro X
#1. MiniTool Movie Maker
MSRP: Free
Compatibility: Windows
MiniTool Movie Maker is definitely the best video enhancer tool. This free video editing software can help to easily enhance video quality in the following aspects.
Adjust brightness and contrast automatically to create more delightful video.
Convert low-resolution video to high resolution.
Add video filters, transitions, and texts to video.
Next, let's see the detailed steps of increasing video quality by using this free and simple improve video quality app.
MiniTool MovieMakerClick to Download100%Clean & Safe
How to Improve Video Quality on PC
Step 1. Import video files into MiniTool Movie Maker.
Firstly, you need to get MiniTool Movie Maker, and then install it on computer.
Launch it, and click the Full-Feature Mode to enter the main interface of this software.
Click Import Media Files to import your video file.
Drag and drop the video file to the storyboard.
Step 2. Improve video quality.
Method one: enhance the color in the video.
MiniTool Movie Maker offers some filters to help you change color easily. You can click Filters and then preview through all filters. Next, drag and drop one suitable filter to the video file in the storyboard.
Besides, this video enhancer tool allows you to easily change the color contrast, saturation, and brightness.
More important, you can apply 3D LUT to video to give it a great and rather wonderful boost of colors.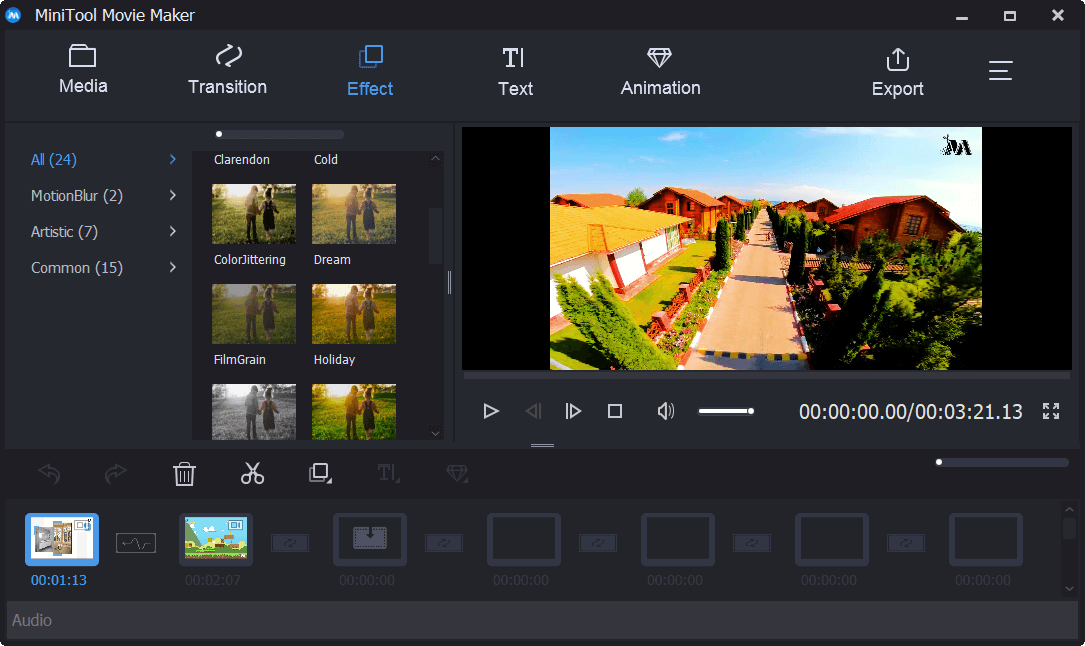 Method two: Add transitions, text, and animations.
MiniTool Movie Maker also offers a lot of video transitions, and animation effects to help you create wonderful video effect.
Step 3. Change video resolution.
Resolution refers to the number of dots, or pixels, that an image comprises or that an electronic display is capable of showing. It is usually expressed as width × height.
Generally speaking, high video resolution usually means high video quality. Thus, sometimes, you need to convert low-resolution video to high resolution to increase video quality.
Steps to change video resolution
Click the Export button in the toolbar to get the following window.
Choose a suitable video resolution from the drop-down list of Resolution.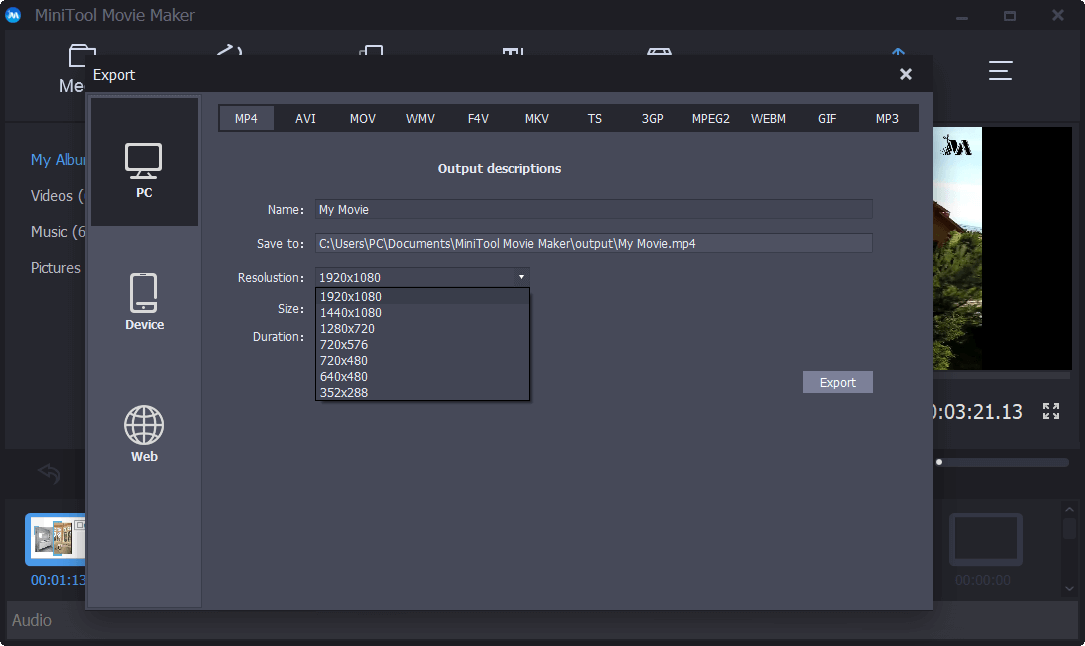 Related article: How to Change Video Resolution Easily on Different Platforms.
Step 4. Save your video
After trying these tips to increase video quality, it is time to export your video and share it with friends.
I improved my video quality by increasing video resolution in MiniTool Movie Maker.Click to Tweet
Bottom Line
In addition to these functions, MiniTool Movie Maker also has some other excellent features. For instance, it can help to trim video, it can create a Facebook slideshow, etc.
However, it is a new product, it has some shortcomings. For example, it cannot remove the background noise now. Fortunately, MiniTool teams are trying their best to solve these issues.
#2. Windows Movie Maker
MSRP: Free
Compatibility: Windows 7
Windows Movie Maker, a part of Windows Essentials software suite, can help you create video easily and increase video quality.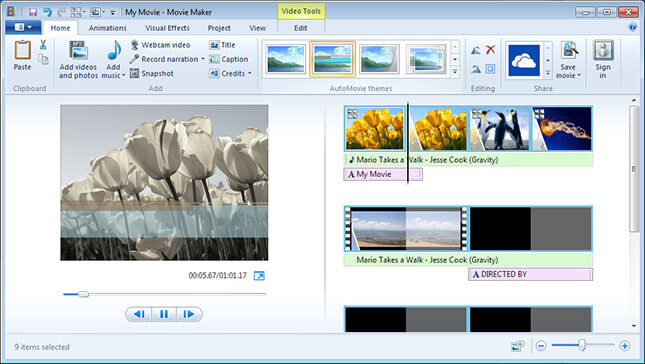 This free video editing software offers a lot of visual effects, animations and transitions to help you switch through scenes. And, it allows you to add animated text to video to make your movie.
Besides, it allows you to remove the shakiness in the video clip to improve the video quality.
In a word, Windows Movie Maker is a good choice for Windows 7 users to improve the quality of a video. 
#3. iMovie
MSRP: free
Compatibility: Mac OS and iOS
iMovie, simple and free video editing software, can help you easily edit video in iMovie. It boasts some of the best storyboard-based movie making tools for novices – Trailers and Movies.
More importantly, this improve video quality app includes some excellent tools to help you improve video quality on iPhone and Mac.
It lets you add beautifully animated titles and credits to your movies.
It lets you change video speed to make action shots more exciting.
It lets you add a broadcast feel to your video with picture-in-picture and split-screen effects.
It is very easy to make a movie that sounds as good as it looks because of its built-in music, sound effects, and voiceover recording.
It lets you share your 4k videos to YouTube, Facebook or Vimeo directly from the Export menu.
The bottom line is that iMovie is a good improve video quality app for Mac and iPhone users.
#4. Adobe Premiere Pro CC
MSRP: $20.99 (Monthly license)
Compatibility: Windows and Mac OS X
Professionals including Hollywood filmmakers, TV editors, and videographers must have been heard of Adobe Premiere Pro CC. This professional tool can help you effectively improve video quality.
It takes the guesswork out of curve adjustments with innovative Lumetri Colour tools which making selective color grading easy and accurate.
It speeds up color grading and effects workflows with improved Mask Tracking in Premiere Pro including HD, 4K, and higher resolution formats.
It can incorporate ambient sounds in your audio mix and automatically adjust background volume around spoken dialog or voiceovers to improve video quality.
It allows you to add wonderful text effects to your video to enhance its quality.
It not only can increase video quality on PC but also can improve video quality Mac.
Adobe Premiere Pro CC is the best choice for professionals because of its great interface, learning resources and high-power tools, all of which help you make the exact video you want. However, if you are a new user or you have little knowledge about video editing, you had better try other simple video enhancers.
#5. Corel VideoStudio Ultimate
MSRP: $99.99
Compatibility: Windows
VideoStudio has been around for quite some time now, and supports for a wide variety of cameras and formats. And, this well matured, stable program was the first of the consumer products to include motion tracking.
This tool has introduced advanced color correction and color grading tools allowing the use of HSL tuning, tone curves and more. Now, you can use LUT (Lookup Tables) profiles in the software to improve video quality. Set the tone and mood of your video with new Color Grading Controls.
This tool allows you to create or design your own transitions using your existing footage.
This tool supports splitting video. Besides, it has added key framing to the mix and has introduced a separate module to design your own split screen sequences.
This tool can mute audio, split audio, or apply a fade effect to your audio.
This tool allows you to express yourself with 2,000+ customizable filters and premium effects.
This tool also allows you to change video resolution to enhance video quality.
#6. CyberLink PowerDirector
MSRP: $129.99
Compatibility: Windows
PowerDirector is an intuitive video editing without a steep learning curve. It can help you create a finished video in just a few minutes, and offers a library of over 500 effects and transitions for you to choose from.
With this tool, you can add titles, closed captions and other text to your video project with a few simple clicks to complete your video. To improve video quality, you can smooth out shaky video.
You can get Hollywood-style color treatment on your video project with this tool because it can analyze the color of your footage and enhance aspects like hue, saturation, and brightness.
PowerDirector allows you to import, edit and export new cutting-edge footage such as the ultra-HD 4K video resolution.
To increase video quality, PowerDirector includes Intelligent Color Correction which allows you to quickly and easily match color settings across your entire project.
#7. Final Cut Pro X
MSRP: $299.99
Compatibility: Mac OS
Final Cut Pro, a series of non-linear video editing software programs, runs on Intel-based Mac computers powered by Mac OS High Sierra or later. It is another video quality enhancer for you to improve video quality Mac.
This professional-level video editing software brings a wealth of power in an interface simple for pros and consumers alike. It brings endless possibilities!
It supports almost all files and allows you to arrange all sorts of media files freely.
With this tool, you can enhance the colors in your videos by simply dragging the mouse cursor in the color wheels.
Final Cut is able to remove the camera and tripod from the image, often an issue with 360-degree footage.
Apple Final Cut Pro X has added 3D title creation which is pretty spiffy. You can extrude 2D titles and rotate them on three axes.
Kindly remind: If you are a newcomer, you had better try other tools to increase video quality because of its features requires an enviable amount of skill.
I find 7 video enhancers which can improve video quality easily and quickly. Now, I share them with all of you.Click to Tweet
Conclusion
There are different video editing tools in the market. However, which one should you choose?
In a word, if you are a new user, you don't need to spend much money and time on professional tools like Final Cut Pro X, Adobe Premiere Pro CC, and so on.
For example, I am a new user, so I choose MiniTool Movie Maker and iMovie. Both of them can help me easily and quickly improve video quality. Most importantly, I can enhance the video quality for free.
The bottom line is that the most suitable for you is the best!
On the other hand, should you have any other good improve video quality app, please share them with us. Thanks in advance!
If you have any question on how to improve video quality on PC or Mac, please leave below. We will solve it as soon as possible.
Improve Video Quality FAQ
Can you increase video resolution?
Changing video resolution is an easy task as long as you turn to video editing tool. Sometimes, you need to increase video resolution to create a Full HD video. Increasing video resolution cannot improve video quality, but the video size may grow.
How do I improve video quality in iMovie?
In the Project browser, double-click the video clip you want to adjust.
Click Video section in Inspector window.
Click Auto button at the bottom to have iMovie optimize image's levels adaptively.
To create the effect you want, you can change the Exposure, Brightness, Contrast, Saturation, Red Gain, Green Gain, and Blue Gain.
How to change video resolution?
Open MiniTool Movie Maker.
Import your files.
Drag and drop the files to the timeline.
Click Export button.
Change video resolution.
Save the video in your PC or mobile devices.
What is video resolution?
Video resolution, usually quoted as width× height, refers to the number of distinct pixels that could be displayed in each dimension. For instance, for 1280×720 video, 1280 indicates the width and 720 indicates the height that the display could be resolved in pixels.