Twitter is a microblogging and a social networking service on which you can easily entertain yourself like watching or uploading videos and also can reach different persons like some celebrities, experts, and other users. As for twitter video limit, are you upset about such troubles? If yes, the following post will give you an answer.
Firstly, let's learn something about the Twitter video limit.
Twitter Video Limit
Nowadays, sharing videos thrives on Twitter. You can try MiniTool MovieMaker to create a fantastic Twitter video. But do you know some twitter video limits such as video resolutions and aspect ratios that can be uploaded on the web?
Minimum resolution: 32 x 32
Maximum resolution: 1920 x 1200 (and 1200 x 1900)
Aspect ratios: 1: 2.39 – 2.39:1 range (inclusive)
Maximum frame rate: 40 fps
Maximum bitrate: 25 Mbps
Twitter Video Length Limit
At present, on mobile software, Twitter supports MP4 and MOV video formats. And on the Web, it supports MP4 video format with H264 format with AAC audio.
On Twitter, the maximum size of the video is up to 512 MB and the video length can be 2 minutes and 20 seconds or less in length.
How to Upload Longer Videos on Twitter
Now, you know the Twitter video length limit is 140 seconds. But if you want to share a video that is longer than 140 seconds, what should you do to post your videos successfully? The following post will introduce 2 ways to post longer videos on Twitter.
Using Twitter Media Studio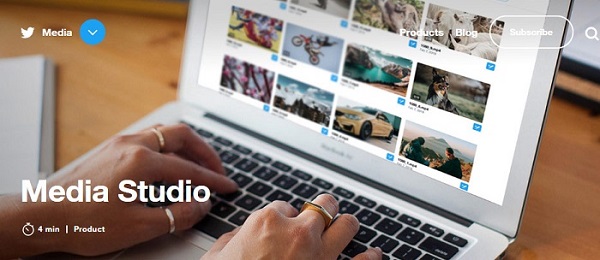 What is Twitter Media Studio? Media Studio is an easy platform for people to manage, measure and monetize their videos on Twitter. Media Studio's library is a good place to upload, organize, and share videos, GIFs, and images. As for Media Studio's monetization, it builds up nice partnerships between publishers and advertisers for live video, video clips, and even more. Besides, it is good at adding captions, and titles and changing thumbnails.
You may also like: Need to Add Subtitles to Video Free? Try 2 Simple Ways
Now, let's concentrate on the specific steps.
Step 1. Log in to your Twitter account and enter its easy-to-use interface.
Step 2. Click the More button, find and click Media Studio Library
Step 3. Click Uploading Media on Table of Contents.
Step 4. Select and upload your video.
Please remember the video should be MP4 or MOV. After choosing the video, the uploading will begin automatically.
Step 5. Edit your video, such as setting a thumbnail and adding subtitles.
Step 6. Go to tweet the video and click the blue Tweet button.
Step 7. Click the Schedule button and select the date and time you want.
Step 8. Click Tweet to post your video.
Using Twitter Video Dashboard

Step 1. Log into Twitter, click More, and choose Twitter Ads.
Step 2. Under the Creatives option, click Videos.
Step 3. Click a grey button that tells "upload your first video", and upload your video.
Step 4. Click the blue compose button, presenting 2 options: main Tweet body with 116 characters, much longer than the standard Tweet, and choose the second one. And you can also edit your video.
Related article: How to Add Text to Video
Step 5. Click the Save button and preview your video tweet.
Step 6. Click Publish after your editing is finished.
Bottom Line
After reading this post, you know some Twitter video limits and also learn 2 ways to upload longer videos on Twitter beyond the Twitter video length limit. If you want to share other ideas with us, you can leave them in the user comments part.