This post will provide you with 10 websites where you can find various recipe videos and show you how to make recipe videos on Windows and online with 4 video editors (including MiniTool Moviemaker). Just read this post now!
Sometimes, you may need a recipe video to learn to make new dishes. So, where can you discover different types of recipe videos? Here's the list of the top 10 places for you.
Where to Watch Recipe Videos?
Top 10 Websites for Recipe Videos
VideoCulinary
Food Network
MyRecipes
iFood.tv
Chowhound
Start Cooking
Allrecipes
Le Gourmet TV
FineCooking
Times Food
1. VideoCulinary
VideoCulinary provides a variety of easy cooking video recipes. It includes 26 categories of recipe videos, and it also allows you to browse through the latest recipes, most favorited recipes, and top-rated recipes
2. Food Network

On Food Network, you can find recipes for family dinners, plant-based recipes, easy comfort food recipes, cooking techniques, and more. And this site offers several collections of recipe videos like Cooking from the Pantry, Trending Now, Just Dinner, Cook Smarter, Not Harder, etc.
3. MyRecipes
MyRecipes provides a variety of recipe videos. It offers recipes of 22 countries and regions, baking recipes, many healthy recipes (like vegan recipes, low-fat recipes), other recipes for holidays and occasions, as well as recipes of beef, pork, seafood, pasta, and more.
4. iFood.tv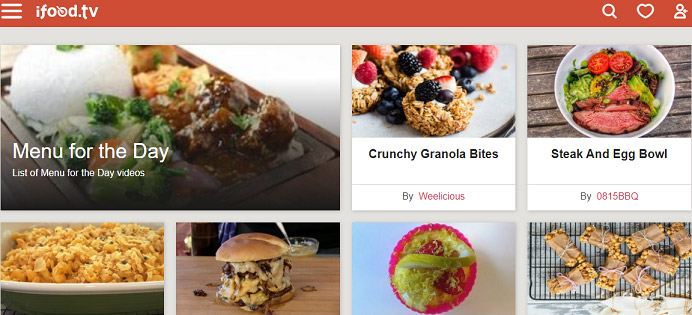 iFood.tv has a huge collection of video recipes and cooking shows. At the bottom of the page, you can choose a food type and explore all of the related videos to find the one you like.
5. Chowhound
To help you find your desired recipe quickly, Chowhound allows you to filter the content by dish type, meal type, cooking techniques, cuisines, holidays, ingredients, diets and allergies, baked goods, spirits, and cocktail types.
6. Start Cooking
This site also has a wide range of recipe videos but compared with Chowhound, it has fewer filters to help you sort out them. And this website also offers many useful tips and how-to guides on kitchen basics.
7. Allrecipes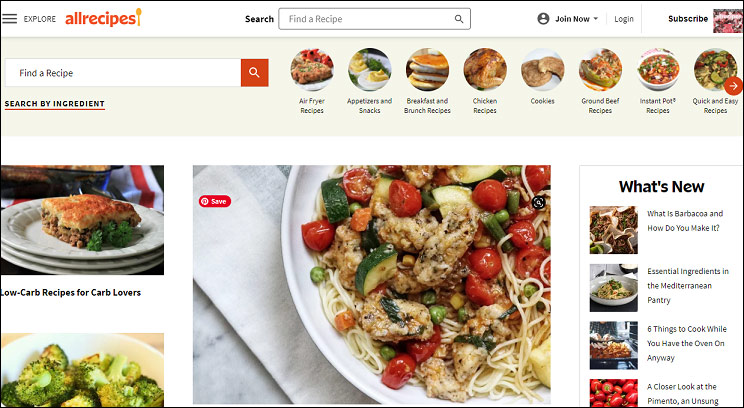 Allrecipes is a great site for everyone to discover recipes, cooks, videos, and how-to guides on the food you love. This site enables you to search by ingredient or browse through lunch recipes, dinner recipes, drink recipes, dessert recipes, and others to find a recipe.
8. Le Gourmet TV
Le Gourmet TV includes 36 categories of recipes with video instructions. What's more, you'll find content about cocktails. And you can quickly find the recipe video you need.
9. FineCooking
FineCooking also gives you various recipe videos. It also provides many recipes and menus for you to choose from. And it also tells you how to choose, prepare, and store ingredients, as well as many how-to guides.
10. Times Food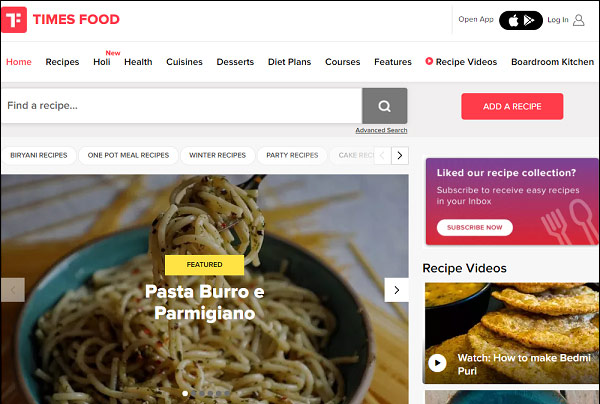 To discover recipe videos, you can also try Times Food. It offers more than 1500 recipe videos. And you can filter these videos by food type, country, cooking skills, dietary preferences, etc.
How to Make Recipe Videos on Windows?
With these 10 sites, you can find any recipe videos you like. But how to make a recipe video to share your favorite dishes? How to make recipe videos for YouTube? How to make recipe videos for Instagram? Here're 4 methods for you to choose from. And before the start, you should prepare some cooking videos and photos and save them on your computer.
Option 1 – Create Recipe Videos with MiniTool MovieMaker
MiniTool MovieMaker is a simple photo video maker app that enables you to create awesome videos from pictures, video clips, and music tracks. This software is 100% free and has no in-app purchases, and it won't brand its name on your video. And this video maker is very easy to use, so it comes as the best choice especially if you make your recipe video for the first time.
To let the viewer understand your video with ease, you can add captions, titles, and credits to the video to illustrate the main steps, split and trim videos to remove the unwanted parts. Besides, you can rotate, flip, slow down, speed up video clips, add music to the video, and more. Here's how to make a recipe video with MiniTool MovieMaker.
Step 1. Click the Free Download button below to get the installer, then install MiniTool MovieMaker on your Windows.
Step 2. Launch MiniTool MovieMaker, and close the pop-up window to access the operating interface.
Step 3. Tap on Import Media Files to browse for the target folder to upload images and video clips to the media library of MiniTool MovieMaker.
Note: The supported image and video formats include MOV, AVI, MP4, MKV, WMV, MPG, VOB, RMVB, FLV, BMP, ICO, JPEG, JPG, PNG, and GIF.
Step 4. Add the files you need to the timeline, then arrange them in the correct order, and click on Zoom to Fit Timeline.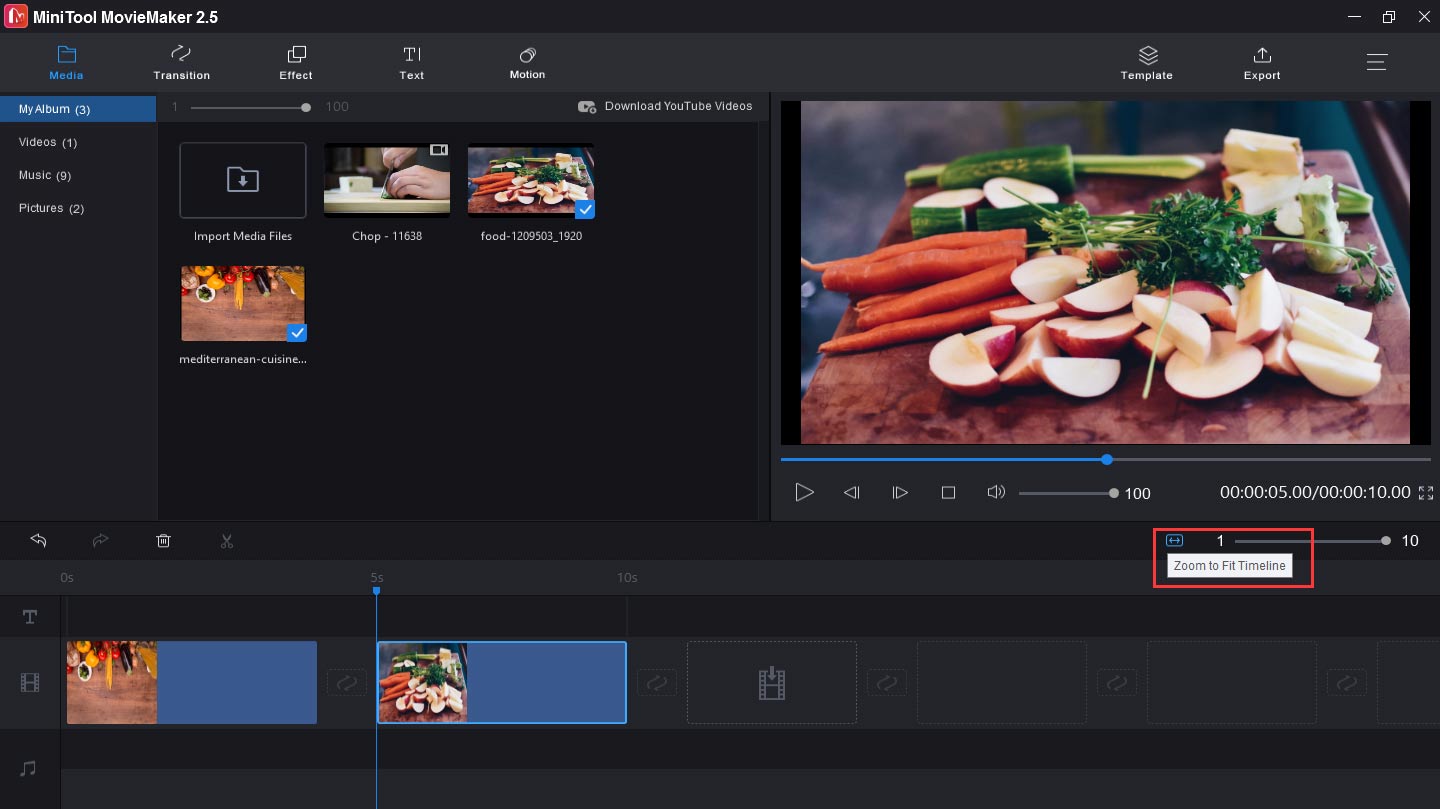 Step 5. Split and trim video clips. Click a clip on the timeline, choose the Split (the scissor icon), then select the Full Split, next choose SPLIT or TRIM to edit the videos as you like.
Step 6. On the timeline, click a clip then choose the Edit, next you can rotate and flip the image or video, and adjust the brightness, saturation, contrast, etc.
Step 7. Add text to the video. Choose a clip, then click on Text, choose a style, then delete the sample text, and type your words.
Step 8. Add music to the video. In the Media section, click the Music to choose an audio track or click on Import Media Files to import your music, then drag the audio track to the timeline.
Step 9. After your customization, click on Export, choose an output format and a destination folder, and tap on Export to save this recipe video.
Option 2 – Create Recipe Videos with LightMV
LightMV is a great video maker to create videos and slideshows. It offers a variety of video templates for you to choose from. And this video maker provides a royalty-free music library, and it supports 16:9, 9:16, and 1:1 video aspect ratio. How to make recipe videos with LightMV? Here's the guide.
Step 1. Open LightMV on your PC, browse for a video template, click Select, then select a video ratio, and tap on Create Now.
Step 2. Tap on the + icon, then choose the Add Files to browse through the computer to find the target photos and video clips and click on Open to upload these files.
Step 3. Edit the video clip. Hover the mouse over a clip, select the Edit. Then you can rotate or replace the video, and change its volume, then click the Apply.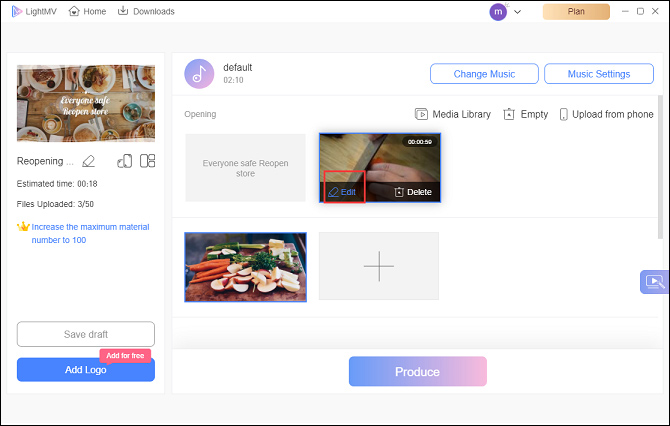 Step 4. Edit photos. Choose one and select the Edit. Then you can rotate and crop the image, change its duration, and add text to the photo. After that, tap on Apply.
Note: If you want to insert media before or after a picture, or video, just right-click it, then choose one from Insert Media Before, Insert Image After, Insert Text Before, Insert Text After to upload your media.
Step 5. Change and edit the music. Tap on Change Music > Add Music to import your music from the computer. Select the Music Library to choose a track and click OK. Then go to Music Settings to change the audio volume, trim the audio, fade in and fade out the music, then hit the OK.
Step 6. Once done, click the Produce to export the recipe video. After the production, click the Share button, you can share this video on Facebook and Twitter, or get the video link.
How to Make Recipe Videos Online?
How to make recipe videos for YouTube online? How to make recipe videos for Instagram online? The following part will show you how to make a recipe video via Animoto and Renderforest.
Option 1 – Create Recipe Videos via Animoto
Step 1. Go to the Animoto website and log in.
Step 2. Tap on CREATE, then browse for a template or choose the START FROM SCRATCH.
Step 3. Select a theme and an aspect ratio for the video.
Step 4. Upload your pictures and video clips to Animoto's media library.
Step 5. Add the blocks you need and then add the file to each block in order.
Step 6. Edit each clip as you like. You can change the layout and background color, and add text to the video or image.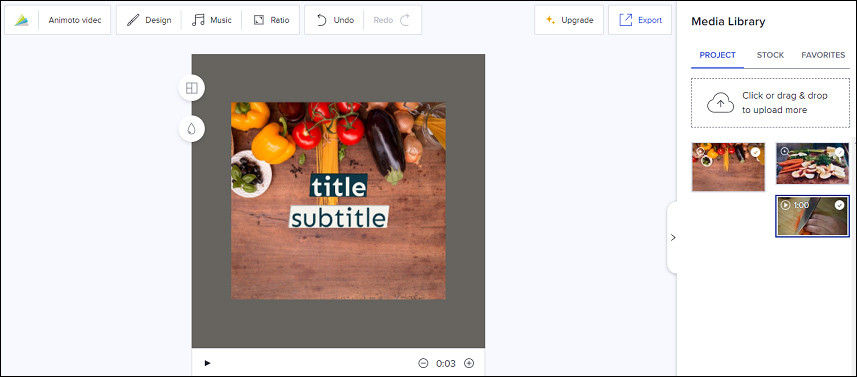 Step 7. Tap on Music to explore the music library or upload your music, then add it to the video.
Step 8. Go to Design > VIDEO SETTINGS, then you can change the video background color, apply video transitions and filters.
Note:
If you want to change the video them or
aspect ratio
, click the
Design
to choose another theme and go to
TEXT SETTINGS
to adjust the text font, size, and style.
Step 9. Click on Export and wait for the video production. Then download or share the recipe video.
Option 2 – Create Recipe Videos via Renderforest
Step 1. Navigate to the Renderforest site and sign in.
Step 2. Click the Create Video, select the Food and Holiday Video in the Animation Videos section.
Step 3. Choose a video template and then hit Create Now to start.
Step 4. Add intro or outro logo animations.
Step 5. Then go to Text Scenes, insert one then type your text.
Step 6. Go to Image and Video Scenes to insert the scenes you need, and add the image and text to each scene.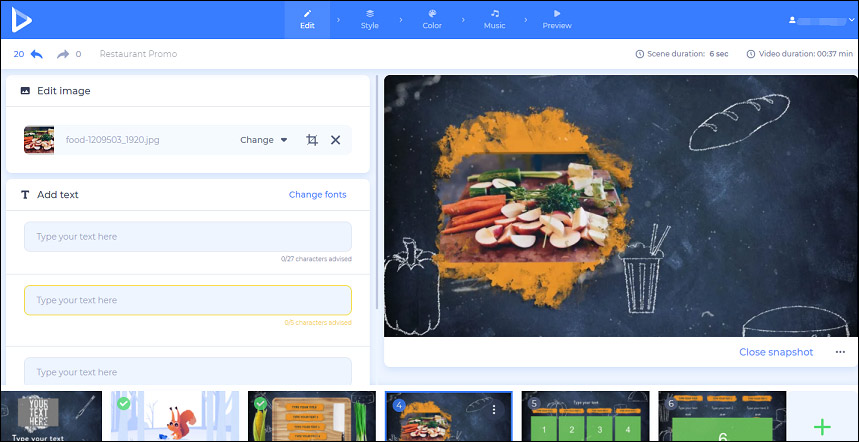 Step 7. At the top of the menu bar, tap on Style to choose the overall appearance of the video.
Step 8. Go to the Color section to select a color scheme from the palettes or add your custom colors.
Step 9. Go to the Music part, choose a track from the music library or import your music, and add it to your project. And you can upload a voiceover or record one to explain your steps.
Step 10. Click the Preview, then choose the Low quality or HD quality to export the recipe video.
Conclusion
After viewing this post. You've learned about 10 websites to browse recipe videos and how to make your recipe video on a computer. If you want to cook a new dish, you can choose one from the 10 places to search for the cooking video you want. And you can make a recipe video to show how to make your favorite dishes.
If you have any questions or problems, you can contact us via [email protected] or leave them in the below comments area.
Recipe Videos FAQ
How to make a recipe video on Mac?<
To create recipe videos on Mac, you need a video editor. Here're the 6 best video editors for Mac, including iMovie, Avidemux, HitFlim Express, OpenShot, Adobe Premiere, and VideoProc.
Is there any camera for food photography?
There're many available cameras for food photography, such as Sony A7III, Fujifilm X – T1, Olympus E – M10 III, Canon 5D Mark IV, Canon 80D, Nikon D3400, Sony a6300, etc.
How to organize and manage your recipes?
There're many free recipe applications to manage your recipes on a computer or a phone. You can try Cook'n, Gourmet Recipe Manager, Pepperplate, 1G Food, BigOven, ReLiSimple, Recipe Cookbook, Recipe Manager, etc.
How to make a time-lapse video?
Install and open VideoStudio Pro on your PC.
Tap on the File menu, click the Insert Media File to Timeline.
Select the Insert Photo for Time-lapse/Strobe to browse for the photos you need.
Add these photos to VideoStudio Pro, and if necessary, make adjustments on the frames.
Then click the OK to return to the timeline to continue to edit the video.