Want to create attractive movie trailers but have no idea where to start? Just as the saying goes, if you want to do good work, you must first sharpen your tools. So, this post is coming to share some of the best movie trailer makers with you. Just read it to find which one works for you most!
The content in this post will mainly focus on introducing the best movie trailer makers (including the easy movie trailer maker MiniTool MovieMaker).
To make things clear, let's get started with the significance of the movie trailer. The movie trailer is an important part of movie promotion. It is made as an advertisement for the upcoming feature film to entice audiences and build excitement for the movie.
Now that we know how trailers impact the potential viewers and audience, you may be wondering where to start making a great movie trailer.
Making attractive movie trailers is not that tough with the right tools. While looking for the best movie trailer maker, you need to consider your skill level in video editing. The following content covers some of the best video makers for movie trailers targeting different skill levels.
Best Movie Trailer Maker for Entry Level
As a beginner, you don't have to master complex video editing skills to make a great movie trailer. These 3 applications are all great tools for beginners' movie trailer-making projects. Most of these tools can be learned in only a few minutes.
MiniTool MovieMaker (Windows)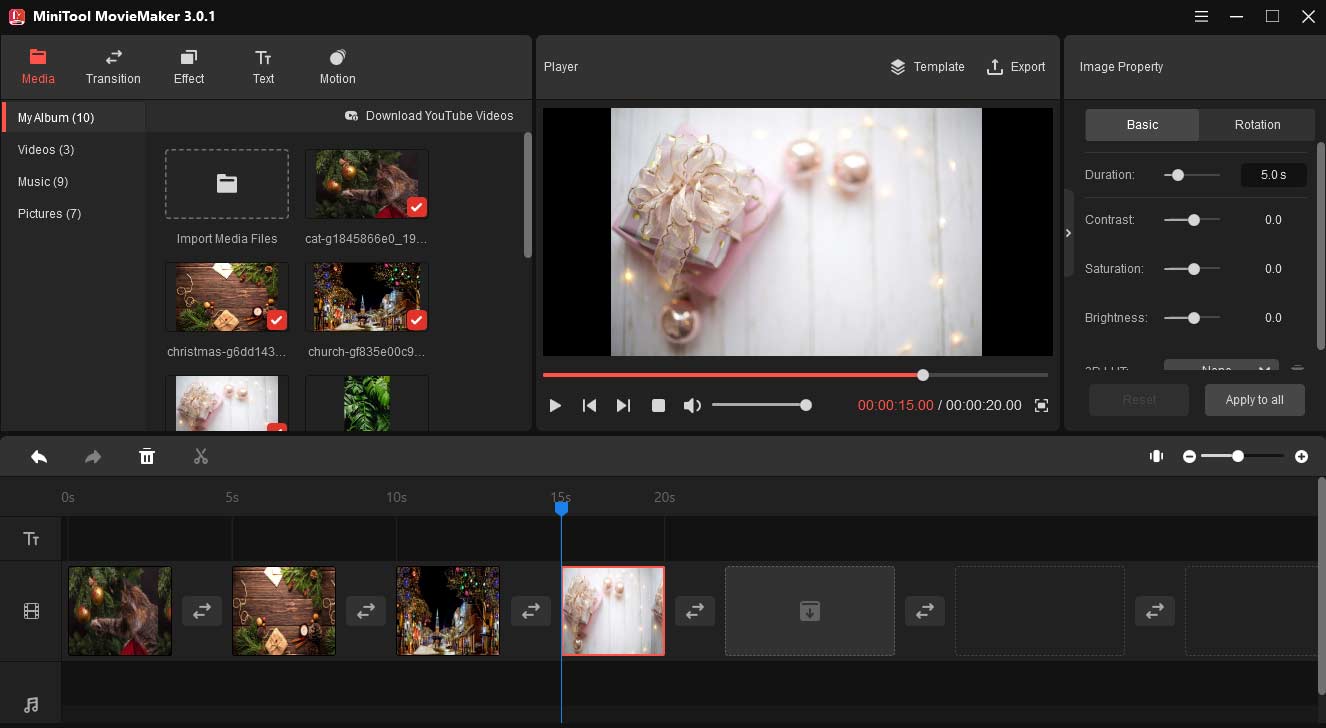 With MiniTool MovieMaker, there is no need to spend thousands of dollars to buy video editing software to edit the footage and create viral trailers for movies. It is a completely free movie trailer maker for Windows with no ads, no bundle, and watermarks. With a clean and simple interface, you can easily learn about all the editing features and know how to use this software.
To help you deal with the highlighted video clips of the movie, it comes with some basic editing features as well as advanced editing options. You can split, trim, cut, rotate, flip, combine, reverse, control the video speed, insert text, and add background music to the movie trailers.
To customize the movie trailer, you can import photos, video clips, and music to it. Later on, you can apply a variety of attractive transitions, beautiful effects, motion effects to your video clips to enhance your videos. To promote the editing experience, it supports one-click applying the same transition duration and mode to all clips or edit transition on a single video clip.
To make the content clear to your audience, you can use its text editing features to help you personalize your credits, titles, and captions and customize the color, font, size, alignment of the text. You can also make the movie trailer more attractive by employing the 3D LUT effects, color correction, and fading in or fading out the audio in your video clips.
After you finish the masterpiece, you can save the video projects for later editing and export your movie trailer video in various video formats such as MP4, MKV, MOV, AVI, WMV, etc. that are compatible with many video platforms.
Standout Features: Extremely simple to use, no technical knowledge required, drag-and-drop features, packed with professional features, including impressive transitions and titles, no watermark, supports HD resolution
Pricing: Free
MiniTool MovieMaker is an amazing movie trailer maker. It helps me create viral movie trailers.Click to Tweet
OpenShot (Windows, macOS, Linux)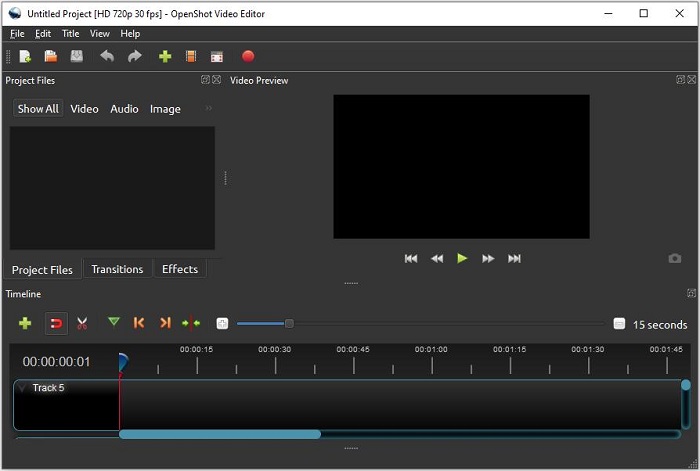 OpenShot is also one of the best movie trailer maker applications for beginners. It is a free, stable, cross-platform, and open-source movie trailer maker with no editing skill required. It is great on features but is still intuitive enough for newbies to get a hang of.
It offers a range of options and tools that come in handy as you progress further on your video editing journey. You can find that the custom watermarks, time mapping and speed up or slow down features provided by this video editor are also accessible. It also supports a whole bunch of video, audio, and image formats.
On its initiative interface, a massive number of layers for background videos, audio tracks, and watermarks, drag-and-drop image and audio possibilities, key-frame animation capabilities, different scenes transitions, and loads of effects are all available.
Standout Features: Cross-platform support, easy interface, 3D animations, keyframe animation framework
Pricing: Free
iMovie(macOS)
If you use a Mac, then your device comes with a version of Apple's native video editing software, iMovie. It's compatible with various Apple devices like iOS as well as macOS. You can make a stunning movie trailer easily or "turn your videos into movie magic" on any of your iOS devices.
Since its release in 1999, it has dramatically improved its efficiency and become a dynamic video editing software for Mac users. To make an attractive movie trailer, all you have to do is choose your clips, then add titles, music, and effects. More amazingly, there are movie trailer templates available as well as green screen effects to structure your video as a movie trailer.
With resolutions up to 4K, you can create stunning trailers with ample special effects and audio editing tools, including 13 filters to give your movie trailer a cinematic touch. A new addition to its features is the personalized cards and credits, all of them having further customizations.
Standout Features: Comes free with all Apple devices, movie trailer templates, easy to use, 4K video resolution support
Pricing: Free
Best Movie Trailer Maker for Intermediate Level
At this level, you may have some experience with video editing software. This part will introduce some of the best movie trailer makers for the intermediate level. You can refer to the programs' features to make a better choice before investing too heavily in a specific application.
Movavi Video Editor Plus (Windows, macOS)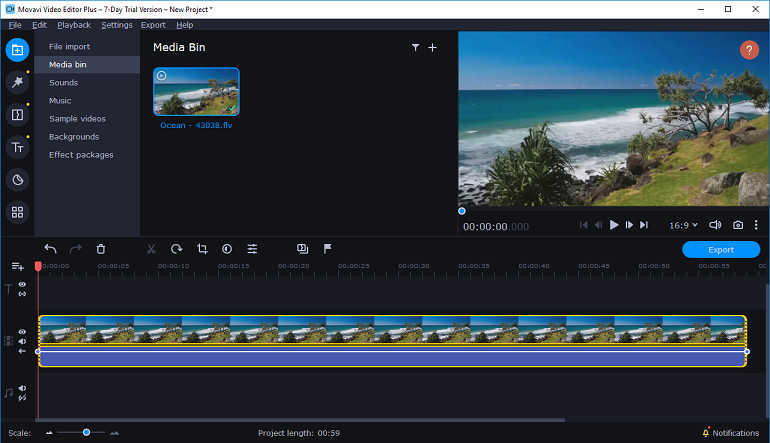 Movavi offers several versions depending on your needs, including Movavi Video Editor Plus, Movavi Video Editor, and Movavi Video Suite. Here we will mainly introduce the Movavi Editor Plus version for this level.
With its simple user interface, you can easily create movie trailers, travel videos, and home movies. It offers many filters, transitions, and titles, audio synchronization, LUTs processing, keyframe animation of titles, overlay videos, stickers, fast processing of HD and 4K video files, and many more.
In the manual mode, you can play with the multitrack, where you may add up to 99 tracks for video, audio, and titles. Also, you can set up the clips and sounds with precision to perfection and see the live results to your changes in the preview window.
If you need extra transitions, effects, and intros crafted by professional designers, you can buy hundreds of them in the Movavi Effects Store, or pay an annual subscription and download them all.
Standout Features: Quick Video mode support, fast processing, and rendering, great selection of effects and transitions, multitrack for various media files
Pricing: $59.95
Kdenlive (Windows, macOS, Linux)
Kdenlive is also a great choice if you're looking for an intermediate-level movie trailer maker. It is a non-linear and cross-platform program that enables us to create compelling movie trailers without paying.
It processes almost all video operation tools using the MLT framework. You can find many useful tools you need for making the movie trailers: trim, cut, rotate, split, screen split, merge, etc.
There are a plethora of attractive effects that you can access to polish your video clips, audio, and still pictures. As for transitions, you get many built-in options as well as online templates.
You can also utilize Kdenlive to create 2D subtitles, tweaking the properties of aligning, distributing, letter or line spacing, and durations are also accessible. It also supports adding design features including animation and subtitle keyframe features, outlines, and gradients, zoom, and more editing toolkits.
It supports rotoscoping your footage so that you can apply color correction including RGB adjustment, white balance, curves, and many others for the selection without changing the rest.
Standout Features: Multiple video and audio tracks, 2D titles for videos, rich online resources for templates, automatic backup project files
Pricing: Free
If you want to create films on your mobile phone, you can check Top 10 Must-Have Apps for Filmmakers [Ultimate Guide].
Best Movie Trailer Maker for Profession Level
As an advanced video editor, you have a considerable amount of video editing experience. Only the high-end, feature-rich video editing software will suffice for your needs to make a perfect movie trailer. So, this part got you covered.
Avid Media Composer (Windows, macOS)
Avid Media Composer is a complex and professional video editing software that is suitable for big projects like movie trailer making. It was the original nonlinear editing suite and is still a widely used powerful editor for many professional filmmakers in Hollywood. It claims most TV shows and movies are edited using this video editing software including Beauty and the Beast, and the latest Hollywood films Dune.
It's a robust all-around tool, keyboard-based editing, and other professional features making it a solid choice for editors who need fast, consistent turnarounds. It provides a dynamic media folder that enables you to deal with multiple individual bits of video footage and audio files in different formats. You can also specify your editing workflow to save time.
As for the trailer making, it allows you to arrange and re-arrange video clips in any order to create the final product. You can quickly access and work on multiple file-based formats. The Ultra HD, 4K, and 8K media are also supported. It gives you advanced tools to allow editing without transcoding or copying the videos.
It also includes visual effects, color correction, and audio editing tools so you can polish your project to perfection. Another notable feature is the ability to edit your media remotely through the cloud using Avid's Cloud Remote. This feature lets you work anytime you want and from everywhere together with other editors at the same time.
Standout Features: Keyboard mapping and color correction, work on any resolution and aspect ratio, distributed processing
Pricing: Starts from $23.99 per month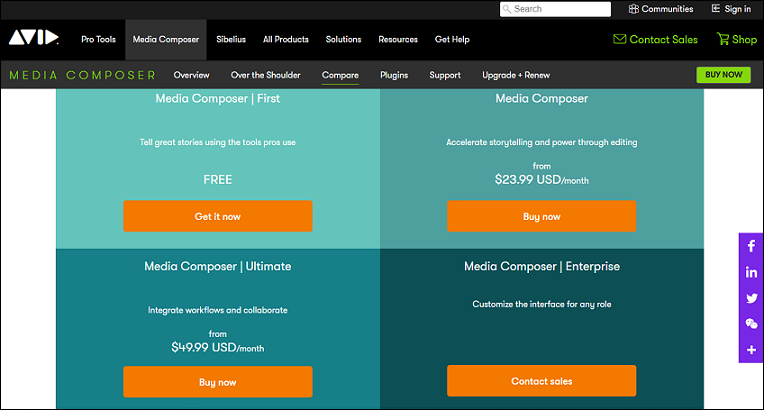 Adobe Premiere Pro (Windows, macOS)
Known as the industry standard, so as for professional movie trailer makers or advanced video editing software, Adobe Premiere Pro is always on the list and never be ignored. It boasts of so many powerful capabilities that make it be used by CNN, BBC, and Hollywood filmmakers.
With Adobe Premiere Pro, you have access to a nonlinear editing interface, a vast range of tools, and capabilities that will easily help you make any type of video. It comes with extensive format support and built-in tools for audio editing, titles, graphics, color correction, and compositing.
This program supports 4K, 8K, and VR video editing. The customizable set of professional tools enables you to make movie trailers just like a Hollywood filmmaker. It gives you the means to adjust color, fine-tune audio, create visual effects, add titles and graphics, and more to the movie trailer.
If you need motion effects, animation, and other composite effects, here is where Premiere pro shines at. It also offers you a good workflow and high output quality. In addition, it works seamlessly with other Adobe applications like Photoshop, After Effects, and Illustrator where you can import data and elements to your Premiere Pro projects.
You can even access the whole suite of Adobe products together with Premiere Pro if you get the Creative Cloud All Apps package. Payment is via subscription, so you can cancel anytime.
Standout Features: Delivers high-quality and professional video editing results, support for 4K, 8K, and VR videos, integration with the other Adobe products
Pricing: Start at $20.99 per month
Conclusion
To sum up, this post introduces the 7 best movie trailer makers for different skill levels. Have you used any of the programs we suggested in this post or any we haven't mentioned but are worth checking out? If so, let us know and share your idea in the comments below.
You can also contact us via [email protected] if you have any questions about this post or encounter any problems while using MiniTool MovieMaker.