A Fancam video is a short video clip that's recorded and created by fans to promote their favorite idol. In this post, we have a brief introduction to Fancam videos and some tips on how to make a Fancam video as well as some Fancam video editors (like MiniTool MovieMaker).
What Is a Fancam?
Currently, Fancam videos are very popular and you might have watched hundreds of Fancam videos on Twitter or Instagram. But what is a Fancam, anyway?
Stared with K-pop, a Fancam is a short clip created by fans to promote their favorite stars. Fans often take videos during their idol's live performance, and then they like to share the videos on Twitter or Instagram or other social media platforms.
A great Fancam video is a wonderful way to promote idols and increase visibility, and it's also a good method for fans to get followers and views as well as the attention of their chosen star.
Also read: What Is ASMR Video: All the Details You Want to Know Shared
Over time, now Fancam videos not only refer to the recorded footage of a live concert by a K-pop idol or group. Fans can make Fancam videos for their favorite actor, singer, rapper, comedian, or a certain character, and more during any scene like shows, interviews, movie clips.
In a word, fans can make Fancam videos for any stars they love in any scene.
How to Make a Fancam Video?
This part offers some tips on how to make a Fancam.
Step 1. Get Started
#1. Select a star
Everyone can be the subject in your Famcam video, but you'd better choose a person that you're familiar with. This will help you quickly decide the idea and find available footage. After picking your star, you should find available recorded footage you took or download other video clips from some social media platforms.
#2. Choose the right music
Music always plays an important role in the video. And it's also important to find the right song for your Fancam video. You can go to YouTube to get some inspiration. After selecting the music, save it on your device.
Step 2. Start Editing
Now, you need some Fancam video editors to enhance your footage. Here, we'll introduce 3 simple and free Fancam makers, MiniTool MovieMaker, Kapwing, and CapCut.
MiniTool MovieMaker (Windows)
It's a free video editor and has many basic video editing tools. It lets you trim, split, rotate, flip videos, change video speed, add text to video, apply transitions and filters, add music to the video, etc. Now, the latest version brings 30+ animated elements.
MiniTool MovieMakerClick to Download100%Clean & Safe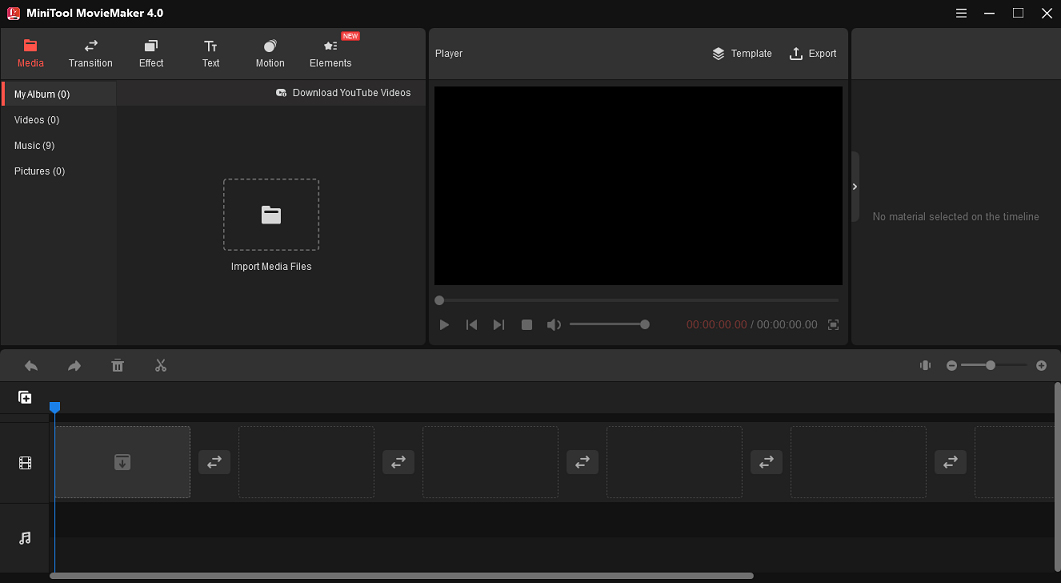 Kapwing (web-based)
Kapwing is an online Fancam maker. It's equipped with multiple editing tools like trimming, smart cutting, cropping, speed adjustment, and more. And this online Fancam video editor also lets you choose the output size (1:1, 9:16, 16:9, 4:5, and 5:4) for your Fancam video.
CapCut (Android and iOS)
If you need a Fancam maker for your Android or iOS device, CapCut is recommended here. As one of the best mobile video editors, CapCut has almost all video editing tools and features, including split, speed, background remover, green screen, overlay, beauty retouch, special effects, and more. And it supports many video aspect ratios.
Here we'll show you how to make a Fancam video with MiniTool MovieMaker with a few clicks.
1. Open MiniTool MovieMaker, close the pop-up window, and then click the Import Media Files to add your footage and music.
2. Drag your footage to the timeline. To remove the beginning of the end parts of the clip, just drag the clip's start point or the endpoint to the right or left.
To remove the background audio in the video, just click the speaker to mute the video.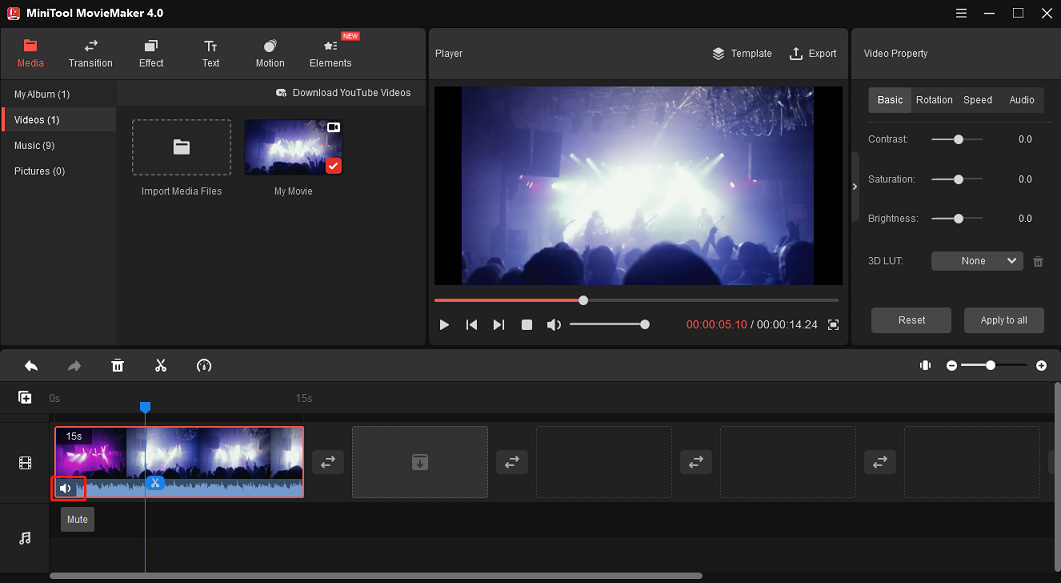 3. Optionally, you can add a filter to the video, add captions, and more. To add music to the clip, just drag your music to the timeline.
4. To export the Fancam video, click the Export. Then choose the output folder, and click the Export.
Step 3. Upload Your Fancam Video
After your video is complete, you can go to Twitter, Instagram, YouTube, and other social media platforms to upload your Fancam video and share it with friends.
Also read: Top 10 Video Sharing Sites You Should Know
Conclusion
That's all about how to make a Fancam video. Now, you can choose a Fancam maker to create amazing Fancam videos to promote your idol or get more attention on the web. And if you'd like to share other tips to make Fancam or recommend other Fancam video editors, just leave your comments below.