How do you celebrate Halloween every year? Besides the Halloween traditions, another best way is to create a stunning Halloween video. And then you can share it with your friends or post it on social networking websites such as YouTube. But how to make Halloween videos? This post will offer 2 solutions.
Halloween is coming soon. The traditional Halloween activities include trick-or-treating, divination games, playing pranks, going to Halloween costumes, lighting bonfires, making pumpkin lanterns, telling scary stories, etc. Apart from this, you can also watch horror movies or create a Halloween video. Fortunately, this post will show you how to make Halloween videos and introduce 10 Halloween movies to you.
If you want a free simple video editor to create Halloween videos, MiniTool MovieMaker is the best choice.
Top 5 Halloween Video Ideas for You.
Before learning about how to make Halloween videos, let's look at the Halloween video ideas that help you create amazing Halloween videos.
1. Halloween movie collection: If you love watching horror movies on Halloween, you can make a movie collection using the clips from your favorite Halloween movies.
2. Halloween DIY ideas: You can make a video that shows Halloween DIY decoration, recipe, or treat ideas, and more.
3. Halloween countdown Video: Halloween is a significant festival. You can make a countdown video to welcome Halloween.
4. Halloween video meme: Everyone loves Happy Halloween memes or funny Halloween memes. If you create a Halloween video meme and share it on the social media platform, and this video will become very popular.
5. Halloween cos-play video: Some people love Halloween cos-play, you can make a Halloween video to share some ideas about Halloween cos-play, such as costumes, makeup tutorials, etc.
How to Make Halloween Videos?
Method 1 – How to Make Halloween Videos with MiniTool MovieMaker
MiniTool MovieMaker is the best desktop video editing software for Windows users. It's clean, no bundle, free, and no watermark video editor, allowing you to create videos from images, video clips, and music. Besides, it offers several Hollywood-style video templates to make you start your creation.
With MiniTool MovieMaker, you can edit the videos as you wish. You can import and add background music to the video, split videos into two parts, combine several clips to one video, rotate videos, flip videos, apply video transitions and effects, reverse video, slow down or speed up videos, trim and cut videos, and more.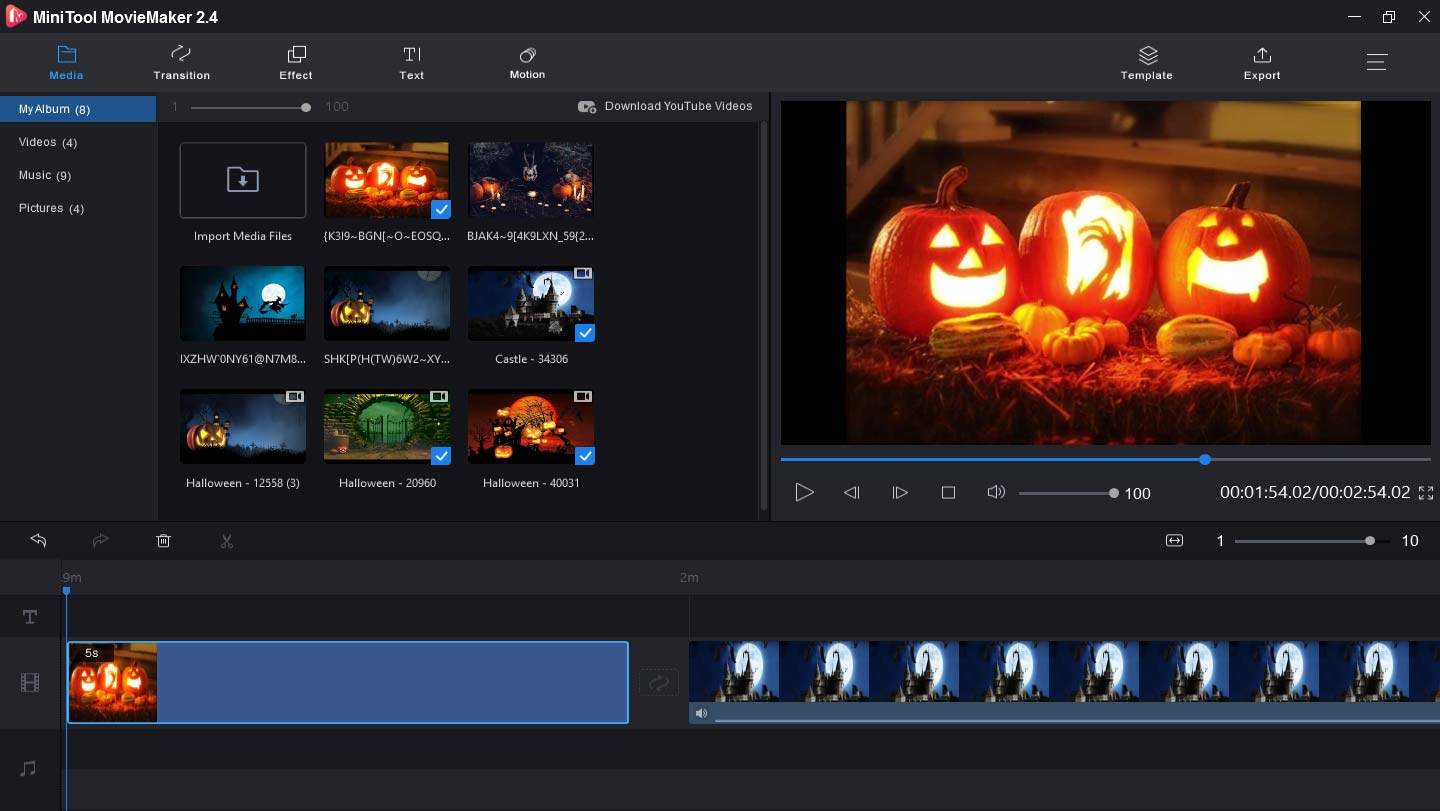 To make your viewers understand the video, you can choose a text template to put captions, credits, or titles to your clip, and you're allowed to change the text color, size, font, position, and alignment. Besides, MiniTool Moviemaker can convert video to GIF or GIF to video, and it can make beautiful Windows 10 slideshows.
Here's how to make Halloween videos with MiniTool MovieMaker:
Step 1. Launch MiniTool MovieMaker on your PC.
Tap the below Free Download button to download MiniTool MovieMaker.
According to the on-screen instructions, Install and open this video editor.
Close the pop-up window and enter its operating interface.
Step 2. Upload your media files.
Click the Import Media Files to locate the folder that contains your clips, images, and music tracks.
Select the target files and click the Open to add them to the media library.
Hover the mouse over an image or clip to preview it.
Step 3. Create your Halloween video.
Click the + button or drag and drop the file to the timeline.
Tap on the Zoom to Fit Timelineto adjust all clips to fit the timeline.
Drag and drop the music to the timeline.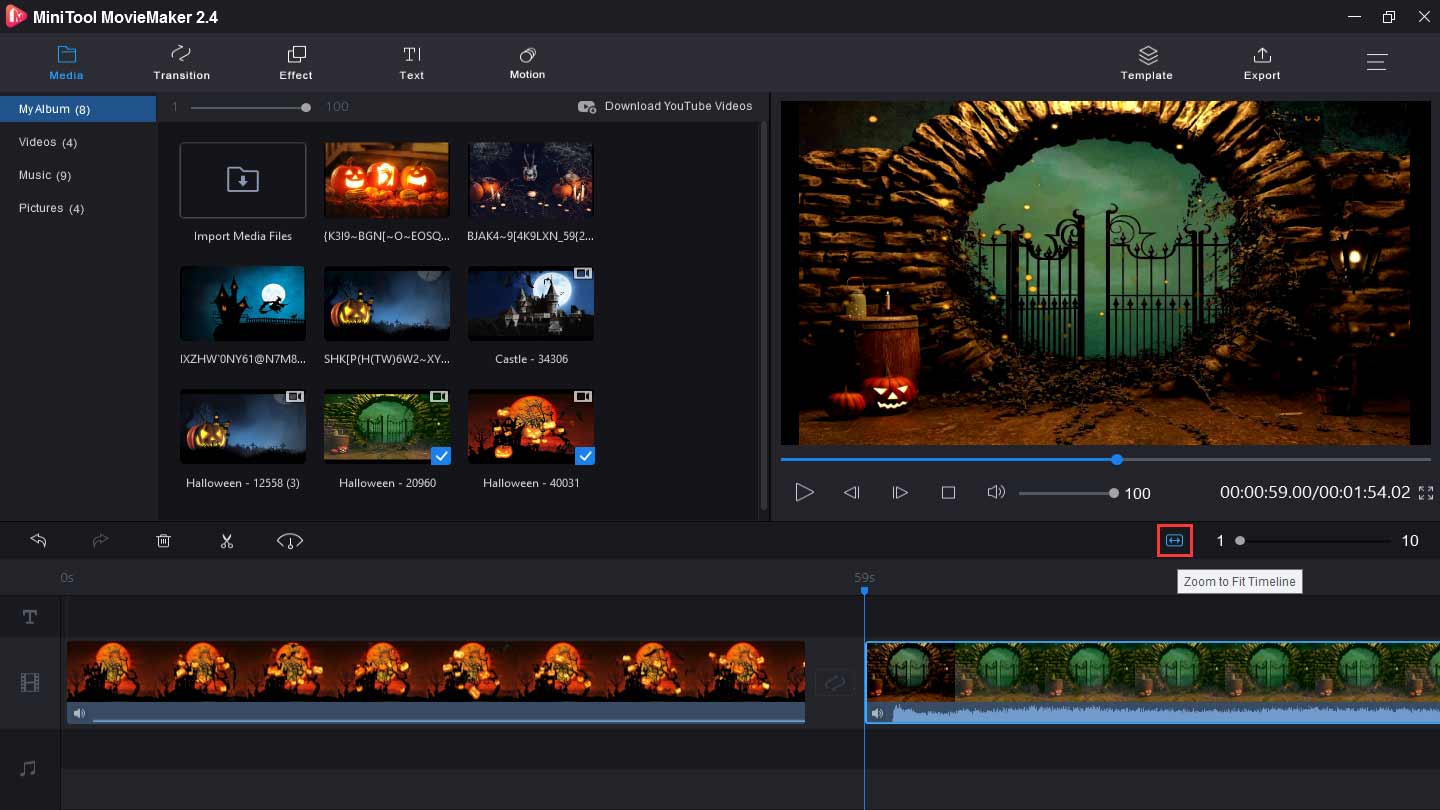 Step 4. Rearrange clips and change the duration of the clip.
In the timeline, select a clip, drag it to a new location.
Move the slider on the right of the Zoom to Fit Timelineto make the clip longer.
Step 5. Rotate or flip videos.
Select a clip, click it, and tap the Edit.
Click the Rotate 90° Clockwiseor Rotate 90° Anticlockwise to rotate videos.
Hit the Flip Verticalor Flip Horizontal to flip videos.
Note: In this window, you can do video color correction by moving the slider to adjust the contrast, saturation, brightness, and choose 3D LUT options.
Step 6. Apply video transitions and effects.
Click the Transition or Effect, find the one you like, hover the mouse over it to preview the transition or effect.
Drag and drop the transition between two clips, or directly drag the effect to a clip.
Step 7. Add text to video.
Tap the Text, choose a template, and click it to get the Text Editor window.
If necessary, you can hover the mouse over the text box and then move it to enlarge the text box.
Delete the sample text and type your text.
Edit the text and after that click the OK.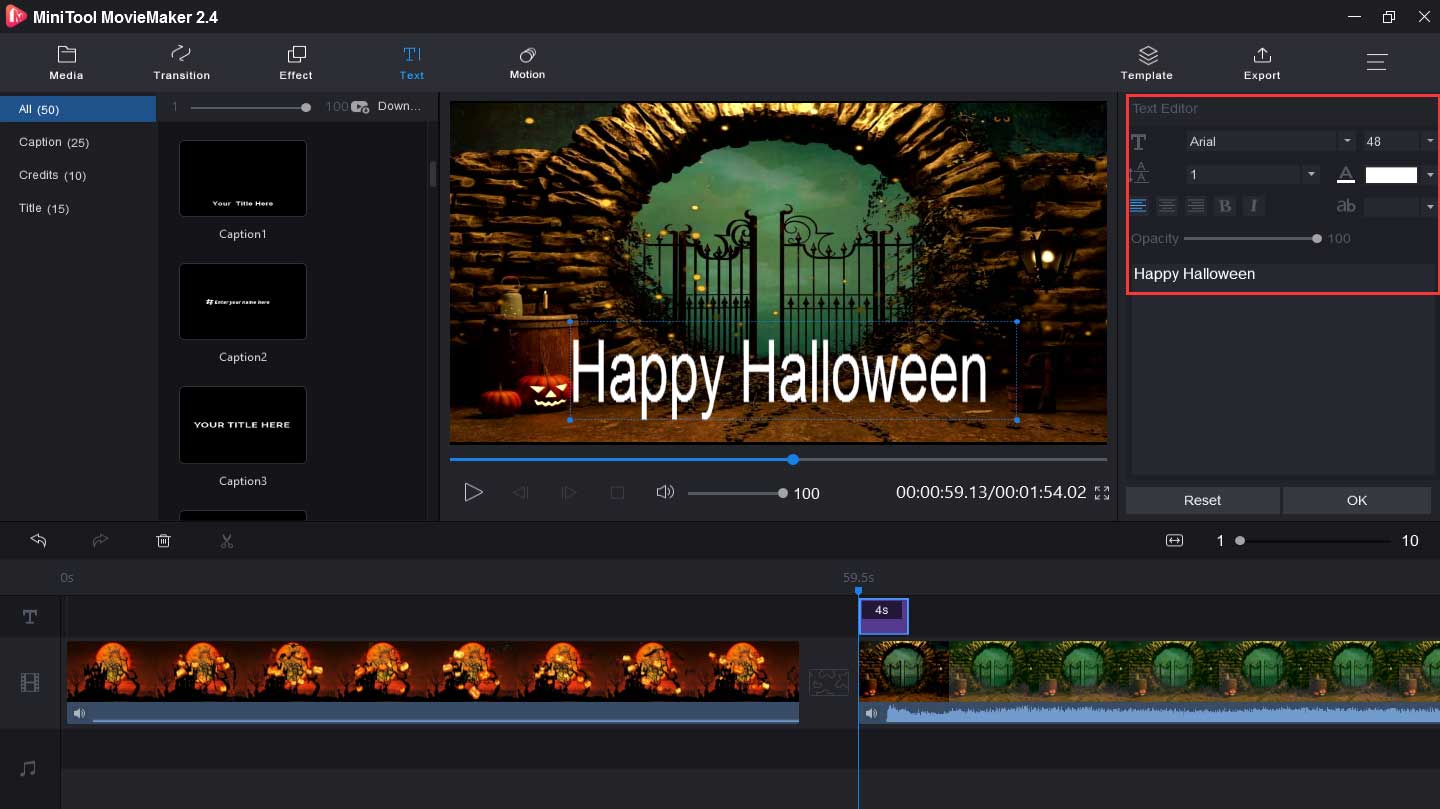 Step 8. Export and save the Halloween video.
After finishing the editing, click the Export.
Rename the video, select the output folder, or choose the format.
Click the Export to save the video on your computer.
With MiniTool MovieMaker, I can easily create a wonderful Halloween video.Click to Tweet
Method 2 – How to Make Halloween Videos Flexclip
How to make Halloween videos online? Flexclip comes to the first resort. Firstly, it's a free online Halloween video maker. Secondly, it offers 9 free Halloween video templates for you. Lastly, it's packed with many editing tools. You can combine, split, trim, merge, and cut videos, change video speed, make animated text, add music to video online, and more.
Here's how to make Halloween videos with Flexclip:
Step 1. Open the editing window of Flexclip.
Type flexclip.com on the web browser.
Click the Sign up for free to log in with your Facebook or Google account.
Click the Create by Templates > Halloween, find the target template, and click the Customize.
Or click the Start from Scratch to make a Halloween video.
Note: The following steps are suitable for making Halloween videos from scratch.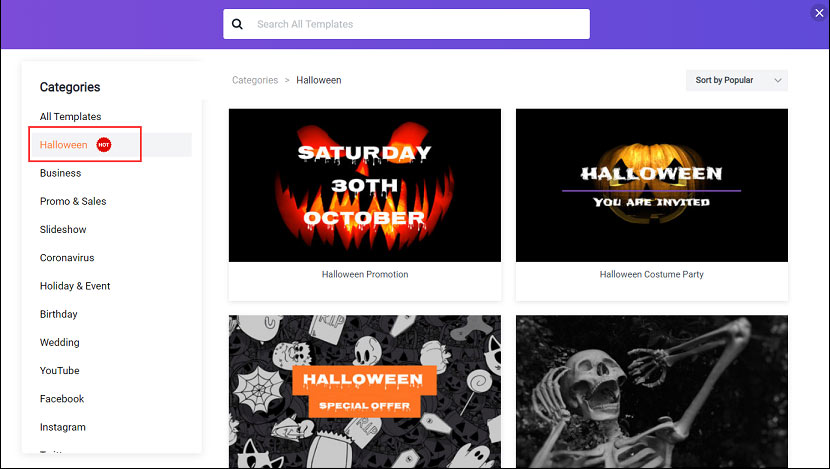 Step 2. Make a Halloween video.
After selecting the Start from Scratch, choose a video ratio.
On the bottom left of the screen, hit the + button, choose Add Local Media to upload files from your computer.
Select the Add Stock Media to import files from the Flexclip library.
Click the Add background to add another video background.
After importing your files, tap the music icon to add music to the video.
Step 3. Edit the Halloween video.
Hit the T button, choose a text style, and type your text.
Hit another button next to T to add logos to the video.
Click the Speed, choose from 5x, 0.75x, 1x, 2x, or 3x to control the video speed.
Tap the Filter, choose one, and click the Apply to all videos and clips.
Select the Adjust to change video exposure, contrast, brightness, highlights, etc.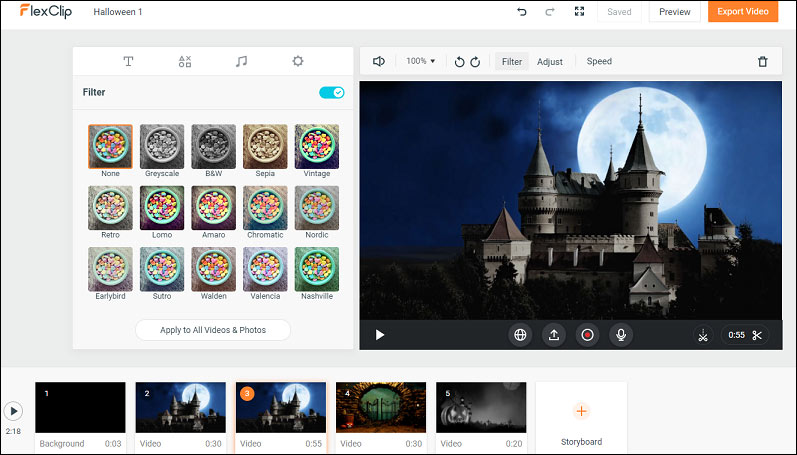 Step 4. Save the Halloween video.
Click the Preview to watch the video.
Tap the Export Video, choose a resolution from 480p, 720p, 1080p, then click the Next.
Type the video name, hit the Export Video.
The Best Websites for Free Halloween Video Templates
Except for Flexclip, which place can give you free Halloween video templates to help you create amazing Halloween videos? If you're troubled by this problem, you've come to the right place. The following is the list of websites offering some free Halloween video templates.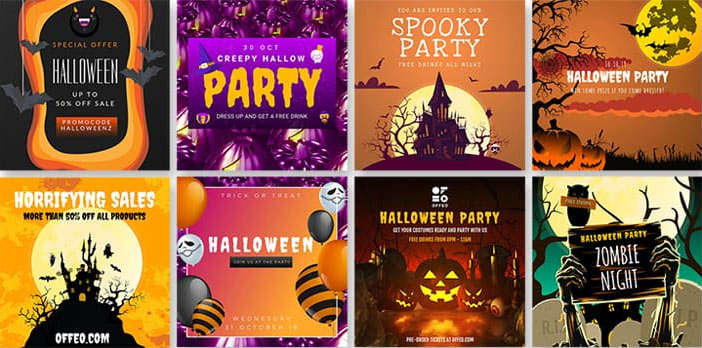 Top 8 Websites for Free Halloween Video Templates
Envato Elements
PosterMyWall
Adobe Spark
OFFEO
Placeit.net
Magisto
Motion Array
Renderforest
The Must-See Halloween Movies
This part will share you with 5 Disney Halloween videos and 5 wonderful Halloween movies on Netflix.
Disney Halloween Movies
1. The Adventures of Ichabod and Mr. Toad (1949)
It's one of the best Halloween videos for kids. This film has two segments: The Wind in the Willows and The Legend of Sleepy Hollow. The former tells a story of 4 animals: Mole, Rat, Toad, and Badge living in the pastoral version of Edwardian England. The latter tells that Crane competes with Abraham for 18-year-old Katrina Van Tassel.
2. Hocus Pocus (1993)
This movie tells three witches are inadvertently resurrected by a teenager on Halloween night. And it's taken as one of the best Halloween videos for kids and family Halloween movies.
3. Halloweentown High (2004)
It's a must on the list of family Halloween movies. A supernatural teenager from a witch family brings monster friends disguised as foreign exchange students into her high school in the mortal world.
4. Coco (2017)
Coco, a 3D computer-animated fantasy movie, is another favorite Halloween video for kids. It follows the 12-year-old Miguel who accidentally goes to the Land of the Dead where he asks for great-great-grandfather's help to go home.
5. Frankenweenie (2012)
As one of the best family Halloween movies, Frankenweenie tells a boy, Victor Frankenstein, makes use of the power of electricity to revive Sparky, his dead bull Terrier. But then he's blackmailed by his peers into showing how they can resurrect their dead pets and other creatures.
Halloween Movies on Netflix
1. Song of the Sea (2014)
It's an animated fantasy film, following the story of a 10-year-old Irish boy, Ben, finds that his sister Saoirse is a selkie who has to free faerie creatures from the Celtic goddess Macha. Of course, it's regarded as one of the most popular Halloween videos for kids and family Halloween movies.
2. Hubie Halloween (2020)
It's one of the must-watch Halloween movies on Netflix. This film follows a deli worker who loves Halloween save the town of Salem, Massachusetts from a kidnapper.
3. Scooby-Doo on Zombie Island (1998)
It's another great kid Halloween movie on Netflix. After their reunion, Fred, Shaggy, Velma, and Daphne's investigation into a bayou island that's said to be haunted by the ghost of the pirate Morgan Moonscar.
4. The Witch (2015)
If you want to watch a horror movie on Halloween, The Witch is a nice choice. In this film, a Puritan family is confronted with evil forces in the woods outside their New England farm.
5. Insidious (2010)
Insidious, a supernatural horror film, it's also one of the must-see Halloween movies on Netflix. This film focus tells a story of a couple, whose son goes into a coma somehow and becomes a vessel that's taken as a habitat by an astral dimension.
Conclusion
Now. you've learned 2 ways to make Halloween videos. Choose one method and turn your Halloween video ideas into an amazing creation! If you want to recommend other Halloween movies or have any questions, please contact us via [email protected] or leave them in the below comments section.
Halloween Videos FAQ
How to make a Halloween meme online?
Enter imgflip.com and click the make a meme.
Select the Upload new template to upload an image.
Hit the Search all memes to find a Halloween picture.
Type the top text and bottom text, and edit the meme.
Finally, tap the Generate Meme.
How do you create a Halloween slideshow?
Navigate to Animoto and sign in.
Choose a template or start from scratch.
Upload Halloween images or video clips.
Add spooky music to the slideshow.
Customize the Halloween slideshow.
Export and share your Halloween slideshow.
How to make a scary video on iMovie?
Launch the iMovie on your computer.
In the Projects browser, select the Create New> Movieto create a new project.
Click the Import Media to import your files and add them to the timeline.
Select a clip or clips, click the Clip Filter and Audio Effects> Clip Effect.
Choose and apply an effect to make your video look horrible.
Continue to edit the video and save it.
Where to get free Halloween music?
Spotify
Haunted Illinois
Oddio Overplay
Haunted Bay
Komar.org
YouTube