Graduation season is coming soon! Why not play these 10 best graduation songs to celebrate? If you want to add any of these songs into your video and then play it on your graduation ceremony, try MiniTool software.
No matter you graduate from high school or college, it is worth celebrating, and music is essential to every celebration. Check out the 10 best graduation songs listed below, including happy graduation songs, sad graduation songs, and so on.
Top 10 Best Graduation Songs of All Time
1. See You Again - 2015
See You Again is a song recorded by American rapper Wiz Khalifa, featuring American singer Charlie Puth.
2. Forever Young - 1984
Forever Young is a song from the German synthpop recording act Alphaville's 1984 debut album of the same name.
3. I Will Remember You - 1995
I Will Remember You is a song written by Sarah McLachlan, Séamus Egan, and Dave Merenda, which first appeared on the soundtrack for the movie The Brothers McMullen.
4. We are the Champions - 1977
We Are the Champions is a song by the British rock band Queen, which is considered as one of rock's most recognizable anthems.
5. Don't Stop Believin' - 1981
Don't Stop Believin' is a song by American rock band Journey, originally released as the second single from their seventh album, Escape.
6. Firework - 2010
Fireworks is a song by American singer Katy Perry, which is a dance-pop self-empowerment anthem with inspirational lyrics.
7. I Believe I Can Fly – 1966
I Believe I Can Fly is written and performed by American singer, songwriter, record producer, and former professional basketball player R. Kelly.
8. We are Young – 2011
We Are Young is a song recorded by American band Fun featuring American singer Janelle Monáe, for their second studio album, Some Nights.
9. You're Gonna Miss This - 2008
You're Gonna Miss This is a song written by Ashley Gorley and Lee Thomas Miller, and recorded by American country music artist Trace Adkins.
10. Never Grow up – 2010
Never Grow Up is a song by American singer-songwriter Taylor Swift, which tells the fact that most people don' quite know how they feel about growing up.
Where to Download Graduation Songs for Free
Top 10 best graduation songs have been introduced above. Then where to download them? Don't worry. Try the following 3 popular music sites.
1. SoundCloud
SoundCloud is one of the most popular music sites that lets you stream unlimited music and download graduation songs for free. All music content is uploaded by independent artists and famous musicians. You can search popular graduation songs 2020 in the search bar.
2. Internet Archive
Internet Archive is the hub of all kinds of free music with over 2 million different types of audio files. You can filter and search for your favorite graduation songs based on their release year, creator and even language and even use radio shows audiobooks, live music, and podcasts.
Related article: Add Music to Google Slides
3. SoundClick
SoundClick is another website for searching for free graduation songs. Here, artists allow you to download their music for free. Plus, you can browse music charts and genres until you find the free graduation song you want, and then listen or download.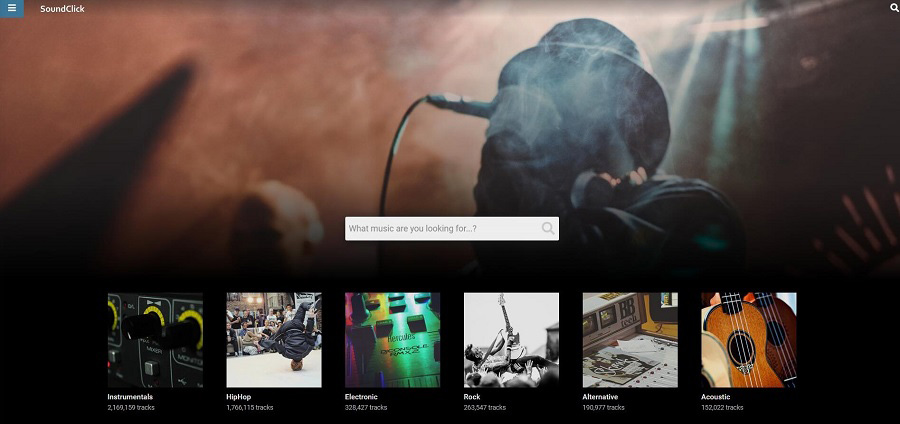 How to Add a Graduation Song into a Video
If you want to add your favorite graduation song into a video, then here recommends MiniTool MovieMaker, a free yet professional video maker. Follow the steps below to add audio to a video.
Step 1. Run MiniTool MovieMaker on your PC and close the templates window to enter its main interface.
Step 2. Click Import Media File to import the video, add it to the timeline and then you can edit the video clip, such as splitting, trimming, rotation, and color correction.
Step 3. Go to Music Library and import your favorite graduation song to the software. After that, you can edit the audio clip like cutting, fade in & fade out, etc.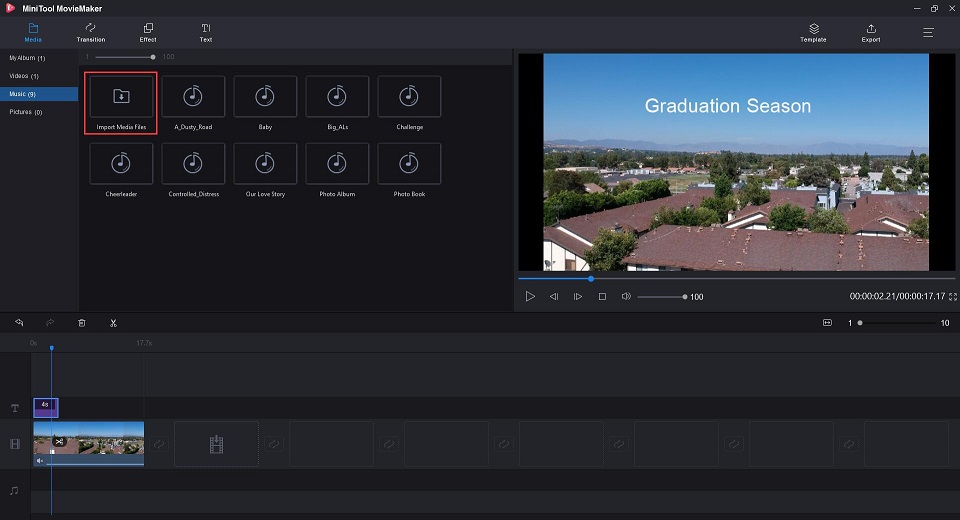 Step 4. When all is done, click Export on the upper right, give a name, choose an output format, specify the destination folder for the new video file and hit Export again to save it.
You might be interested in: Add Music to PowerPoint
Bottom Line
The above has discussed the top 10 best graduation songs and 3 popular music sites to download them. If you have any questions or suggestions about it, please let us know via [email protected] or share them in the comments section below.