Chances are that you have some GIF files and you want to remove the background for some specific usage. Now, you need a GIF background remover to help you. Which one is the right animated gif background remover for you? Read this post to find the right one among 5 options.
By the way, if you want to edit interesting GIF memes or make GIFs from videos, you can try the handy tool – MiniTool MovieMaker.
EZGIF
URL: https://ezgif.com/
EZGIF is one of the most popular complete workshops for all tasks related to GIFs in just a few clicks, including background removal. To remove the unwanted GIF background, you can upload the file from your computer file folder or paste the link to the GIF. Note that the max file size is 6MB each or 100MB in total.
Using EZGIF, you can make many other changes to the gif like crop, resize, optimize, edit, change the format, add effects or texts, adjust the speed, and split a single GIF into multiple frames that are saved as separate JPG or PNG files, and more.
OnlineGifTools
URL: https://onlinegiftools.com/create-transparent-gif
OnlineGifTools is also a great GIF file background remover online. It claims to be the world's best gif online maker. This free browser-based program removes GIF background with a single click. You just need to enter the background color you want to erase in the Transparent Regions section. You can also modify the color rate to match similar tones.
Unscreen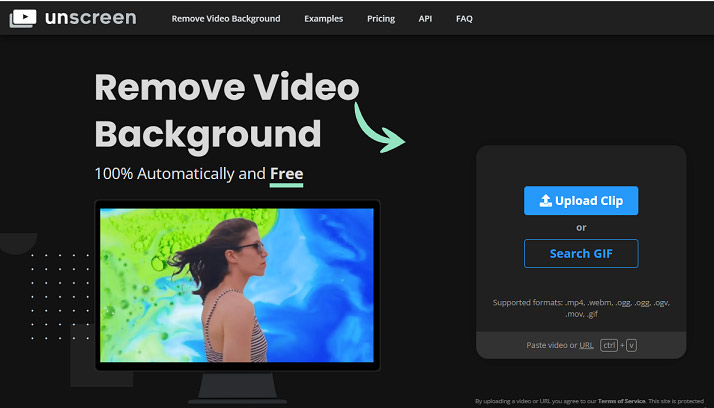 URL: https://www.unscreen.com/
Unscreen is also a popular GIF image background remover online. After you upload your GIF file from your PC, it will automatically remove the GIF background. It lets you view the animation frame by frame to check the result. You can also use it to customize the background as you like.
It is mainly designed to remove video backgrounds for free. You can use it to remove the background of videos in MP4, OGG, MOV, and other formats. After you remove the background, the output GIF file will be added with an Unscreen watermark in the bottom right part. You need to upgrade to Pro to remove the watermark.
Gifmake
URL: https://gifmake.com/
Gifmake can also be used to remove the unwanted background from your GIF file. You can view the output of each action instantly in the preview box and edit it accordingly. You can also edit each frame individually. It also supports resizing the GIF or changing the animation speed if needed.
This online GIF creation tool comes with a clean interface with a visual board where you will drag and drop anything from links, videos, lists, text, notes, and even hand-drawn sketches. The upload size is set to a maximum of 7 MB.
Gifmagic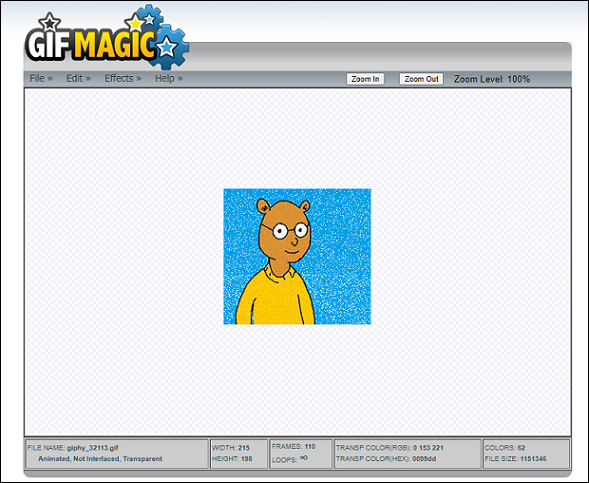 URL: http://www.gifmagic.com/
Gifmagic is another GIF background remover tool that carries many basic editing features for you to edit animated GIFs in a simple way.
After uploading the GIF file to GIFmagic, you can add effects, crop and resize, rotate and flip, manage to loop, and optimize the file as needed. Relatively speaking, it offers a very simple and effective way to remove background from GIFs online.
Conclusion
In this post, we can get the 5 amazing online GIF background removers. Which one do you like most? You can share your ideas in the comments section below.
Also read: