To edit audio, you can try MiniTool software. If you want to make a piece of professional music, you can try DAW software. Here are the top 10 DAW software, and each of them has its pros as well as cons.
To make a music, you need a DAW software. To help you find the best free DAW software to turn your ideas into music as quickly and painlessly as possible, we have collected 10 different DAWs on the market. Each of these tools has its advantages and disadvantages.
What Is A DAW
DAW, digital audio workstation, can help you compose, record, edit and produce audio files. DAWs are good at mixing of multiple sound sources on a time-based grid.
The Best Simple DAW Software for Editing Audio
If you are a beginner, you can try a simple and free DAW software to edit audio. MiniTool MovieMaker, a free video editing software, lets you create and edit videos easily. This free tool is recommended here because it offers simple and straightforward interfaces, and contains some basic features. More importantly, it is a free, no ads, no bundle tool.
By using this easy to use tool, you can do the following things to your music file:
Remove background music from video.
Trim, split, merge music file.
Add music to video.
Fade in or fade out music files.
Change music volume.
…
Let's take fade music for example to show how to edit music files with the best simple and few DAW tool.
How to Edit Audio Easily with MiniTool MovieMaker
Step 1. Download and install MiniTool MovieMaker on PC.
MiniTool MovieMakerClick to Download100%Clean & Safe
Step 2. Launch this simple and free DAW to gets its main interface, and import your files.
Step 3. Add videos or pictures to the timeline, and add music files to the music track.
Step 4. Split, trim or merge music files according to actual needs.
Related article: combine videos
Step 5. Double click the music file you want to edit, and fade in/out music or change its volume.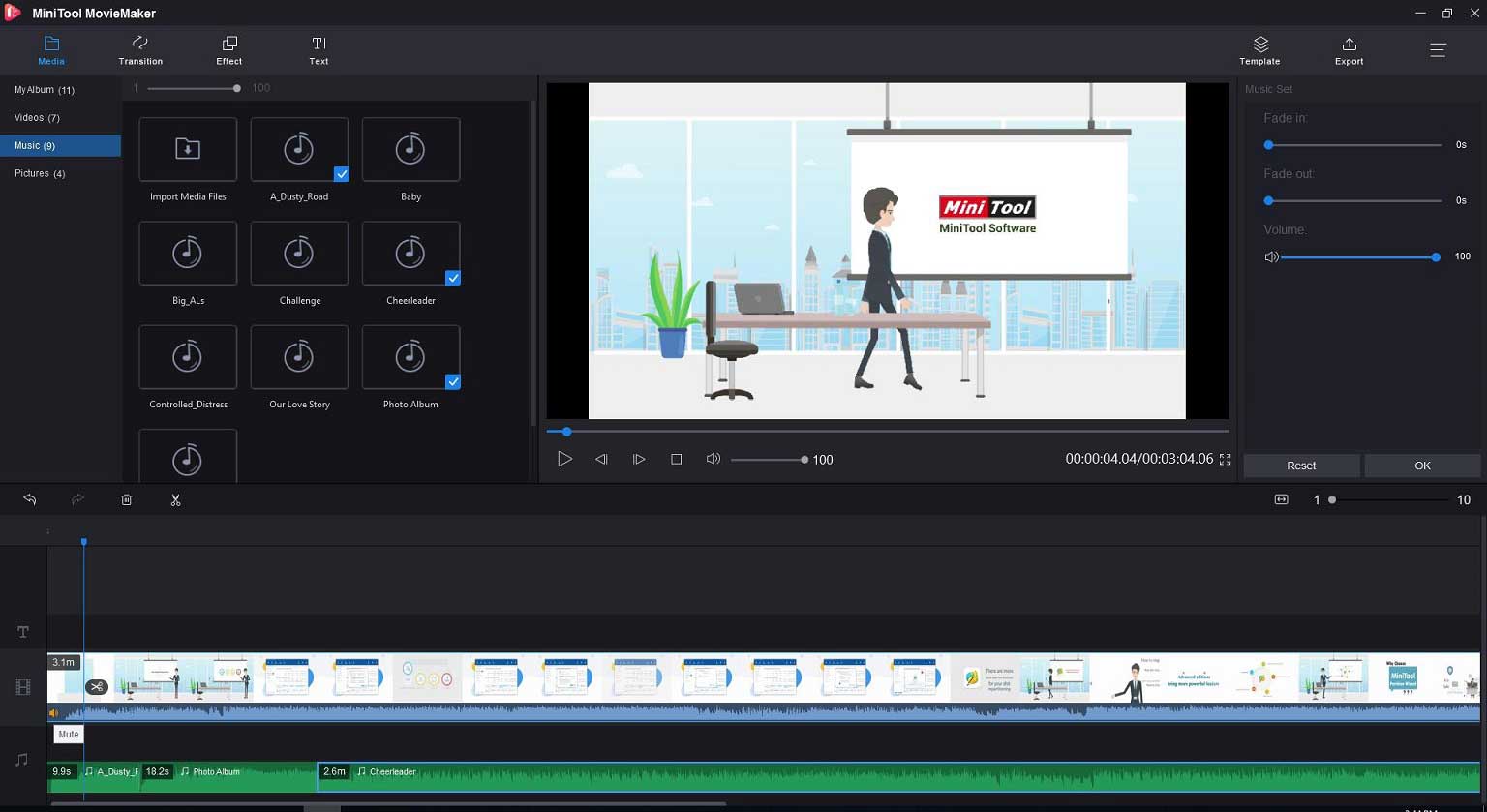 Step 6. Save the project into an MP3 format on your PC.
Tip:
This free tool lets you save your masterpiece into MP3 and other video formats, like MP4, WAV, etc. To know more details, you can read this post:
change video format
.
See! It is very easy to edit music with the simple, free, no ads, no bundle video editor – MiniTool MovieMaker. Of course, this free tool has many powerful functions like video transitions, animated text, and others to help you create a video.
In a word, MinTool MovieMaker is a powerful and free video editor without watermark, and it can be used as a simple DAW software for beginners. Download this tool and have a try.
MiniTool MovieMaker lets you edit audio easily and quickly. Click to Tweet
What should you do if you want to record audio, mixing editing audio, etc? It is time to look for a professional DAW software.
Top 10 DAW Software
Audacity
Pro Tools
Presonus Studio One
Ableton Live
Steinberg Cubase
Apple Logic Pro X
Garageband
Stagelight
Bandlab
LMMS
Best Free DAW Software
Now that you have a basic knowledge about editing audio, let's see some professional DAW software.
#1. Audacity
Audacity is a completely free recording software and is the most widely used free DAW software across the globe. It is one of the best DAW for beginners because the simple recording and editing process does not require any sort of training. And, it is compatible with all operating systems.

Unfortunately, you cannot use VST synths or other virtual instruments since this free DAW cannot record MIDI. Therefore, if you are looking for a full mix, you need to choose another DAW software. However, if you only need to record audio, you can safely use it.
Features:
It is a cross-platform DAW software.
The beat analyzer makes the beat slow or fast.
It creates and edits the podcasts or rough song demo.
It can export audio files to MP3 and WAV (Note: Exporting files needs LAMEC encoder).
If you want to export video files to MP3, you can try MiniTool MovieMaker. This free tool lets you easily extract audio from MP4 or other video formats.
#2. Pro Tools
Pro Tools is the industry-standard DAW that allows you to record and edit music. Professionals like this tool for the speed of editing and the high-quality mixing environment. If you want to work in a professional studio, you need to spend time learning this tool. Before purchasing this standard DAW, you can try the free edition Pro Tools first which is limited to 16 tracks.
Features:
It contains up to 16 virtual instrument tracks, 2 high-quality loop and sample libraries.
It includes beats and loops to power chords and more cowbells, drums, keys, bass, and guitar.
It allows loop recording to nail the perfect guitar solo or vocal run and provides 23 effects and utility plugins.
Related article: loop YouTube video
#3. Presonus Studio One
After several years of development, Presonus Studio One has become a DAW of real power and maturity. It provides smoother parameter changes in MIDI parts because of its proprietary high-resolution internal MIDI protocol. You can easily use the outboard gear as the dedicated hardware interfacing plugin. You can use this DAW software in a 30-days free trial to mix sounds and music.
Features:
You can create without any restriction, and export work without any worries.
It supports all plugin formats, any style of music, effects, instruments, and melodyne.
#4. Ableton Live
Ableton Live is popular among electronic produces because of its inspiring workflow and intuitive "session view". This DAW software offers extremely high-quality sound-design tools including built-in sampling and synthesis plugins. With the best DAW software, you can quickly make your masterpiece.
In Live, you can write automation directly to clips, and everything can be turned into MIDI, including melodies, harmonies, sampled beats, and more. Also, you can take pieces from existing sample libraries and recordings, and change them to some completely different things.
Features:
It has inspirational clip-based live performance, fast and creative workflow.
The suit version contains plenty of sample material to work with.
It includes excellent built-in devices as well as powerful automation.
#5.Steinberg Cubase
As one of the first commercially available DAWs, Steinberg Cubase still has a strong following. This DAW software includes all the features you need to create a pro-quality track. Cubase is compatible with free VST plugins, especially on Windows as this free DAW software pioneered the popular VST plugin format. If you are searching for the best free DAW, you can try this tool because it has a lot of great features.
Features:
This DAW software has a great history and lots of development.
It supports comprehensive editing and automation, and refined workflow.
It has a robust plug-in bundle and is a powerful mixer.
#6. Apple Logic Pro X
Logic Pro X is Apple's pro DAW software. To help you create great recordings right away, Apple has been focusing on creating fantastic built-in plugins. This DAW software includes intuitive MIDI, audio editing and a powerful sample editor, striking a perfect balance between functionality and ease of use.
More importantly, Apple Logic Pro X contains pitch, timing correction, convincing guitar amp emulation plugins natively in-app and other pro-level features. Unfortunately, you can only use this tool free for 90 days.
Features
It has a tried and tested workflow.
It comes with loads of content.
It has a stunning array of bundled instruments and effects.
#7.Garageband
Garageband is a free DAW software for democratizing music production. This free program comes with all versions of Mac OS X, and lets you easily sequence the supplied audio loops.
The best free DAW software for Mac includes a decent collection of software instruments, multitrack recording functionality and a good selection of virtual guitar amps and stompboxes. You can control the software by using the logic remote iPad app.
All helpful tips in this free DAW software are written in simple language, making all people can understand it. In a word, Garageband is a simple and effective DAW software for Mac users to edit music.
Features:
This easy to use DAW software makes it easy to record and mix music.
This free DAW software supports 24-bit recording and third-party plug-ins.
#8. Stagelight
It is a cross-platform free DAW software for music education from teaching, learning, creating to sharing music. By using this tool, you can mix loops and create complete multi-track songs with various instruments.
Features:
It includes customize and create in-app lessons.
It lets you save the project to Google Drive and Microsoft OneDrive.
#9.Bandlab
Cakewalk By Bandlab is a full-fledged professional and free DAW software for Windows. To build in better support for the Surface Pen and Surface Dial, Bandlab is working with Microsoft. This DAW software has a 64bit audio engine with plug-in support for VST3 effects, DirectX and virtual instruments, and it contains ARA which is used to correct integrated Melodyne pitch.
Features:
It contains unlimited track counts.
It has full VST format plug-in support.
It is a perfect choice for people who are using touch-enabled Windows computers, hybrids and tablets.
#10. LMMS
LMMS, Linux Multimedia Studio, is free DAW software and offers unlimited audio and MIDI tracks. It has developed 16 synthesizers and tons of effects that come with it. Besides, the interface is clean and inviting. With this free DAW software, you can arrange sample, synthesize sound, play MIDI keyboard, combine sequencer, etc. And, you can move projects between Windows, macOS, and Linux.
Features:
It has a modern as well as user-friendly interface.
It allows you to import and export MIDI files.
It provides unlimited FX channels, an FX mixer, and a random number of effects.
Bottom Line
There are top 10 free DAW software. Each of them has its advantages and disadvantages. You can choose a suitable free DAW to create music. In fact, each of them requires some time to get accustomed. For beginners, it is recommended to try using MiniTool MovieMaker. Once you have some basic knowledge, you can easily manage these DAW software tools with ease.
If you have any questions on how to use MiniTool MovieMaker, please feel free to contact us!
Free DAW Software FAQ
?Is Ableton a DAW?
Yes. Ableton Live is a professional DAW. Many professional musicians and DJs use this tool for live performances, and you can use it to compose music, record music, arrange music, mix music, etc.
?Is there a free DAW?
Of course, there are many free DAW tools, including Audacity, Protools, etc. If you are a beginner, you can try MiniTool MovieMaker. This free DAW software offers some simple features to help you edit music.
☎️Is audacity a DAW?
Audacity is an easy-to-use, free, open source, multi-track DAW software for Windows, Mac OS X, and GNU/Linux.