This MiniTool Software page primarily describes ten tips for creating video content and guides you to learn how to customize the video. This will encourage visitors to your website and encourage them to purchase your products.
In recent years, video has become a common media carrier. Video can be used to advertise online, attract customers, increase brand awareness, and keep social media messages updated. Video content is now essential to any successful digital publishing strategy; it is no longer an option.
Not only does video help with marketing, but it also allows sales teams to engage with customers on a whole new level. Thanks to the availability of video analytics, brands can track their progress more clearly.
10 Tips for Creating Video Content
The number of brands using social media is growing. To expand your audience and give life to your brand image, you can concentrate on producing more videos. Your marketing strategy will also become more effective if you master the basics of creating video content for your business.
1. Applicable to Mobile Users
Any customer base should be taken into consideration in the best marketing videos. These days, almost everyone uses a smartphone to browse the internet. No one will be prepared to put in extra effort for a video when there are a few hundred others lined up, so if your video is not mobile-friendly, you will miss out on thousands of prospective viewers. Regardless of the platform, make sure you are selecting a mobile-friendly video.
2. Making Video Content for Social Media
On various social media sites, you'll discover that various video marketing formats succeed in various ways. On a given platform, the algorithm determines which videos perform better and draw in more viewers. If you're going to share a video on Facebook or Instagram, tailor your video to the platform's algorithm preferences.
Before you start shooting, do your research. Creating video content for YouTube is a trend, for example, you can make a funny short video for the platform.
Share this article: Best Social Media Video Maker for Windows, Mac, iPhone, Online
3. Engage the Audience in the Opening Seconds
When a person clicks on a video, they only have a few seconds of attention on that video before they move on to the next video in their feed. You need to think of a quick hook for the video's opening to make the most of these few seconds and hold their attention for longer.
The video's topic and call-to-action should be outlined in the hook, which should also entice viewers to stick around until the end. Along with the statement in the video, the audience is also curious about what you created at the end of the video.
4. Get the Most Out of Screen Recording
The benefits of your product should be clearly explained in the marketing video. The viewers can benefit greatly from your product by watching instructional videos.
MiniTool Video Converter, the best screen recorder for Windows, allows you to record the screen in order to capture desktop video or a specific program's interface. It offers batch conversion and supports more than 1000 common output formats. Additionally, it can quickly convert audio and video files from one format to another so that they can be used on more devices.
5. Prepare a Captivating Thumbnail and Title
Making a good initial impression can keep your audience interested for a long time. Even if you put a lot of effort into creating video content, if your headline isn't catchy, people won't want to click on it. Video creators can combine keywords with wit to create ideal titles. Not only will this help the video appear in people's feeds, but it will keep them curious. A clear and high-definition thumbnail image relevant to the information you provide should be placed next to your title.
6. Provide Information
Everyone would like to learn new things more easily. Learning new things while reading through social media leads to an immediate boost. Videos for educational marketing do more than just advertise a product; they also interact with the audience on a higher level. The objective is to maintain a lighthearted tone while remaining precise and concise. Additionally, making tutorial videos is another great way to promote your product without overselling your audience.
7. Remember to Use SEO
Your video marketing plan should comply with Google's algorithm just like your written material does when you use good SEO techniques. You can find some relevant keywords and incorporate them into the description and title of the video without going too far.
8. Remember to Use CTAs
Calls-to-Action, often known as CTAs, are used to remind people to take action. Social media provides a plethora of distractions, so even if your viewers enjoy watching your video, they can overlook its merits in favor of moving on to the next topic in their feed.
You can choose where to place your CTAs carefully to avoid putting off your audience. The CTAs are typically added at the end for most businesses. The discussion rate from mid-roll CTAs is also good. CTAs should be viewed as polite requests, not pushy commands.
9. Specify Your Target Audience
It's important to make sure the right people view your videos. The people who will interact with the video the most are those in your target demographic. Facebook is one of the top places to distribute video material because it lets you tailor your posts to a specific audience. People can be divided into groups based on their gender, age, region, and language. The group will only be able to see the video if you choose a Facebook video for the post. You can also narrow down your audience based on their interests.
10. Tell Stories
For dry content, the majority of viewers would not like to watch videos. They seek for narratives that will stir their feelings. It's important to try to keep your audience interested when sharing video content. You can share valuable stories with your audience to pique their interest in your brand. It is best to write a cohesive story in a few sentences.
How to Customize Your Video
If you want to make engaging videos, you can try MiniTool MovieMaker, an easy-to-use video editor that can polish your videos with effects, music, transitions, stickers, and more. Here, video creators can also easily and quickly generate awesome videos using different types of fully customizable templates, such as love, family, travel, and festival.
In addition, MiniTool MovieMaker entitles you to enhance your videos by adding titles, captions, and credits. Meanwhile, you can preview the edited video and make some changes at any time.
Additional Features:
Videos can be imported in various formats, including mp4, mov, wmv, vob, avi, 3gp, mpg, rmvb, etc.
Images can be imported in different formats, including jpg, jpeg, png, gif, bmp, ico, etc.
Audio can be imported in a variety of formats, including mp3, wav, flac, m4a, m4r, aac, amr, ape, etc.
Users can rearrange media clips in the timeline or storyboard to customize their video.
Users can adjust the brightness, contrast, and saturation of video and image clips and apply 3D LUT effects to them.
The video speed can be altered, for example, to speed up by 2x or slow down by 0.5.
You can flip photos horizontally, vertically, or rotate photos to any angle.
You can apply fade effects to audio and control its volume.
It enables you to split video, trim video, crop video, rotate video, reverse video, and merge video, among other things.
It also allows you to change video quality, video encoder, video resolution, video bit rate, and video frame rate.
Here's how to customize your video with MiniTool MovieMaker:
First thing first, download and install MiniTool MovieMaker on your computer. It's free, ad-free, watermark-free, and compatible with Windows 7/8/8.1/10/11. Then, launch this video editing tool. After the following interface comes up, close the Register window and the Project library window to enter the editing panel.
Next, you can locate the Media tab and click on the Import Media Files button to upload the desired media files, including videos, images, and music. Then, drag and drop the uploaded file to the below timeline or click on the + button at the bottom right of the media file thumbnail.
In addition to uploading music files from local storage locations, MiniTool MovieMaker also has many built-in songs for you to choose from.
Go to the Music library, and click the Download icon at the bottom right of the music thumbnail to get the desired audio. Or, right-click anywhere in the Music library and select Download All to quickly grab and use them.
MiniTool MovieMaker allows users to adjust the color correction of video and apply 3D LUT effects. When you click on the video clip on the timeline, the editing window will appear. The Basic tab is currently set as the default. To adjust the brightness, saturation, and contrast of the video clip, drag the sliders or click to the left or right of the sliders. Click the 3D LUT drop-down list to select the desired 3D LUT effect.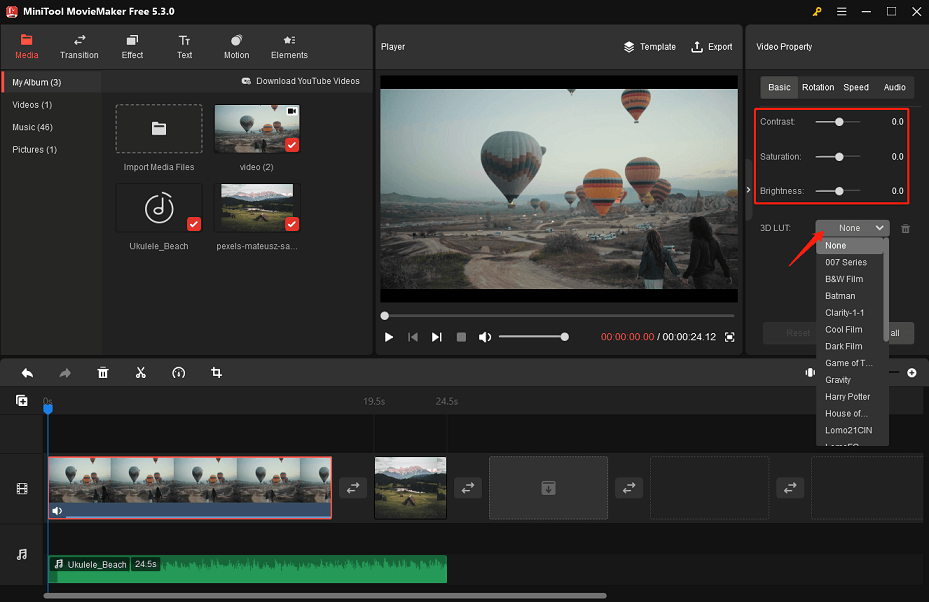 Switch to the Rotation tab, and click on the Flip Horizontal or Flip Vertical icon to rotate the video clip. Alternatively, you can drag the Rotate slider to rotate it from 0° to 360°.
Switch to the Speed tab, you can alter the playback speed of the video clip from 0.01x to 50x. Simply drag the Speed slider left or right to slow down or speed up. And, check the Reverse speed option to play the video backward.
Switch to the Audio tab and drag the Fade in and Fade out sliders to specify how long to fade in and fade out the audio. To decrease or increase video volume, drag the Volume slider left or right.
If you want to cancel the previous adjustments and return to the original default state, you can directly click the Reset tab in the lower right corner of the editing window.
When you've finished customizing your video, you can export the edited videos to PC and devices. Click on Export at the top right corner of the Player window to access the Export window. In the PC tab, you can rename the video, choose the video format, and change the save folder. Furthermore, users can click the Settings button to customize the export settings, including the video quality, encoder, resolution, bit rate, and frame rate. At last, click the Export button to complete the editing process.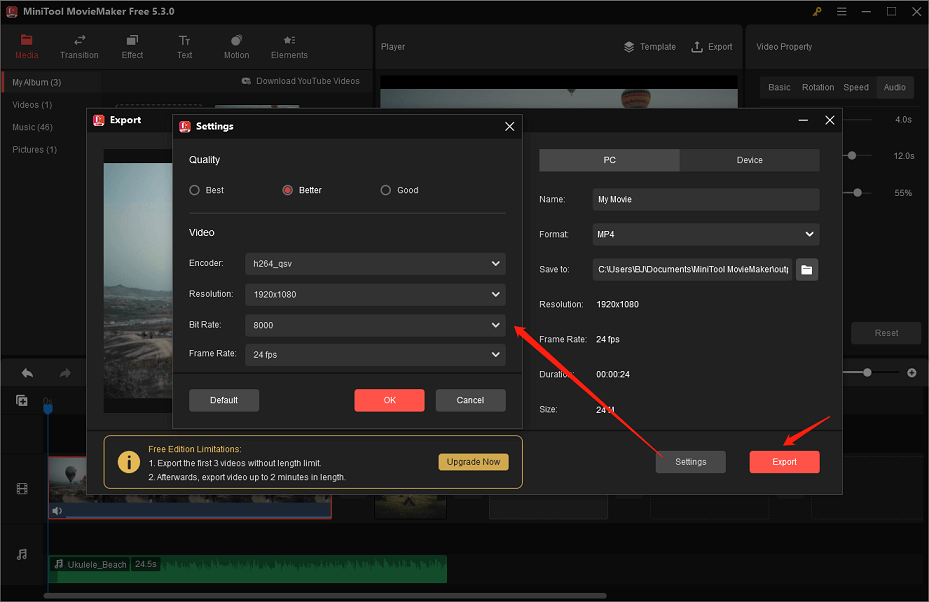 Once done, customers can check the exported video by selecting Find Target from the window.
I agree, and I definitely think MiniTool MovieMaker is a user-friendly video editing app that helps you customize your videos.Click to Tweet
Conclusion
The information above focuses on ten tips for creating video content and walks you through the process of how to customize your video.
If you have any questions or comments about MiniTool MovieMaker, please feel free to email us at [email protected].