What are the best photo editing apps for Instagram? This post offers some of the best photo editing apps for Instagram for you to choose from whether you want to get more "likes" on your photos or grow your following on Instagram. You can try MiniTool MovieMaker to edit your shining Instagram videos too.
Posting high-quality photos on Instagram helps you to grow following and engagement. With these best photo editing apps for Instagram, you can create visually appealing and professional photos easily. In addition, each one of them is available for Android and iOS.
Instasize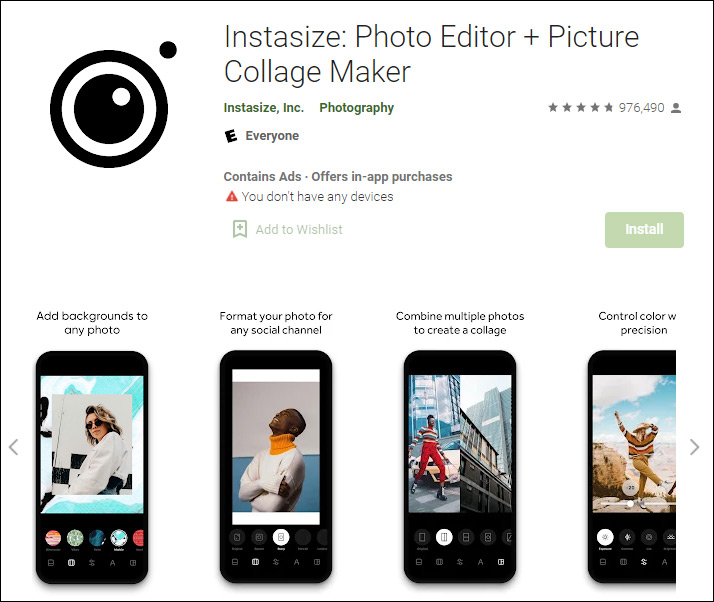 Instasize is one of the best photo editing apps for Instagram. It is a multipurpose photo and video editor which allows you to post impressive and creative photos on Instagram.
It offers features including 130+ stunning filters and setting sliders for final polishing.You can choose a filter and adjust the intensity by simply tapping on the filter. You can also layer multiple filters on one photo with Instasize.
It also has a set of beauty tools available. You have access to blemish removing and enhancing tools with the free version. You can add glow for rejuvenated, moisturized-looking skin and whiten for brightening smiles with the premium version.
Adobe Photoshop Lightroom CC
Adobe Photoshop Lightroom CC is a solid mobile version of a beloved Adobe suite app. It has a desktop version that is globally known among designers and photographers. And any edits you made on the mobile app will automatically save to the cloud and sync on desktop and web or vice versa.
You can use this app to boost your visual presence on Instagram. You can use Lightroom's powerful editing tools and turn raw photos into professional ones by adjusting the shadows, hue, exposure, saturation, and other elements.
You may also like: Top 10 Photo Editors Make Your Pictures More Beautiful
Layout from Instagram
Owned by Instagram, Layout is both a photo-taking and a photo-editing app. You can start with your existing photos or by taking a new photo with this app.
It allows you to create photo collages, personalize layouts, use Instagram's filter tools and share your works to Instagram instantly.
It has a very simple-to-use interface where you can easily adjust your photos to make them more suitable for your overall Instagram aesthetics. You can tap to reshape, pinch to
zoom in or out, flip or replace image, hold and drag to swap images, or pull the handles to resize. It gives you a creative control over your photos.
Picart
PicsArt is among the best free photo editing apps for Instagram for its impressive photo effects, artistic photo filters, and fun stickers. There are over 5 million premade stickers within this app, you also have the option to create on your own. You can add stickers to make your photos more interesting and enjoyable.
In addition to adjusting the position, color, thickness, and opacity of the sketch effect, you can also use the eraser tool to remove any unwanted areas. It offers a wide range of presets, enabling you to compensate for varying exposures for photos.
Conclusion
With the discussion of these best photo editing apps for Instagram influencers, what is your favorite one? Or you can try some of them to find out what works for you.