Most people's photos are facing the problem of flaws, so is there any solution? Now, you don't need makeup or photo filters to create a flawless photo. The reason is that this post will tell you the four best blemish remover apps to solve the problem of photo defects. (Need an app that can use photos to make a video? Try MiniTool MovieMaker.)
Want to have ideal photos, you should know the following blemish remover apps.
Airbrush
Airbrush is a very famous photo editor app and you can use it to remove blemishes from photos free.
The function of Airbrush is very powerful. You can use the on-click function to remove blemishes in real-time. And you can also add filters and colors to your photos to better modify your photos. What's more, it provides you with a lighting function to make your photos more attractive.
In addition, you can use the smoothing function to blur the blemishes in the photo to make your facial appearance look more perfect.
Adjust the size of facial features, add beauty to the face, whiten teeth, increase hair volume and other functions are all included in Airbrush. The photos made with Airbrush look very natural and amazing.
Perfect365
Perfect365 is a high-quality and free blemish remover that provides you with face recognition function and professional beauty filters.
You can use Perfect365 to make makeup style presets, including hairstyles, eyebrows, eyelashes, lipstick colors, whitening teeth, removing dark circles and even retouching your face. At the same time, you can also use the foundation and blush in Perfect365 to eliminate blemishes, improve skin tone and lighten skin color.
It is very convenient for you to use Perfect365 to directly post the processed photos to websites such as Facebook, Twitter and Flickr.
Facetune
Facetune is a paid and universal multilingual photo editor to remove blemishes for iPhone.
The reason why Facetune is so popular around the world is that it focuses on the retouching of portraits in photos. You only need to perform simple operations to make your photos look more attractive.
The powerful functions included in Facetune contain evening skin tone, smoothing wrinkles, removing blemishes, removing red eyes and dark circles, modifying eyes color, whitening teeth and more.
In short, you can use a variety of professional tools in Facetune to make your photos more artistic and stand out. Sharing your photos to Instagram, Twitter, Facebook, Flickr, Tumblr, email and other websites is also supported.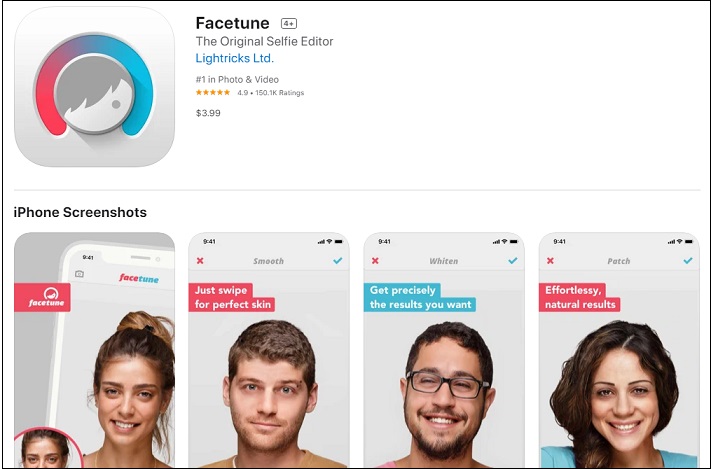 Photoshop Express
Photoshop Express is known as an easy-to-use, powerful and all-in-one blemish remover app.
If you want to remove blemishes or any details you don't need in your photos, you just need to click Auto Repair. Meanwhile, you can also add filters or adjust the color, exposure and contrast to the photos according to your needs.
For the portrait in the photo, Photoshop Express provides you with a variety of makeup solutions covering all parts of the face. You can convert your photos into dozens of different styles of photos.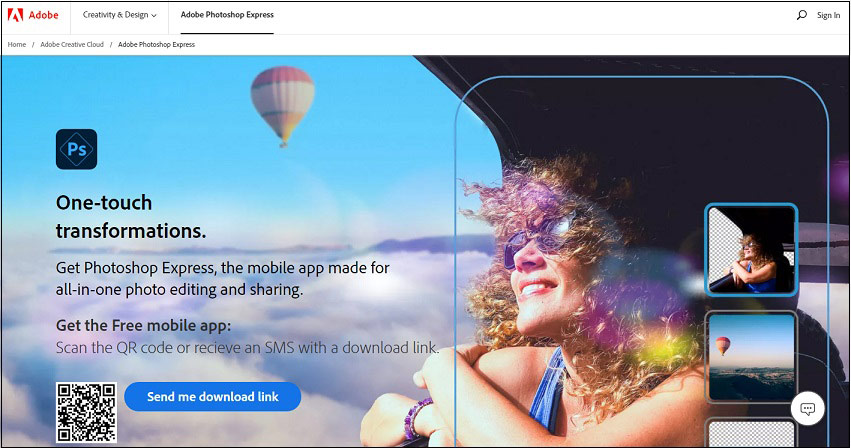 Conclusion
These tools are simple to operate but very versatile blemish remover apps. Why not let them help you correct the flaws in the photos?